Zesty Sauces: Homemade Sauces with a Bold and Spicy Spin
COMING SOON
This is THE ebook for zesty sauce lovers.
Here is a new collection of 40 homemade sauces that are bold, zesty, and sometimes spicy that you can make at home, perfect for spicing up any meal. This is the ideal collection for chili pepper lovers who want great spicy sauces for their dishes, each with photo and cooking directions so you can get cooking immediately.
We love sauce here at Chili Pepper Madness. As anyone who has ever visited our web site, you also know that we love and adore chili peppers of all types, and while it's absolutely exciting to cook up chili peppers for our meals, one of our favorite activities is working them into our sauces. A sauce can make or break a meal. It can easily turn a once-considered bland meal into a family favorite. We often like to say that for many a meal, the secret is in the sauce, but always bear one thing in mind – a sauce is not meant to smother a dish, but to compliment it. A well-conceived sauce is what you need it to be for a particular dish, and if you're like us, what that really means is:
I want my meal to have some zing!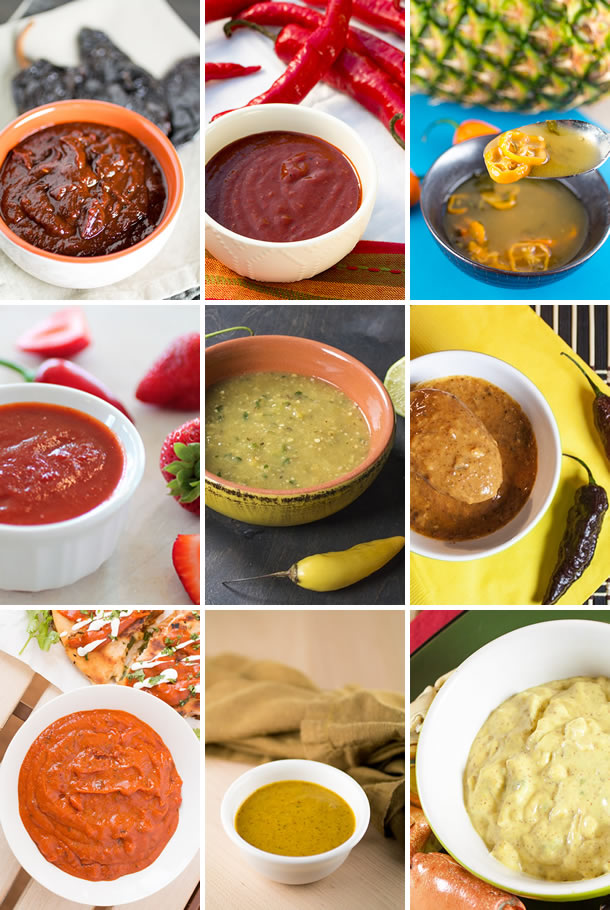 What's inside the book? Here is a list of the recipes and contents:
An Introduction to Our Collection
Quick and Easy Enchilada Sauce
Chili-Lime Vinaigrette
Chunky Garden Vegetable Sauce
Bacon Gravy
Jalapeno-Honey-Bourbon Barbecue Sauce
Jalapeno-Strawberry Barbecue Sauce
Chocolate Habanero-Garlic-Mayonnaise
Chili-Tomato Sauce
Double Barrel Habanero-Lime Butter
Homemade Thousand Island Dressing
Sweet and Spicy Strawberry Barbecue Sauce
Roasted Jalapeno Sauce
Sriracha Mayo
Romesco Sauce
Fresh Green Tomato-Chili Pepper Sauce
Hot Green Table Sauce
Sweet Pepper Relish
Balsamic-Jalapeno Barbecue Sauce
Quick Green Chili-Onion Relish
Cocktail Sauce
Chimichurri
Pebre
Ghost Pepper Remoulade
Spicy Puttanesca
Roasted Poblano-Potato-Avocado Sauce
Carolina Mustard Barbecue Sauce
Fresh Homemade Sriracha
Cajun Cream Dip
Pineapple-Chili-Lime Glaze
Green Enchilada Sauce
Roasted Red Pepper Pesto
Sriracha Dipping Sauce
Chipotle-Bacon-Bourbon Barbecue Sauce
Mustard Dipping Sauce
Chili-Peanut Sauce
Avocado Cream Sauce
Ancho-Tomato Paste
Chili-Rosemary-Lime Butter
Roasted Red Pepper-Tomato Sauce
Harissa
The ecookbook is in PDF format so it is easy to view on your tablet or desktop. It is also formatted to easily print your recipes if you'd like.
COMING SOON