The Health Benefits of Chili Peppers
Chili Peppers Can Warm Your Feet!
Do your feet get cold in the winter? Try this -- sprinkle powdered cayenne in your shoes. It will keep you feet nice and warm during those cold winter nights! Save money on your heating bill. Who'd have thought chili peppers could be so darned useful outside of simply eating them.
Brand New Cookbook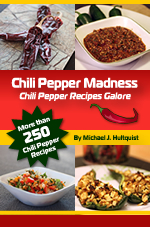 Chili Pepper Recipes Galore!
250+ Chili Pepper Recipes - PRINT or EBOOK