These Cajun-style deviled eggs are rich, creamy, and just the right amount of spicy, and they make for a perfect holiday or party appetizer. Here is the recipe.
It just isn't the holidays without deviled eggs. Growing up, I can't recall a single holiday gathering where we didn't have some form of deviled eggs. Usually it was your typical recipe, egg yolks mashed together with a bit of mayo, bit of mustard, salt, topped with sprinklings of paprika for color.
Sometimes my mother would toss in a spoonful of pickle relish, and picky as I was as a kid, I didn't mind it. There is something about deviled eggs that just makes you happy, no matter how they are made.
It's one thing I love about them. It is one of those recipes that, once you learn how to make the basic form, you can adapt and change it to whatever tastes you prefer. It just so happens that I was in the mood for Cajun flavors.
Therefore…viola! Cajun Style Deviled Eggs.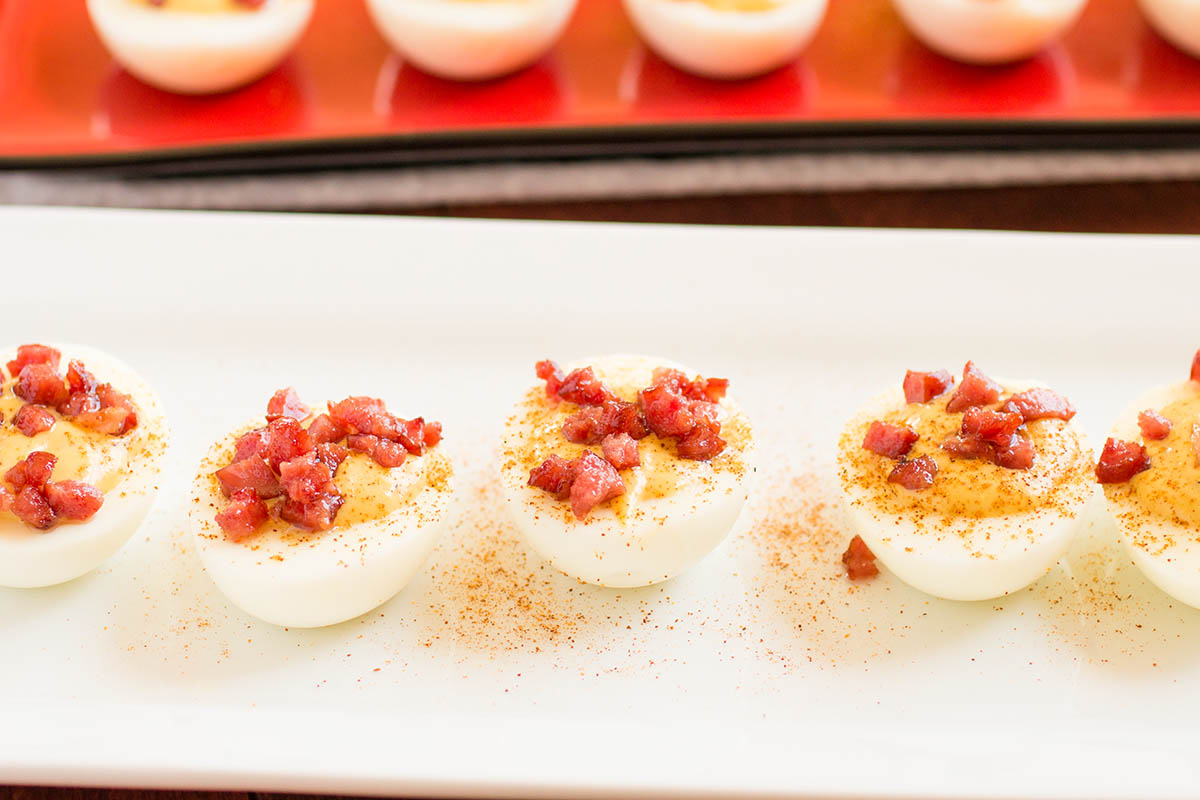 I've been working on an article about Cajun gumbo, so my fridge is currently filled with andouille. Lucky me! Have you ever tried andouille? It is a seasoned and smoked pork sausage used in Cajun cooking, particularly gumbo.
It is addictively tasty, particularly when you crisp it up.
How to Make Cajun Style Deviled Eggs – the Recipe Method
For this recipe, we're starting with our own homemade aioli. You CAN use mayo instead, and it will save you a bit of work, but it won't save time as you can do this while your eggs are boiling.
Making the Aoili
Making aioli is easy, anyway, and you'll notice the difference.
Start with a couple of egg yolks in a bowl. I like to use a bowl with a rubber bottom so it doesn't slide around while we're working. Add lemon juice and a dash of salt. Next, slowly whisk in 1/3 cup olive oil.
WHISK-WHISK-WHISK!
You have to keep whisking in order to achieve a creamy texture. The oil and the yolks will emulsify, which means they will combine and will become nice and creamy Like so.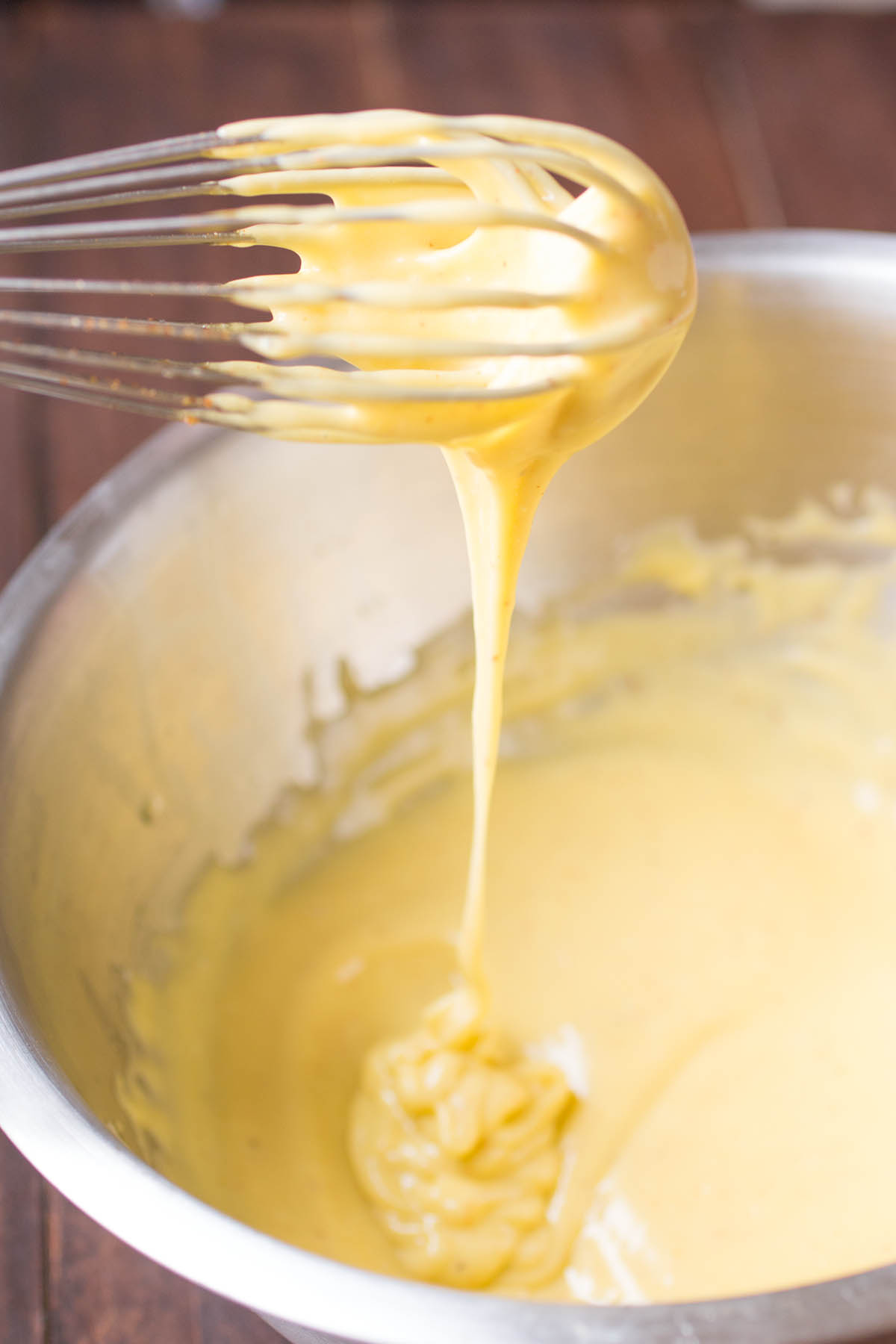 Fair warning, this is rich. It will result in rich tasting deviled eggs as well, which is what we're going for. It will also make the resulting deviled egg filling nice and creamy.
I personally prefer creamier filling for my deviled eggs, but if you're concerned about the recipe being TOO creamy, use only half the aioli, or only make half a batch.
Next, add in your egg yolks, mustard, vinegar and Cajun seasonings. Don't forget the vinegar, which will balance out a bit of that fatty richness for you.
At this point you can mash the filling together with a fork, but you'll end up with lumps. It is best to mix, then push through a sieve. This will give you a creamy, consistent mix.
Add it all to a piping bag, or simply use a baggie and cut off the bottom corner. This will help squeeze the filling into the eggs. Or really, just use a spoon. Fill up those eggs!
Lastly, crisp up your diced andouille sausage in a pan with a bit of olive oil. It only takes a few minutes. You want them nice and crispy, like so.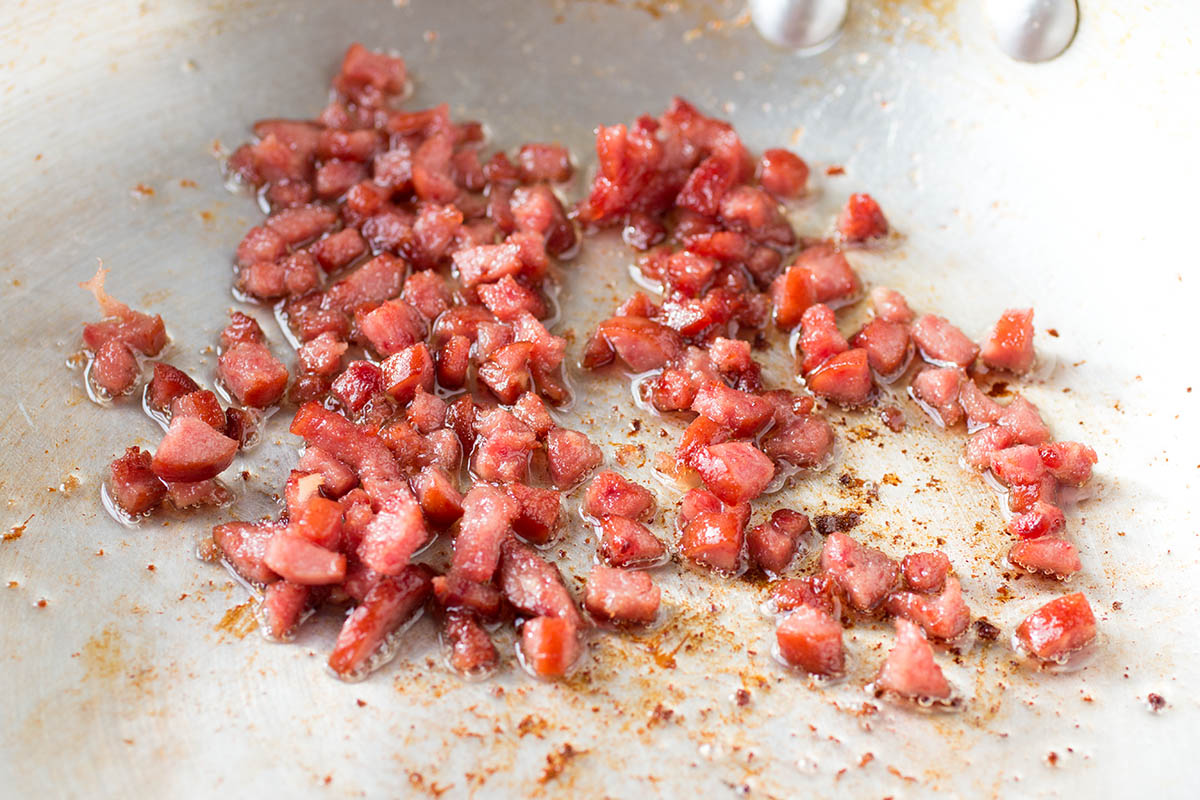 Top your deviled eggs with the crispy andouille and a few sprinklings of paprika or extra Cajun Seasoning and you're good to go.
Serve these warm or chilled. These are super easy to make and great for last minute, so if you're in a pinch for an appetizer recipe idea, consider deviled eggs. Especially Cajun style! I hope you enjoy them.
Patty's Perspective
Andouille, YAY! I definitely prefer these aioli style deviled eggs over the traditional kind made with mayo. It gives it a level of elegance, perfect for a holiday party.
If you enjoy this recipe, I hope you'll leave a comment with some STARS. Also, please share it on social media. Don't forget to tag us at #ChiliPepperMadness. I'll be sure to share! Thanks! — Mike H.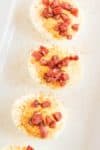 Cajun Style Deviled Eggs
These Cajun-style deviled eggs are rich, creamy, and just the right amount of spicy, and they make for a perfect holiday or party appetizer. Here is the recipe.
Ingredients
12

eggs

2

egg yolks

1

tablespoon

lemon juice

Dash of salt

⅓

cup

olive oil + 1 teaspoon

2

tablespoons

spicy mustard

1

teaspoon

white wine vinegar

2

tablespoons

Cajun seasoning blend – or use an equal mix of paprika

cayenne, garlic powder with a bit of salt and pepper

6

ounces

andouille sausage

finely diced

Paprika or extra Cajun seasoning for topping
Instructions
Bring a large pot of water to a boil and boil the eggs for 10 minutes. Remove from heat, drain, and set the eggs into a bowl of ice water.

While eggs are boiling, add 2 egg yolks, lemon juice and salt to a bowl. Slowly whisk in 1/3 cup olive oil, whisking vigorously, until the mixture emulsifies and thickens like mayo. Adjust for salt if desired.

Peel the eggs and slice them in half lengthwise. Remove the yolks.

Add the yolks to the bowl along with the mustard, vinegar and Cajun seasonings. Mix well.

Push the yolk mixture through a sieve and scoop it all into a piping bag or baggie.

Heat a small pan to medium heat and add diced andouille with a bit of olive oil. Cook until the smoked sausage is nice and crispy. Drain and cool slightly.

Pipe the yolk mixture into the egg whites, then sprinkle with paprika or Cajun seasoning and top with the diced andouille. Enjoy!
Nutrition Facts
Cajun Style Deviled Eggs
Amount Per Serving
Calories 89
Calories from Fat 63
% Daily Value*
Total Fat 7g 11%
Cholesterol 104mg 35%
Sodium 110mg 5%
Potassium 67mg 2%
Protein 4g 8%
* Percent Daily Values are based on a 2000 calorie diet.