Potato Cheese Tart with Jalapenos
Thanksgiving and the holiday season is rapidly approaching. All of us cooks are already planning our meals as the party plans fill up the schedules. Make sure you blockout some time to get your menus ready. And don't forget to breathe! This time of year can certainly be stressful. While Patty and I greatly enjoy traditional American holiday food – we're talking roasted turkey with stuffing or a baked ham, oven baked carrots, yams with marshmallow, green bean casserole, you know what I'm talking about – there is a part of me that desires something non-traditional. I would love one year to cook a rib roast instead, or serve up steaks.
Maybe we don't have to go that far, though. For example, how about a potato-cheese tart? This recipe is a good example of how you can take a typical holiday staple, the humble yet AWESOME potato, and transform it into something completely different. Tarts make for excellent appetizers, though they can also be served as a side dish along with the main course, depending on what you are serving. The combination of potato and cheese is a classic one.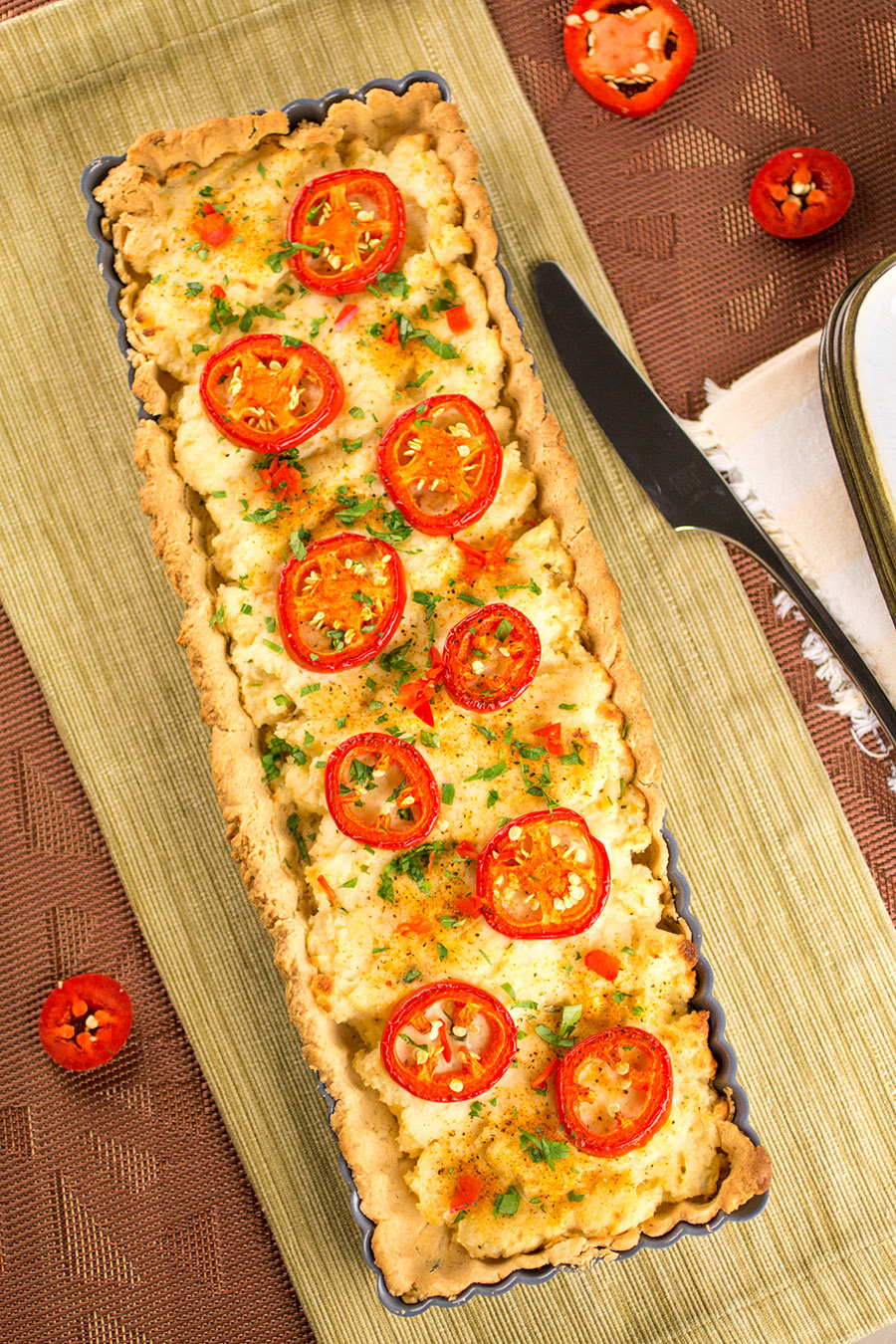 Also, if you are not hosting Thanksgiving or your holiday party, consider this tart recipe as a gift to your host. Bring it wrapped in plastic wrap, uncooked, so the host can bake it up the next morning for a quick brunch. This works well especially if your host is having family stay the night. Not everyone wants to cook up elaborate breakfasts or brunches for groups the day after a large meal that took a considerable amount of work. Your host will thank you for your thoughtful gift. And hopefully they will enjoy it!
You can easily skip the jalapeno peppers if your guests do not appreciate spicy food, or consider substituting them with milder chili peppers, though we do love the addition. Also, for a non-vegetarian yet highly delicious variation, add in chopped cooked bacon. Oh yes! Potato, cheese AND bacon? You know it will be good. Enjoy!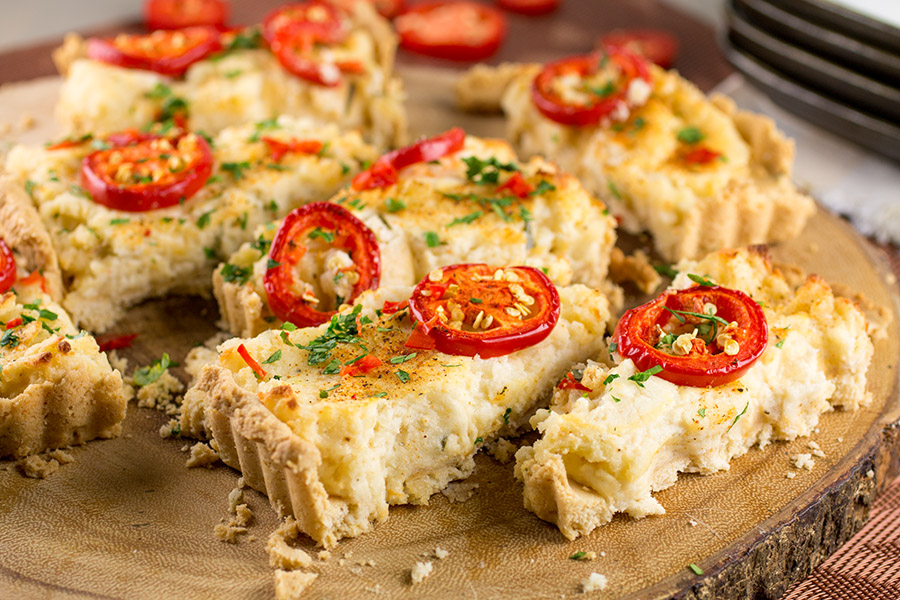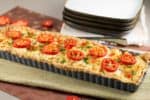 Potato Cheese Tart with Jalapenos
Course:
Appetizer, Side Dish
Ingredients
FOR THE CRUST
1

cup

flour

1

stick butter

1

teaspoon

salt

2-3

tablespoons

very cold water
FOR THE FILLING
8

ounces

cooked potato

10

ounces

goat cheese

6

ounces

shredded Asiago cheese

2

tablespoons

fresh chopped rosemary

4

tablespoons

sour cream or crema + more for serving

2

cloves

garlic

chopped

1

teaspoon

red chili powder + more for sprinkling

1-2

red jalapeno peppers

cut into rings

Fresh chopped herbs for topping
Instructions
Start the crust by adding flour to a large mixing bowl. Chop butter and add with flour, salt and 1 tablespoon fresh chopped rosemary. Hand mix until the mixture becomes coarse and grainy.

Add in a little bit of water at a time and mix until it comes together into a nice dough. It will stick together into a ball and won't stick to the sides.

Spread the dough into a tart pan and press another tart pan over the dough to weigh it down. Set into the fridge, covered, about 1 hour.

Heat oven to 375 degrees. Bake the crust with both tart pans for 20 minutes.

While crust is baking, to a mixing bowl, add potato, goat cheese, Asiago cheese, rosemary, crema, garlic, and a teaspoon of chili powder. Mix until the mixture is nice and creamy. If you need more sour cream, add in a bit to achieve a slightly creamy mixture.

Spread the mixture into the crust and dust with more chili powder.

Top with jalapeno slices.

Bake for 30 minutes.

Remove and cool slightly. Top with fresh chopped herbs and serve with sour cream!
Nutrition Facts
Potato Cheese Tart with Jalapenos
Amount Per Serving
Calories 649
Calories from Fat 324
% Daily Value*
Total Fat 36g 55%
Cholesterol 67mg 22%
Sodium 1738mg 72%
Potassium 455mg 13%
Total Carbohydrates 46g 15%
Protein 33g 66%
* Percent Daily Values are based on a 2000 calorie diet.