Spicy Mac and Cheese Waffles
A recipe for savory waffles made with buttermilk, Cajun seasonings and, yep, macaroni and cheese, topped with sliced jalapeno peppers. This one you just gotta try. Great way to use up leftover mac and cheese!
Let me start out by saying, yeah, these are fun. And YUM!
Who'd-a-thunk you could combine macaroni and cheese with waffle batter for a quick savory breakfast or brunch (or hey, dinner! I'm not judging) and have it taste so good. Ever since we got our waffle maker for Christmas last year, I've been experimenting with savory waffle combinations, primarily at Patty's behest, because Patty truly LOVES waffles. I secretly think if she could have waffles every day for dinner, she WOULD. Or at least every Sunday.
She loves them so much that I'm including a savory waffles recipe in the new cookbook I'm working on, for the Breakfast for Dinner chapter. But THIS! This one is going right here – we're talking Spicy Mac and Cheese Waffles.
YES!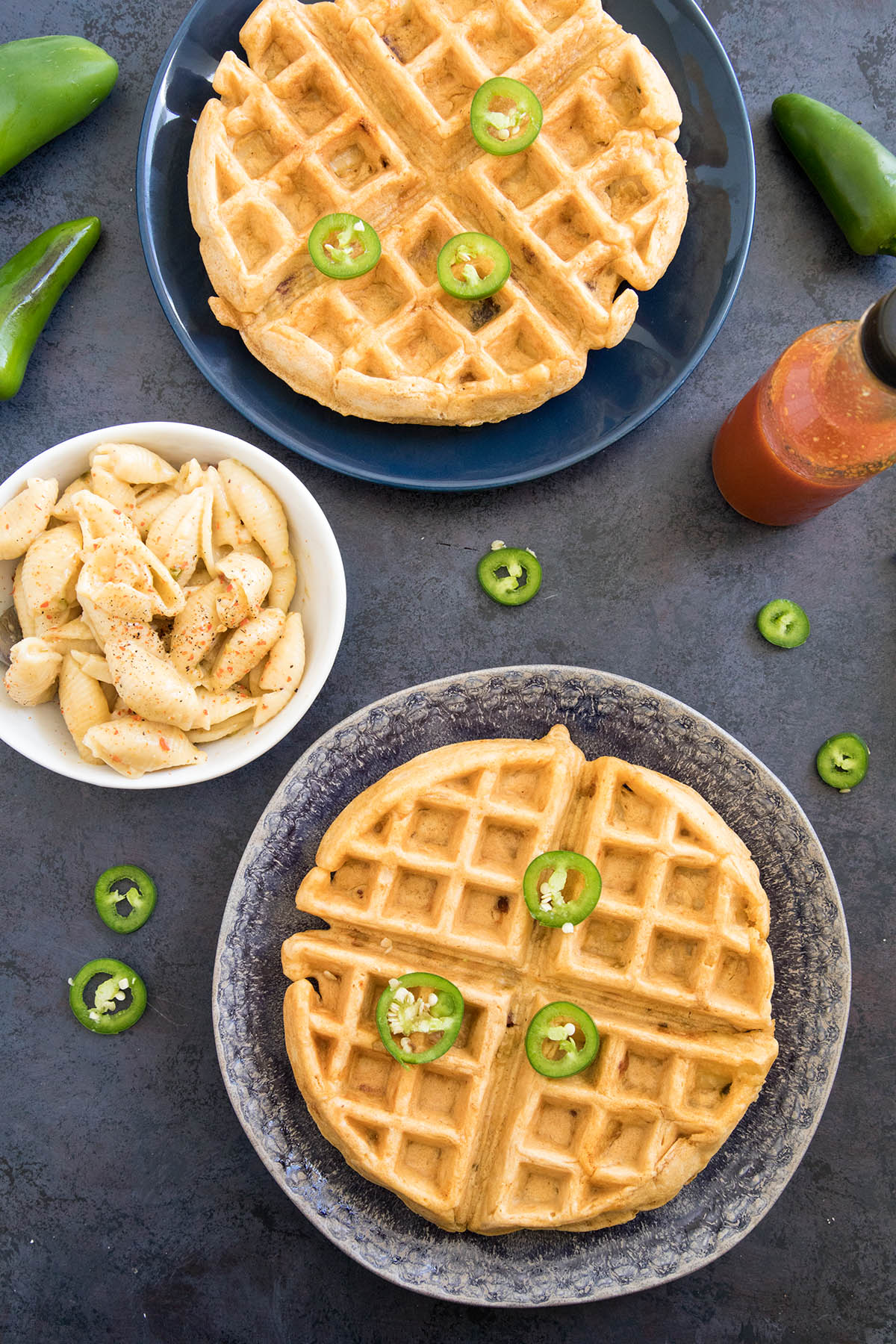 The story behind these is that I had leftover mac and cheese in the fridge from a previous recipe for the new cookbook. I made too large of a batch, and as there are only 2 of us here, into the refrigerator it went for a potential lunch.
Patty spied the container first and the lightbulb went off. "Hey, what about waffles with this?" So here we are. Yep. Mac and Cheese waffles.
The thing is, I'm not into the whole "Will it Waffle" movement at this point in time, so I didn't want to just scoop mac and cheese into my waffle maker. Instead, I mixed it into my favorite waffle batter recipe along with some extra Cajun seasonings to up the spice level. See our recipe for Homemade Cajun Seasonings, though you can use your own favorite blend.
It's pretty amazing to me how much "stuff" you can mix into your waffle batter and still produce outstanding savory waffles. 
Mix it all together then scoop the batter into your waffle maker and go to town! You can serve these up with maple syrup as you would with any waffle, or with your favorite hot sauce, but if you're feeling adventurous, try this – Creamy Beer Cheese Recipe.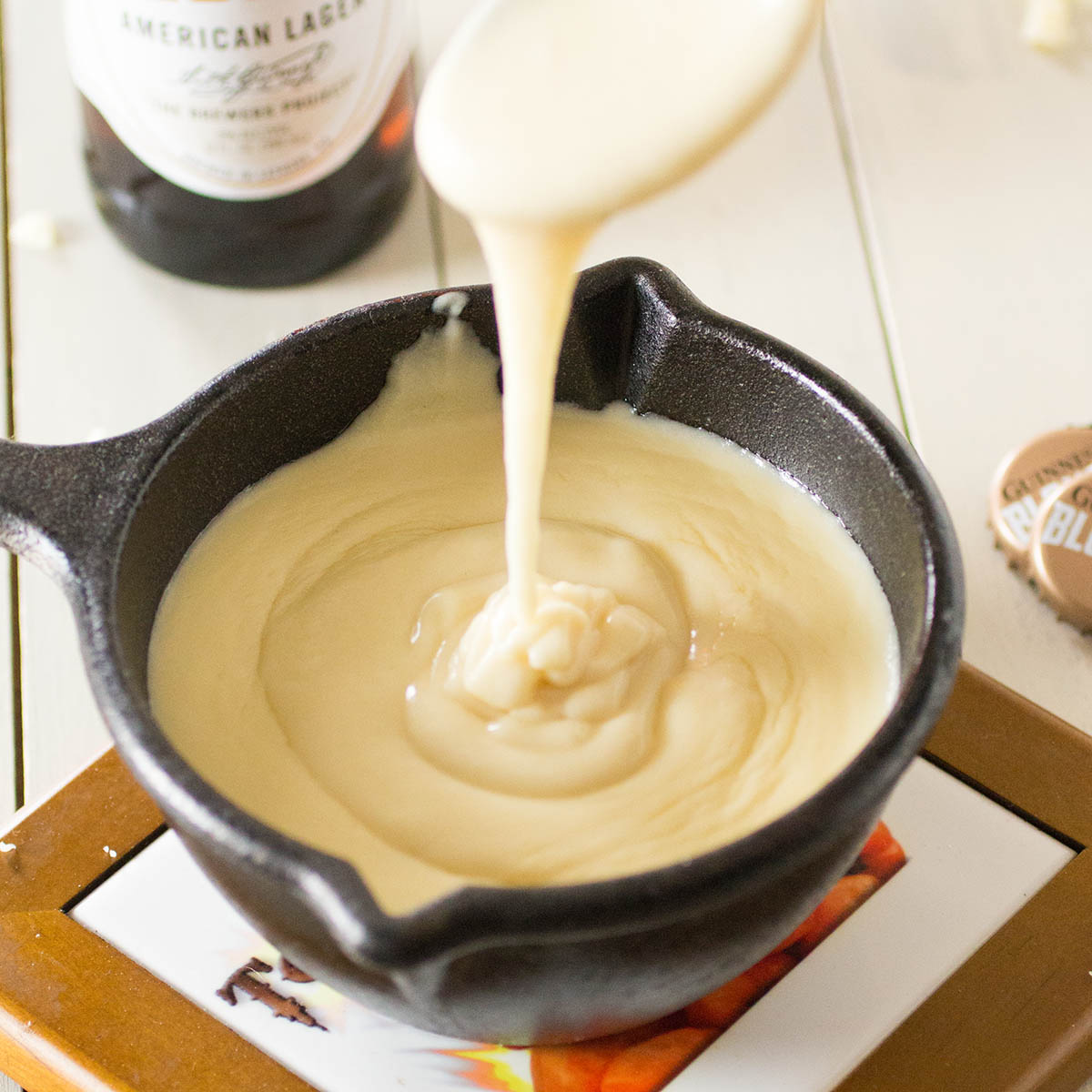 It is SO good with extra cheese drizzled over the top. To make it easier, use a jar of salsa con queso. Delish!
Don't forget the jalapeno pepper slices. Because, you know – Mike's #JalapenoObsession. Yeah!
Let me know how they turn out for you. — Mike H.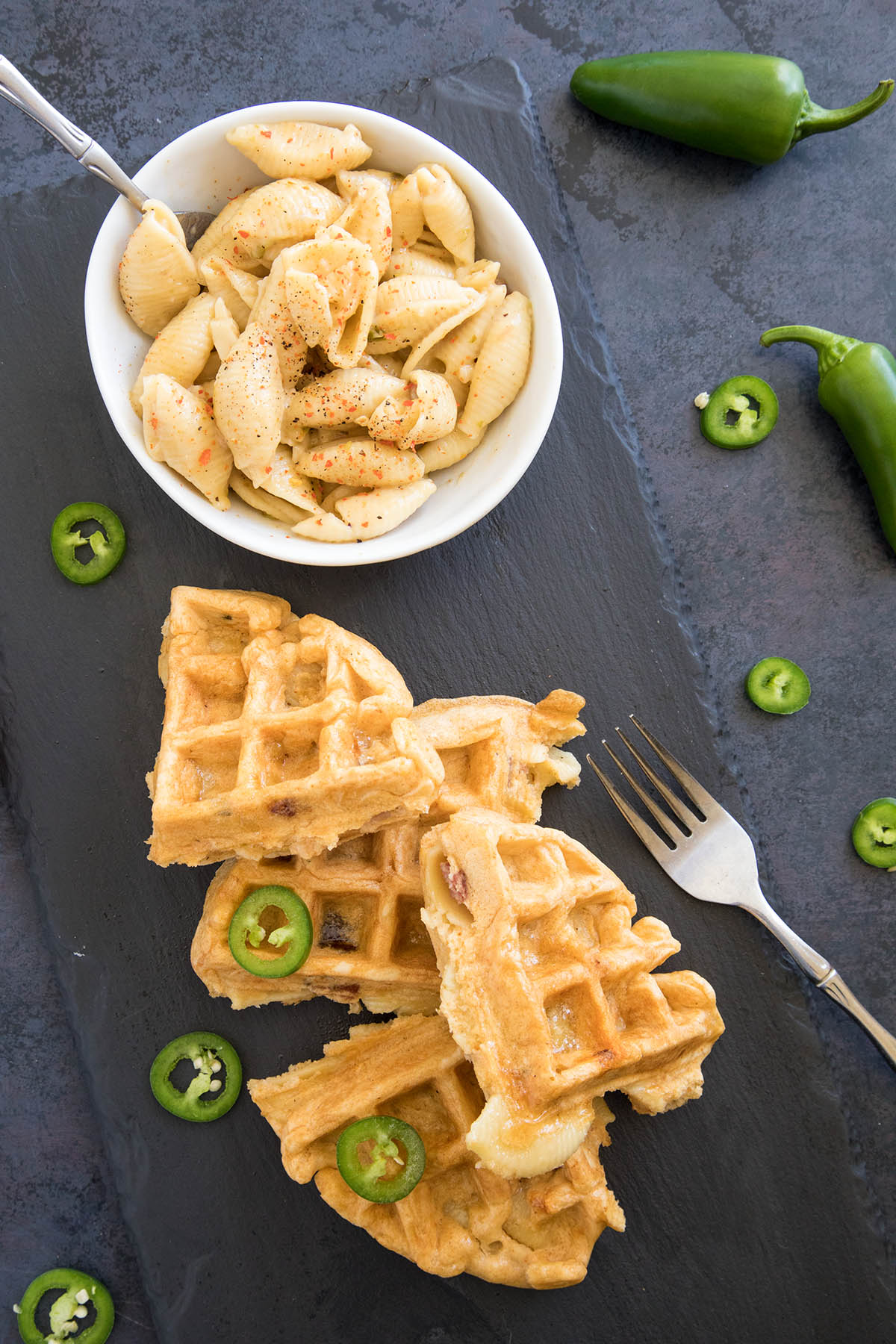 Patty's Perspective: No lie! I LOVE these waffles. Great cheese, great batter. I could eat these any day of the week.
Spicy Mac and Cheese Waffles – Recipe
Ingredients
2 large eggs
1 3/4 cups buttermilk
8 tablespoons melted butter (1/2 cup)
2 cups all-purpose flour
2 teaspoons baking powder
1 teaspoon baking soda
1 tablespoon Cajun seasoning blend
1 teaspoon salt
4 cups prepared macaroni and cheese + more for topping, if desired
Hot sauce for serving
Cooking Directions
In a large mixing bowl, beat together the eggs, buttermilk and melted butter.
In a separate bowl whisk together the dry ingredients.
Combine the wet and dry ingredients, stirring just until nearly smooth; it's OK if it is still lumpy.
Stir in the macaroni and cheese.
Spray your waffle iron with a non-stick cooking spray and preheat it according to your model's instructions.
Pour in the cheesy waffle mix as needed and cook 2-4 minutes, until cooked to your desired brownness.
Remove and set onto a plate. Top with extra warmed mac and cheese and/or hot sauce.
Serving Suggestion: Try this with Creamy Beer Cheese Recipe drizzled over the top. https://www.chilipeppermadness.com/chili-pepper-recipes/sauces/how-to-make-creamy-beer-cheese. Or, they're also good with traditionial maple syrup for a sweeter touch, or your favorite hot sauce.
This makes 6 waffles with my waffle maker, which makes Belgian style, 7 inch waffles that are nice and thick. Your amounts and cooking times may vary, so please follow your waffle iron instructions.