These burgers are made with ground pork and a homemade mustard, then grilled to perfection and topped with grilled pineapple. A must-try recipe.
OK, so now Patty and I have a new favorite recipe in the house. Oh yes! Pork Burgers with Grilled Pineapple. As Patty and I were wandering through the grocery store – OK, I am the one who wanders, Patty not so much, much to her chagrin – a package of ground pork accidentally spilled into our shopping cart.
What is a guy to do? I originally thought of meatballs, as pork makes for some outstanding meatballs, but since it is grilling season, I really wanted to get the grill fired up. What better than burgers? Pork burgers!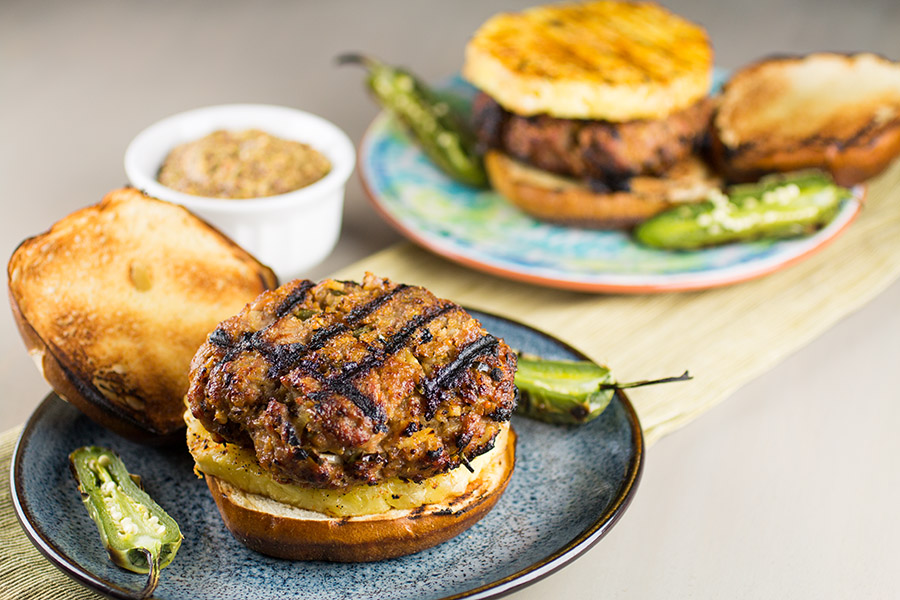 I'd never actually made pork burgers before. I figured they would be good, but neither of us realized they would wind up going into our favorite recipes list. See Mike's Favorites and Patty's Favorites. Lucky for me we hadsome pineapple on hand, as well as some homemade mustard. You can, of course, use any store bought mustard, preferably a spicy mustard, but if you've never made mustard at home, it is a must try.
Mustard and pineapple are like soulmates to pork. I mean, think about it. Pineapple ham for the holidays, mustard rubbed pork chops, Cuban Sandwiches, so many awesome combos! Heck, take a look at our Pork Recipes section. You got mustard and pineapple all over the place, or we soon will! I VOW it will be so.
Round this off with some spicy serrano peppers, some onion and garlic, a bit of Cajun seasonings or your favorite chili powder blend, and you've definitely got a burger to love. And it will love you back a thousand fold. They did for us! Like I said, new favorite here. Don't forget the grilled jalapeno peppers for the side. An absolute must!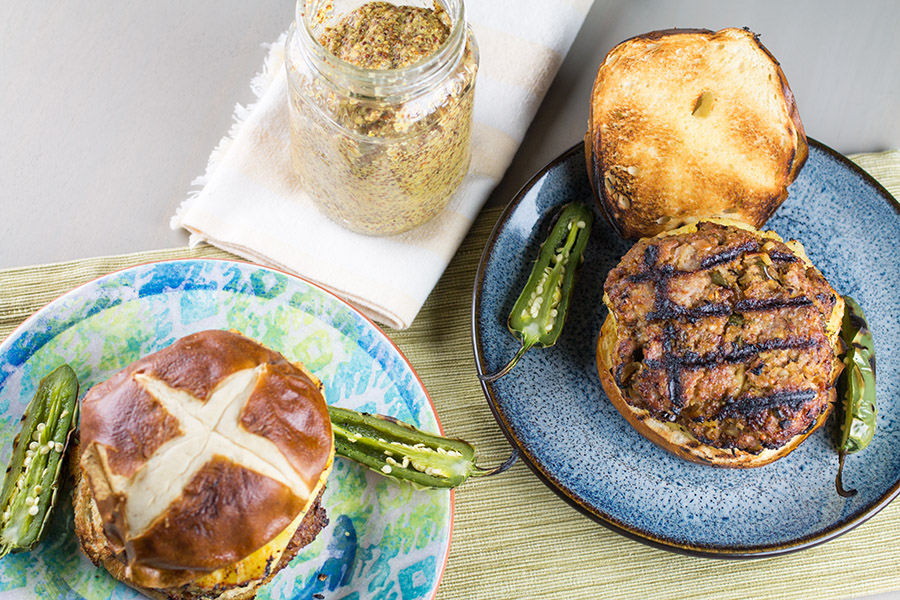 There is one HUGE question, though, that you have to ask yourself. Do you put the pineapple on the TOP or the BOTTOM? What type are you? Are you a bottom kind of person, or a top kind of person? I like it on top. Am I crazy? Have it your way!
Patty's Perspective: After I had taken my first bite, Mike was offering me some condiments to put over my pineapple pork burger. I was like, oh NO you are not offering me condiments! Absolutely nothing is needed on this. This burger has so much flavor packed into it. It's freaking amazing. And I mean, it's pork. And it's a burger. The sweet grilled pineapple and pretzel bun really put it over the top.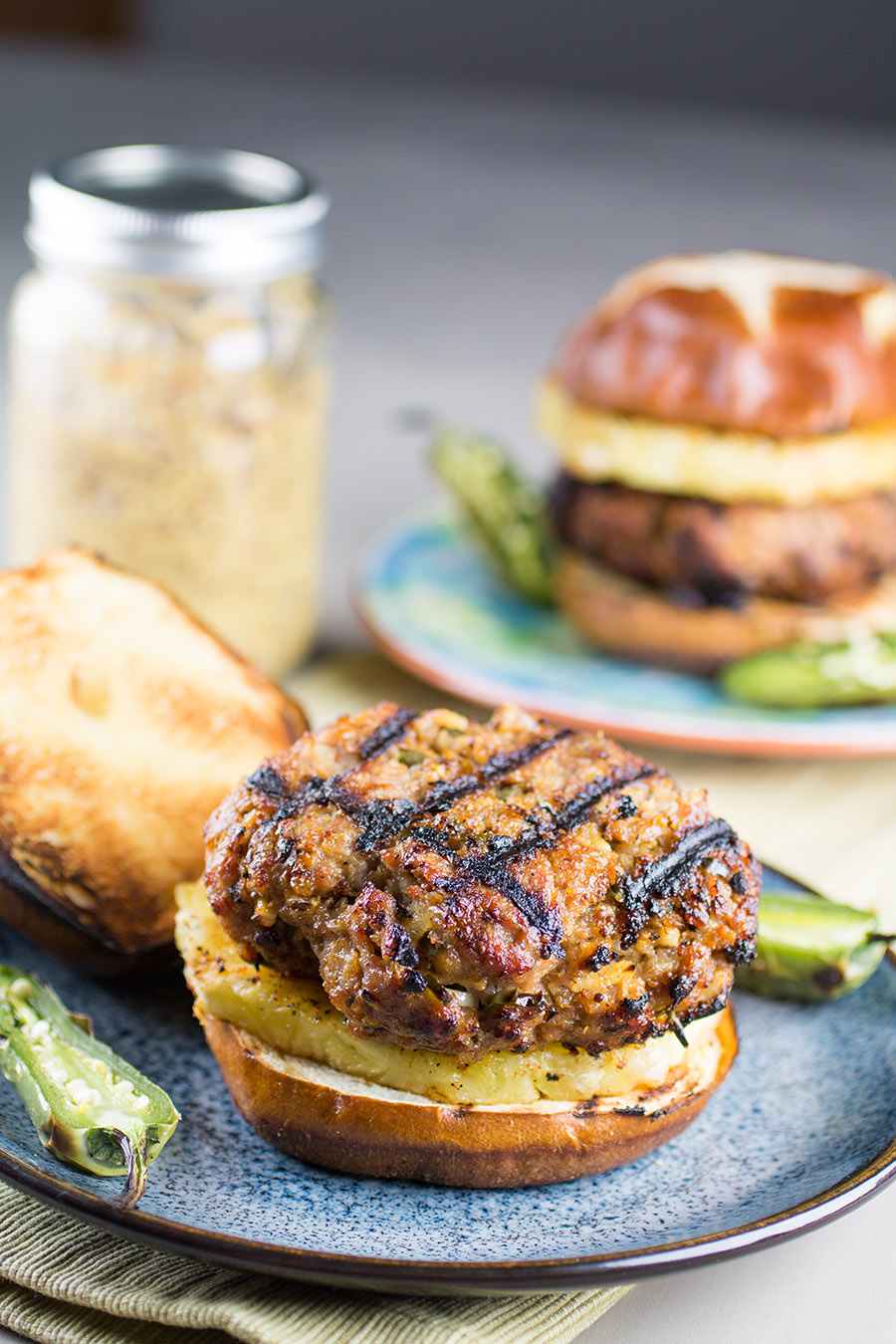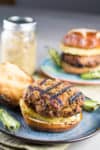 Grilled Pork Burgers with Pineapple - Recipe
These burgers are made with ground pork and a homemade mustard, then grilled to perfection and topped with grilled pineapple. A must-try recipe.
Ingredients
10-12

ounces

ground pork

1

small onion

chopped

1

serrano pepper

chopped

2

garlic cloves

chopped

¼

cup

panko or bread crumbs

2

tablespoon

spicy mustard

– I used some of our homemade mustard

2

thick slices pineapple

Cajun seasonings

Salt and pepper to taste

Olive oil

2

pretzel buns

Extra jalapeno peppers

for serving - you gotta have a good side!
Instructions
Heat a large pan to medium heat and add a bit of olive oil. Add onion and serrano pepper and cook about 5 minutes to soften.

Add garlic and cook 1 more minute, stirring. Add to a mixing bowl and cool.

Add ground pork, bread crumbs and spicy mustard. Dash in your favorite Cajun seasonings, or a nice and spicy chili powder blend, and salt and pepper.

Hand mix and form 2 burger patties. Do not overmix. Keep it lumpy.

Heat a grill to medium heat and add the patties. Cook about 4-5 minutes per side, until pork burgers are cooked through.

While pork burgers are cooking, rub the pineapple slices with olive oil. Sprinkle with Cajun seasonings and salt.

Grill each pineapple slice a couple minutes per side. Get those nice grill marks, yo!

Toss the buns on the grill to get them toasty. You can add a bit of olive oil to them to help this along, but a dry toasting is fine.

Add the burgers to the bun and top with pineapple slices, or the other way around. Your choice!

Serve!
Nutrition Facts
Grilled Pork Burgers with Pineapple - Recipe
Amount Per Serving
Calories 500
Calories from Fat 279
% Daily Value*
Fat 31g48%
Cholesterol 102mg34%
Sodium 371mg15%
Potassium 604mg17%
Carbohydrates 26g9%
Protein 27g54%
Vitamin A 55IU1%
Vitamin C 12.7mg15%
Calcium 80mg8%
Iron 2.6mg14%
* Percent Daily Values are based on a 2000 calorie diet.
If you enjoy this recipe, I hope you'll leave a comment with some STARS. Also, please share it on social media. Don't forget to tag us at #ChiliPepperMadness. I'll be sure to share! Thanks! — Mike H.