Handmade Mexican-Style Burgers
A recipe for juicy burgers made from scratch with ground pork, ground beef, jalapeno and serrano peppers, and plenty of seasonings. Completely handmade. Fire up the grill and get cooking!
You may recall that recently Patty and I ground about 11 pounds of meat in order to make a number of different recipes. I posted about this in the "Grinding Meat with a Meat Grinder – the Why and the How". This recipe is a prime example of the WHY. Why? So we can eat burgers! We have SO MUCH in our freezer now, but believe it or not it's already half gone. We made burgers and sausages, but we also froze some for more generic use, and even made homemade breakfast sausage, which is totally gone BTW. I will be posting that recipe soon enough, but not before I make another batch for Patty. Total FAVE!
We had an impromptu party in our backyard and I was able to bust out our batch of handmade burgers. They were a total hit, especially these. I'm calling them Mexican-Style because we're using more traditional Mexican ingredients, along with two types of chili peppers – jalapeno and serrano. You can stick to jalapeno peppers if you're looking for something a bit milder, but do not discount the serranos. The chili pepper heat will cook out a bit, but you'll still get a bit of it, as well as that delicious chili pepper flavor.
Here they are just before we tossed them on the grill.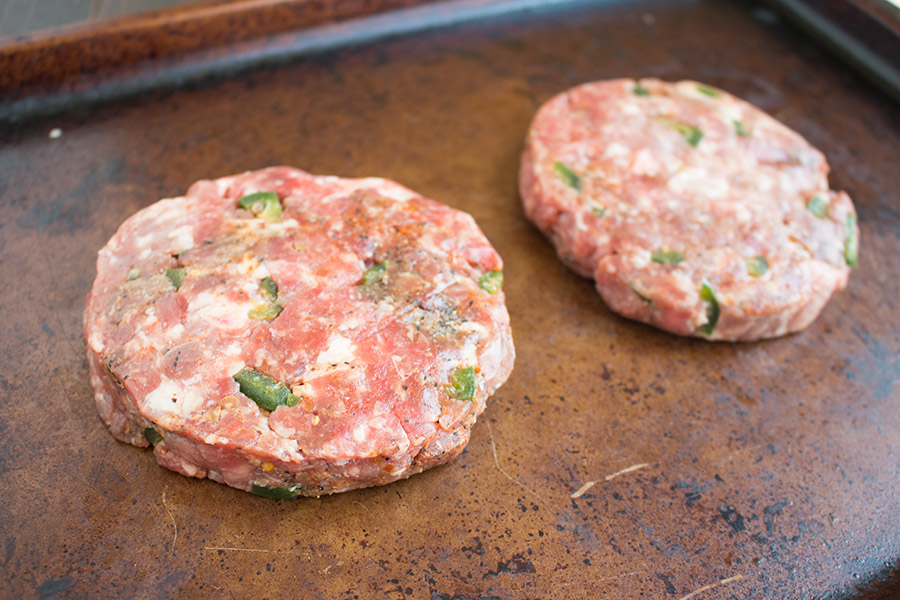 Look at those peppers! Use your grinder to grind up the meat, or you can easily purchase ground meat from the butcher or your grocer. I used chuck for the beef and shoulder for the pork. It's a nice ratio of fat, which is what you want for great tasting burgers. Mix it all up with your peppers and seasonings, then hand form them. I have a burger press that I use that makes PERFECT burgers. Shapes them up just right. Wow! I just found the EXACT product at Amazon. Here is the link: KitchenArt 18000 Adjust-A-Burger Press
. (It's an affiliate link – I'll probably make 20 cents if you buy it!). Under 9 bucks! I've had it for years.
With 20 ounces of meat, you'll get 4 good-sized 5-ounce burger patties. Sometimes I like to make big fatty burgers, around 8 to 10 ounces, but then I'm left holding my stuffed belly after the meal. A 5-ounce burger plus toppings goes a LONG way toward filling me up. That, and an ice cold beer. Oh baby! I want to fire up the grill again.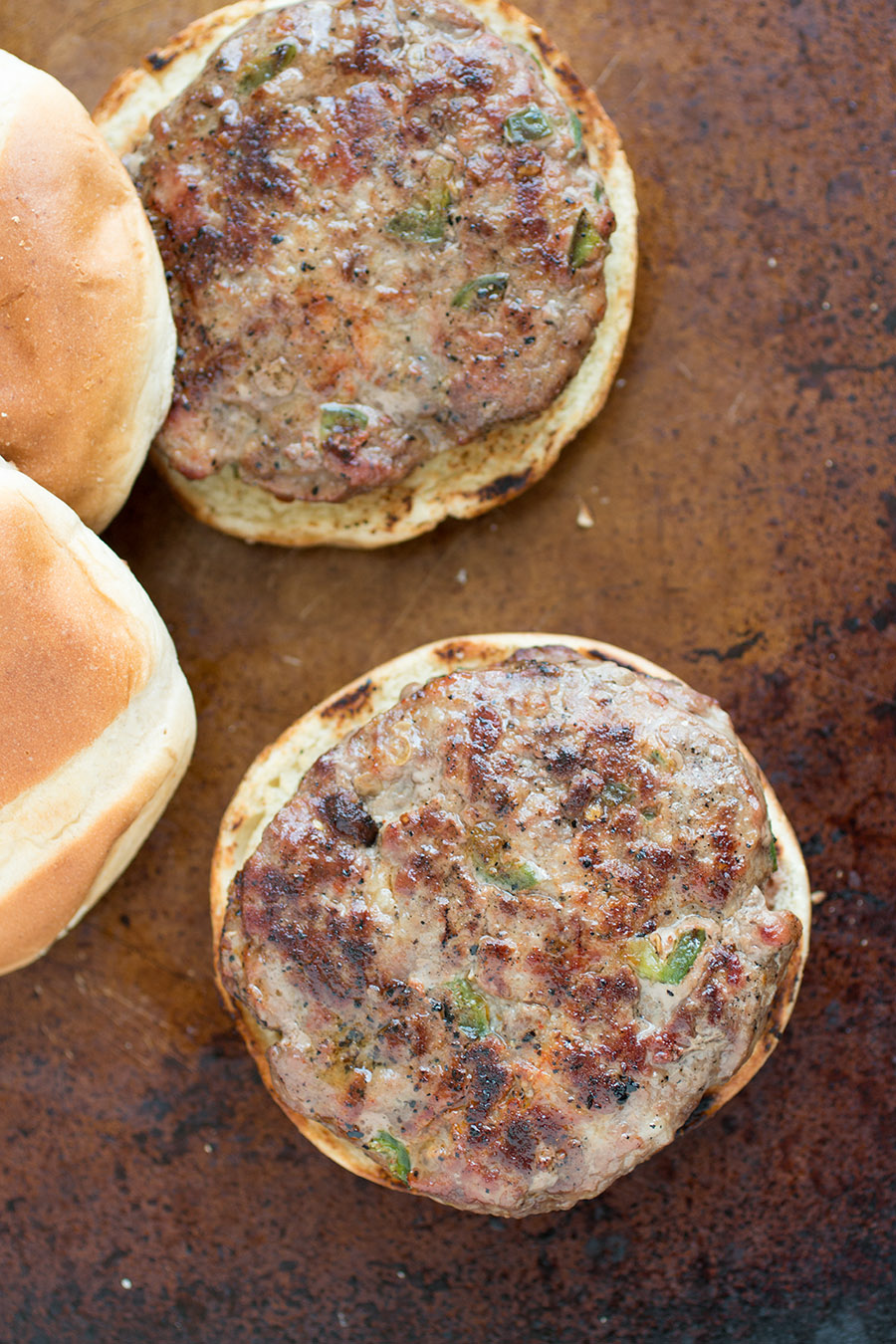 Grill these babies up, toss them onto some lightly grilled buns, and top them with whatever toppings you're looking for. We opted out of the cheese this time, though a nice cheddar or pepper jack would be great. Since our garden is goins INSANE right now, I just sliced up an heirloom tomato and mashed an avocado for these. And just a bit of hot sauce. Hot sauce makes everything that much better. Simple! It's nice, though, because it highlights the taste of the handmade burgers. Win!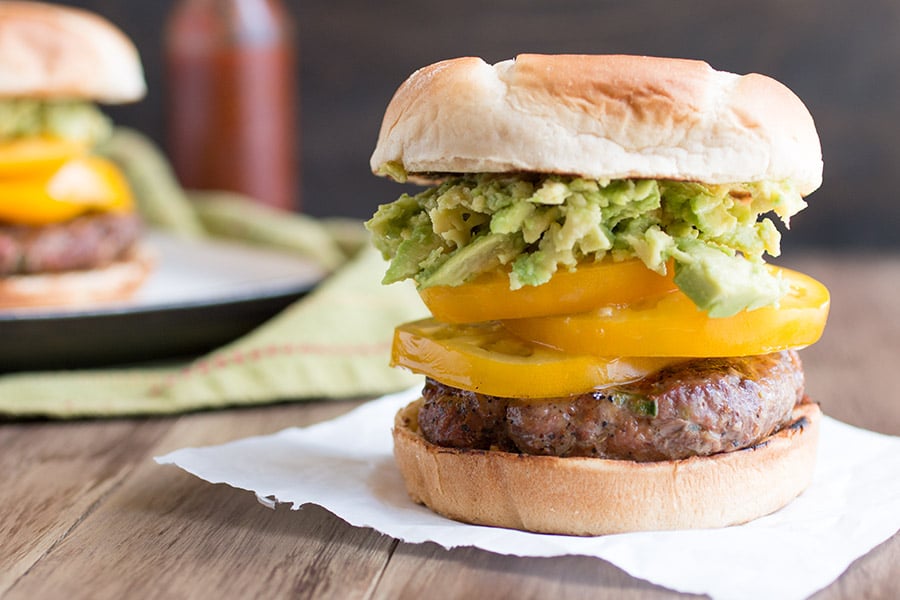 Patty's Perspective: I'm so glad we made a Mexican-style burger because it lends itself to different types of ingredients and toppings. The flavors make you think outside of the traditional mustard and ketchup realm. The heirloom slices were so juicy and thick, they almost felt like the CHEESE on the burger. So good!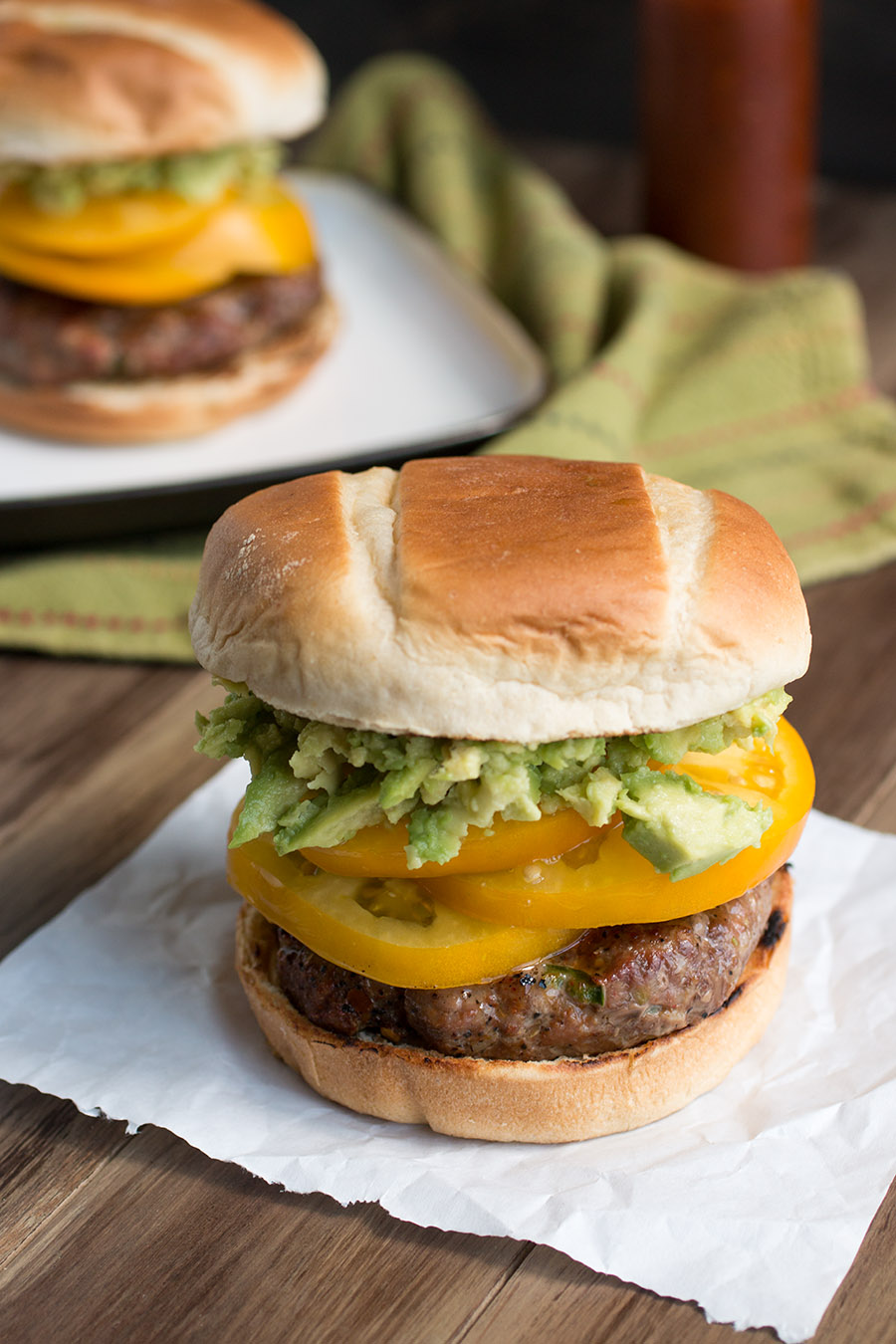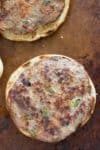 Print Recipe
Handmade Mexican-Style Burgers - Recipe
A recipe for juicy burgers made from scratch with ground pork, ground beef, jalapeno and serrano peppers, and plenty of seasonings. Completely handmade. Fire up the grill and get cooking!
Ingredients
10

ounces

pork

10

ounces

beef

1

jalapeno

diced

1

serrano

diced

1

teaspoon

each of salt

pepper, onion, coriander, paprika

1

tablespoon

each garlic

red pepper flakes

½

teaspoon

cumin

Toasted buns for serving

Tomato slices for topping

Sliced avocado for topping

Your favorite hot sauce
Instructions
Heat a grill to medium heat.

In a mixing bowl, add pork, beef, jalapeno and serrano peppers, and all of the seasonings.

Mix together, but do not overmix. Hand form into 4 5-ounce patties.

Grill each burger 5-6 minutes per side, until they are cooked through.

Serve onto toasted buns with tomato, avocado, and with your favorite hot sauce.
Nutrition
Calories:
371
kcal
|
Protein:
24
g
|
Fat:
29
g
|
Saturated Fat:
11
g
|
Cholesterol:
101
mg
|
Sodium:
674
mg
|
Potassium:
394
mg
|
Vitamin A:
40
IU
|
Vitamin C:
5.3
mg
|
Calcium:
26
mg
|
Iron:
2.2
mg