Spicy Ground Chicken Burgers with Spinach and Manchego
Get this recipe for juicy chicken burgers made with freshly ground chicken, manchego cheese, spinach, jalapeno peppers and loads of spices. It's big on flavor and ready for the grill.
Big fatty burgers coming at you guys today. I have to say I didn't MEAN to make them so big. Truly, this recipe is supposed to make 8 good sized ground chicken burgers, but I KIND OF went a little overboard and made my burger a bit larger than the rest and, as you can see, wind up with a biggun.
But I love it! I cannot deny, I do LOVE a big fatty burger.
Especially this one – Spicy Ground Chicken Burgers with Spinach and Manchego.
YES!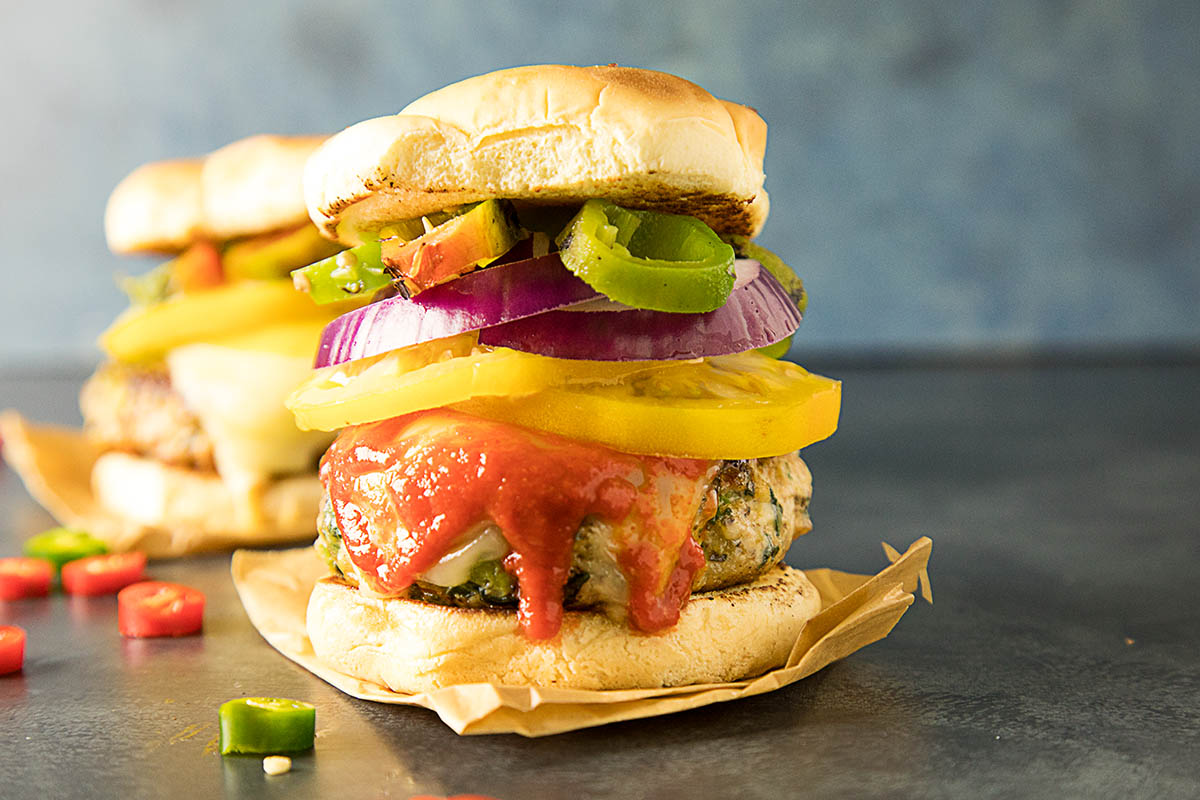 And maybe I kinda-sorta went crazy with the toppings here, particularly the extra roasted jalapeno peppers and sriracha, but dang, I was hungry!
Hangry, actually.
I needed to get some food in my belly and as I was grinding up the chicken to make these burgers, it took all I had to overcome the intense growling emanating from the stomach region.
Yes, I did grind the chicken for this one. You don't have to grind your own chicken. You can pick some up easily from the butcher or your local grocer, where I see it readily available, but if you're interested in grinding your own, learn How to Grind Your Own Meats.
Grinding your own adds a fresh flavor element, and you know, it's sort of satisfying when you grind your own.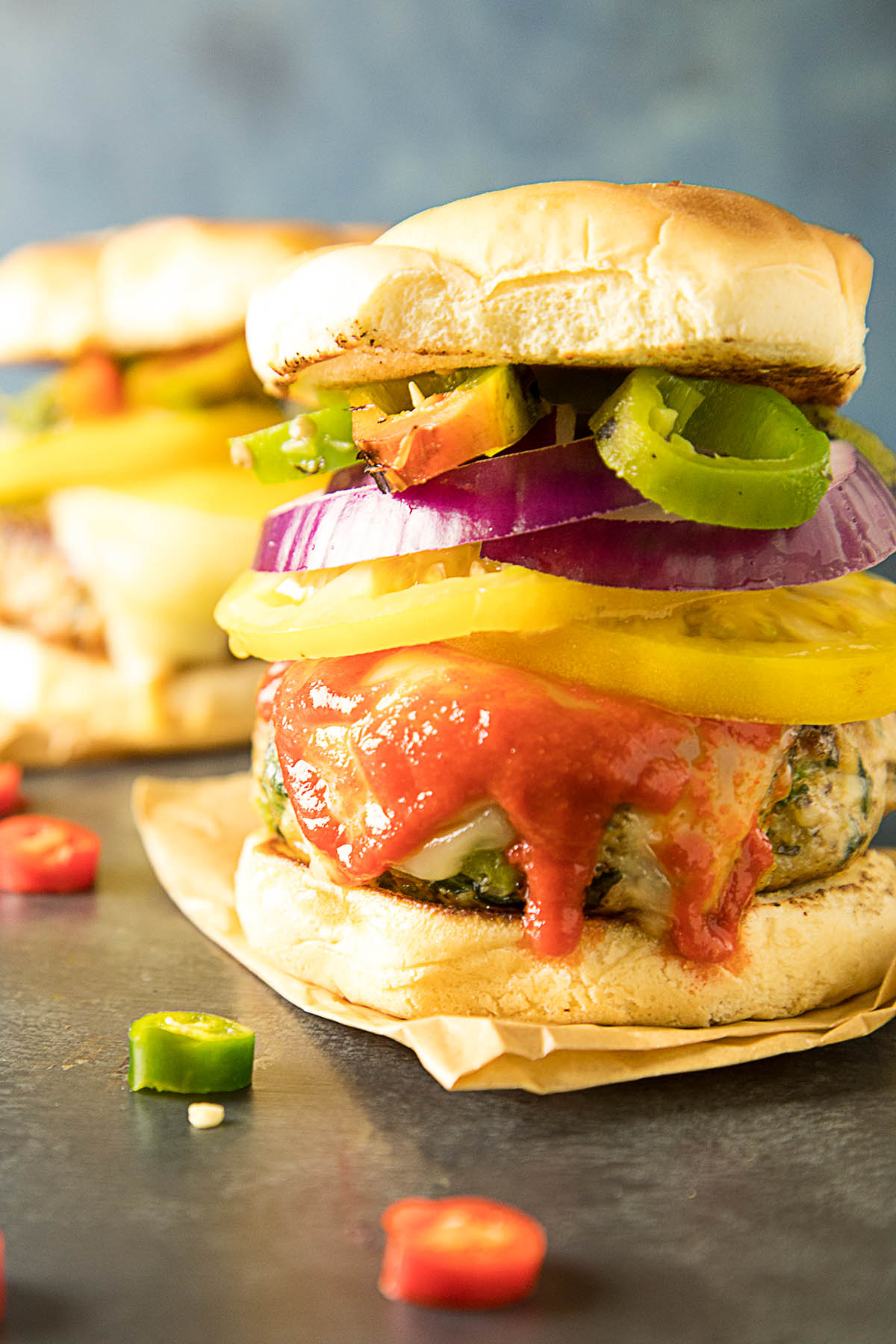 The REAL beauty of making burgers at home is your creative freedom to incorporate whatever ingredients you'd like to enjoy. Sure, you can buy ready-made burgers, but nah. You'll never get such interesting flavor and ingredient combinations that your brain can come up with.
For this recipe, I was in sort of a Mediterranean mood so I included fresh chopped spinach and Spanish manchego cheese into the ground chicken mixture.
Cheese is always a prime addition to your ground meat burgers, as the cheese more completely permeates the burger and influences the flavors differently than topped melted cheese does. Experiment with different cheeses to get what I'm talking about.
I also included a slew of my favorite seasonings and herbs. Make sure you do NOT skip the step of warming the fresh rosemary, thyme and peppercorns.
It is best to open up their flavors with a bit of heat. It makes a big difference.
How to Make These Burgers – the Recipe Method
Go ahead and mix everything up, but do not OVERMIX your burger mixture, which can cause the resulting burgers to become mealy in texture.
Form them into 8 good sized burger patties and cook them up on the grill or in a pan on the stove as you would normally cook up a burger. Or hey, make some BIGGER BURGERS and make your spouse a little angry with you.
Sorry, Patty!
NOTE: She couldn't finish her burger. My bad.
Then! Go to town with your own favorite toppings. As you can already see, I went NUTS with sriracha, a bit more melted cheese, red onion, thick heirloom tomato slices, and roasted jalapeno peppers, because we all know — Mike's #JalapenoObsession.
You can easily freeze these burgers as well, which I did, for quick and easy meals later on. I hope you enjoy them!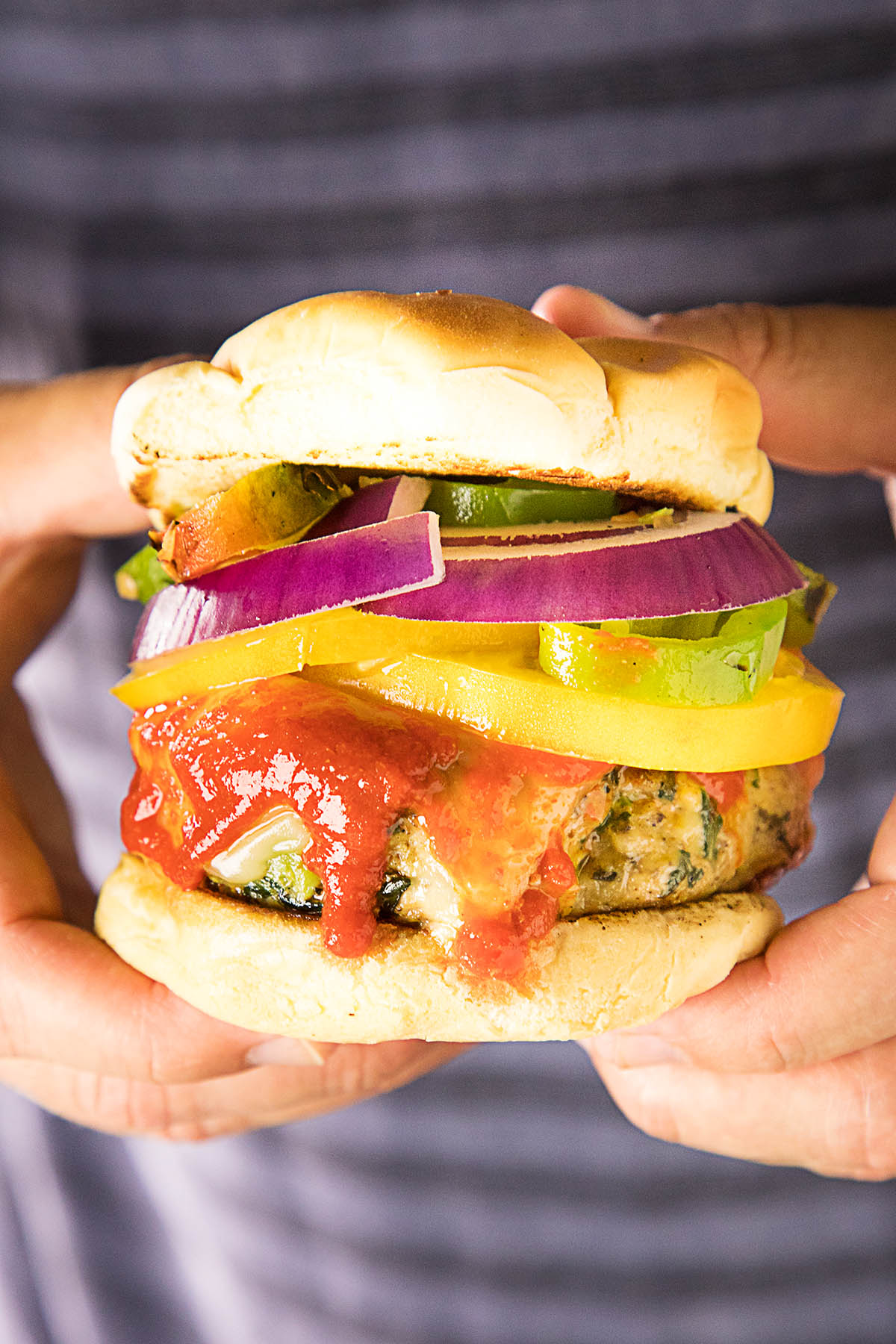 Try Some of My Other Popular Burger Recipes
Got any questions? Ask away! I'm happy to help. If you enjoy this recipe, I hope you'll leave a comment with some STARS.Also, please share it on social media. Don't forget to tag us at #ChiliPepperMadness. I'll be sure to share! Thanks! — Mike H.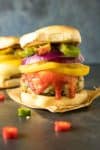 Print Recipe
Spicy Ground Chicken Burgers with Spinach and Manchego - Recipe
Get this recipe for juicy chicken burgers made with freshly ground chicken, manchego cheese, spinach, jalapeno peppers and loads of spices. It's big on flavor and ready for the grill.
Ingredients
2

pounds

ground chicken

2 1/2

cups

spinach

chopped

1 1/2

cup

manchego

shredded

2

jalapeno peppers

diced

2

ounces

beer

1

teaspoon

dried rosemary

1

teaspoon

thyme

1

teaspoon

black peppercorns

1

teaspoon

dried garlic

1

teaspoon

dried oregano

1

teaspoon

smoked paprika

Salt to taste

1

cup

breadcrumbs

if desired
FOR SERVING
Toasted buns

Whatever toppings you desire – I used a bit of extra cheese

roasted jalapeno peppers, fresh sliced tomatoes and hot sauce
Instructions
Add the chicken, spinach, manchego cheese, jalapeno peppers and beer to a large mixing bowl.

Heat a small pan to medium heat and add the rosemary, thyme and peppercorns. Dry heat them for about a minute, until they begin to become fragrant. Cool slightly then grind in a mortar and pestle.

Add to the mixing bowl with the remaining ingredients.

Hand mix the ingredients until they are roughly combined. Do not over process, or the burgers can become mealy.

Form the mixture into 8 equal sized patties, about 4-5 ounces each. If the patties feel too loose, add a bit of breadcrumbs to each and incorporate to tighten them up.

Heat a grill pan or grill to medium heat and lightly oil. Grill each burger patty 4-5 minutes per side, or until the chicken is cooked through completely.

Top with extra cheese, if desired, and allow to melt.

Serve over buns with your additional toppings!
Notes
Makes 8 burgers (or 4 big fatty burgers)
Nutrition
Calories:
316
kcal
|
Carbohydrates:
11
g
|
Protein:
27
g
|
Fat:
17
g
|
Saturated Fat:
8
g
|
Cholesterol:
120
mg
|
Sodium:
303
mg
|
Potassium:
696
mg
|
Fiber:
1
g
|
Sugar:
1
g
|
Vitamin A:
1170
IU
|
Vitamin C:
7.2
mg
|
Calcium:
274
mg
|
Iron:
2.1
mg