Juicy Jalapeno Chicken with Cheese
A recipe for juicy chicken breast smothered in sliced jalapeno peppers, garlic-infused spinach, fresh tomato and topped with melted Muenster cheese.
This recipe has been around a LONG time in the Madness household.
It goes back to the early days of our marriage, when I was still more or less learning how to cook (Still am! Always!), more dabbling than anything, but wanting more than just plain chicken in a pan.
I don't even know where the original recipe idea came from, but I do know I altered it quite a bit, adding in the seasonings we've come to prefer, along with spicy chili peppers, of course, jalapeno peppers in this case.
I used to make this one all the time.
It's easy.
That's pretty KEY when you're crazy busy or not in the mood to spend a lot of time in the kitchen.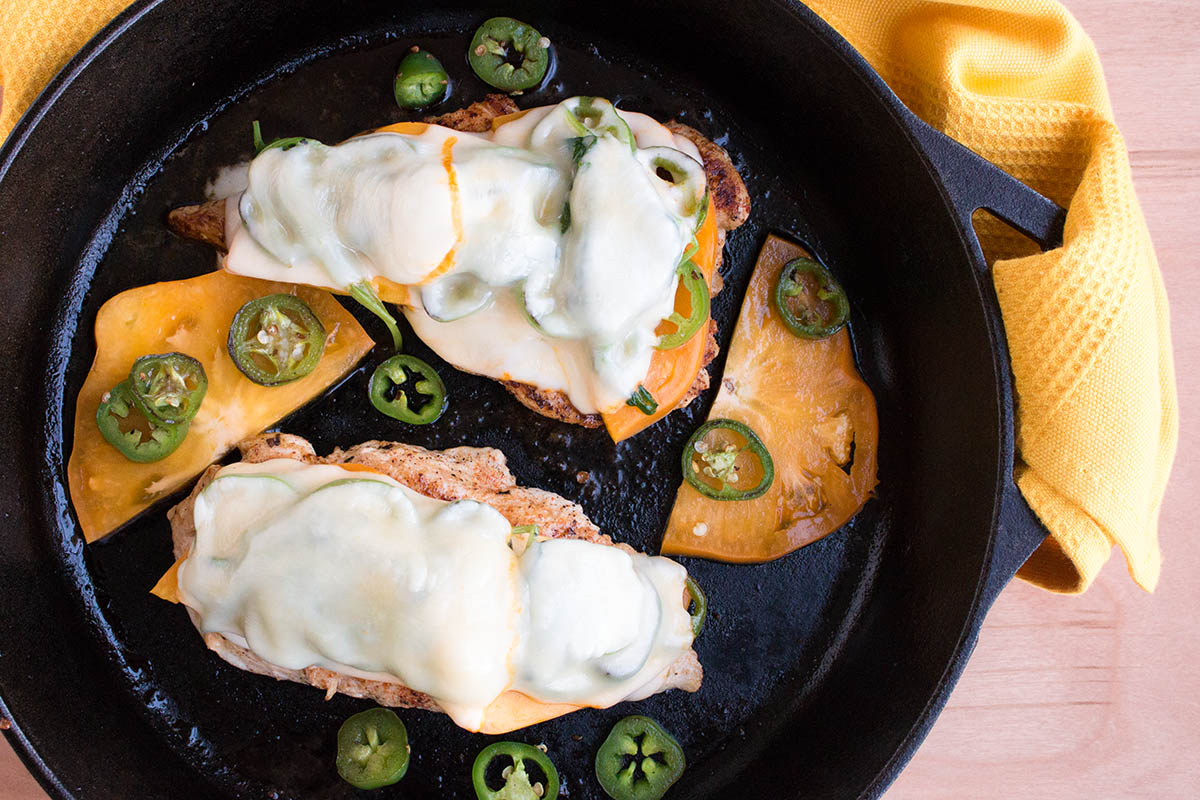 I had this recipe on our older web site at Jalapeno Madness – http://jalapenomadness.com/recipe_jalapeno_downtown_chicken.html – Yeah, it's been around that long. You can see how our photography skills have improved since then, eh? Regardless, it's still as tasty as ever!
About this Jalapeno Chicken Recipe
At the end of the day, the recipe is chicken breast that has been pounded flat, seasoned with a spicy seasoning blend and seared, layered with jalapeno peppers, tomato slices and garlic infused spinach, then topped with melty cheese.
Oh baby!
It's just the right amount of decadence without being TOO bad.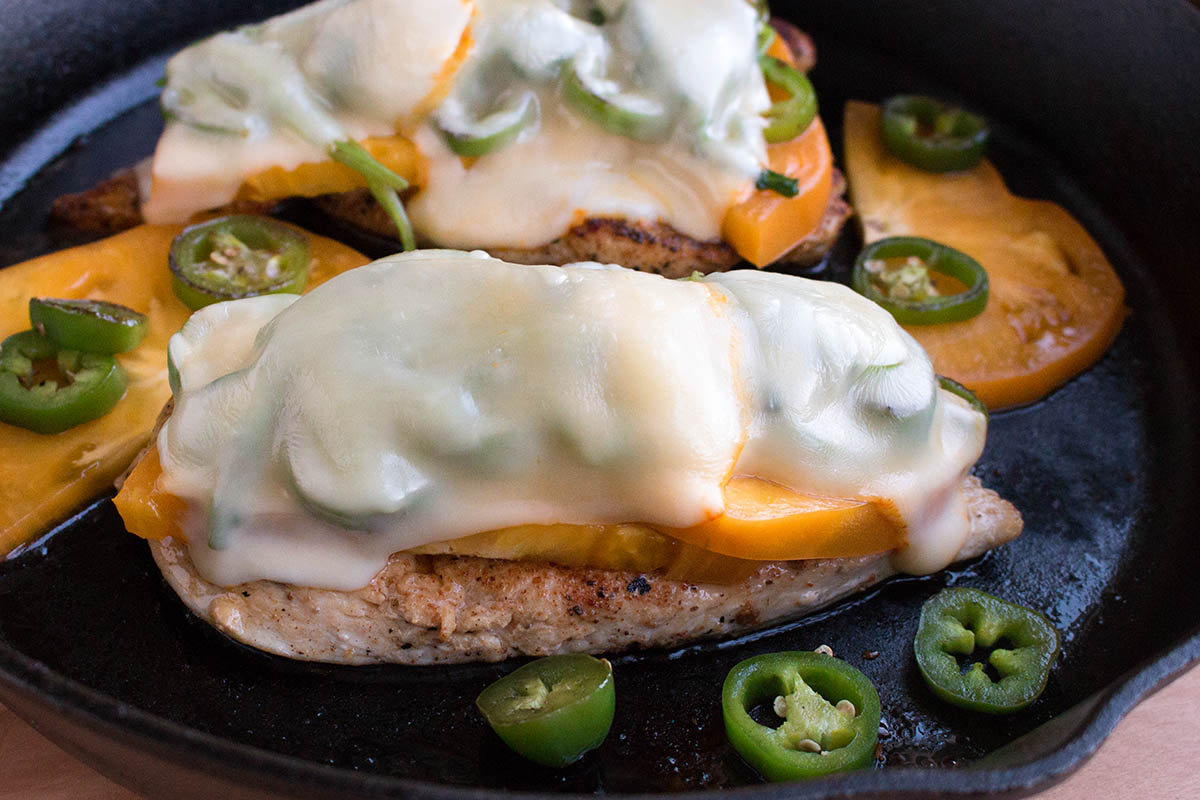 It looks like a huge clump of gooey cheese over the top, but that is juicy spinach underneath, along with the tomato and jalapenos.
Recipe Notes
OBVI, feel free to add as much cheese as you'd like, but we like to drape just enough over the top, about a half slice, to cover it and give that flavor pop.
Really, though, it's all about the veggie combo and the seared chicken. I figured it was about time we updated some of the older recipes on our site, and from our older sites that we still love.
I didn't want to just move the recipe straight over without updating the photos. This one is definitely worth it.
I hope you'll give it a try!
I made some small updates to the recipe as well, basically omitting the feta cheese and Worcestershire. I think those would still be good additions, but I wanted to make sure the spinach flavors were not lost here.
Both versions are good!
Let me know what you think!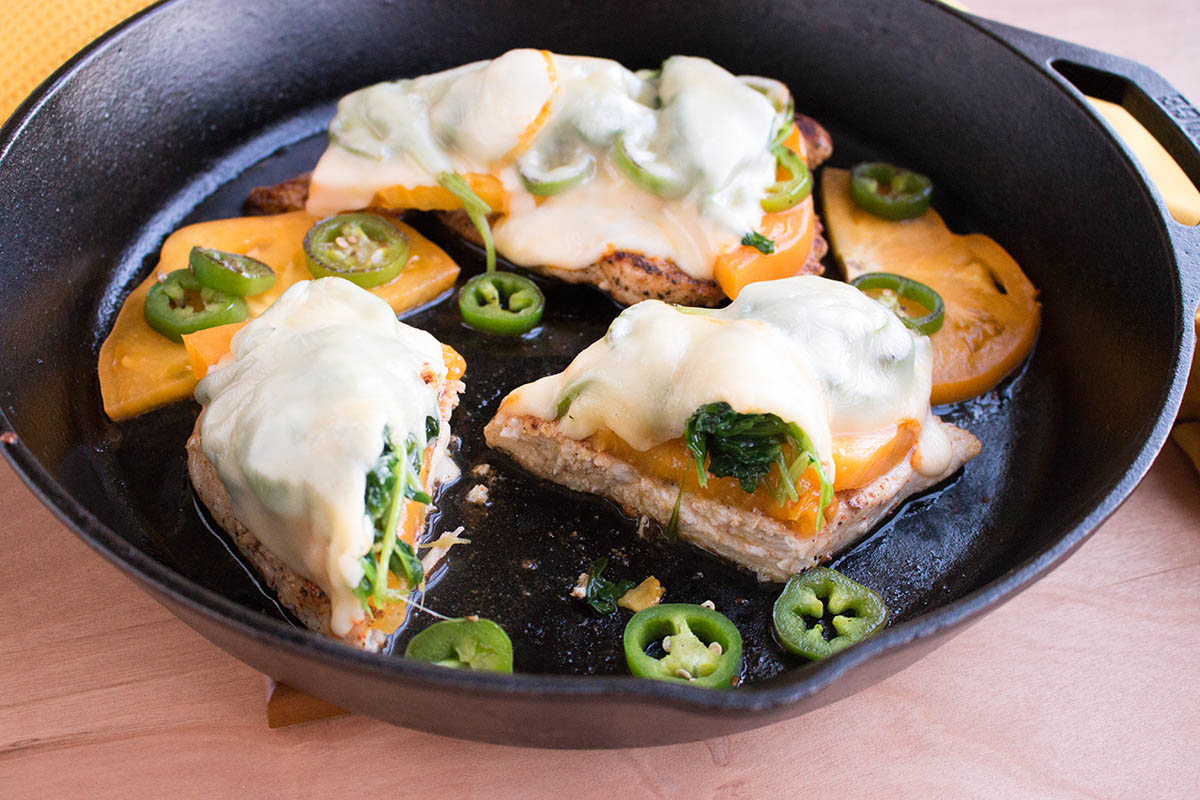 Try Some of My Other Popular Chicken Dishes
Got any questions? Ask away! I'm happy to help. If you enjoy this recipe, I hope you'll leave a comment with some STARS.Also, please share it on social media. Don't forget to tag us at #ChiliPepperMadness. I'll be sure to share! Thanks! — Mike H.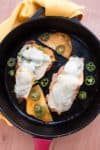 Juicy Jalapeno Chicken with Cheese - Recipe
A recipe for juicy chicken breast smothered in sliced jalapeno peppers, garlic-infused spinach, fresh tomato and topped with melted Muenster cheese.
Keyword:
chicken, chicken breast, jalapenos
Ingredients
1

teaspoon

olive oil

1

jalapeno pepper

sliced into rings

1

cup

spinach

1

teaspoon

fresh minced garlic

1

chicken breast

thawed and sliced lengthwise, thin

1

tablespoon

Cajun seasonings

Salt and pepper to taste

1

tomato

sliced

1

slice

Muenster or provolone cheese
Instructions
Heat a large skillet to medium heat and add olive oil. Add jalapeno peppers and cook about 5 minutes, flipping them through, until softened and starting to char. Remove from heat and set aside.

To the pan, add spinach and garlic. Toss and cook a couple minutes, until spinach is cooked through. Remove from heat and set aside.

Pound the chicken flat with a tenderizer or rolling pin to about a half inch thick.

Season the chicken with Cajun seasonings, salt and pepper and add to the skillet. Sear about 2 minutes each side, then reduce heat to low and cook until chicken is done throughout. Use a bit of cooking spray to avoid sticking if needed.

Top chicken with spinach, tomato slices and jalapeno pepper slices, then top with a half slice of cheese.

Cover the pan until cheese is melted. Serve!
Recipe Notes
Heat Factor: Medium. You'll get some good heat from the jalapeno peppers. Enjoy!
Nutrition Facts
Juicy Jalapeno Chicken with Cheese - Recipe
Amount Per Serving
Calories 450
Calories from Fat 162
% Daily Value*
Total Fat 18g 28%
Cholesterol 163mg 54%
Sodium 543mg 23%
Potassium 1538mg 44%
Total Carbohydrates 12g 4%
Protein 58g 116%
* Percent Daily Values are based on a 2000 calorie diet.