Spicy One-Pan Chicken and Couscous
A quick and easy recipe with ground chicken, fluffy couscous and lots of chili peppers spiced up with Cajun seasonings. On the table in 30 minutes or less! Perfect for your spicy cravings.
I've been digging couscous lately. It's a great alternative to rice, nice and fluffy, filled with healthy nutrients, and it's pretty darned tasty. Well, it is when I get through with it! Haha.
Like rice, couscous doesn't have a lot of inherent flavor, but it does absorb all the flavors you throw at it, so if you're a spicy food lover like I am, it will deliver said spice in spades. It helps that it's a super easy dish, with everything cooked up in a single pan. Bonus points for easy clean up.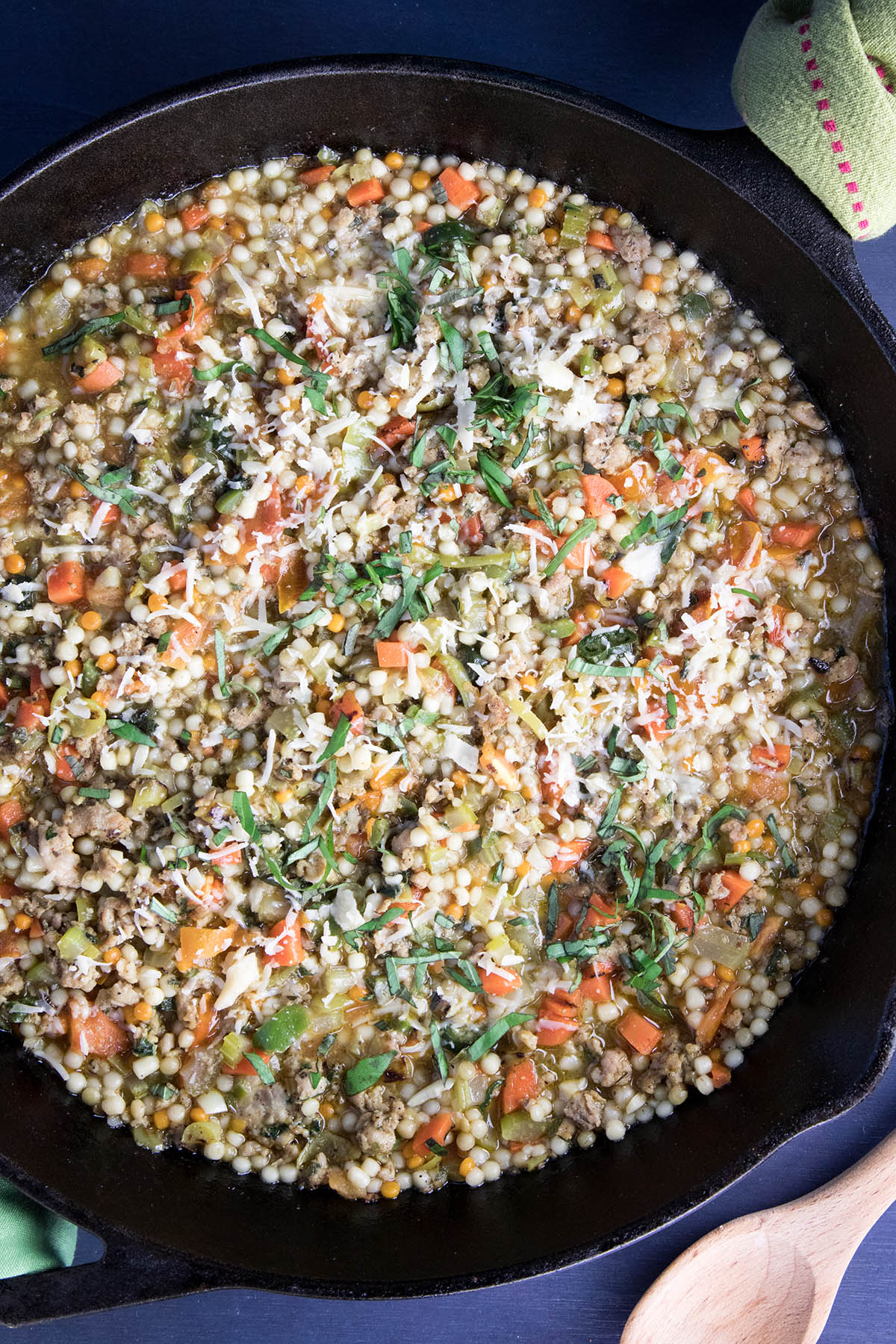 This is a vegetable heavy dish, and you can easily include other veggies to your own personal preference, but I included chopped carrot and celery, along with a healthy collection of chili peppers. I had a collection of sweet peppers on hand that I needed to use, and those are always welcome when I'm cooking. I also had a couple banana peppers that I didn't want to lose, and included a couple small serrano peppers because I was craving a bit of heat this time around.
Imagine that!
Serranos carry a nice bit of heat, not too overwhelming, and I love the flavor.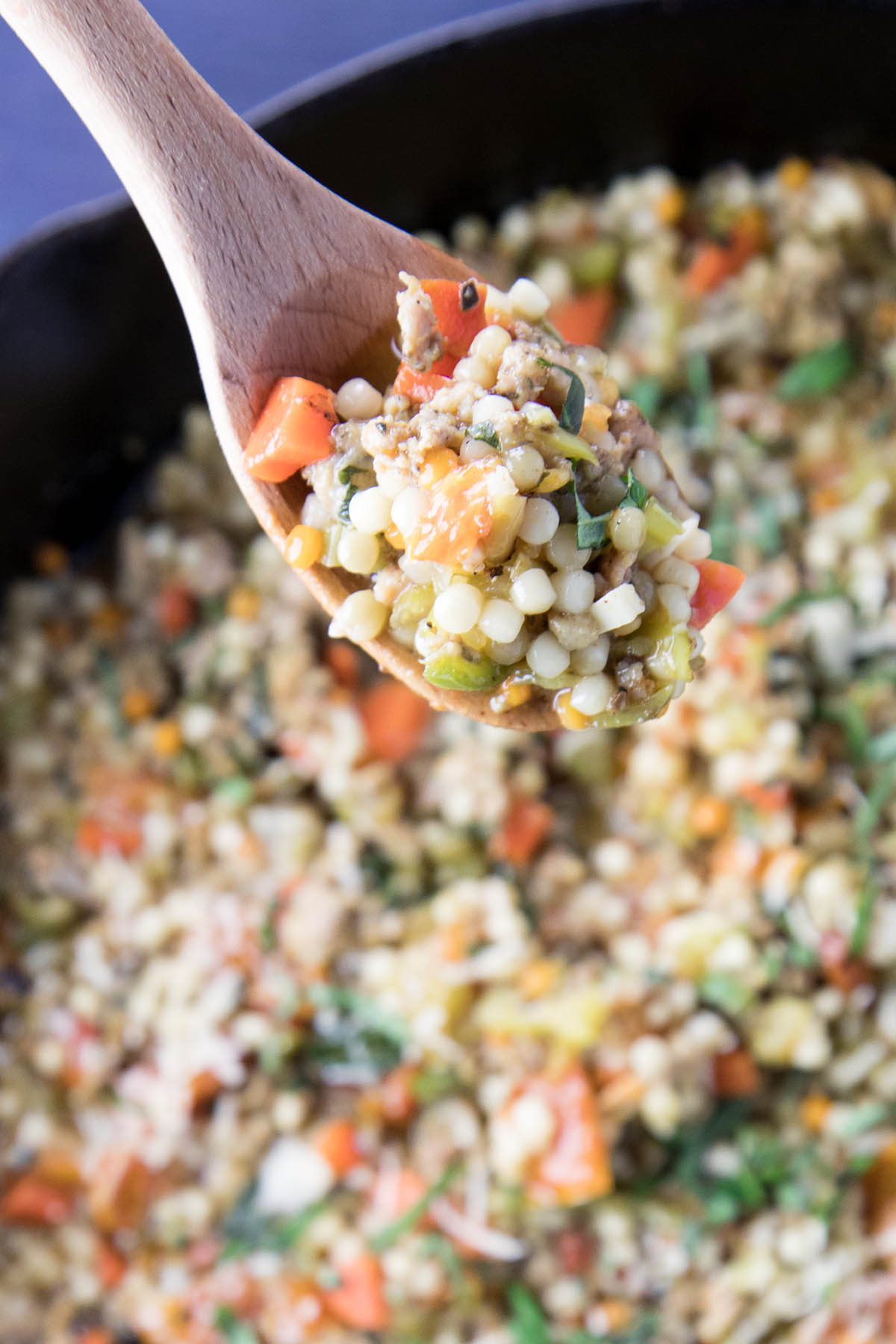 Cooking it up is easy enough. You'll cook down the carrot, celery and chili peppers in your pan with a bit of olive oil, then add the ground chicken to brown it. I used ground chicken for the resulting consistency of the dish, though you can easily substitute chopped chicken breast or chicken thigh, which would totally ROCK here.
Add in your garlic and Cajun Seasonings with a bit of salt and pepper and stir it all up. The Cajun seasonings are pretty KEY here. You'll want a good level of seasoning to really spice things up. I used a couple tablespoons, which was plenty for me, but you can easily dial it back or add more to your personal preference.
Try our Homemade Cajun Seasoning Recipe to make your own version.
Finally, add in your couscous with some chicken stock and chopped tomatoes and let the whole thing simmer until the couscous fluffs up and absorbs the liquid and everything become nice and flavorful. You can smell it when it all comes together. Sort of maddening, I tell ya!
This. Stuff. ROCKS.
SO! GOOD!
Sorry. Shouting.
It's definitely a meal on the lighter side that won't bust your belly, which is a good thing for me lately as I'm visiting the beach and have a Caribbean cruise planned soon. Haha! Gotta get beach ready, right?
Finish it off with some Parmesan cheese and fresh herbs. Maybe some hot sauce. Nice!
Let me know how this turns out for you. I hope you enjoy the recipe! Spice it up! Cook on! — Mike H.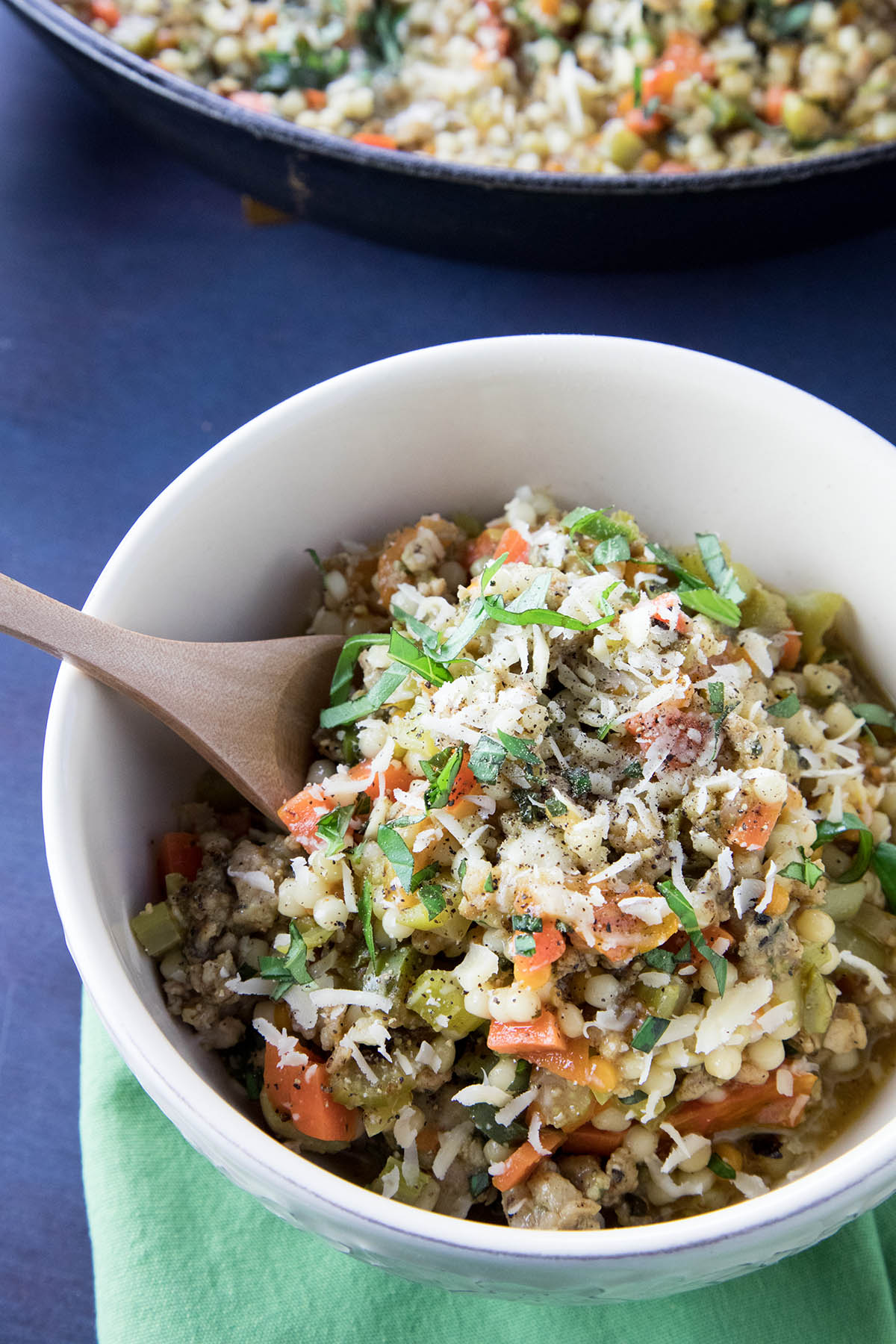 Try Some of My Other Popular Chicken Recipes
If you try this recipe, please let us know! Leave a comment, rate it and tag a photo #ChiliPepperMadness on Instagram so we can take a look. I always love to see all of your spicy inspirations. Thanks! — Mike H.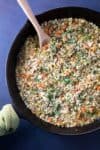 Spicy One-Pan Chicken and Couscous
A quick and easy recipe with ground chicken, fluffy couscous and lots of chili peppers spiced up with Cajun seasonings. On the table in 30 minutes or less! Perfect for your spicy cravings.
Ingredients
1

cup

chopped carrot

1

cup

chopped celery

1

cup

chopped chili peppers – use a variety – I used a mixture of serranos

banana peppers, and sweet peppers

2

tablespoons

olive oil

10

ounces

ground chicken

3

cloves

garlic

chopped

1-2

tablespoons

Cajun seasonings

Salt and pepper to taste

1

cup

couscous

1.5

cups

chicken stock

2

medium tomatoes

chopped

Freshly grated Parmesan cheese and chopped herbs for serving
Instructions
Heat the oil in a cast iron pan to medium heat. Add carrot, celery and chili peppers and cook them down about 8 minutes to soften.

Add the ground chicken and break it apart with a wooden spoon. Brown it through about 2 minutes.

Add garlic, Cajun seasonings and stir. Season with salt and pepper. Cook for another minute.

Add couscous and chicken stock along with the fresh tomatoes. Stir it all to incorporate.

Bring to a quick light boil then reduce heat to simmer and cook for 10 minutes, until most of the liquid is absorbed by the couscous.

Remove from heat and let it stand for 10 minutes. The coucous will finish absorbing the liquid.

Top with fresh herbs and Parmesan cheese and serve.
Recipe Notes
Makes 2 good sized bowls, or 4 smaller bowls.
Nutrition Facts
Spicy One-Pan Chicken and Couscous
Amount Per Serving
Calories 409
Calories from Fat 126
% Daily Value*
Fat 14g22%
Cholesterol 63mg21%
Sodium 225mg9%
Potassium 1019mg29%
Carbohydrates 47g16%
Protein 22g44%
Vitamin A 7190IU144%
Vitamin C 65.7mg80%
Calcium 57mg6%
Iron 2.3mg13%
* Percent Daily Values are based on a 2000 calorie diet.