Cranberry-Rosemary Moscow Mule
Hey all! Patty here again with your Thirsty Thirteenth cocktail. It's December and the holidays are upon us so I decided to focus on a popular holiday ingredient – Cranberries. This recipe utilizes some really great flavors that go well together. I usually like to bring you some slightly complex drinks that require just a bit of effort because anyone can pour a few ingredients in a glass and shake it. Don't worry, it will be worth the effort. The payoff is a crazy YUM-filled drink. I love infusing alcohols with different ingredients or making simple syrups. It's unbelievable how easy it is to make simple syrups. I guess that's why they are called "Simple"? LOL.
This one combines cranberry and rosemary, which has a very savory quality to it, along with a bit of jalapeno pepper, to make for an excellent flavor combo. I kept the jalapeno very subtle so you don't scare away all your friends and neighbors. Feel free to eliminate it altogether or if you have real chili head friends, use more.
See below – making our Cranberry-Rosemary Infused Simple Syrup with a bit of Jalapeno Pepper. So good!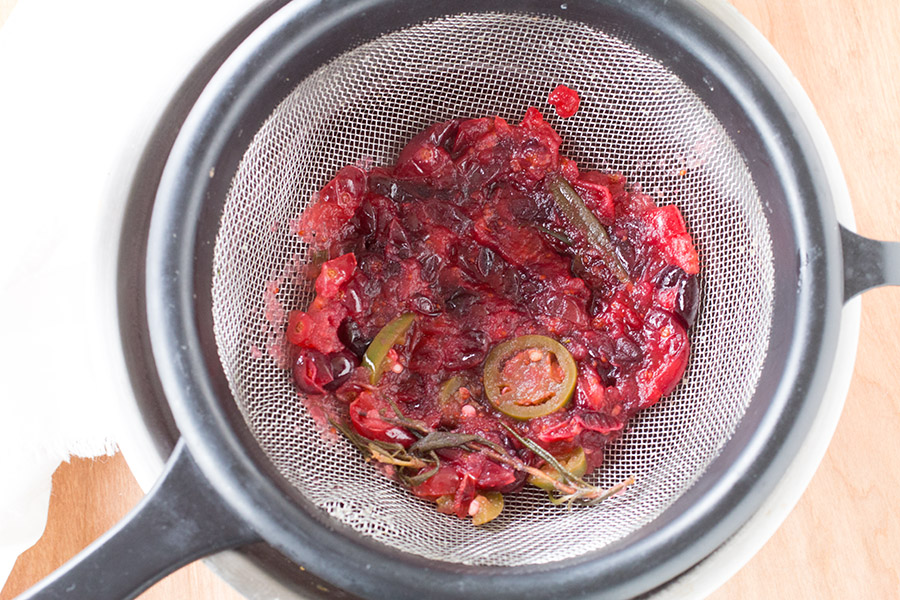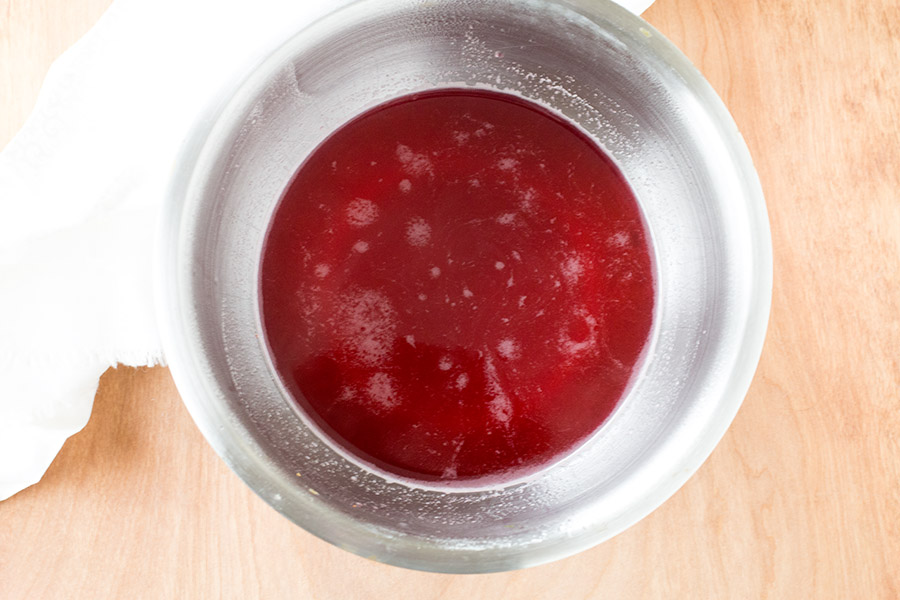 Doesn't it look pretty in the bowl? Sory of a "Starry Night" feel. I almost want to crop it and frame it.
This drink is a variation on the extremely popular "Moscow Mule", brining in alcoholic ginger beer. Personally I love cranberry a lot more than ginger so if you are like me you can use swap ounce for ounce of more of the cranberry syrup and less ginger beer. But if you love Moscow mules, you'll definitely love this as it is quite a ginger forward cocktail drink. In fact we actually had sushi tonight with this drink and it's an unbelievable pairing. Ginger and sushi. No-brainer. The rosemary comes through so well making it very savory.
If you are serving this for a party, make plenty of the simple syrup ahead of time and refrigerate. The flavors will meld the more as it sits. Then, putting together a drink here and there will be super fast.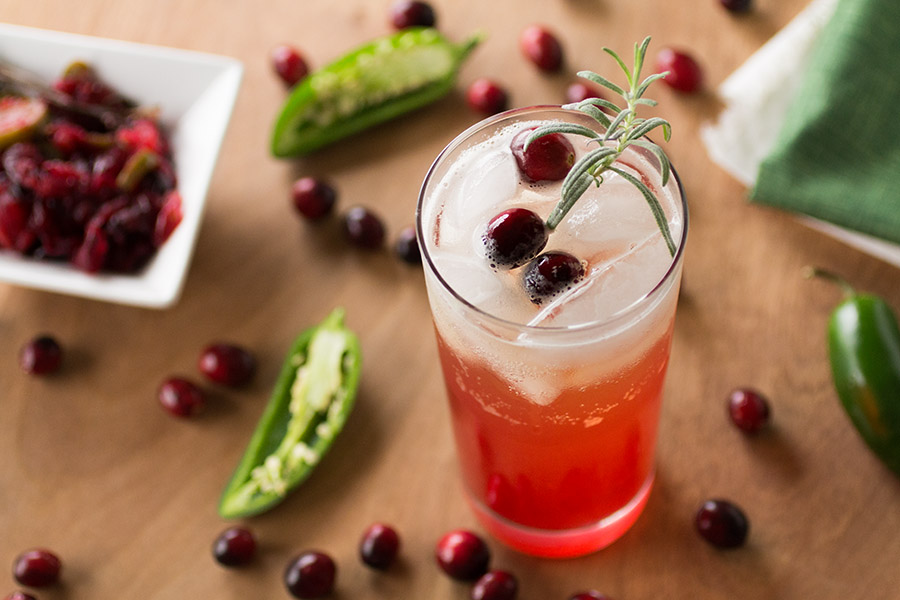 Mike's Perspective: This is a highly creative Moscow Mule recipe with unexpected flavor. I told Patty to skip the Moscow Mule mugs for this photo for a couple reasons. First, I think it's important to show how tasty this drink looks. I mean, just look at it. Wow! Second, I knew it wouldn't last long at all past the photo shoot. Um, yeah. I was right.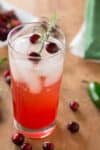 Cranberry-Rosemary Moscow Mule
Ingredients
Ingredients for the Simple Syrup:
½

jalapeno

sliced

2

sprigs rosemary + more for garnish

1

cup

fresh cranberries

1/3

cup

sugar

1

cup

water
Ingredients for the Moscow Mule:
1.5

ounces

citrus vodka

6

ounces

ginger beer

2.5

ounces

simple syrup
Instructions
Cook all simple syrup ingredients in a pot on medium heat. Bring to a light boil, covered. Cook about 6-7 minutes, until the cranberries open up.

Smoosh them down a bit with a spoon to release the juices. Lower the heat and cook another 5 minutes.

Strain the liquid out and cool. Reserve the solids for another recipe if you'd like. They'd make a great jam or sauce. It would great with Pork.

Shake vodka and 2.5 ounces of the syrup in a shaker with ice.

Pour into a tall glass and top with the ginger beer.

Garnish with a rosemary sprig and a few cranberries.
Recipe Notes
You can make 4 drinks from the batch of simple syrup.
Nutrition Facts
Cranberry-Rosemary Moscow Mule
Amount Per Serving
Calories 163
% Daily Value*
Sodium 17mg 1%
Potassium 32mg 1%
Total Carbohydrates 36g 12%
* Percent Daily Values are based on a 2000 calorie diet.