Grilled Pineapple-Jalapeno Summer Cocktail
Hey everyone! Patty here again with your Thirsty Thirteenth drink recipe. Well it's HOT here and it's welcomed since we don't get much of it. Plus, I've got a nice cold refreshing drink to keep you cool. I really wanted to be outside all day and thought it would be great to grill some pineapple for our drink. It adds an extra complexity to the flavors of the final cocktail. I went around the neighborhood and gathered up my friends and whatever herbs I could snip out of their gardens. It all came together as a group effort. I was able to gather some sage and basil from various gardens. And, I had to bring you some spice of course with some jalapeno.
I wanted this to be a fresh summer drink with local flavors so I even decided to use a cilantro vodka. I always have a lot of flavored Absolut on hand and Absolut Cilantro is amazingly fresh tasting. And, since I wanted this drink to scream "Summer", I had to go with some white rum as well. This has a number of different flavors that all come together with a little muddling.
Very refreshing for a hot summer day. Shout out of thanks to Jen who helped me out with the photos and the drinking part. I couldn't have done it without you.
Mike's Perspective: Any drink with a jalapeno pepper in it, and I'm in! You can really taste the fresh jalapeno. So good.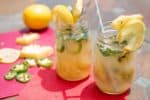 Grilled Pineapple-Jalapeno Summer Cocktail
Ingredients
3

ounces

white rum

3

ounces

cilantro vodka

12

ounces

lemon lime soda

6

leaves

sage

6

leaves

basil

1

jalapeno

sliced

2

pineapple wheels

1

lemon for garnish

1

lime for garnish
Instructions
Heat grill to medium heat. Grill the pineapple wheels. Let cool.

Cut each pineapple wheel into 4 triangles and reserve two for garnish.

Split the rest of the pineapple between the two glasses. I used mason jars to be able to handle the muddling without breaking the glass.

Place 3 jalapeno slices, 3 sage leaves and 3 basil leaves into each glass.

Lightly muddle the ingredients in the glass to mix and break things up a bit.

Fill a shaker with ice, add the cilantro vodka and rum and shake vigorously.

Add the lemon lime soda and stir.

Strain the mixture into the two glasses.

Add a slice of lemon and lime to each glass.

Garnish with lemon, lime and grilled pineapple.
Nutrition Facts
Grilled Pineapple-Jalapeno Summer Cocktail
Amount Per Serving
Calories 329
% Daily Value*
Sodium 20mg 1%
Potassium 179mg 5%
Total Carbohydrates 35g 12%
Protein 1g 2%
* Percent Daily Values are based on a 2000 calorie diet.