Serrano-Watermelon White Sangria
Happy Thirsty Thirteenth again. It's Patty and it's my favorite day. It's Thirsty Thirteenth, but not just that. It also happens to be my birthday! I couldn't be happier than to share a great party cocktail with you. Mike and I were at the beach recently discussing what the next Thirty Thirteenth drink should be. I was scanning through Pinterest for some ideas and came across a watermelon sangria. When I mentioned it to Mike his eyes lit up. It's so summery and refreshing and absolutely perfect for a hot August day. I can't wait to share this with my girlfriends tonight.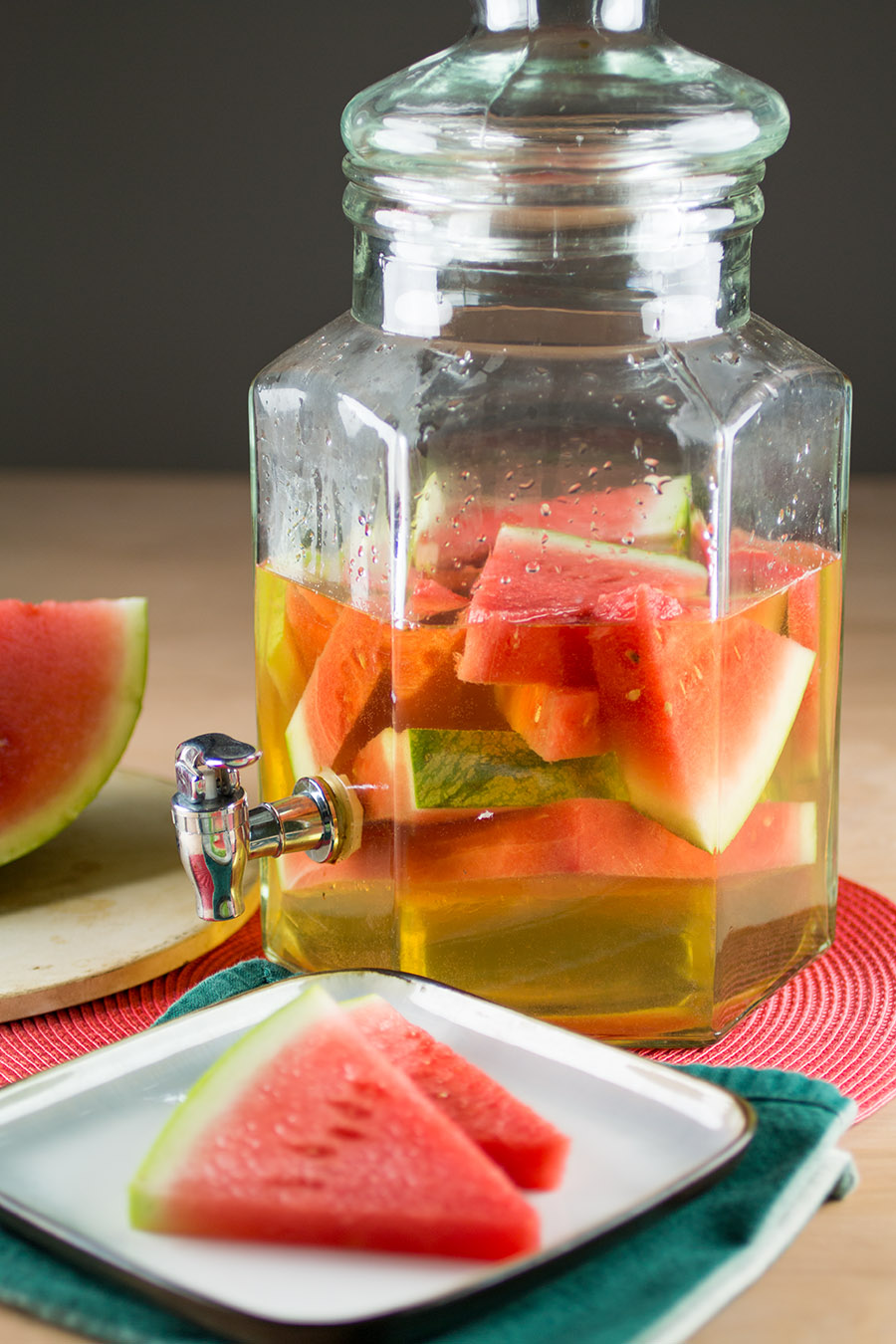 The longer you let the watermelon-alcohol infusion sit, the stronger the watermelon flavor will be. Just give it a good stir once a day.
If you want to really get some good basil and serrano flavor in there, do a bit of muddling. I used our mocajete which is the ultimate mortar and pestle. I got a really good grind on them and shook them up in the cocktail shaker with some of the sangria and it combined the flavors nicely. You get a tiny hit of spice with every sip – not too spicy, just enough for that serrano flavor to come through.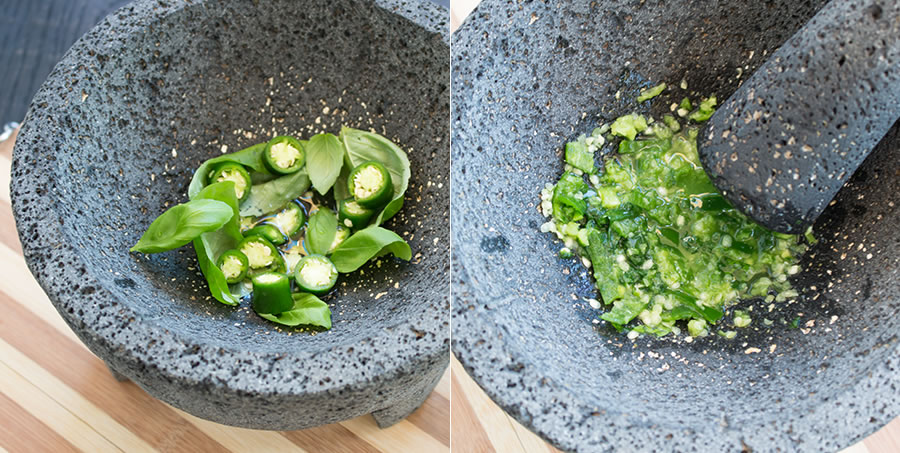 I love making large quantities of a cocktail for a party. This serves about 10 so it goes a long way. It would be great for anything from a wedding shower to a summer barbecue. And, you can simplify things to make it even easier. For those who don't like it spicy, you can skip the entire muddling process and just pour the wine mixture right into a glass. Ifyou let the pitcher sit for a while with the basil and watermelon cubes, the flavors will meld even more.
Enjoy!
Mike's Perspective: The watermelon flavor is quite pronounced with this cocktail, and that's a good thing. I love watermelon flavor. You still taste the wine but it is tempered and much lighter, a perfect summer drink. Refreshing. Serrano peppers pack some heat, but the way she muddled and strained, there was only a hint of that heat and a bit of the fresh serrano flavor. Very nice!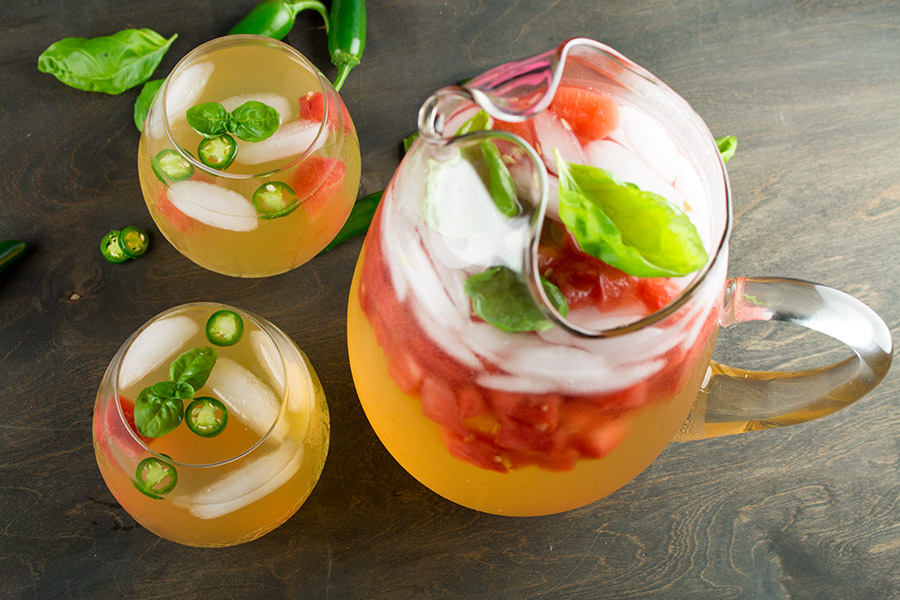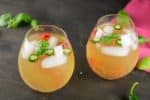 Serrano-Watermelon White Sangria
Ingredients
4

serrano peppers

3/4

medium watermelon

30

basil leaves

2

bottles semi-dry white wine like sauvignon blanc

1

cup

vodka

1

cup

triple sec
Instructions
Cut half of the watermelon into large wedged chunks, leaving the rind on.

Place the watermelon in a large container like a beverage dispenser and add the wine, vodka and triple sec.

Store in a cool dark place sealed for 2-4 days.

When ready to serve, strain out the wine mixture from the container. I used a beverage dispenser which helped to strain through the spout and also used a fine strainer when dispensing it. Put wine mixture into a large glass pitcher. You may need 2 pitchers.

Muddle 3 serrano peppers and 10 basil leaves with 2 teaspoons of the wine mixture.

Chop ¼ of the watermelon into small cubes without the rind and thinly slice the 1 remaining serrano pepper and reserve.

Put a portion of the muddled mixture into a cocktail shaker with ice and wine mixture and shake.

Strain into a glass with ice.

Add some of the cubes of watermelon.

Garnish with 3 thin slices of serrano and a basil leaf.
Recipe Notes
This works best to prepare two glasses at a time. If you are not making all of the glasses at once, do the muddling and glass preparation fresh when you serve each glass. If you are making this for a party and will be serving throughout the day, add ice, 10 basil leaves and ¼ of the watermelon chopped to the pitcher(s). Servings: 10
Nutrition Facts
Serrano-Watermelon White Sangria
Amount Per Serving
Calories 353
% Daily Value*
Sodium 13mg 1%
Potassium 502mg 14%
Total Carbohydrates 37g 12%
Protein 2g 4%
* Percent Daily Values are based on a 2000 calorie diet.