This post has been sponsored by The Coca-Cola Company. All thoughts and opinions are my own.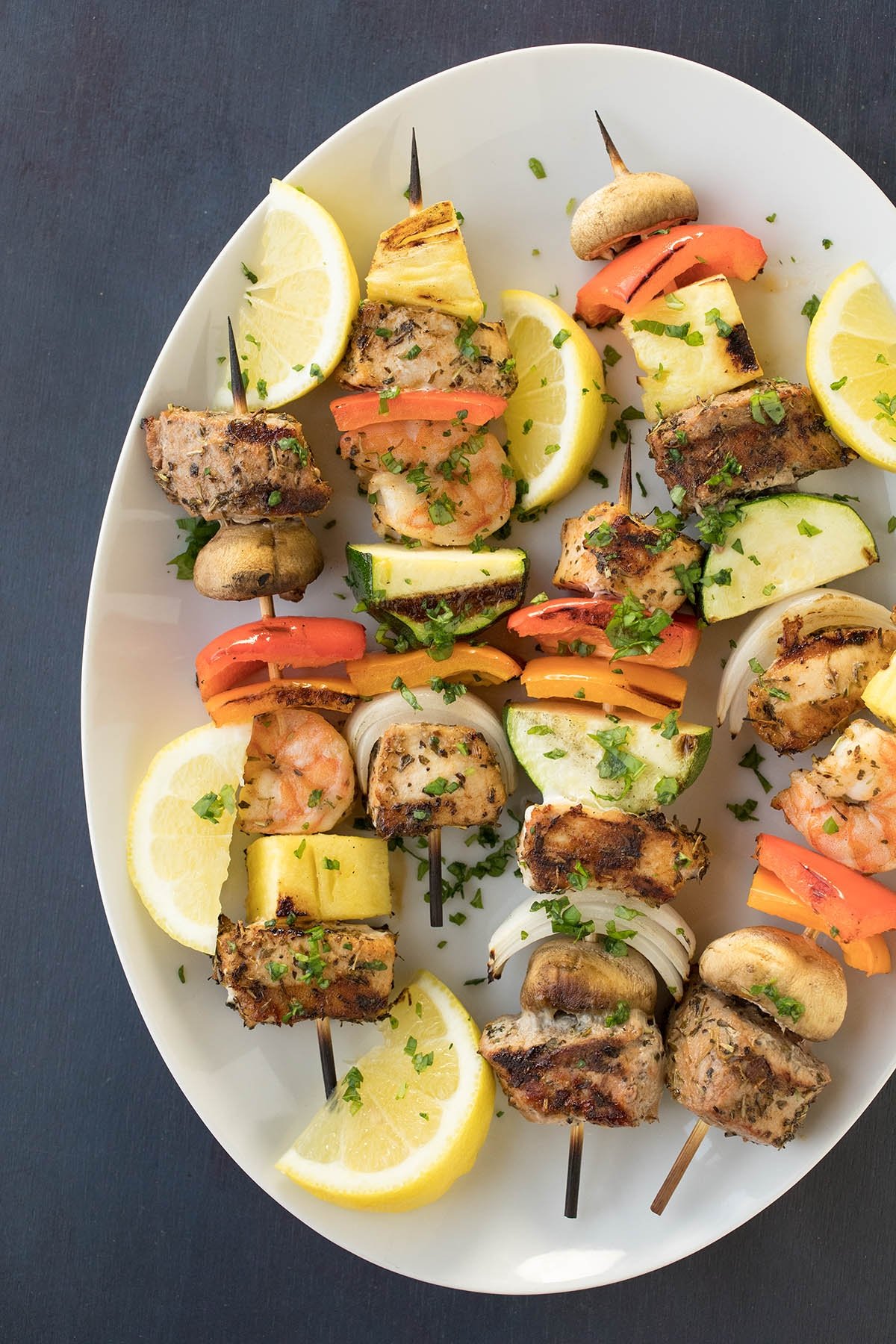 Need an easy summer party idea? How about a BBQ skewer party? All it takes are some simple ingredients, skewers, good friends and refreshments. Here's how.
Once we pass the 4th of July holiday each year, summer grilling parties start to lag. Ever notice that? How unfortunate. It's as if everyone is partied out or something, but here in the Madness household, we're ready to keep going. How about you?
We're still in the heyday of summer, and we aim to keep the party going, so what do you say? Shall we throw a party? Yes! Summer is our long needed break from the hustle and bustle we deal with the rest of the year. However, we don't want to do a ton of work, so we're keeping this party easy. We're throwing a BBQ Skewer Party.
Totally. Follow me and you'll see just how easy this can be.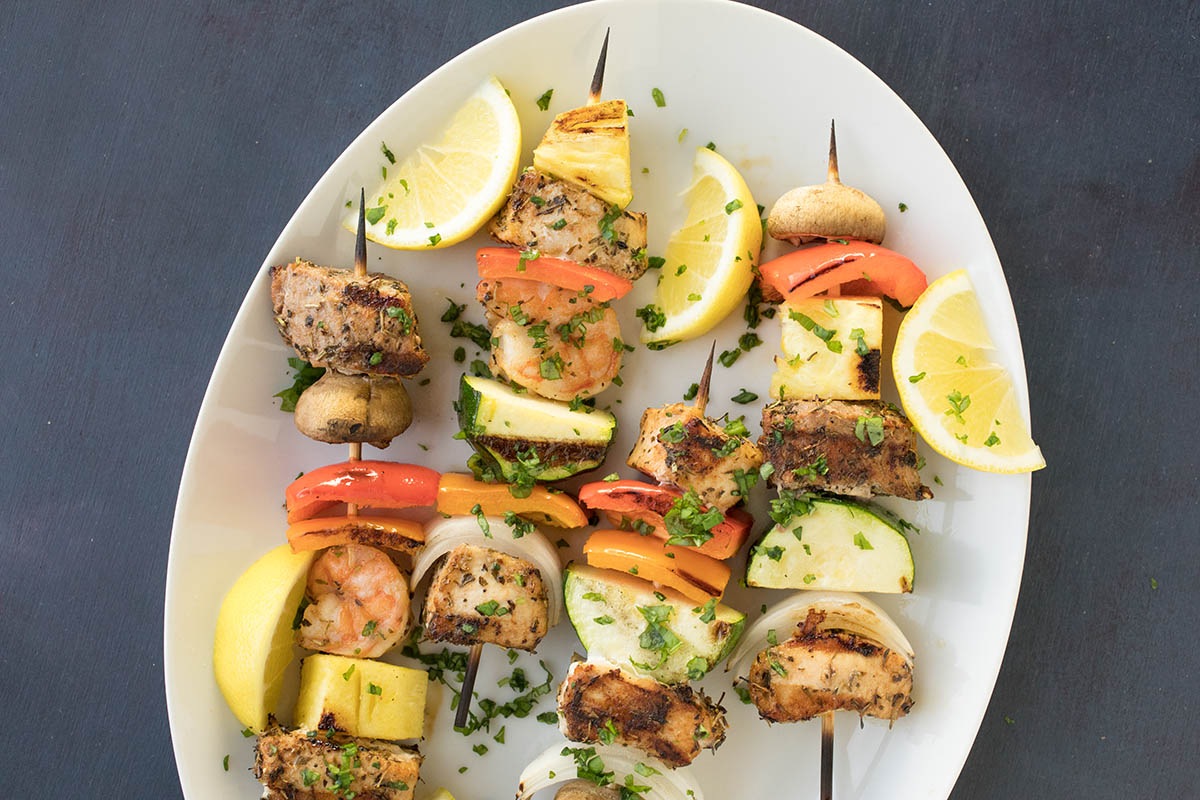 As mentioned, we're keeping it simple here, so we're throwing a BBQ Skewer Party, but not just ANY BBQ Skewer Party. This is more of a make-your-own-skewer event. How fun!
But first things first. We need to concentrate on the drinks. Today we're serving up Gold Peak® Sweet Tea & Simply Lemonade because they are super refreshing and everyone we know loves a good sweet tea and lemonade. They're perfect for any party, really.
Seriously. How wonderfully ice cold is this iced tea? I'm ready for another glass right now. Just the right amount of sweet and absolutely thirst quenching.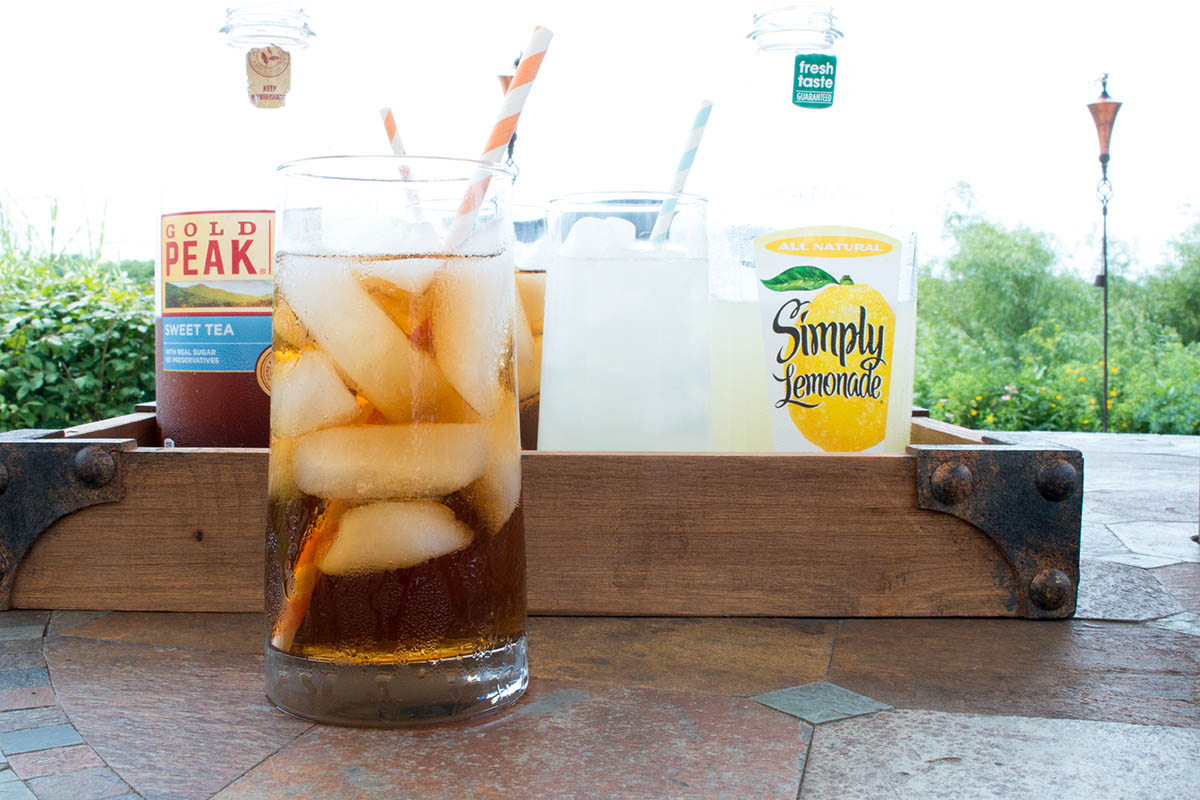 Get the Party Started
It doesn't take a lot of effort on your part. Truly, all we're doing is chopping up some meats and vegetables, marinating, then letting people make their own skewers. We'll be grilling them up then mopping on a bit of BBQ sauce or drizzling with fresh lemon juice and BOOM! Time to chow down!
The idea here is that people can grab up whatever ingredients they're in the mood for. They can mix and match meats and vegetables, add in some fruit, and use whatever sauce they have a hankering for. Since you're throwing the party, you can also include whatever ingredients you'd like to serve. Bring in your favorites!
Here is a shot of what I chose to serve.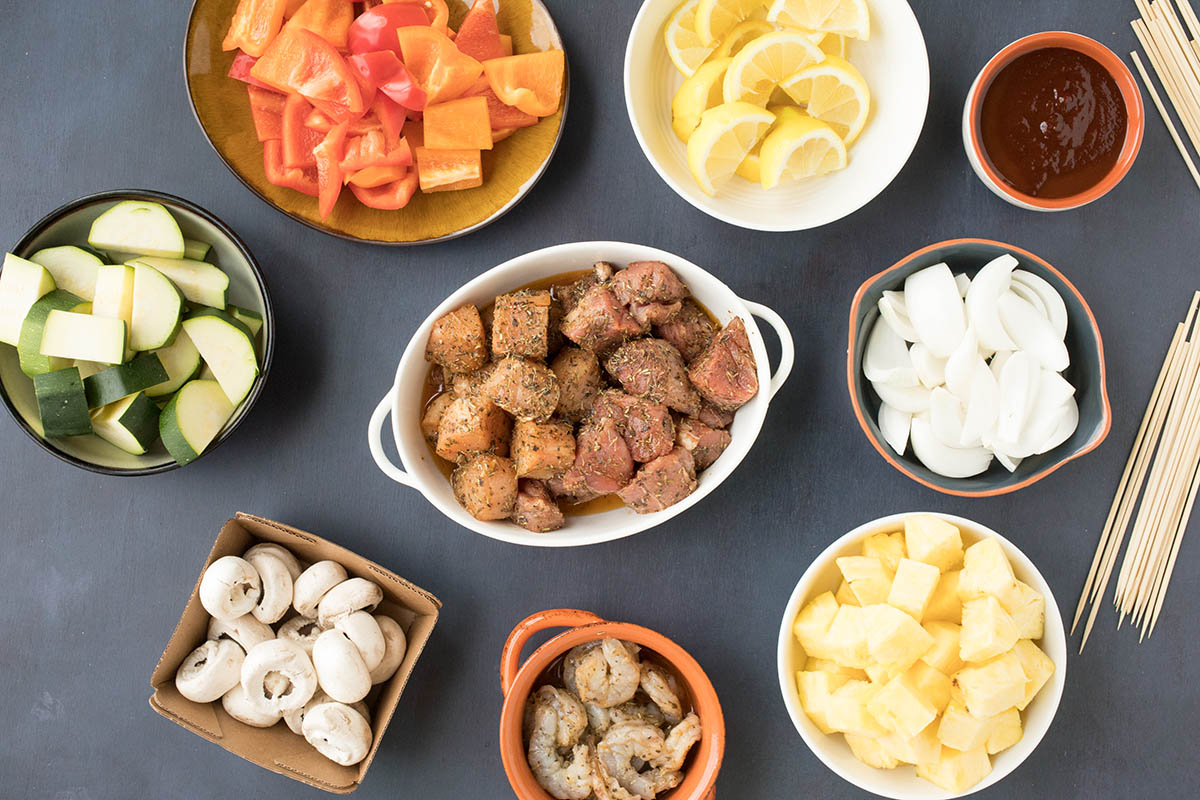 You can see all the awesome vegetables there – chopped bell peppers, whole mushrooms, chopped zucchini, onion, even some pineapple for sweetness. Consider summer squash or spicier chili peppers to zest this up. For the meats, I served up shrimp, chicken and pork loin. Bring in some steak if you'd like. Filet for me, please! I've also included fresh lemon wedges for squeezing over the finished skewers, along with a sweet BBQ sauce.
I marinated the meats to tenderize them a bit and add a LOT of flavor. I highly suggest a good marinade to make this meal truly stand out. I've included my marinade ingredients in the recipe below.
When the party arrives and everyone is ready to eat, fire up the grill, carry the ingredients out to your guests, and let them build their skewers! Your guests can use the skewers to pierce the ingredients easily, or you can provide extra forks to help them form their kabobs.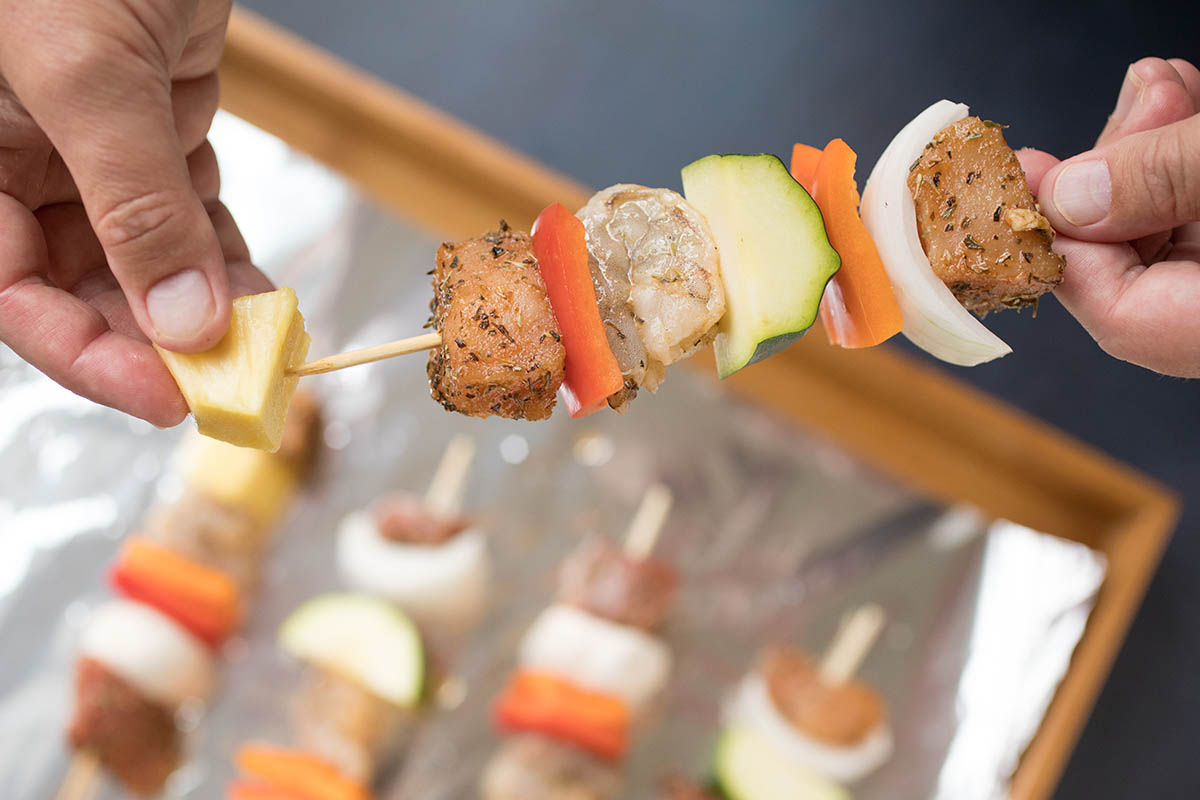 As your guests bring along their newly formed kabobs, set them onto a lightly oiled grill and grill them up! They will only take about 10-15 minutes to grill, flipping half way through, depending on your grill. Just be sure the ingredients are cooked through.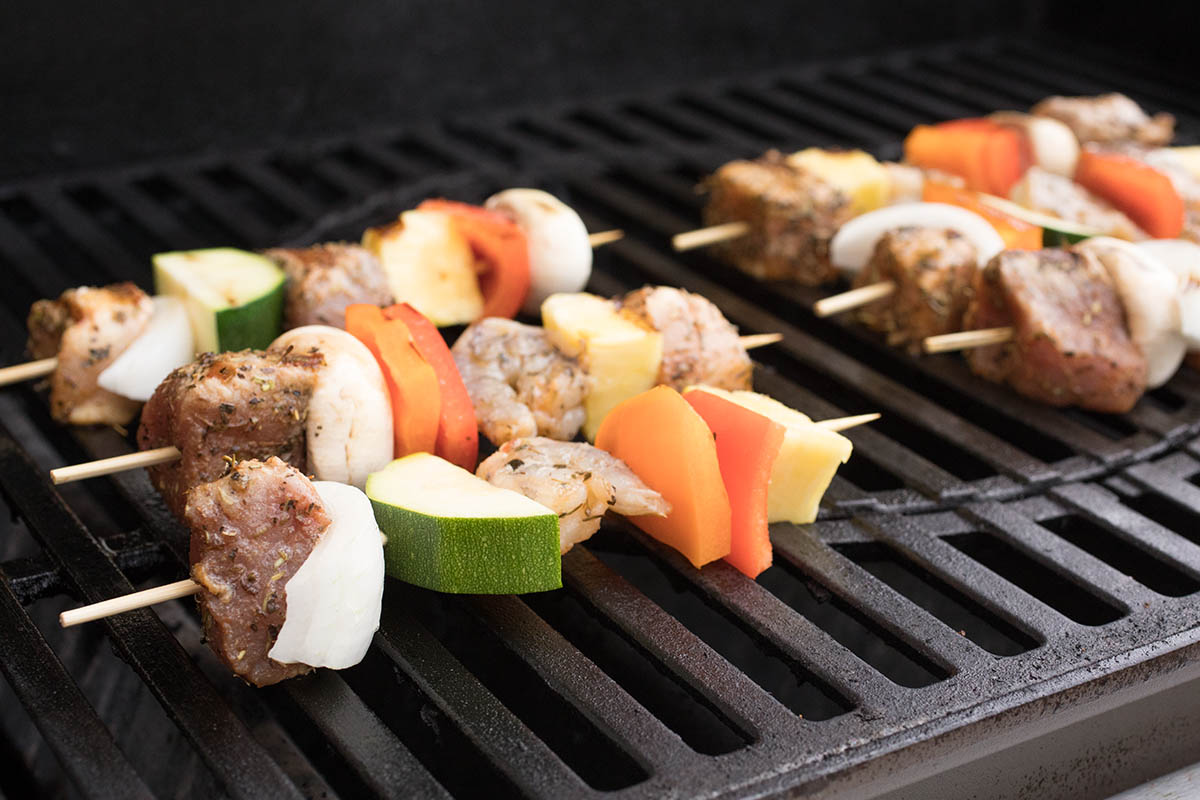 I like to squeeze on a bit of lemon juice as I cook for added flavor and moisture, but you can also mop on some of the sweet BBQ sauce if that is what your visitor is looking for.
Or hey, add the BBQ sauce after they're already grilled!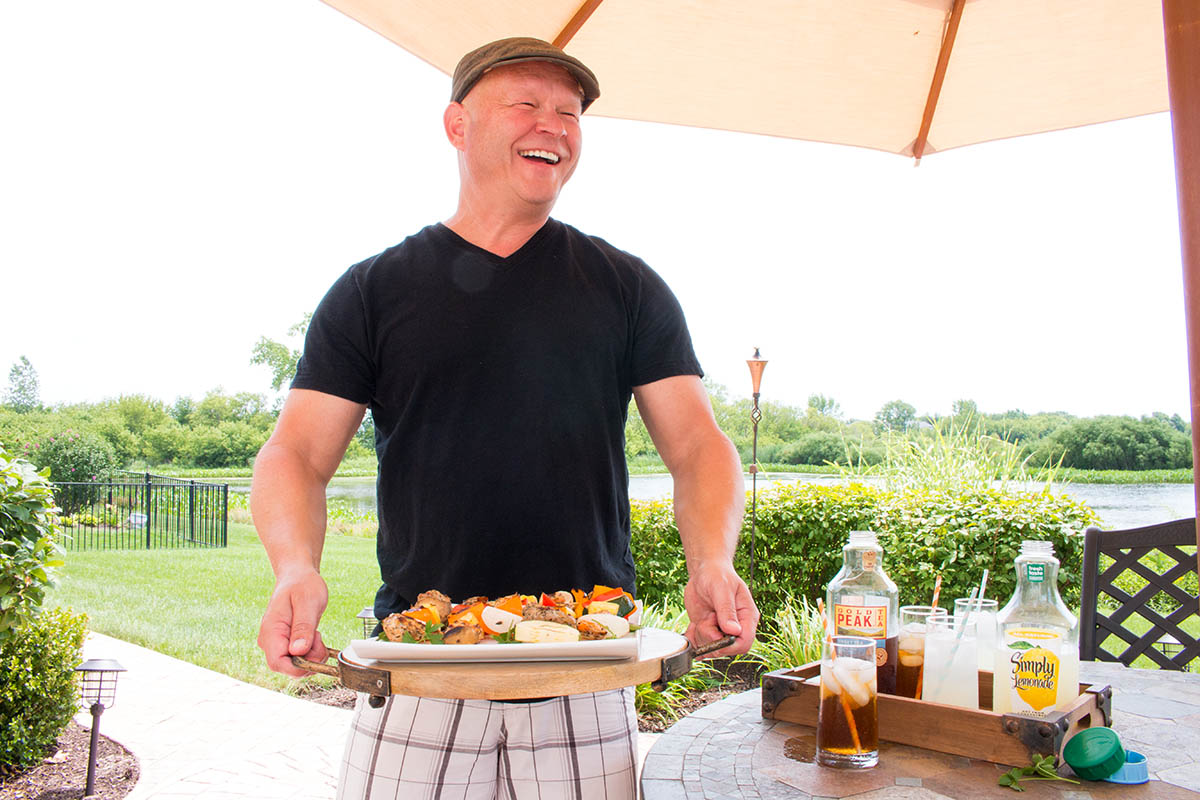 It doesn't get much easier than this. Fire up the grill, my friends, and get partying! The summer is still totally here! Be sure to enjoy it.
Also, be sure to enjoy Gold Peak® Sweet Tea and Simply Lemonade. They add variety to your party that your guests are sure to appreciate and love. They're just the right refreshments for easy summer grilling. Try some of their other flavors as well - Simply Lemonade with Raspberry, Simply Lemonade with Mango, or Simply Lemonade with Blueberry. Talk about perfect!
Visit the Gold Peak® Sweet Tea and Simply Lemonade hub for more summer entertaining tips, tricks, and recipes.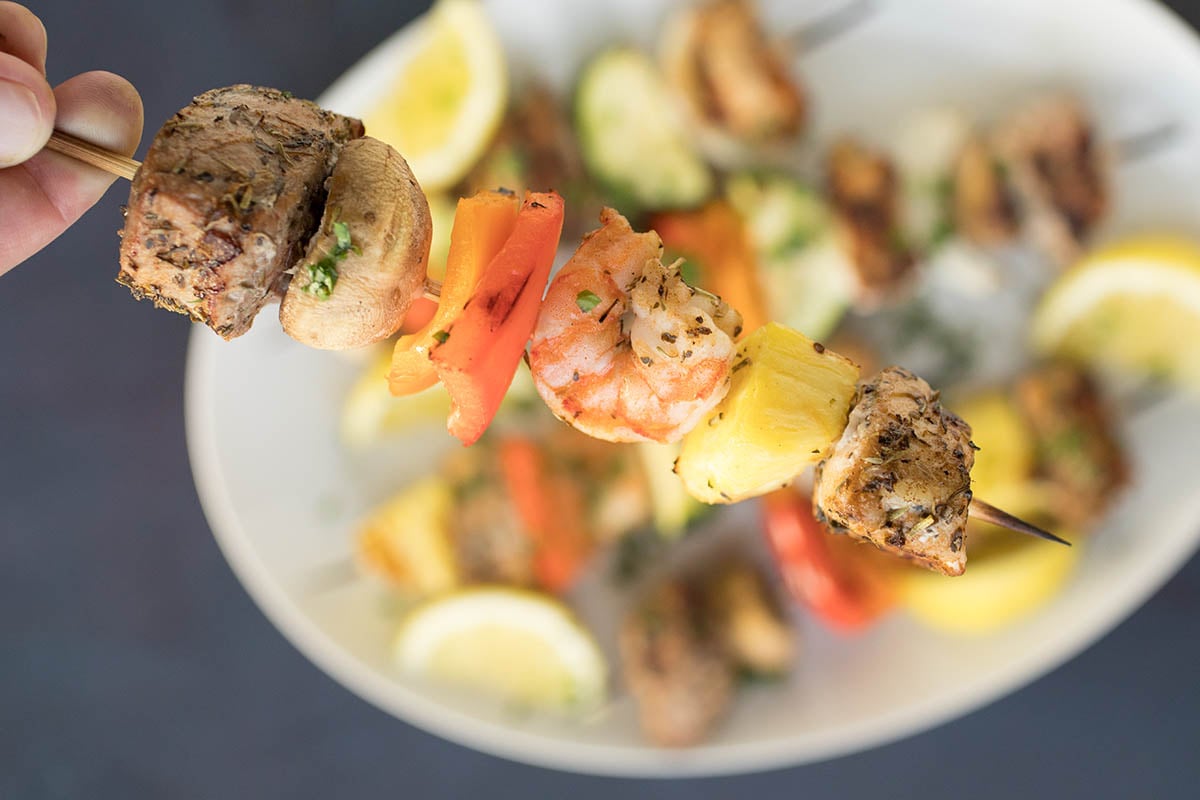 Got any questions? Ask away! I'm happy to help. If you enjoy this recipe, I hope you'll leave a comment with some STARS.Also, please share it on social media. Don't forget to tag us at #ChiliPepperMadness. I'll be sure to share! Thanks! — Mike H.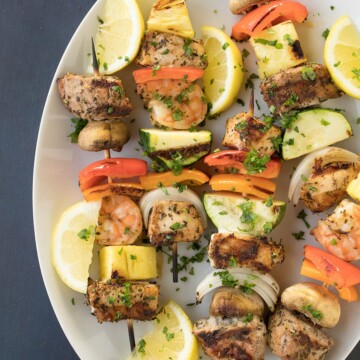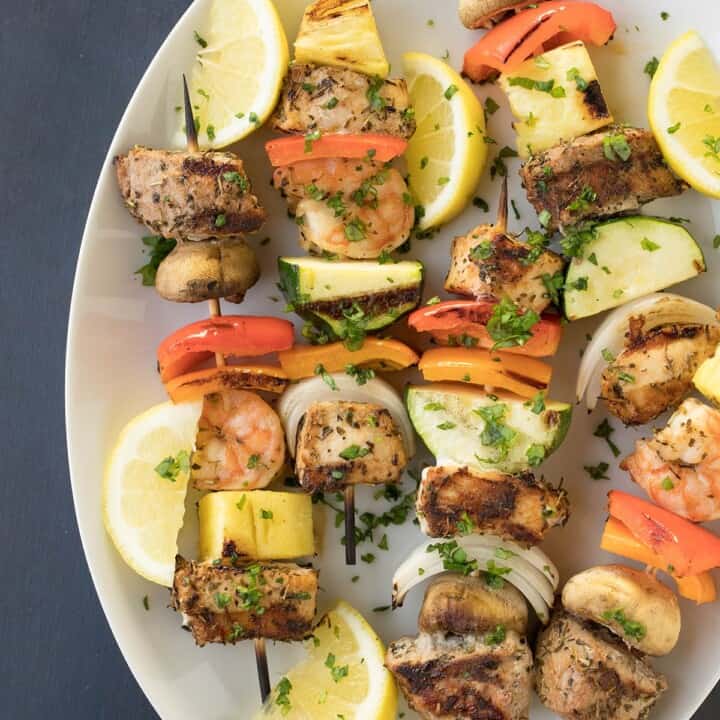 Print
Easy BBQ Skewer Party
Need an easy summer party idea? How about a BBQ skewer party? All it takes are some simple ingredients, skewers, good friends and refreshments. Here's how.
Save Recipe
Saved!
Ingredients
1

pound

shrimp

peeled and deveined

1

pound

chicken breast

cut 1 inch chunks

1

pound

pork loin

cut into 1 inch chunks

½

cup

olive oil

¼

cup

white wine vinegar

1

large garlic clove

minced

1

tablespoon

smoked paprika

1

teaspoon

dried parsley

1

teaspoon

dried basil

1

teaspoon

dried thyme

1

teaspoon

cracked black pepper

1

teaspoon

salt

4

ounces

whole white mushrooms

1

large zucchini

sliced into 1 inch cubes

1

large white onion

sliced into equivalent sized cubes

3

large bell peppers

red, yellow orange, seeded and sliced into chunks

1

large pineapple

peeled, cored, and sliced into 1 inch cubes
FOR SERVING
Fresh sliced lemons

Sweet BBQ Sauce

Fresh herbs

Skewers
Instructions
Add the chicken and pork loin to a large bowl.

Add the olive oil, vinegar, garlic, paprika, parsley, basil, thyme, pepper and salt. Mix well. Cover and refrigerate at least 4 hours.

Add the shrimp and stir to coat.Marinate another 10 minutes.

Separate the meats into separate bowls, along with all of the other vegetables and fruit in separate bowls.

Allow our guests to thread their own skewers.

Fire up the grill to medium heat and lightly oil the grates. Grill each skewer 10-12 minutes, or until the meats are cooked through and the veggies/fruit are softened.

Serve with sweet BBQ sauce, lemon wedges for squeezing over the top, and sprinkled with fresh herbs.
Nutrition Information
Calories:
215
kcal
Carbohydrates:
11
g
Protein:
20
g
Fat:
9
g
Saturated Fat:
1
g
Cholesterol:
114
mg
Sodium:
444
mg
Potassium:
444
mg
Fiber:
1
g
Sugar:
7
g
Vitamin A:
1045
IU
Vitamin C:
63.9
mg
Calcium:
64
mg
Iron:
1.6
mg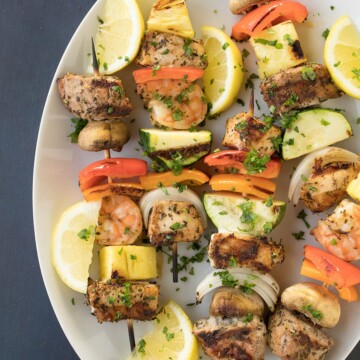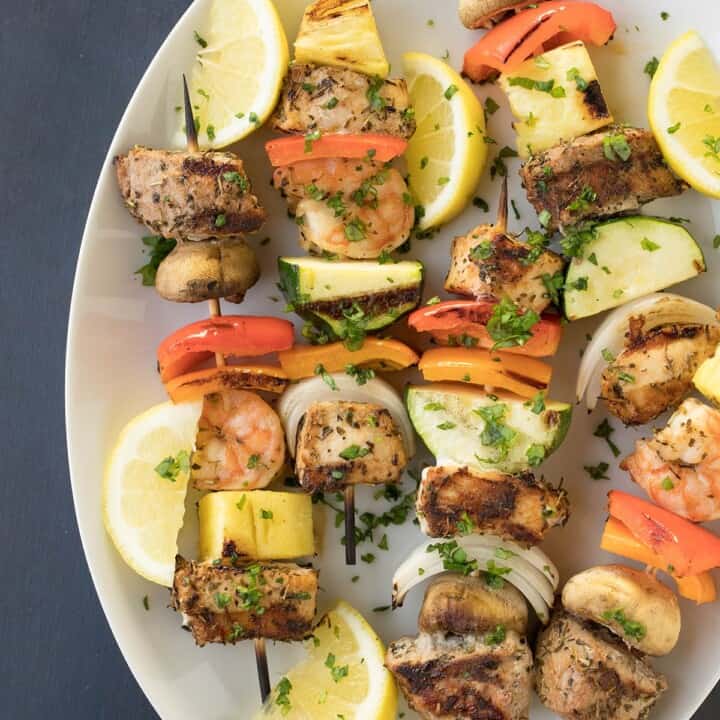 Did You Enjoy This Recipe?
I love hearing how you like it and how you made it your own. Leave a comment below and tag @ChiliPepperMadness on social media.