Guacamole with Pomegranate Seeds
Earlier this year, Patty and I took a family trip to the Grand Canyon. We flew into Phoenix and stayed the night so we could get a view of the city. Phoenix is a pretty cool place. And by cool, I mean HOT. Hotter than we're used to, though I'm sure we'll be looking for that heat come wintertime.
Patty had done a bit of research of where we all might enjoy dinner, and she found a place called El Barrio. Check it out here: http://www.barriocafe.com/. Great place! It's a small neighborhood restaurant in an unassuming part of town, not far from the airport, with some excellent, southern Mexican cuisine with a modern spin.
The chef, Chef Silvana, has been nominated for a James Beard award 4 times, and El Barrio has won numerous awards, including Best Mexican Restaurant by the Arizona Republic consecutively from 2002 to 2010. SO! That means they're pretty good, OK? Highly recommended.
AND! The point of this post is to talk about something we fell in love with at this restaurant. The guacamole. I've had guacamole so many times I can't even count. I've had guacamole all over the place, variation upon variation, but I've never had it with pomegranate seeds.
Have you? Wow! I had never even considered the pairing, but that is how they serve it at El Barrio. Seeing it on the menu, of course we had to order some, and it was enjoyed by all. It's a relevation, really, these tiny bursts of sweet-sour seeds to accompany your bite of chunky guacamole.
I love the little fruit bursts. Seriously, so good. And now that pomegranates are in season, I get to make my own version!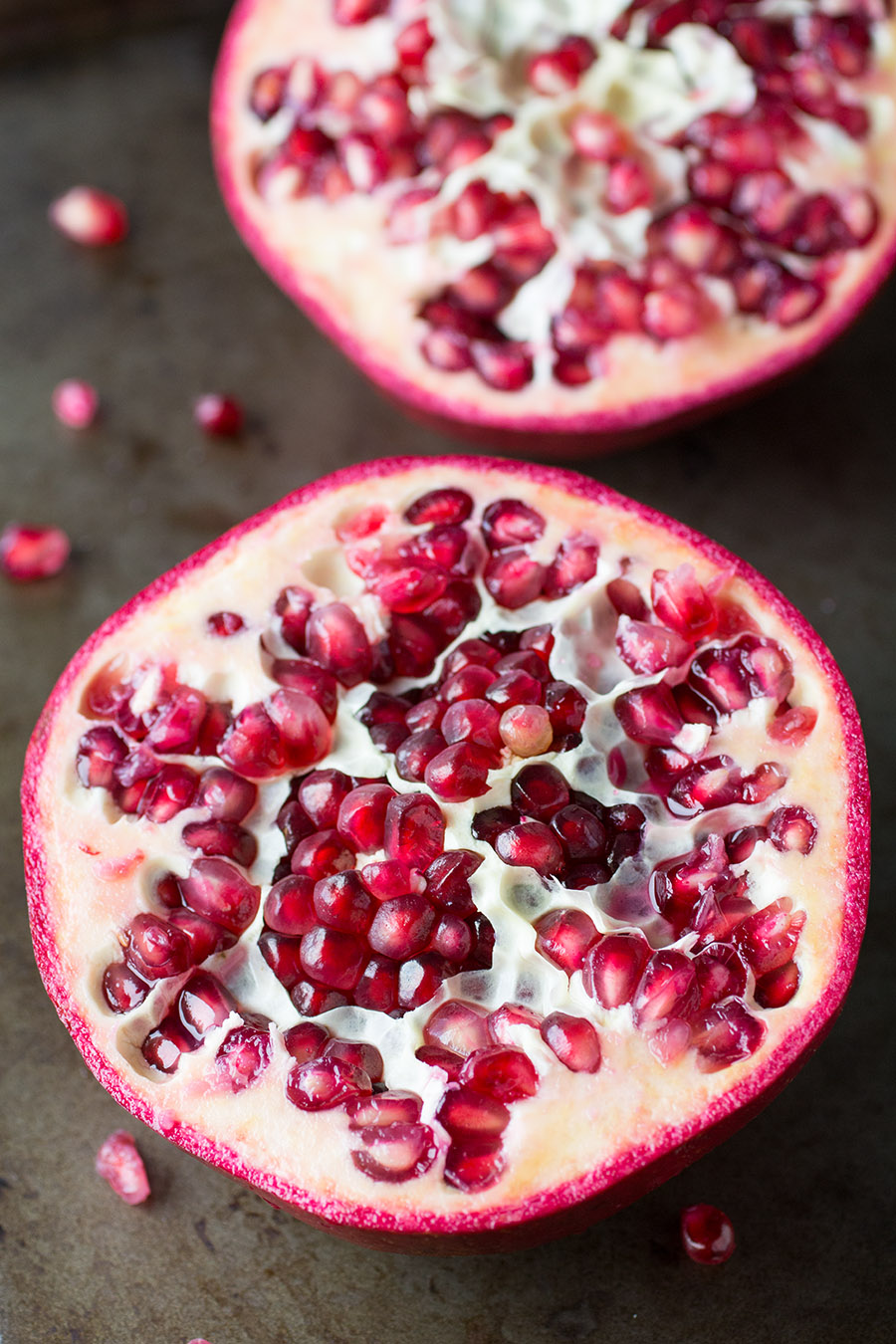 Look at how GORGEOUS those seeds are. Truly, a revelation. Getting the seeds out is somewhat of a challenge if you've never done it before. There are numerous methods. I've seen many posts and videos of people touting their own methods, each with a declaration that THIS is the best method.
Truth be told, no matter what method you use, you will always encounter a difficult pomegranate eventually. I basically score them around the outer edge then separate them into halves by hand, exposing the seeds. Then, pull the sides backward a bit to loosen them and tap the back with a wooden spoon over bowl.
Most seeds fall out right away, but some will hold on for dear life. Give a few extra whacks and you'll get those babies out.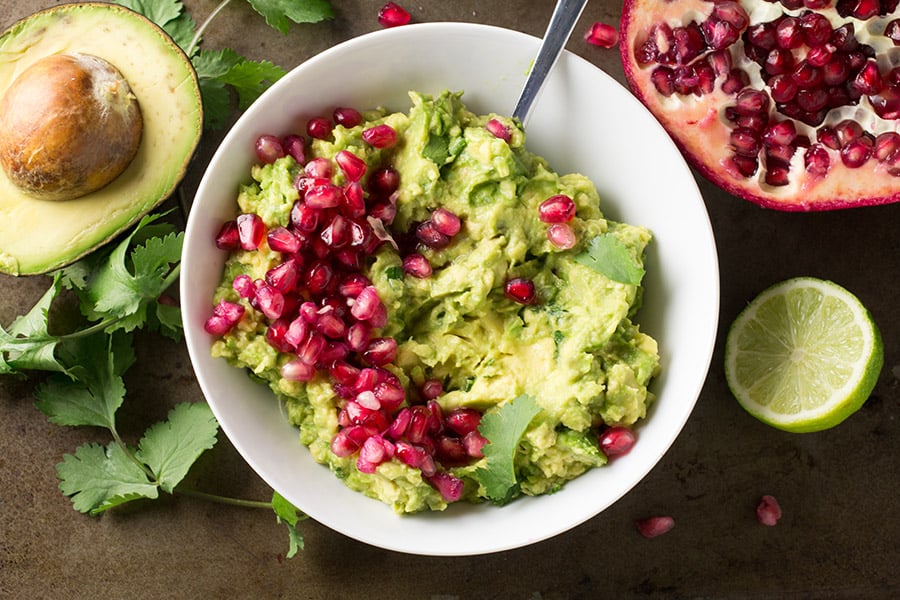 This is one of my favorite guacamole recipes. I love to keep it simple, and I love my guacamole creamy, so I seek out the ripest of the ripe avocados.
If you like yours more chunky, go with avocados that aren't quite as ripe, or include some chunkier ingredients like red onion, freshly chopped tomato, or YES, fresh or roasted jalapeno peppers. I kept the focus here on the pomegranate seeds, though. You'll be glad you did if you do as well. Enjoy!
Patty's Perspective
When they wheeled the guacamole cart out to our table at El Barrio and I saw pomegranate seeds on it, my eyebrow raised with intrigue. As I took a bite, I couldn't stop and had to keep eating it. I was afraid I wouldn't get my share!
I couldn't wait for Mike to make HIS version of it, which is always a big crowd pleasure amongst our friends.
Check Out Some My Other Popular Guacamole and Salsa Recipes
If you enjoy this recipe, I hope you'll leave a comment with some STARS. Also, please share it on social media. Don't forget to tag us at #ChiliPepperMadness. I'll be sure to share! Thanks! — Mike H.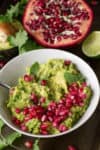 Guacamole with Pomegranate Seeds - Recipe
Put a new spin on your guacamole with this easy recipe that incorporates juicy pomegranate seeds. Super delicious!
Ingredients
2

ripe avocados

peeled and pitted - super ripe is important for creaminess!

1/4

cup

fresh cilantro

chopped + more as needed

Juice from half a lime

1/2

teaspoon

sea salt

Seeds from 1 pomegranate
Instructions
To a large bowl, add avocados and lime juice. Mash with a fork.

Add cilantro and salt. Mix well.

Taste and adjust for lime juice and salt.

Top with pomegranate seeds and serve!
Recipe Notes
This should make enough for 10 people as a small appetizer, but if you have a party full of guacamole lovers, you better scale it up!
Nutrition Facts
Guacamole with Pomegranate Seeds - Recipe
Amount Per Serving
Calories 66
Calories from Fat 45
% Daily Value*
Total Fat 5g 8%
Sodium 119mg 5%
Potassium 202mg 6%
Total Carbohydrates 4g 1%
* Percent Daily Values are based on a 2000 calorie diet.