If you love guacamole, you'll love this version with creamy avocado, chunky-sweet mango, and spicy jalapeno peppers. Here is the recipe. Perfect for any gathering.
It's guacamole time! Yes! I love that phrase. It sings in my head like a fun song, readying me for great times, and good tastes, ahead. "It's guacamole time!"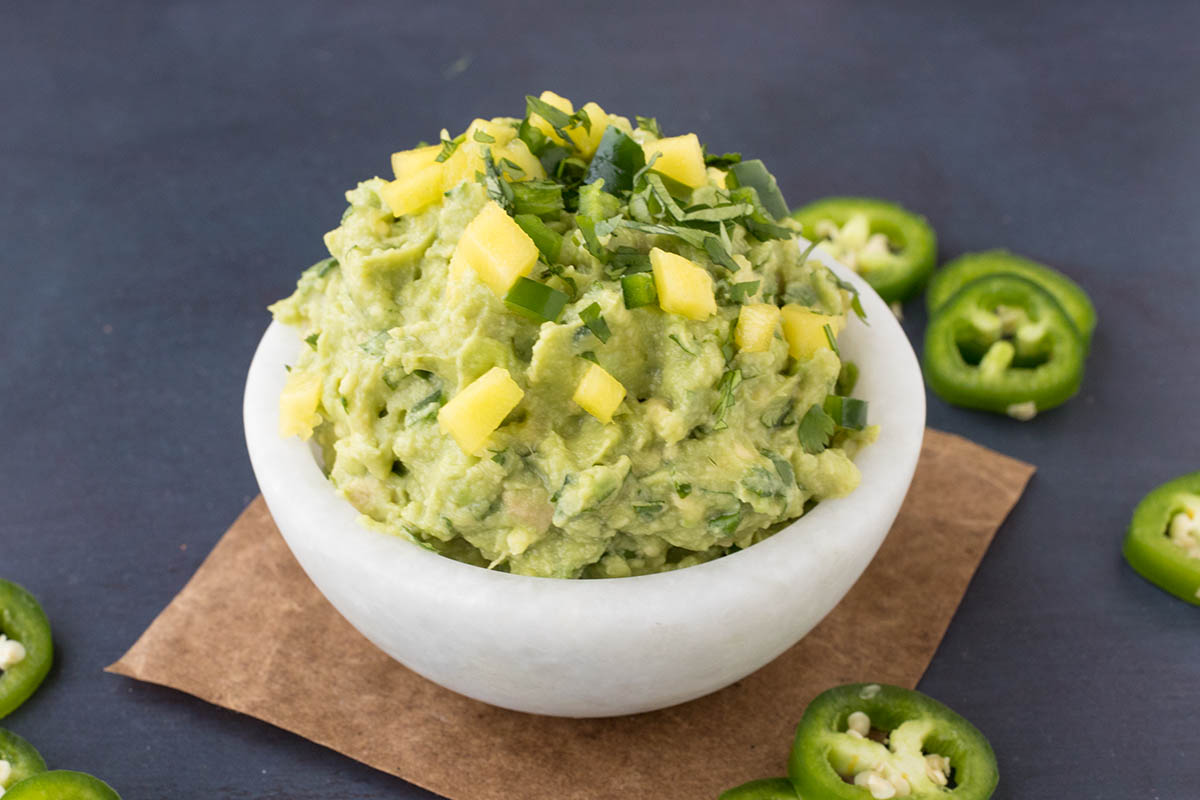 The thing about guacamole is, it's one of life's greatest foods. With only a few ingredients, it is a perfect combination of flavor you'll never tire of.
Every part of the world has their perfect combination – Italy has their pesto (try our Pesto with Roasted Italian Red Peppers), Puerto Rico has their pique (try our Pique Recipe), and Mexico has their guacamole.
The simplest guacamole uses only 4 ingredients – avocado, lime juice, cilantro and salt. That's really all you need to form perfection. See our recipe: Perfect Homemade Guacamole.
But still! There are so many ways you can build on the flavor of guacamole. As perfect as it is, there are a number of ingredients that compliment and even enhance the flavor, depending on what you are looking to achieve. Looking for spicy? Add chili peppers, but even there you have numerous choices.
Do you want roasted peppers? Raw? Mildly spicy? Superhot? So many options!
What if you're looking for something a bit sweeter with a decent level of spiciness? Something GREAT for a party, but something you might also schmear over the top of a burger for the next cookout? Here you go: Jalapeno-Mango Guacamole.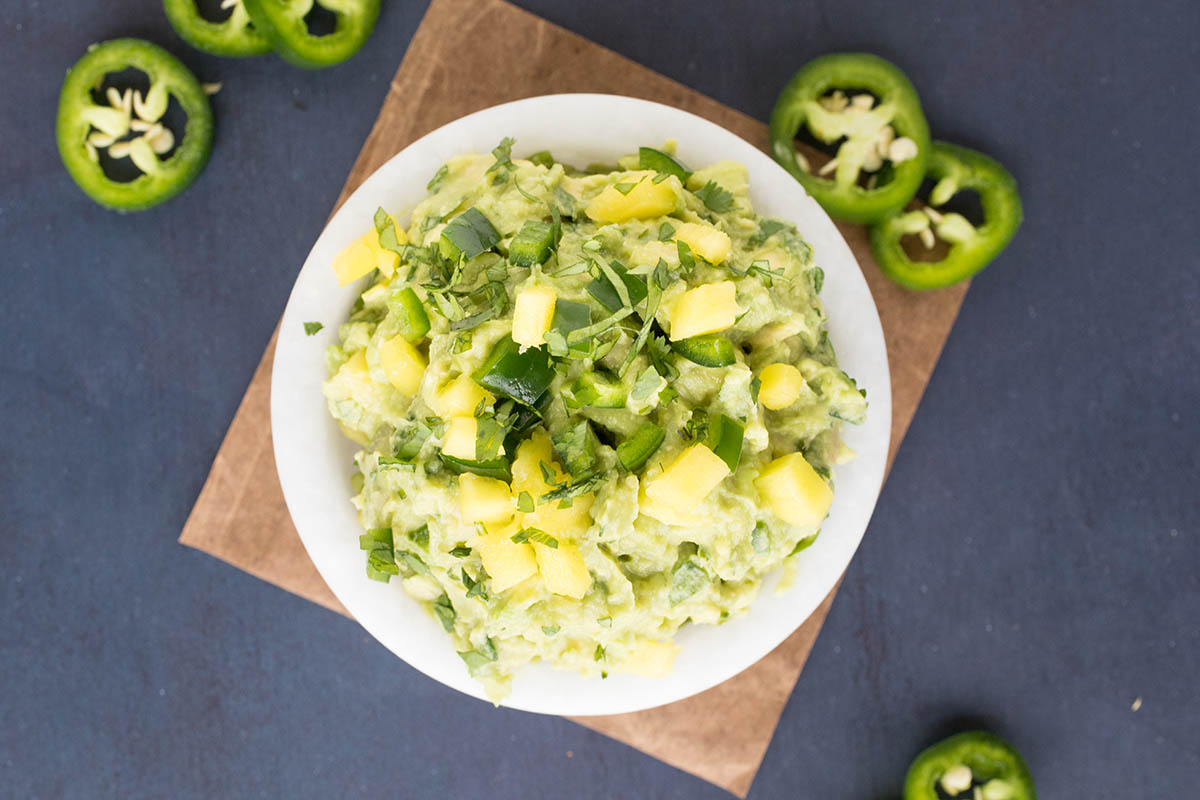 BOOM!
I love this stuff. We're only adding a couple ingredients to the basics, in this case diced mango and diced jalapeno peppers. Mango brings just a touch of sweetness, but not too much, along with a textural element that slightly contrasts the creaminess of the mashed avocados.
You'll feel them there on your tongue when you take a bite, subtly so, and you'll certainly detect the mild sweetness on your taste buds.
The jalapeno peppers will let you know they're there right away, not only with their touch of heat, but with the their raw, crunchy texture and flavor.
You might opt to roast and peel your jalapeno peppers before dicing them, which, by the way, would be AWESOME! You will achieve a smoky roasted flavor, though the peppers will be much softer, closer to the consistency of the mango. For this recipe, I did not, and opted to keep them raw for the crunch factor.
As I mentioned, this would be an outstanding appetizer or party food, where you can easily serve it up in a bowl alongside a bag of corn tortilla chips, but consider it as a topping for some grilled burgers. Turkey burgers LOVE guacamole on top of them, and your stomach will LOVE said burgers with guacamole.
In fact, I now VOW to make this very soon, as I am suddenly craving turkey burgers. Look for that recipe on the web site soon!
In the meantime, enjoy your guacamole, and feel free to peruse all of our other Homemade Guacamole Recipes.
Enjoy!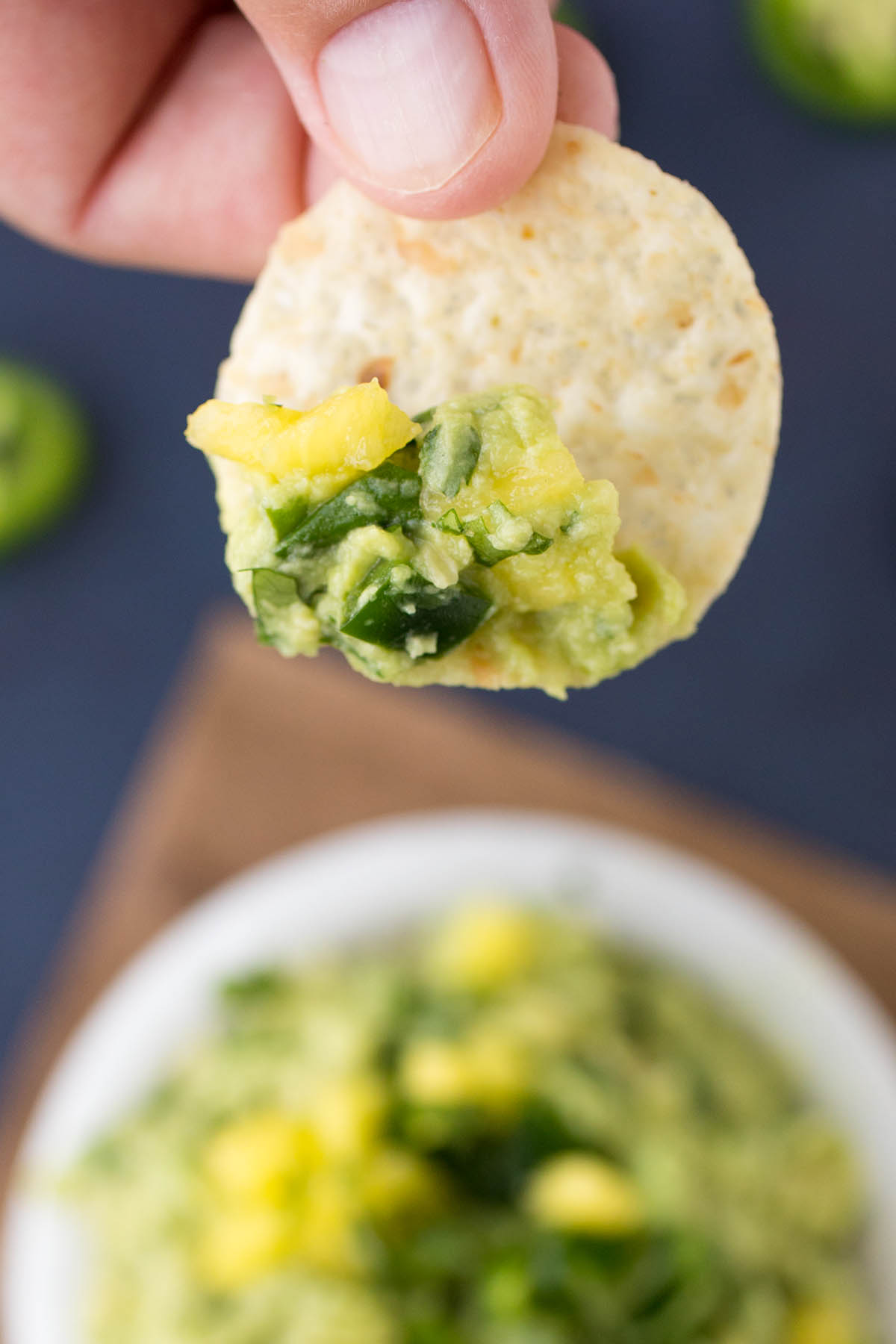 Check Out Some My Other Popular Guacamole and Salsa Recipes
If you enjoy this recipe, I hope you'll leave a comment with some STARS. Also, please share it on social media. Don't forget to tag us at #ChiliPepperMadness. I'll be sure to share! Thanks! — Mike H.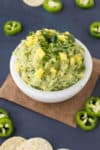 Jalapeno-Mango Guacamole – Recipe
If you love guacamole, you'll love this version with creamy avocado, chunky-sweet mango, and spicy jalapeno peppers. Here is the recipe. Perfect for any gathering.
Cuisine:
American, Mexican
Keyword:
guacamole, jalapeno, mango
Ingredients
2

avocados

Juicefrom 1 small lime

¼

cup

loosely packed cilantro

¼

cup

diced mango

or more to taste

1

jalapeno pepper

diced

Salt to taste
Instructions
Peel and pit the avocados and add them to a large mixing bowl.

Add the remaining ingredients and mash with a fork until fairly smooth.

Adjust for salt and serve.
Recipe Notes
Makes about 2.5 cups.
Nutrition Facts
Jalapeno-Mango Guacamole – Recipe
Amount Per Serving
Calories 83
Calories from Fat 45
% Daily Value*
Fat 5g8%
Sodium 3mg0%
Potassium 194mg6%
Carbohydrates 7g2%
Protein 1g2%
Vitamin A 725IU15%
Vitamin C 6.8mg8%
Calcium 8mg1%
Iron 0.5mg3%
* Percent Daily Values are based on a 2000 calorie diet.