This Puerto Rican hot sauce recipe, called Pique, is a national staple, with a different version for every household. Try my spicy version of the recipe.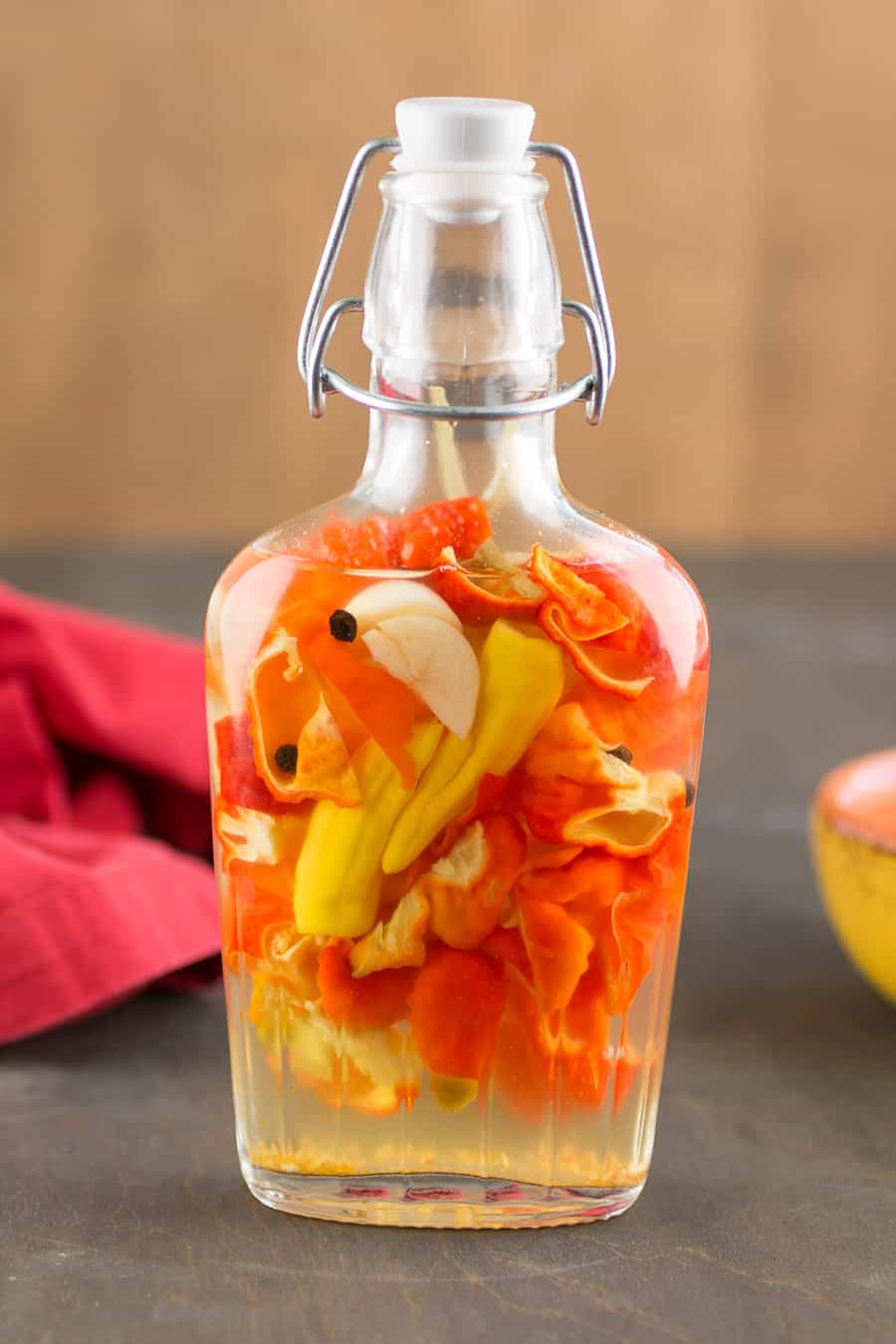 Pique Recipe (Puerto Rican Hot Sauce)
Pique is an interesting hot sauce. You'll find it in Puerto Rico - it's a national staple there, with a different version practically for every household.
It is one of those hot sauce recipes that defies any specific recipe because it can vary quite a bit. Many of the ingredients come down to personal preference of the household serving it up.
It is not a blended hot sauce.
What is Pique?
At its most basic, Pique is a seasoned vinegar with a variety of flavoring ingredients. Those ingredients, in particular, chili peppers, infuse the vinegar with heat and flavor, which you can use to dash over anything you desire.
I've seen versions with or without lime juice, splashes of rum, culantro leaves, sugar, onion, pineapple chunks or other fruit, peppercorns. So many possible ingredients.
The traditional chili pepper used is the Aji Caballero. You basically chop up the larger ingredients, drop them all into a container, and cover it with your vinegar and other liquids, then let it sit anywhere from 2 days to 2 weeks.
The vinegar solution will infuse and you're good to go. Store it in the fridge if you'd like.
My particular version here incorporates a variety of 7-Pots, Aji Pineapples, and some Moranga Reds, which are a hybrid grown in my garden this year.
I have some excellent heat from the 7-Pots and Morangas, and some nice sweet flavor from the ajis. I like this particular version as it helps to preserve my peppers.
We had such a huge harvest this year - YES! YES! - that preserving them is the best way to go. And isn't it nice to have a good hot sauce on hand for pretty much anything?
Enjoy, and feel free to mix up the recipe with fun new ingredients!
How Do You Serve Puerto Rican Pique?
Pique hot sauce is meant to be splashed over pretty much any of the foods you are serving. Drizzle some over grilled meats or into soups or stews.
Splash a little onto your sandwich meat, or over fresh or cooked vegetables, basically anywhere you'd like a bit of zing.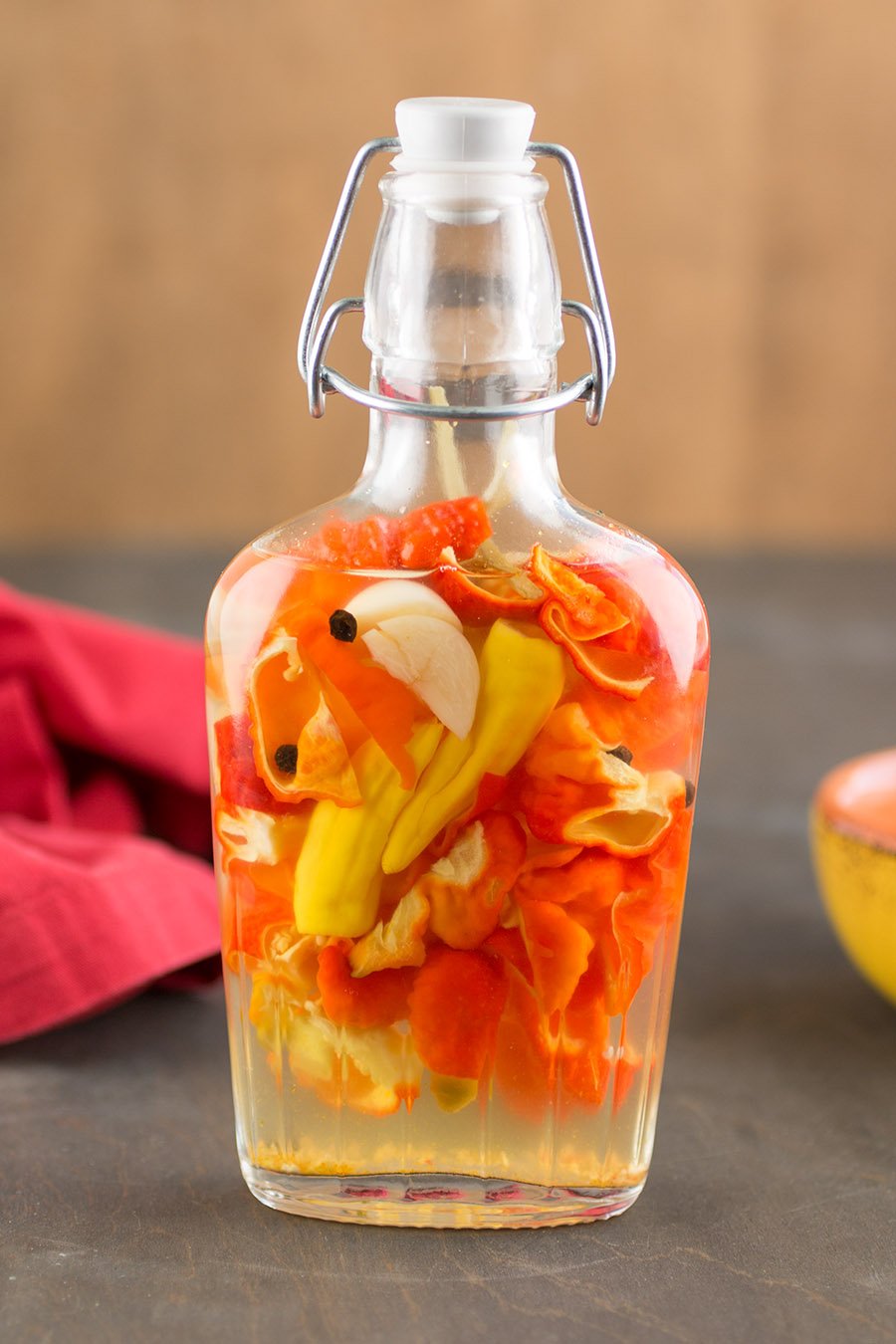 Frequently Asked Hot Sauce Questions
Here are answers to some of the most common questions I get on other sauces:
How long will this sauce keep?
It should keep a few months easily in the fridge, or even longer. It's all about the acidity.
To be technical, target level ph for shelf stable foods is below 4.6 ph, but should probably be lower for home cooks, around 4.0 or so, to account for errors. If you're concerned, add more vinegar to lower the ph. Sauces made with fermented chili peppers will last even longer.
Where'd you get that sauce bottle?
I find them locally sometimes, but I also order through Amazon. Here is a link to some bottles I like (affiliate link, my friends!): Swing Top Glass Bottles, 8.5 Ounce - Set of 4
. If you like the smaller bottles that most hot sauce makers use, here's another link: Hot Sauce Bottles, 5 Oz - 24 Pack
.
Can I process this hot sauce for longer storage?
Absolutely. Just be sure to use proper canning/jarring safety procedures.
If you enjoy this recipe, I hope you'll leave a comment with some STARS. Also, please share it on social media. Don't forget to tag us at #ChiliPepperMadness. I'll be sure to share! Thanks! -- Mike H.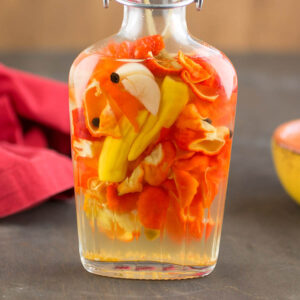 Print
Pique Recipe (Puerto Rican Hot Sauce)
This Puerto Rican hot sauce recipe, called Pique, is a national staple, with a different version for every household. Try my spicy version of the recipe.
Save Recipe
Saved!
Ingredients
12

small chili peppers/About 4 ounces – I used a variety of 7-Pots

Ajis Pineapples, and Muranga Reds

2

cloves

garlic

slightly crushed

10

black peppercorns

4

cilantro stems

Squeeze of lime juice

White vinegar to fill the jar

about a half cup or so
Instructions
Remove the pepper stem. Slice the peppers in half or into quarters, small enough to fit into the jar or container you are using.

Stuff the peppers into an 8-ounce bottle or jar.

Add cloves, peppercorns, cilantro stems and lime juice.

Fill the container the rest of the way up with vinegar, leaving a bit of head space.

Cap and give it a good shake.

Let it sit out anywhere from 2 days to 2 weeks to allow the heat and flavor to develop. Refill as needed with more vinegar and peppers.
Notes
Shake it onto everything!
Heat Factor: Hot (depending on the peppers used).
Nutrition Information
Calories:
1
kcal
Potassium:
13
mg
Vitamin A:
60
IU
Vitamin C:
1.8
mg
Calcium:
1
mg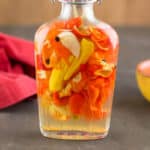 Did You Enjoy This Recipe?
I love hearing how you like it and how you made it your own. Leave a comment below and tag @ChiliPepperMadness on social media.