A recipe for jalapeno poppers stuffed with chopped steak, caramelized onions and peppers, and melty cheese wiz, topped with crunchy bread crumbs and splashed with hot sauce. These are the perfect bite.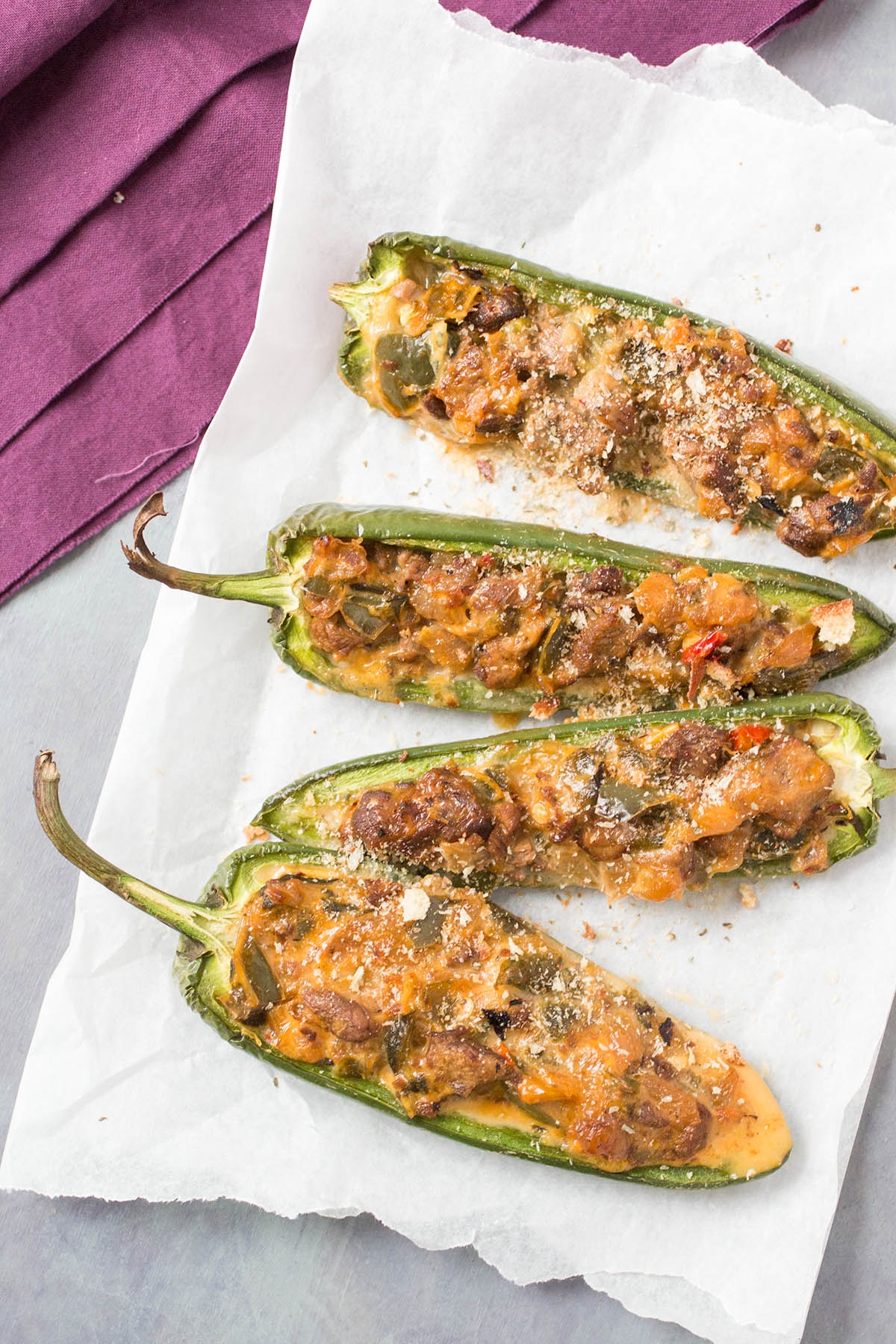 These perfect little appetizer or party bites are a riff off of a South Philly Cheesesteak Sandwich. Have you ever had a South Philly Cheese Steak?
DANG! So incredibly good.
I love how every location in the world has their very own specific recipe that they are known for, and Philadelphia's claim to fame is the Cheesesteak Sandwich. But they couldn't leave it at that, could they?
No, they had to go ahead and make TWO versions of it. Traditional Philly Cheesesteak Sandwiches are topped with provolone cheese, whereas the SOUTH Philly Cheesesteak Sandwich uses cheese wiz instead.
I get this information from my neighbor, Jen, who is from Philly and LOVES the cheese wiz version. I hope she will take me to Philadelphia so I can try a truly authentic sandwich within the city limits and be TRULY legit!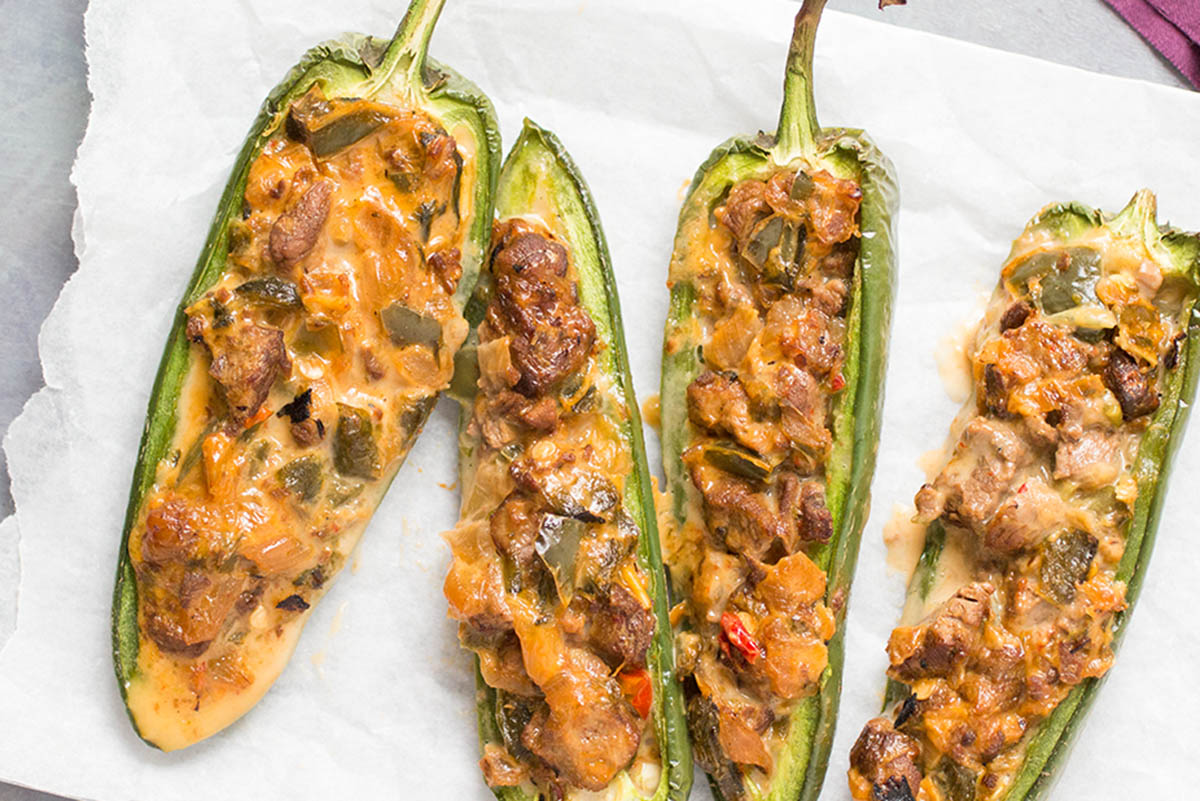 Of course I'm taking all of the awesome ingredients that go into an outstanding Philly Cheesesteak Sandwich and turning them into one of my favorite party foods on the planet - jalapeno poppers. Cue Mike's #JalapenoObsession. Do I even need to talk about the cookbook I wrote?
PLUG: Jalapeno Poppers and Other Stuffed Chili Peppers. Obsessed. Admittedly.
About the Poppers - The Recipe
I used ribeye steak for the "steak" part of the recipe, but short ribs would be a good substitution. You can use other steak to fit your budget, but there is something about a good ribeye that makes this recipe CRAZY delicious.
I'm also taking some liberty with the original recipe by including jalapeno peppers in the early steps instead of using sauteed green peppers. I don't think I need to explain why.
Because JALAPENO!
In a nutshell, you'll cook down your onion and a couple jalapeno peppers until they are nicely caramelized. SO delicious that way. Finely chop the steak and cook it up with the onions and jalapenos, then smother it all in gooey cheese wiz.
Get it all mixed up in there!
Stuff your cored out jalapeno peppers - I did mine boat style - and bake them until they are just right. These are ideal for ANY party situation, but truly, you can keep these all to yourself and just make a night of it.
Why not? GO CRAZY!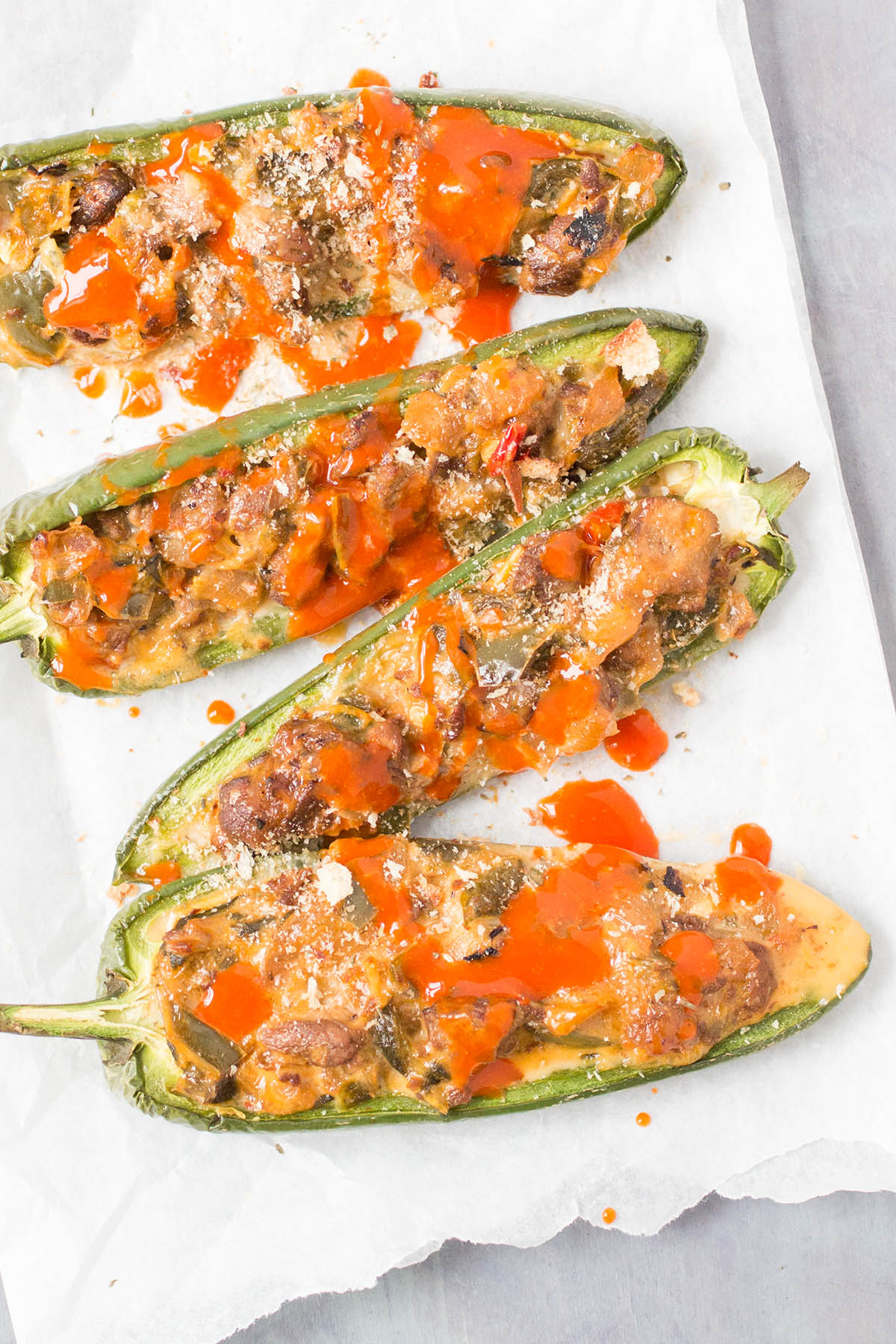 When you're ready to serve, sprinkle them with some breadcrumbs for a bit of crunch factor.
Total BONUS POINTS if you use Amoroso bread, which is a MUST if you're making authentic Philly Cheesesteaks. Jen said so! I like to douse them with a bit of hot sauce, because, you know?
HOT SAUCE just rocks.
I hope you enjoy these!
Patty's Perspective
The South Philly Cheesesteak works so well as a jalapeno popper because of that perfect combination of meat and cheese. It's the epitome of the jalapeno popper! Such a great combination of steak and cheese wiz. I love it.
Try Some of My Other Popular Jalapeno Popper Recipes
If you enjoy this recipe, I hope you'll leave a comment with some STARS. Also, please share it on social media. Don't forget to tag us at #ChiliPepperMadness. I'll be sure to share! Thanks! -- Mike H.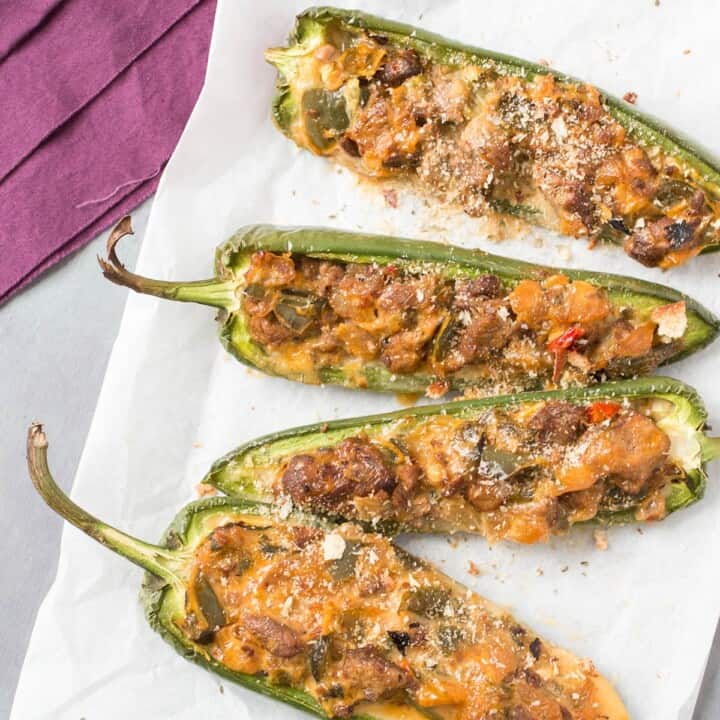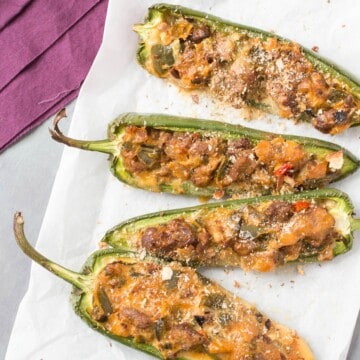 Print
South Philly Cheesesteak Jalapeno Poppers
A recipe for jalapeno poppers stuffed with chopped steak, caramelized onions and peppers, and melty cheese wiz, topped with crunchy bread crumbs and splashed with hot sauce. These are the perfect bite
Save Recipe
Saved!
Ingredients
2

tablespoons

olive oil

12

jalapeno peppers

or as many as you can fill

1

large white onion

8-10

ounce

ribeye steak – needs will vary based on the size of the jalapeno peppers

Salt and pepper to taste

½

cup

cheese wiz + more as desired

Breadcrumbs for serving

Hot sauce for serving
Instructions
Heat oil in a large pan over medium heat.

Chop 2 of the jalapeno peppers along with the onion and cook them down about 20 minutes, until they begin to caramelize.

Finely chop the ribeye steak and season with salt and pepper. Add to the pan and cook about 5-6 minutes, stirring often, until just cooked through.

Add cheeze wiz and stir until melted through.

Heat oven to 350 degrees, or heat your grill to medium-high heat.

Slice the remaining 10 jalapeno peppers in half lengthwise and core out the insides.

Fill each jalapeno pepper half with your Philly cheesesteak mixture and bake about 20 minutes, or until the peppers soften and everything is nice and melty.

Sprinkle with breadcrumbs and, if desired, your favorite hot sauce. Serve and enjoy!
Nutrition Information
Calories:
51
kcal
Carbohydrates:
1
g
Protein:
3
g
Fat:
3
g
Saturated Fat:
1
g
Cholesterol:
9
mg
Sodium:
23
mg
Potassium:
62
mg
Vitamin A:
120
IU
Vitamin C:
10.4
mg
Calcium:
23
mg
Iron:
0.3
mg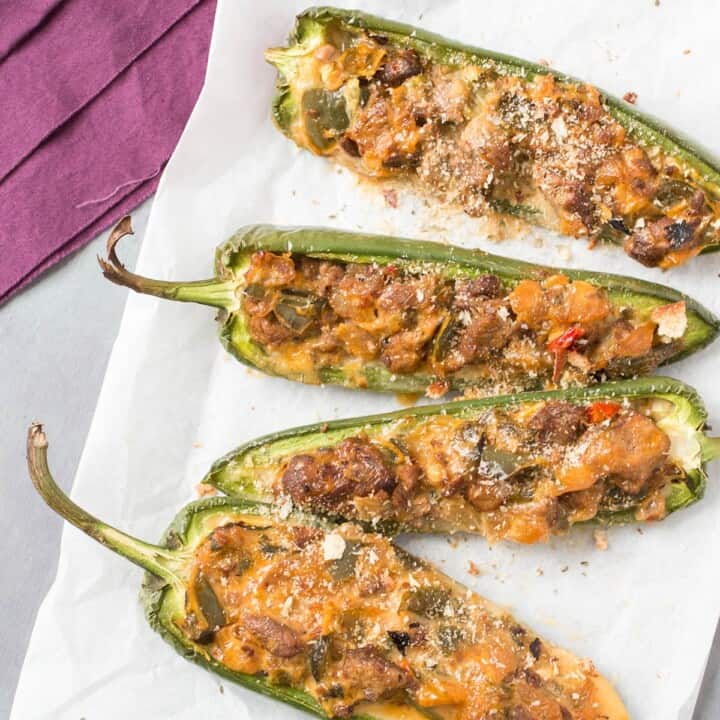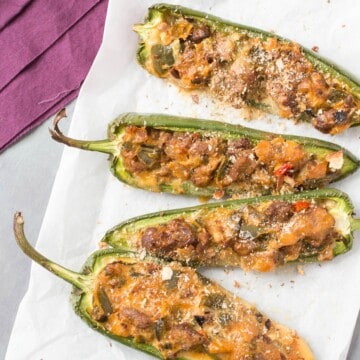 Did You Enjoy This Recipe?
I love hearing how you like it and how you made it your own. Leave a comment below and tag @ChiliPepperMadness on social media.