Homemade Italian Sausage-Goat Cheese Lasagna Rolls
Patty requests these all the time. They are definitely being filed under "Patty's Favorites". There is something fun and satisfying about a good Italian sausage pasta, especially in the form of homemade lasagna. Lasagna is one of the few dishes my mother used to make. She would cook up some ground beef, pour in a jar of Ragu, then dump it over lasagna noodles with ricotta and mozzarella cheeses. It was pretty good, actually, one of my fonder memories, but now that I've learned to cook, I like to make mine a bit more homemade. It helps to have an herb garden that is exploding with goods, like fresh basil. Oh yes! I love basil.
You can use ricotta cheese, which is more common, but if you want to really elevate your lasagna rolls, bring in the goat cheese. Goat cheese has much more flavor and a rich mouth feel. Once you take a bite, you'll never want to go back to ricotta. For the sauce, I've incorporated some sweet peppers. Most Italian sausage will have a bit of heat and spice, and thatmight be enough for you, but if you're looking for a bit more of a kick (which I normally do), introduce a jalapeno pepper to the mix, or something hotter like cayenne or even habanero pepper.
Don't be daunted by making lasagna rolls. I've included a number of photos below to show you how easy they can be, about as easy as making basic lasagna. Just a couple more steps, and they're easy to serve. And pretty!
Patty's Perspective: I love the feel of a lasagna roll over traditional lasagna. Somehow, a roll is just more fun. I especially love the goat cheese over ricotta and the kick of the spicy Italian sausage. Mike, make these again soon, please!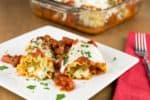 Homemade Italian Sausage-Goat Cheese Lasagna Rolls
Ingredients
10

lasagna noodles

1

medium onion

chopped

2

sweet Italian peppers

chopped

10

ounces

spicy Italian sausage

1

large tomato

chopped

3-4

garlic cloves

chopped

1 12-

ounce

can whole tomatoes

1 6-

ounce

can tomato paste

10-12

basil leaves

chopped

16

ounces

goat cheese

1

cup

shredded Romano cheese

1

egg

beaten

2

tablespoons

fresh chopped parsley

Salt and pepper to taste

2

cups

shredded mozzarella cheese

Olive oil as needed
Instructions
Heat a large pan to medium heat and add olive oil. Add onion and peppers and cook about 5 minutes, stirring.

Add Italian sausage and cook through, about 5-6 minutes or so.

Add chopped tomato and garlic and cook about a minute, stirring, until you can smell that wonderful garlic.

Add canned tomatoes, tomato paste and fresh basil. Stir it all together.

Reduce heat to low and allow to simmer.

In a mixing bowl, add goat cheese, Romano cheese, egg and parsley. Mix well. Add a bit of pepper to season.

Prepare your noodles per the packaging and when done, lay them out flat on a large surface.

Spread the cheese mixture over them, then roll each of them up. Set them onto a large baking dish. I like to first place a bit of the sauce in the bottom of the pan.

Top each with your Italian sausage-tomato sauce, then top with shredded mozzarella cheese.

Bake at 350 about 20 minutes, or until cheese is nicely melted.

Serve them up!
Nutrition Facts
Homemade Italian Sausage-Goat Cheese Lasagna Rolls
Amount Per Serving
Calories 469
Calories from Fat 243
% Daily Value*
Total Fat 27g 42%
Cholesterol 86mg 29%
Sodium 828mg 35%
Potassium 517mg 15%
Total Carbohydrates 29g 10%
Protein 26g 52%
* Percent Daily Values are based on a 2000 calorie diet.

As I mentioned, making homemade lasagna rolls is pretty easy. First, you just need to get your sauce cooking, like this…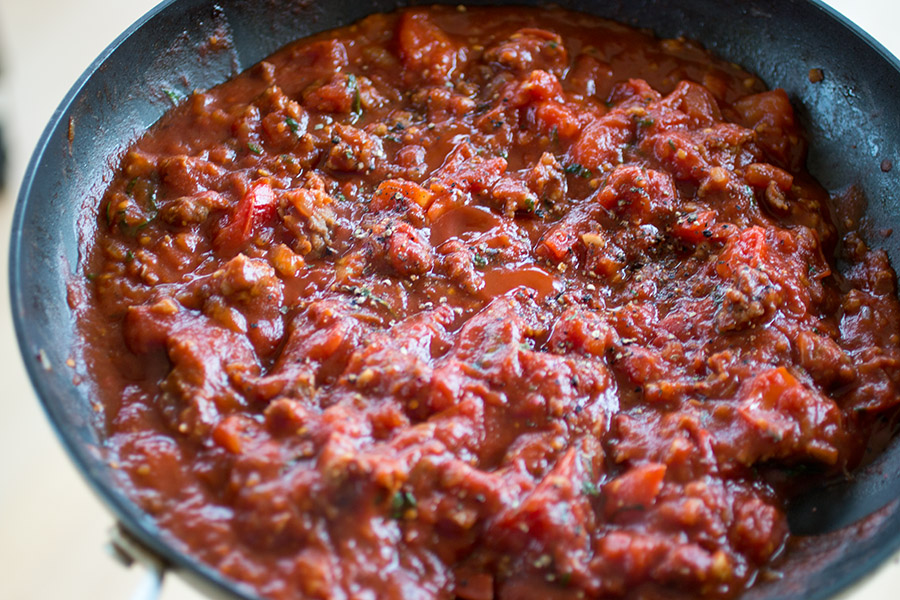 Mix up your stuffing. In this case, I have goat cheese, Romano cheese, herbs, and an egg to help bind it.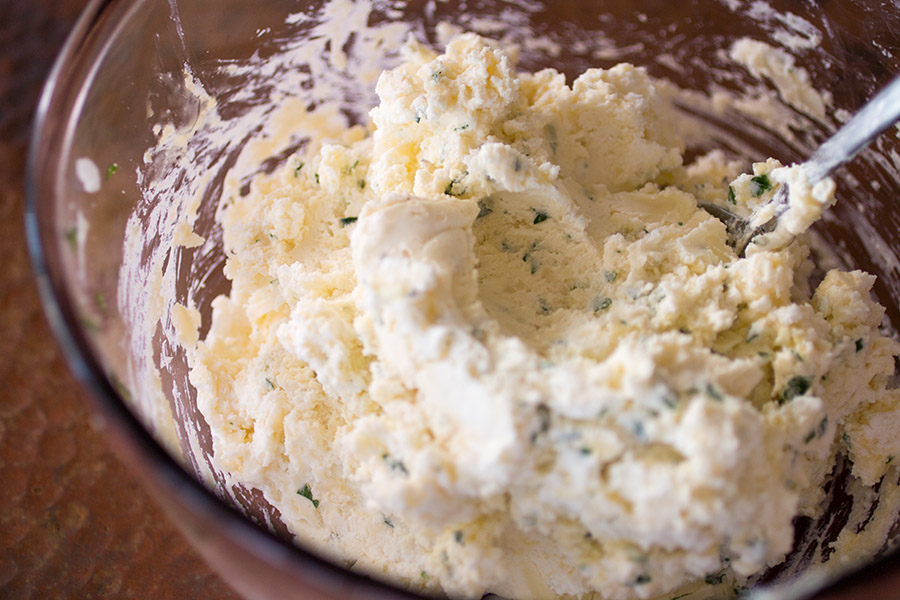 Spread your stuffing over the cookedlasagna noodles, then simply roll them up, like so.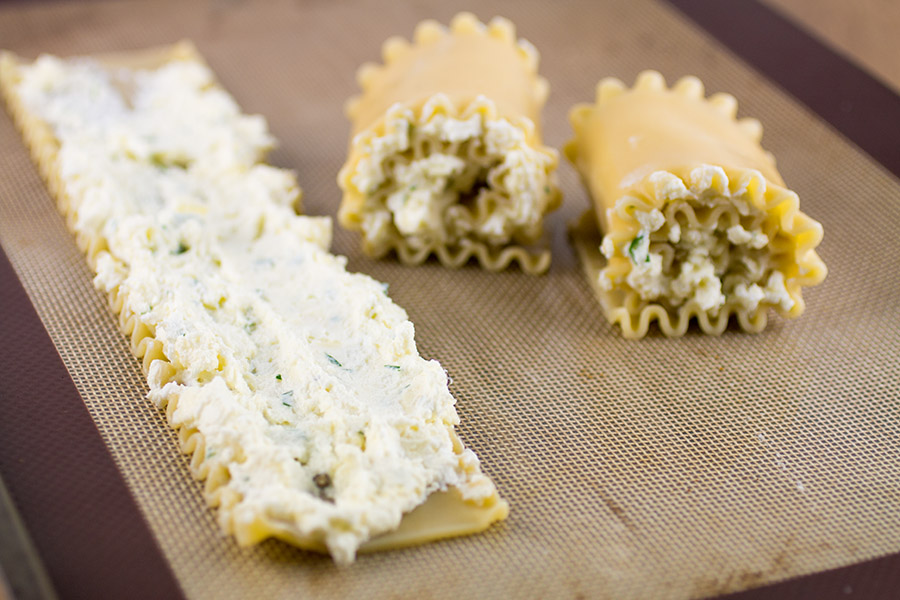 Set into a baking dish with sauce, top with mozzarella cheese and they're ready to bake!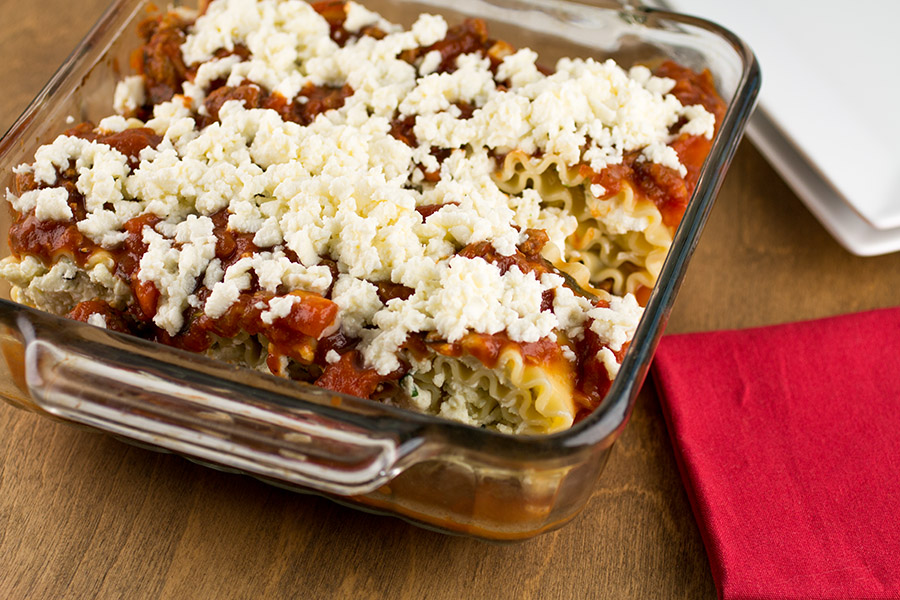 Enjoy!