Linguine with Cauliflower Carbonara Sauce
Here is another twist on the classic Italian Carbonara recipe, that wonderfully awesome pasta dish that is so creamy and unlike any other. I've been making carbonara for years, tweaking the original recipe very little, though lately I've been experimenting with new ways to make it. I previously posted a Butternut Squash Carbonara recipe, and that went over very well in our house. I figured, if it can work with squash, why not cauliflower? Cauliflower is all the rage these days. I bop around food blogs and see people cooking with it like crazy.
Deservedly so! Cauliflower often gets a bum rap sometimes because it is lower on the flavor scale, but I actually see that as a positive. Cauliflower is not only healthy, but it is a blank canvas, absorbing all those other flavors you're working with. When you roast it or cook it down, it blends to a nice and consistent puree that makes any dish creamy and inviting, and you want creaminess for your carbonara.
I used 2 eggs in this recipe, but you can omit them if you want to reduce the overall calories of this dish by even more. I've made it both ways and while I prefer it with the eggs, it's pretty darned good without them.
Patty's Perspective: Traditional carbonara is so delicious, but if you're looking for something new and different, cauliflower adds a nice texture without adding a ton of calories.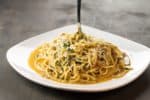 Linguine with Cauliflower Carbonara Sauce
Cuisine:
American, Italian
Ingredients
4

slices

bacon

½

head of cauliflower

chopped

2

jalapeno peppers

chopped

1

sweet onion

chopped

1-2

tablespoons

Cajun seasonings

3

tablespoons

shredded Parmesan + more for serving

3

tablespoons

chopped parsley + more for serving

Salt and pepper to taste

6

ounces

prepared pasta – we used linguine

2

eggs
Instructions
Heat a large pan to medium heat and add bacon. Cook 6-7 minutes, or until bacon is cooked through. Drain on paper towels.

Add the bacon to a large mixing bowl and crumble.

To the pan (with some of the bacon grease), add cauliflower, jalapeno peppers and onion. Cook about 8-10 minutes until everything is softened.

Add the veggies to a food processor.

To the food processor, add Cajun seasonings, Parmesan, parsley, and salt and pepper to taste. Pulse to form a nice paste.

After you've prepared your noodles, add about ½ to 1 cup of the reserved pasta liquid into the food processor. Puree until smooth.

Drain the rest of the noodles and add to the mixing bowl with the bacon.

Crack the two eggs into the hot noodles and stir with vigor. The heat from the noodles will cook the eggs.

Add the pureed veggie mixture to the pasta and stir.

Serve into bowls. Top with extra Parmesan and parsley and enjoy!
Nutrition Facts
Linguine with Cauliflower Carbonara Sauce
Amount Per Serving
Calories 505
Calories from Fat 225
% Daily Value*
Total Fat 25g 38%
Cholesterol 197mg 66%
Sodium 526mg 22%
Potassium 849mg 24%
Total Carbohydrates 48g 16%
Protein 22g 44%
* Percent Daily Values are based on a 2000 calorie diet.