Chili Baked Pork Tenderloin
Pork tenderloin is lean and tasty and easy to prepare, especially with this recipe that sears the tenderloin to form a flavorful crust, sealing in the juiciness, then baking it in our own sweet and savory chili sauce. So juicy and tender…
It's true. Pork tenderloins are some of easiest cuts of pork to prepare. They may seem daunting, but nope. The reality is that pork tenderloins cook up quickly and retain their natural juiciness when you use a very simple method of searing then baking.
There are many methods to cook this particular cut of meat, but we're going SUPER EASY here, and the results?
Delicious!
Here are some general instructions for the simple sear and bake method for a tenderloin.
How to Bake Pork Tenderloin
First, pat your pork tenderloin dry and then rub it down with your preferred dried seasonings. Even a simple salt and pepper mixture is fine.
Preheat your oven to 375 degrees.
Next, heat a large pan to medium heat and add a bit of olive oil.
Then, sear your pork tenderloin on all sides until a crust forms on the meat. This is what seals in the natural juiciness of the meat.
Finally, bake the pork tenderloin 15-20 minutes, or until the internal temperature reaches 145 degrees with a thermometer.
Remove from heat, allow to rest a few minutes, then serve.
See? Easy! We added a few twists to this basic recipe. See below.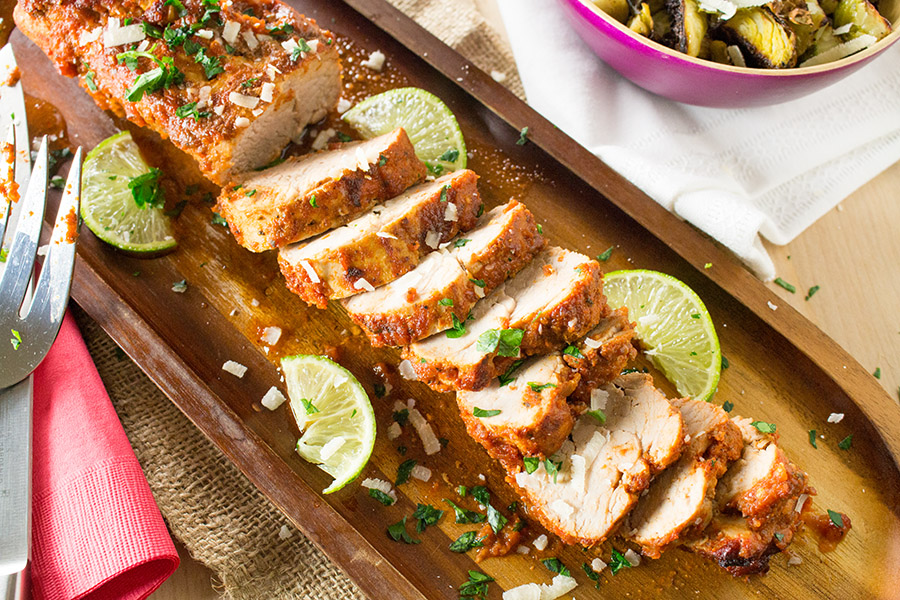 First is our dry rub. We used a combination of chili powders, including ancho, cayenne and Spanish paprika, along with some garlic powder. Feel free to use your own favorite prepared blend.
Just be sure to get it rubbed down good!
Next, after the sear, we drenched the tenderloins with the Sweet and Savory Chili Sauce Recipe that we made recently.
So good! Click to get that recipe.
However, if you're looking for something quicker, an easily prepared seasoned tomato sauce or chili sauce works well.
Or hey, bust into your favorite hot sauces and go to town!
This is why we like to keep homemade sauces around. I'll make up a large batch on the weekend and we're able to use it during the week. It makes cooking up certain meals that much quicker.
Alrighty! Time to get searing and baking!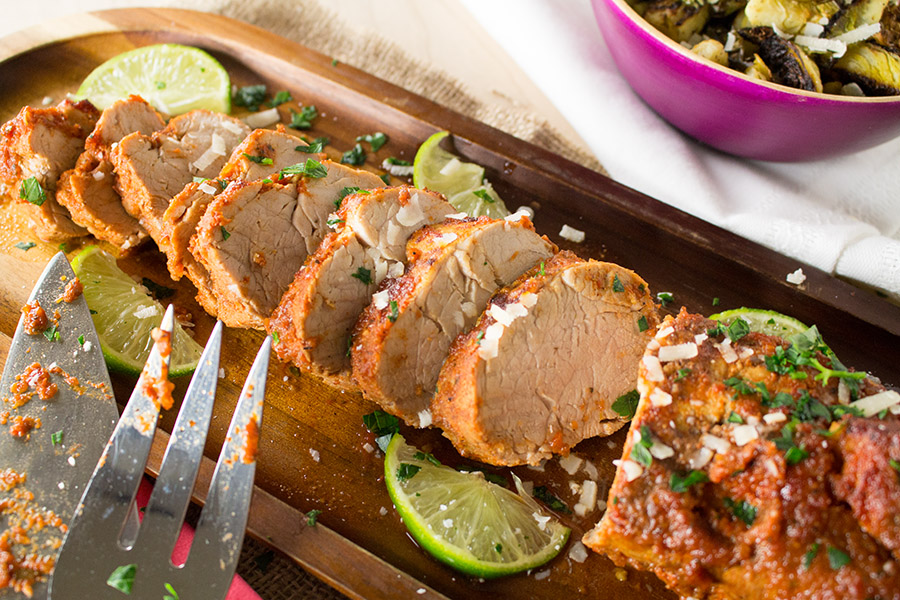 Also try my Spice Rubbed Roasted Pork Tenderloin recipe here.
If you try this recipe, please let us know! Leave a comment, rate it and tag a photo #ChiliPepperMadness on Instagram so we can take a look. I always love to see all of your spicy inspirations. Thanks! — Mike H.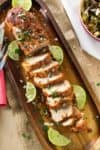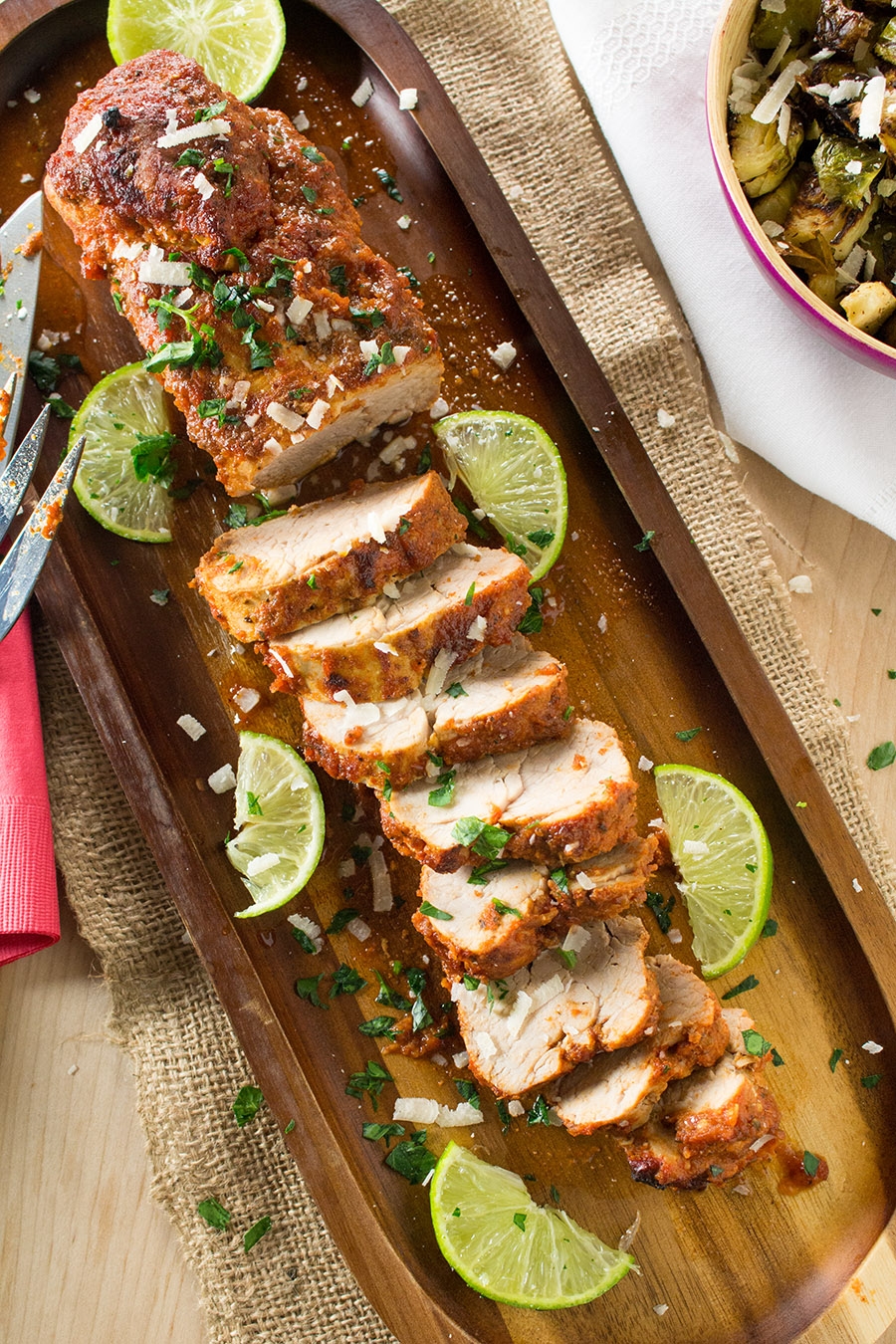 Print Recipe
Chili Baked Pork Tenderloin - Recipe
Pork tenderloin is lean and tasty and easy to prepare, especially with this recipe that sears the tenderloin to form a flavorful crust, sealing in thejuiciness, then baking it in our own sweet and savory chili sauce. So juicy and tender...
Ingredients
2

pork tenderloins

about 2.5 pounds

2

tablespoons

olive oil

2

tablespoons

chili powder blend – I used a combination of ancho

cayenne, garlic and Spanish paprika, but a nice Cajun blend is great

2

cups

Sweet and Savory Chili Sauce

1/2

cup

shredded Manchego cheese

Limes for serving
Instructions
Heat oven to 375 degrees.

Heat a large roasting pan to medium heat on the stove.

Drizzle the pork tenderloins with olive oil, then rub them down with your dry seasonings.

Sear the tenderloins a couple minutes per side to brown them up. This will help seal in the juiciness.

Pour in the Sweet and Savory Chili Sauce to cover the tenderloins. Use more if you'd like.

Transfer the roasting pan to the oven and bake for 18-20 minutes, or until the internal temperature of the pork reaches 145-150 degrees F.

Remove from heat and let rest a few minutes before slicing and serving.

Top with a bit of shredded Manchego chees and squeeze a bit of fresh lime juice over the top.
Notes
We served ours with some simple roasted Brussels Sprouts!
Nutrition
Calories:
417
kcal
|
Carbohydrates:
21
g
|
Protein:
44
g
|
Fat:
15
g
|
Saturated Fat:
5
g
|
Cholesterol:
132
mg
|
Sodium:
1417
mg
|
Potassium:
1154
mg
|
Fiber:
6
g
|
Sugar:
10
g
|
Vitamin A:
1470
IU
|
Vitamin C:
21
mg
|
Calcium:
146
mg
|
Iron:
3.2
mg