Homemade Roasted Tomatillo-Pork Chili
A homemade, no-bean, slow cooker pork chili recipe made with pulled pork, roasted tomatillos, four different types of chili peppers and lots of seasonings.
The pork shoulder in my refrigerator was calling my name! And so were all of the brand new spices I just picked up recently, so nice and fresh – ancho powder (I do love thee!), smoked paprika, cayenne, Mexican oregano.
Not to mention the loads of chili peppers begging to be cooked into something delicious. What else to do but make a homemade chili?
I am not a chili purist who demands that chili either have beans or no beans. No beans about it! I like it both ways. In fact, I like chili pretty much any way, from red to green to anything in between.
This particular recipe skips the beans and goes the green route, though since I used so many seasonings here, it turned out more red than green.
It truly is a riff off of a green chili recipe, or chili verde, starting with roasted tomatillos and four different roasted peppers – jalapeno, serrano, poblano and Anaheim – but it grows from there with a mix of spices and seasonings that take it, for me, to a different level of flavor.
I have to say that I've fallen back in love with ancho powder lately. It's my new favorite spice, so expect to see it quite often from me. One whiff of it and I practically melt.
You should bust out the crockpot for this one and let everything slow cook and stew until the pork shoulder falls apart and everything melds nicely together. Though a large simmering pot will do just fine for you over low and slow heat.
I served it up with some homemade picante sauce and topped it with crema and chopped cilantro.
Patty's Perspective
This is my kind of chili. I get very excited when we buy tomatillos and poblano peppers. I know instantly something delicious is coming soon. Mike makes a great Salsa Verde recipe, and this has a lot of similarities. So good!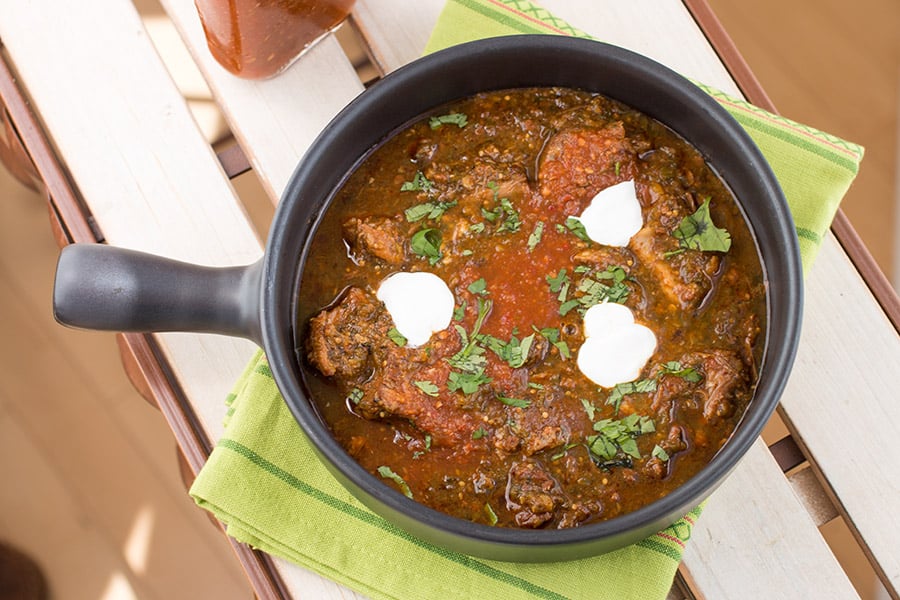 Try Some of My Other Popular Chili Recipes
If you enjoy this recipe, I hope you'll leave a comment with some STARS. Also, please share it on social media. Don't forget to tag us at #ChiliPepperMadness. I'll be sure to share! Thanks! — Mike H.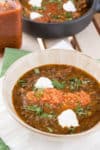 Homemade Roasted Tomatillo-Pork Chili
Ingredients
2

pounds

pork shoulder

6

ounces

spicy chorizo

2-1/2

pounds

tomatillos

3

large poblano peppers

2

Anaheim peppers

or one large green bell will do

5

jalapeno peppers

5

serrano peppers

2

cloves

garlic

½

cup

chopped cilantro

½

teaspoon

ground cumin

2

teaspoons

ancho powder

2

teaspoons

smoked paprika

1

teaspoon

cayenne powder

1

teaspoon

garlic powder

1

teaspoon

salt + 1 teaspoon

1

teaspoon

ground black pepper

2

tablespoons

flour

1

tablespoon

Mexican oregano

1

cup

chicken stock or Mexican beer
Instructions
Heat oven to 350 degrees.

Slice tomatillos in half lengthwise and set them onto a baking sheet skin sides up.

Slice all of the peppers in half lengthwise as well. Set them onto baking sheets.

Bake them all for 30 minutes or so, until the tomatillos are cooked and the pepper skins have charred and loosened.

Set tomatillos into a food processor. Peel the peppers and set them into the food processor.

Add garlic, cilantro and 1 teaspoon salt. Process until nice and smooth.

Transfer to a slow cooker or to a large pot over medium-low heat.

Heat a cast iron pan to medium heat.

Cube the pork shoulder and set into a bowl with the rub seasonings – cumin, ancho, paprika, cayenne, garlic, salt and pepper, and flour. Rub it all into the meat.

Add a bit of oil to the pan and sear the pork shoulder a few minutes per side. Into the slow cooker or pot they go.

Cook the chorizo in the same skillet, about 5 minutes, until cooked through. Into the slow cooker or pot they go.

Stir in Mexican oregano and chicken stock or Mexican beer. Cover and cook about 4 hours, until the pork breaks apart very easily and the flavors are awesome!

Serve in a bowl with extra cilantro and hot sauce, or serve it up with tortillas and all the wonderful fixings.
Nutrition Facts
Homemade Roasted Tomatillo-Pork Chili
Amount Per Serving
Calories 349
Calories from Fat 162
% Daily Value*
Total Fat 18g 28%
Cholesterol 86mg 29%
Sodium 888mg 37%
Potassium 847mg 24%
Total Carbohydrates 15g 5%
Protein 27g 54%
* Percent Daily Values are based on a 2000 calorie diet.