Pork Roulade with Romesco Sauce
The big New Year's Eve bash in the neighborhood is getting close and we're teaming up with some of the other neighbors to pull off an evening of elegant small plates. It's a big menu with 9 items as well as a raw bar. I am in charge of the stuffed mushrooms, butternut squash-scallop risotto, 4-cheese-asparagus tarts, and the pork roulade. Here is the dry run of the pork. I'm used to cooking for two, or sometimes smaller groups, but we're having close to 30 people this year so I like to do dry runs.
I decided to do a Spanish style treatment for this with a light seasoning rub, stuffing the pork tenderloin with spinach, Manchego cheese and some roasted red bell peppers, and topping it with a Spanish Romesco sauce. Patty and I prepared this for a small group and Christmas and it was well recieved.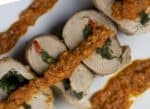 Pork Roulade with Romesco Sauce
Ingredients
2-1/2

pound

pork tenderloin

10

ounces

fresh spinach

3

cloves

garlic

chopped

1

sweet red chili pepper

or a red bell is fine, too

2

cups

shredded Manchego cheese

Olive oil

2

tablespoons

paprika

or other chili powder

Salt and pepper to taste
FOR THE ROMESCO SAUCE
1

large red bell pepper

roasted and chopped

2

medium tomatoes

sliced in half

6

medium garlic cloves

peeled

1

slice

Italian bread

stale or lightly toasted

1/4

cup

raw almonds

2

tablespoons

red wine vinegar

1/4

cup

olive oil

A few dashes of sea salt
Instructions
Preheat oven to 425 degrees.

Slice the chili peppers in half and set them onto a lightly oiled baking sheet. Roast them about 20 minutes, or until the skins char.

Remove from heat and set into a plastic baggie to steam. The skins will loosen. Peel the skins when cooled and toss them out.

Chop the peppers and set them aside until ready to use.

Heat a pan to medium heat and add a splash of oil. Add spinach and garlic and cook about 3 minutes, or until the spinach is cooked through. Set aside and cool.

Butterfly the pork tenderloin and pound it flat with a meat tenderizer to about a half inch thickness. Or, try a roll cut.

With the pork tenderloin laid out, season both sides wtih paprika, salt and pepper.

Spread the spinach, cheese and roasted chopped peppers over the top.

Roll the pork tenderloin up, keeping all of the stuffing intact, and tie it together with cooking twine.

Heat a large skillet to medium-high heat and dash it with olive oil.

Sear the pork roulade a couple minutes on each side to nicely brown.

Set the pork roulade onto a baking dish and roast for 45 minutes, or until cooked through. It should register 160 degrees internally with a meat thermometer.

Remove from heat and cover for 15 minutes.

While the Pork is cooking, slice the tomatoes and bell pepper in half. Set them onto a baking sheet.

Wrap the garlic in aluminum foil with a bit of oil and a dash of salt. Set it with the tomatoes and pepper.

Bake for 30 minutes with the pork.

Remove from heat and cool.

Heat a small pan to medium heat and dry roast the almonds about 5 minutes. Set into a food processor.

To the food processor, add bread and pulse a few times to break it all apart.

Peel the skins from the tomatoes, pepper and garlic and into the food processor they go with a bit of salt.

Process until a paste forms. It should be fairly wet.

Pour in olive oil in a stream while processing. Process until it smooths out.

Add vinegar and pulse. Taste. Need more vinegar for zing? Need more salt? Adjust as you'd like.

Serve it up over the sliced pork!
Nutrition Facts
Pork Roulade with Romesco Sauce
Amount Per Serving
Calories 426
Calories from Fat 261
% Daily Value*
Total Fat 29g 45%
Cholesterol 89mg 30%
Sodium 324mg 14%
Potassium 844mg 24%
Total Carbohydrates 10g 3%
Protein 29g 58%
* Percent Daily Values are based on a 2000 calorie diet.