A recipe for the green sauce you find in Mexican restaurants in squeeze bottles, perfect for smothering your burritos, for taco sauce, for any type of Mexican food. It's also great as a flavorful salsa.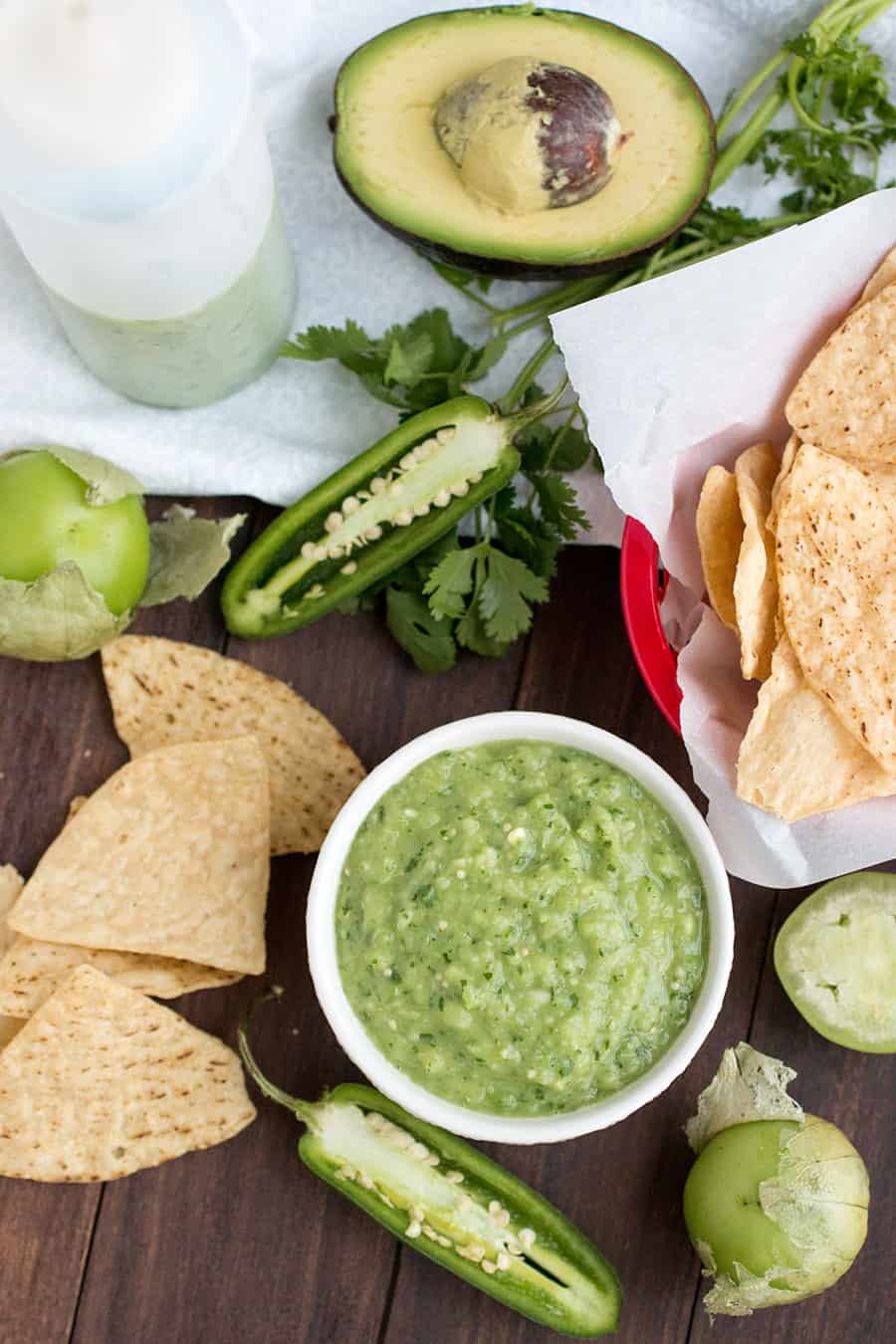 Salsa Verde Recipe with Avocado and Tomatillo
Recently I posted a Salsa Roja Recipe (Mexican Red Table Sauce), so it is only natural that I follow up with the GREEN version of that recipe.
It isn't really the same as the red, but they're synonymous because you'll typically find them side by side in your local Mexican restaurant, either in large squeeze bottles or served in small bowls so you can scoop them out with a spoon to pour over your burritos, tacos, or whatever else you're ordering.
The way it works for me is to have each sauce next to me while I chow on my chicken tacos. First I squeeze a bit of salsa roja onto the taco, take a bite, then pour a bit of salsa verde onto the taco, take another bite. Alternate. Sometimes I add BOTH to the taco for a combination bite.
Talk about heaven!
I just have to fight Patty for the sauces because she does the same thing. Good thing we're good at sharing.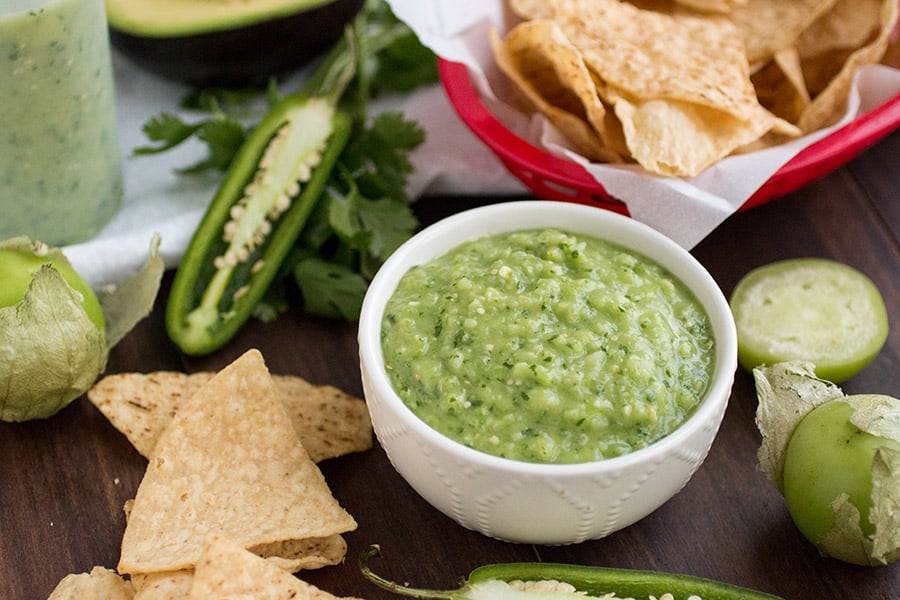 However! Like any sauce recipe, you will find variation. Every Mexican place makes this slightly differently.
A particular Tex-Mex place we visited in Florida has a jalapeno-heavy version that is seriously STELLAR, though I dialed this back and focused on the other ingredients. It is a bit more traditional in this sense.
I've spoken with a few Mexican restauranteurs and they're divided on the use of avocado in their green table sauce.
I like it with or without, but included avocado here because I wanted a bit of a creamy texture, and the flavor is outstanding.
The ingredient list is small. Like any good recipe, you don't need a lot of ingredients when the ingredients SERIOUSLY ROCK. We're talking tomatillos, avocado, peppers, onion, garlic, cilantro, lime juice and salt.
Go with serrano peppers for this if you want a spicier version.
If you're looking for milder, use jalapeno peppers. Core out the pepper innards to tame the heat further. Here's a look at some of the ingredients. Don't they look pretty?
They're screaming at me. "Eat me now! We want to be salsa verde!" I shall oblige.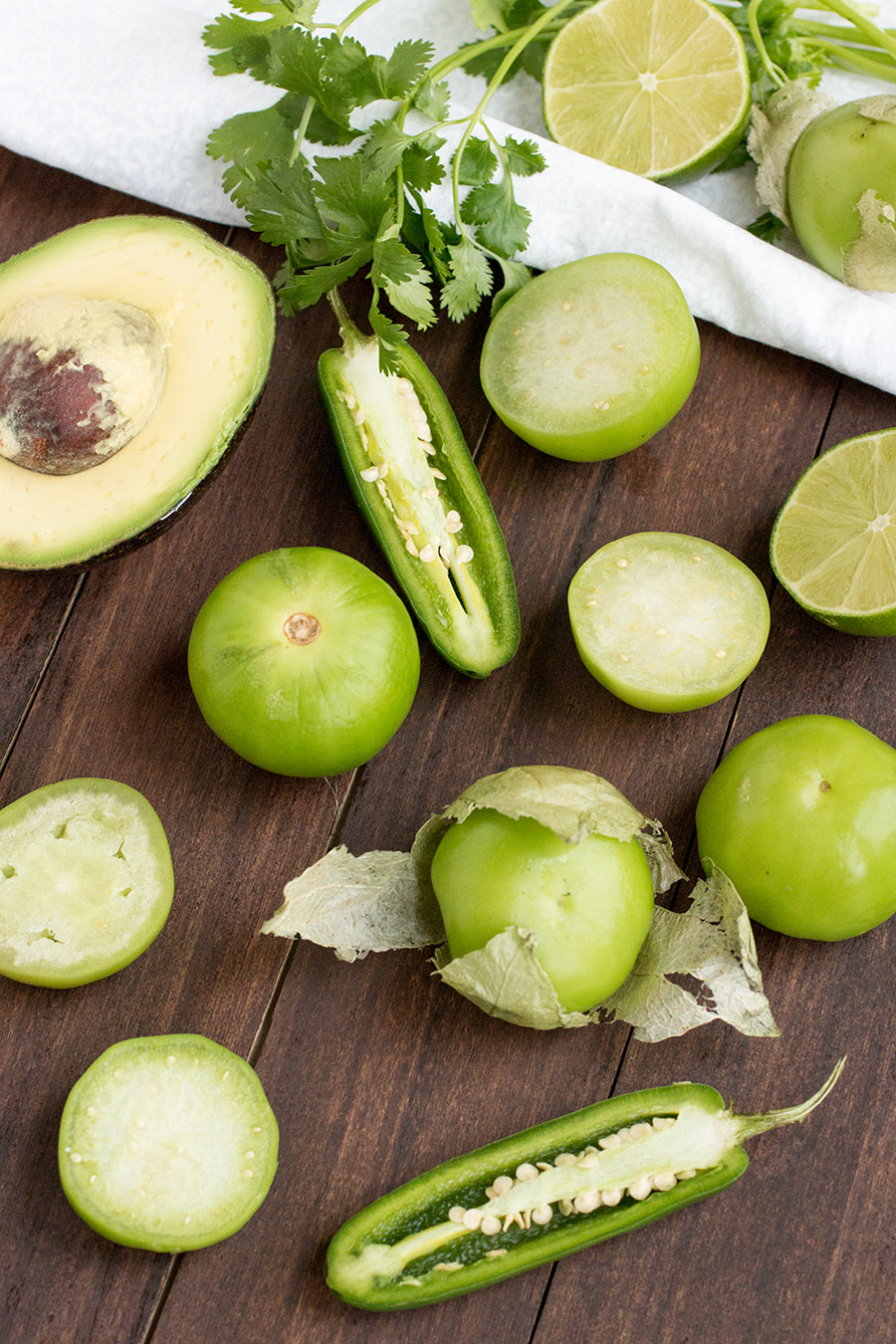 Serving
As with the salsa roja, this salsa verde will go with just about anything. Not kidding about this. It's an ideal taco sauce, but spoon it over burritos, enchiladas, nachos, tostada, tortas, whatever you like.
You can also serve it as a salsa in a bowl alongside some salted tortilla chips and guacamole. Make this version at home and keep it in the fridge for use anytime.
No need to leave the house! It should last about a week or so, if it makes it that long. It never does in our house. I can't stop eating it!
Enjoy!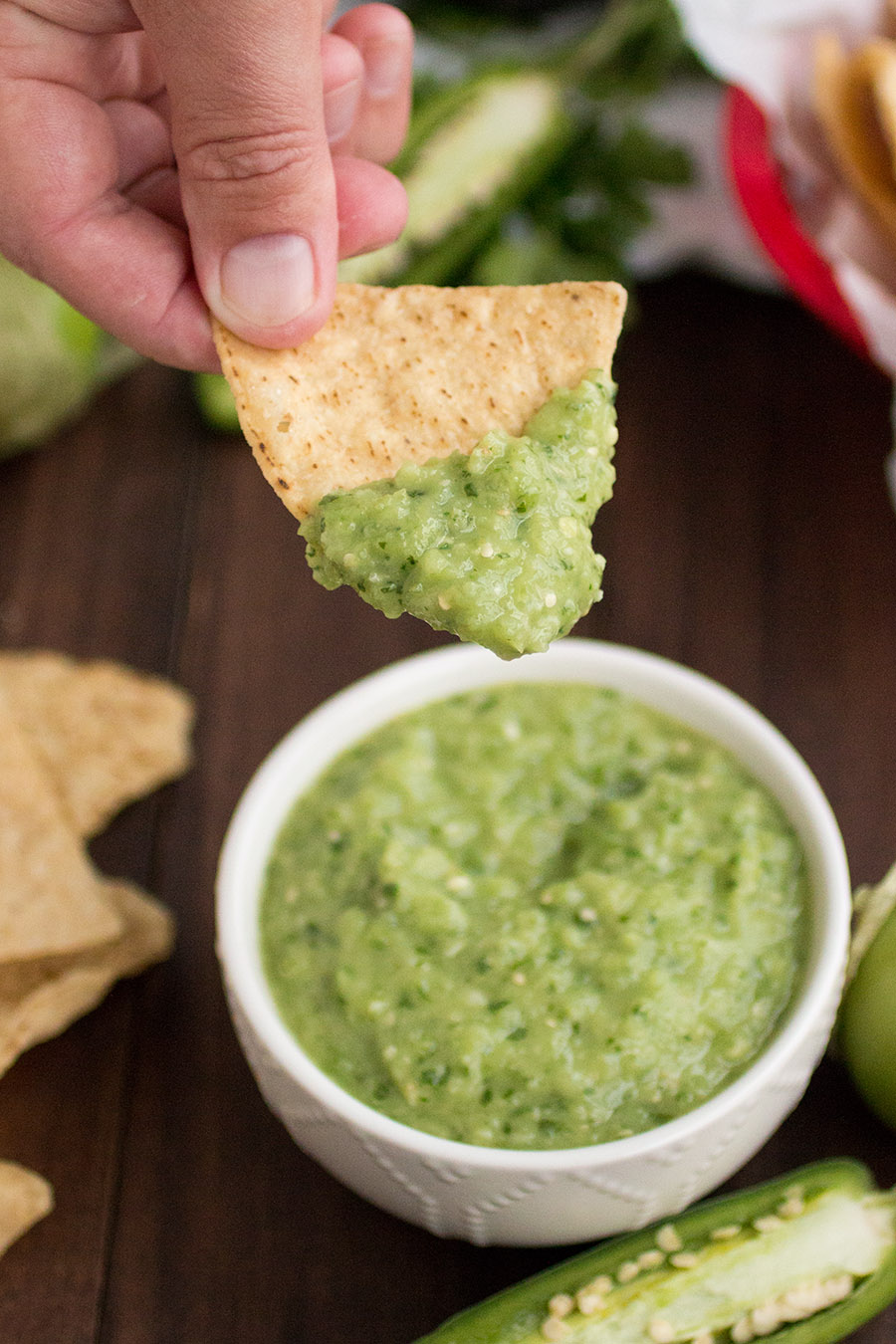 Patty's Perspective
Any recipe with tomatillos is my absolute favorite, and my typical GO-TO in any Mexican restaurant. However, the level of heat is also very important to me, and verde sauces tend to be the milder sauce between red or green.
So, I often end up mixing the red and green sauces for huge punches of flavor and heat. Mike's version, though, has a nice heat with the serranos. We seriously judge Mexican restaurants based on the sauces. Secret's in the sauce! This one is right up there!
Try These Other Popular Salsa Recipes
If you try this recipe, please let us know! Leave a comment, rate it and tag a photo #ChiliPepperMadness on Instagram so we can take a look. I always love to see all of your spicy inspirations. Thanks! -- Mike H.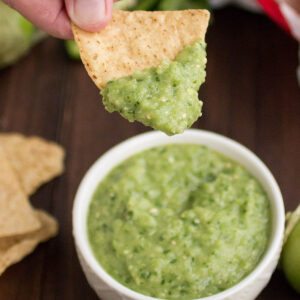 Print
Avocado-Tomatillo Salsa Verde - Mexican Green Table Sauce Recipe
A recipe for the green sauce you find in Mexican restaurants in squeeze bottles, perfect for smothering your burritos, for taco sauce, for any type of Mexican food. It's also great as a flavorful salsa.
Save Recipe
Saved!
Ingredients
Ingredients
1

pound

tomatillos

husks removed and roughly chopped

½

avocado

3

serrano peppers

chopped – use jalapeno peppers for a milder salsa

¼

medium white onion

chopped

2

cloves

garlic

chopped

Juice from half a lime

¼

cup

chopped cilantro

Salt to taste
Instructions
Cooking Directions
Add all ingredients to a food processor. Process until smooth.

If you prefer a thinner sauce that you can place into a bottle, thin slightly with water.

Refrigerate until ready to use. Enjoy!
Nutrition Information
Calories:
83
kcal
Carbohydrates:
10
g
Protein:
1
g
Fat:
4
g
Sodium:
4
mg
Potassium:
449
mg
Fiber:
4
g
Sugar:
5
g
Vitamin A:
275
IU
Vitamin C:
19.1
mg
Calcium:
14
mg
Iron:
0.8
mg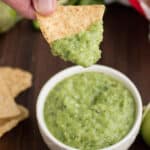 Did You Enjoy This Recipe?
I love hearing how you like it and how you made it your own. Leave a comment below and tag @ChiliPepperMadness on social media.