Homemade Habanero-Peach-Honey Mustard is sweet, spicy, and better than anything you can buy on a shelf. Homemade mustard is the only way to go, especially when it features bold habanero peppers, fresh peach and sweet honey!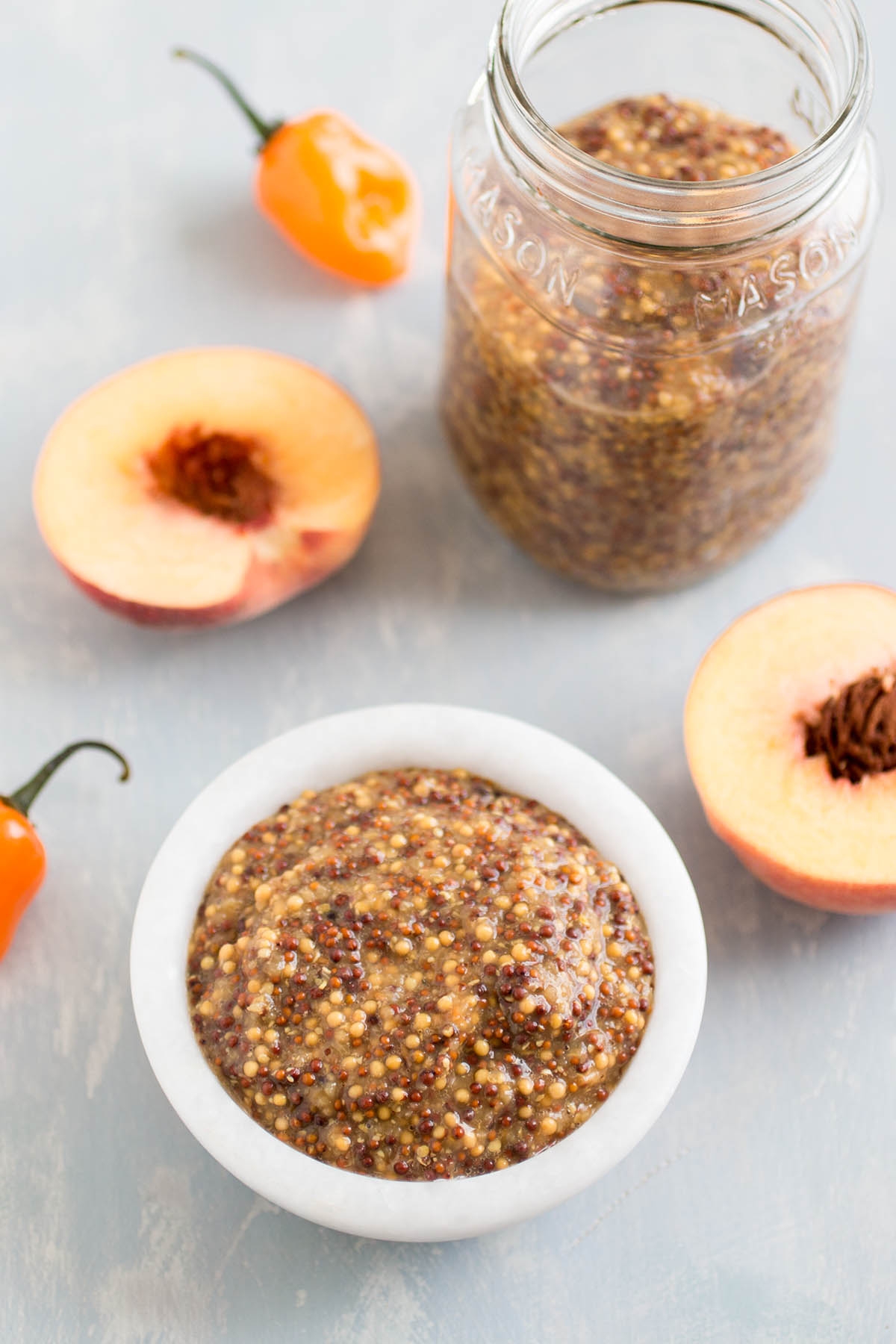 Homemade Habanero-Peach-Honey Mustard Recipe
Homemade mustard is here to change the game in your kitchen! Making mustard is easier than you may think. At it's base, mustard is really simply mustard seeds softened up in a vinegar-based soaking liquid. The seeds absorb the vinegar and other liquids, which you can then use as-is or you can process to the more familiar spreadable type.
Of course there's so much MORE you can do to mustard, but those are the basics. One of the ways to get creative with mustard is none other than our favorite spicy honey mustard that you see pictured! Habanero peppers lend just the right amount of spiciness to balance out the sweetness from the peach and honey.
Trust me, once you start making the real deal at home, it's pretty impossible to go back to the store-bought stuff.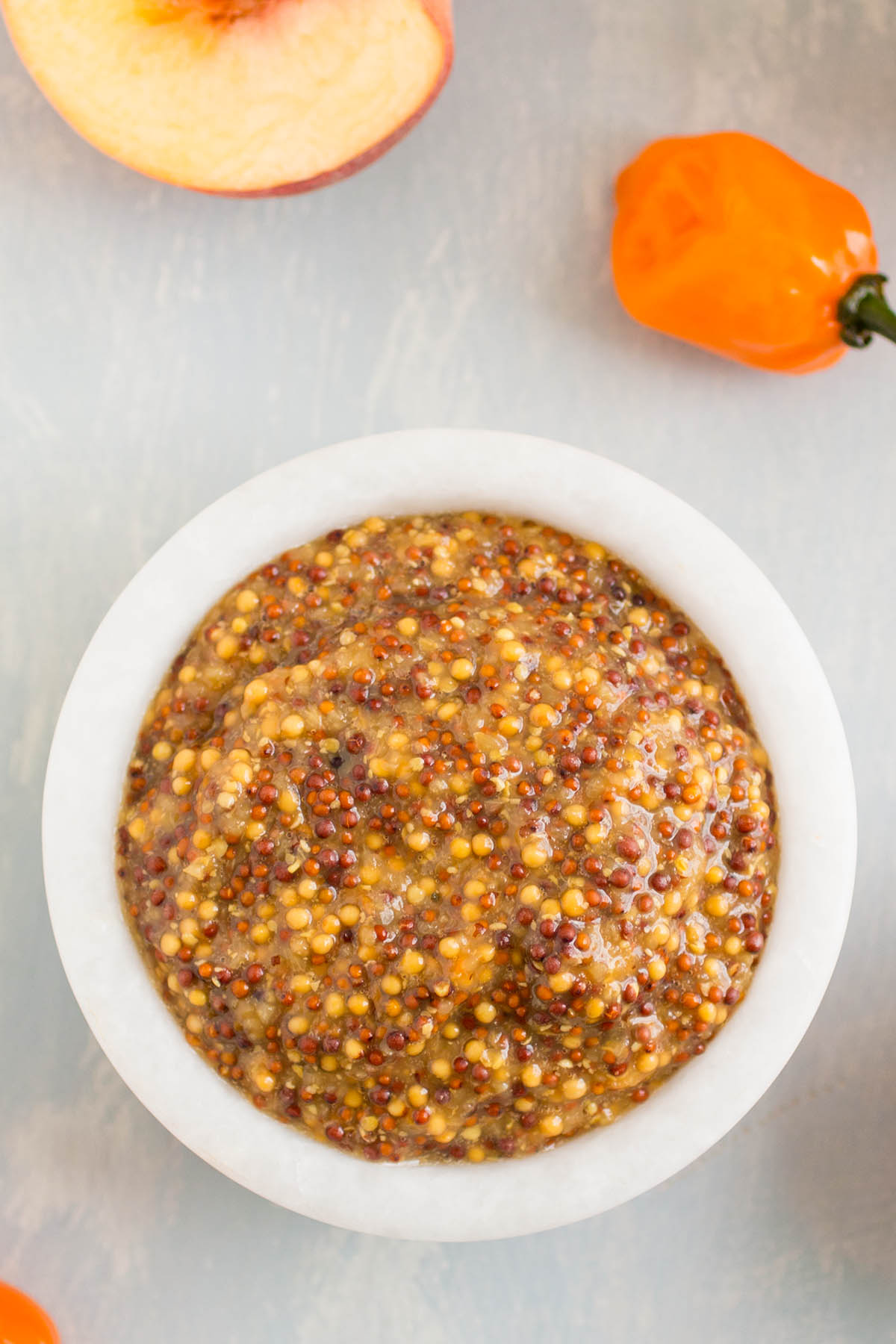 Ingredients in Spicy Honey Mustard
Brown mustard seeds
Yellow mustard seeds
Black mustard seeds
Apple cider vinegar
Pale ale beer (there will be enough leftover to enjoy a few swigs of)!
Habanero peppers
Peach
Honey
Water
Salt
Not sure where to find mustard seeds? I get my mustard seeds through Amazon - Brown Mustard Seeds, Yellow Mustard Seeds, Black Mustard Seeds - These are affiliate links, my friends! FYI.
How to Make this Habanero-Peach Honey Mustard - the Recipe Method
You're going to love how simple this homemade spicy honey mustard recipe is!
Soak the seeds. Measure out your seeds and soak them in a mixture of vinegar and liquid. I mostly use a flavorful beer, though you can use water or even wine. Soak them overnight and the seeds will swell as they absorb the liquids.
Cook and blend. When the seeds are ready, cook down the habanero and peach to soften them, then process them in a food processor. This will make it easier to spread throughout the mustard mixture.
Refrigerate it. Transfer the mustard to sterilized jars and keep it stored in the fridge. The flavors will develop over time and the mustard will get more pungent as time goes on.
Want more info on this easy process? Also see: How to make Homemade Mustard.
Recipe Tips & Notes
Customize the consistency. You can swirl the processed habanero and peach along with the honey into the mustard seeds and use it as is, though it is best if you process the entire mustard a bit to make it more creamy. By the photos, you can tell I prefer to keep mine more grainy. I enjoy the texture.
Don't forget the vinegar! It's important to not substitute the apple cider vinegar with any other ingredient. The vinegar is very important for preserving.
You can omit the black mustard seeds. There are different types of mustard seeds - black, yellow and brown. Black mustard seeds are the same as brown but much darker, and they result in a more pungent mustard. I enjoy using all of the seeds, including black mustard seeds, though if you have a hard time finding them, just use yellow and brown.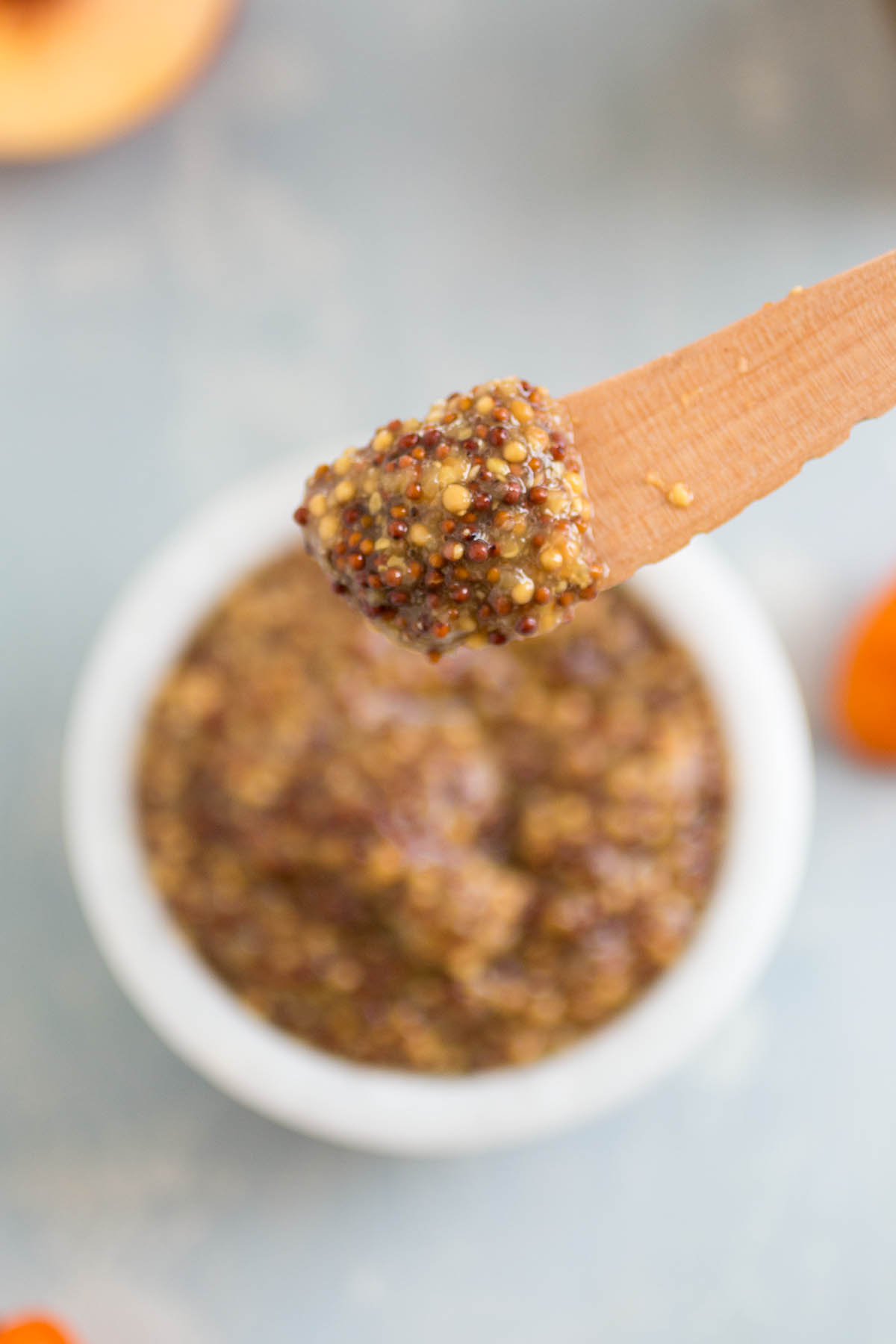 Check Out Some of Our Other Popular Homemade Mustard Recipes
Got any questions? Ask away! I'm happy to help. If you enjoy this recipe, I hope you'll leave a comment with some STARS.Also, please share it on social media. Don't forget to tag us at #ChiliPepperMadness. I'll be sure to share! Thanks! — Mike H.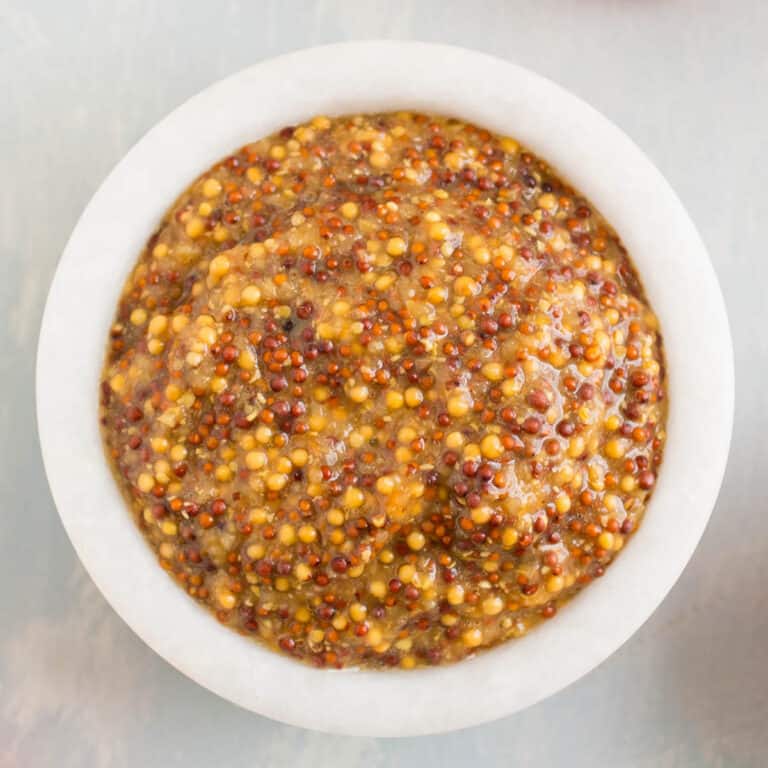 Print
Homemade Habanero-Peach-Honey Mustard Recipe
Make your own homemade sweet and spicy mustard at home with this recipe, with fruity habanero peppers, sweet peach and honey. Homemade mustard is the only way to go.
Save Recipe
Saved!
Ingredients
1/2

cup

brown mustard seeds

1/2

cup

yellow mustard seeds

½

cup

black mustard seeds – NOTE: If you can't find black mustard seeds

use 2/3 cup yellow mustard seeds

1

cup

apple cider vinegar

1

cup

of your favorite pale ale beer

Sorry, you have to drink the rest!

3

habanero peppers

chopped (innards removed for a bit less heat - or, use milder peppers if these are too hot)

1

large peach

peeled, pitted and chopped

3

tablespoons

honey

2

tablespoons

water

Salt to taste
Instructions
To a large mixing bowl, add mustard seeds with vinegar and beer. Mix well. Pour into a large jar and seal.

Set the jar in a dry place overnight to let the seeds absorb the liquid, at least 12 hours. You will notice the seeds grow larger, but the mixture still looks like mustard seeds floating in liquid.

To a small pot, add habanero peppers, chopped peach, honey and water. Heat to medium-low and cook until the mixture is softened, about 10 minutes.

Add to a food processor and process until smooth.

Add the mustard mixture and process to your personal tastes. You can process only a little to keep most of the seeds, or go to town and really mix it together. I processed mine to about 80 percent, keeping a few seeds in there.

Set the mustard into a sterilized jar and serve! The flavors will keep developing as time goes by. Enjoy!
Notes
Makes about a quart or so.
Nutrition Information
Calories:
1709
kcal
Carbohydrates:
151
g
Protein:
69
g
Fat:
92
g
Saturated Fat:
5
g
Sodium:
61
mg
Potassium:
2501
mg
Fiber:
33
g
Sugar:
84
g
Vitamin A:
775
IU
Vitamin C:
71.1
mg
Calcium:
695
mg
Iron:
24.9
mg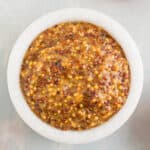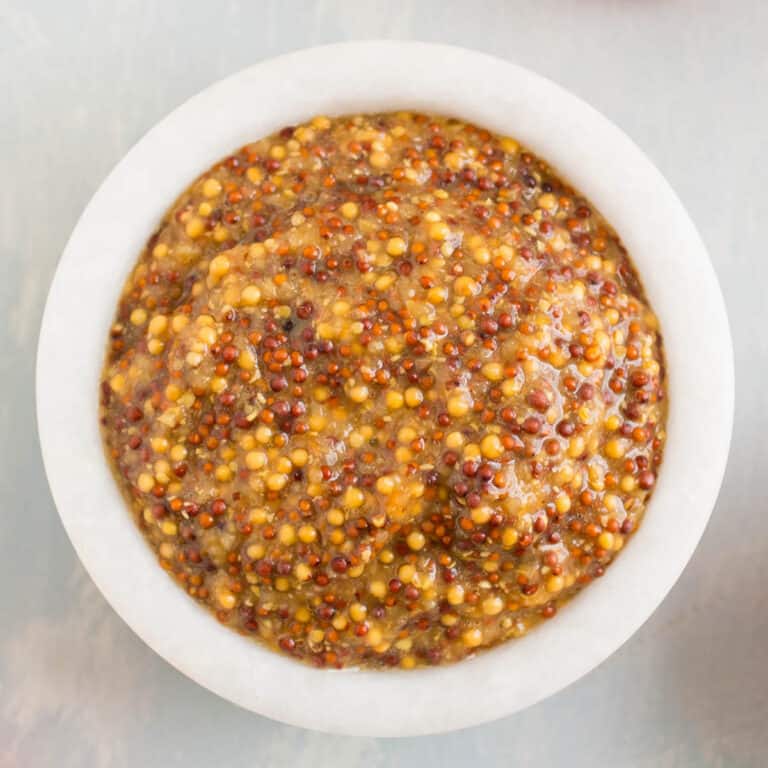 Did You Enjoy This Recipe?
I love hearing how you like it and how you made it your own. Leave a comment below and tag @ChiliPepperMadness on social media.