10 Spicy Soup Recipes from the Source
Looking to spice up your soups? Here is a collection of spicy soup recipes with plenty of bold flavor, straight from Chili Pepper Madness, and the author of "The Spicy Food Lovers' Cookbook".
So we're sitting here and it's cold outside. Brrrrr! And it's a bit snowy. And tomorrow is a holiday and everyone is cooking like crazy and I just want to warm the bones a bit with something. What else warms the bones better than SOUP? Coco? I'm not in the mood for coco and I'm hungry.
So soup it is.
Since you're in the mood for soup, too – I can sense these things, it is rather uncanny – here is a collection of 10 soup recipes with a spicy spin to help you choose. Of course we had to spice things up a little. Not TOO spicy. Just nicely BOLD. With flavor!
These are some of our favorites. If you're making these AFTER the holidays, think LEFTOVERS. Soups are notoriously easy for leftovers. Chop up some leftover turkey or chicken and toss it into the soup. Use the mashed potatoes as a base. Sprinkle pomegranate seeds over the top for a garnish.
Go crazy. One word: SOUP! Onto the soups!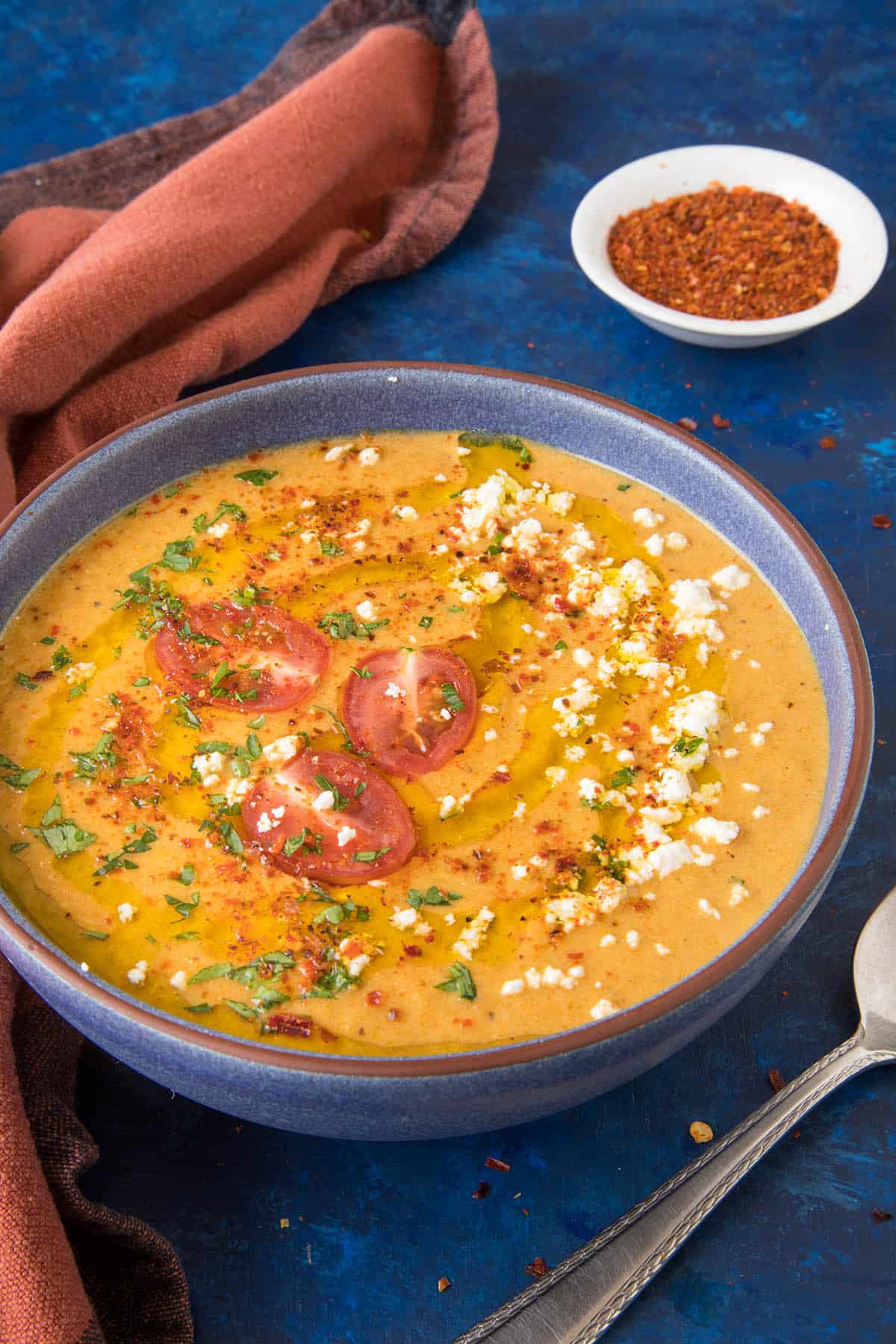 This soup is silky smooth and creamy and hugely flavorful, made primarily with roasted red Hatch chile peppers and the perfect balance of seasonings. It is both rich and light and ready to make you happy.
Zesty Chicken Tortellini Soup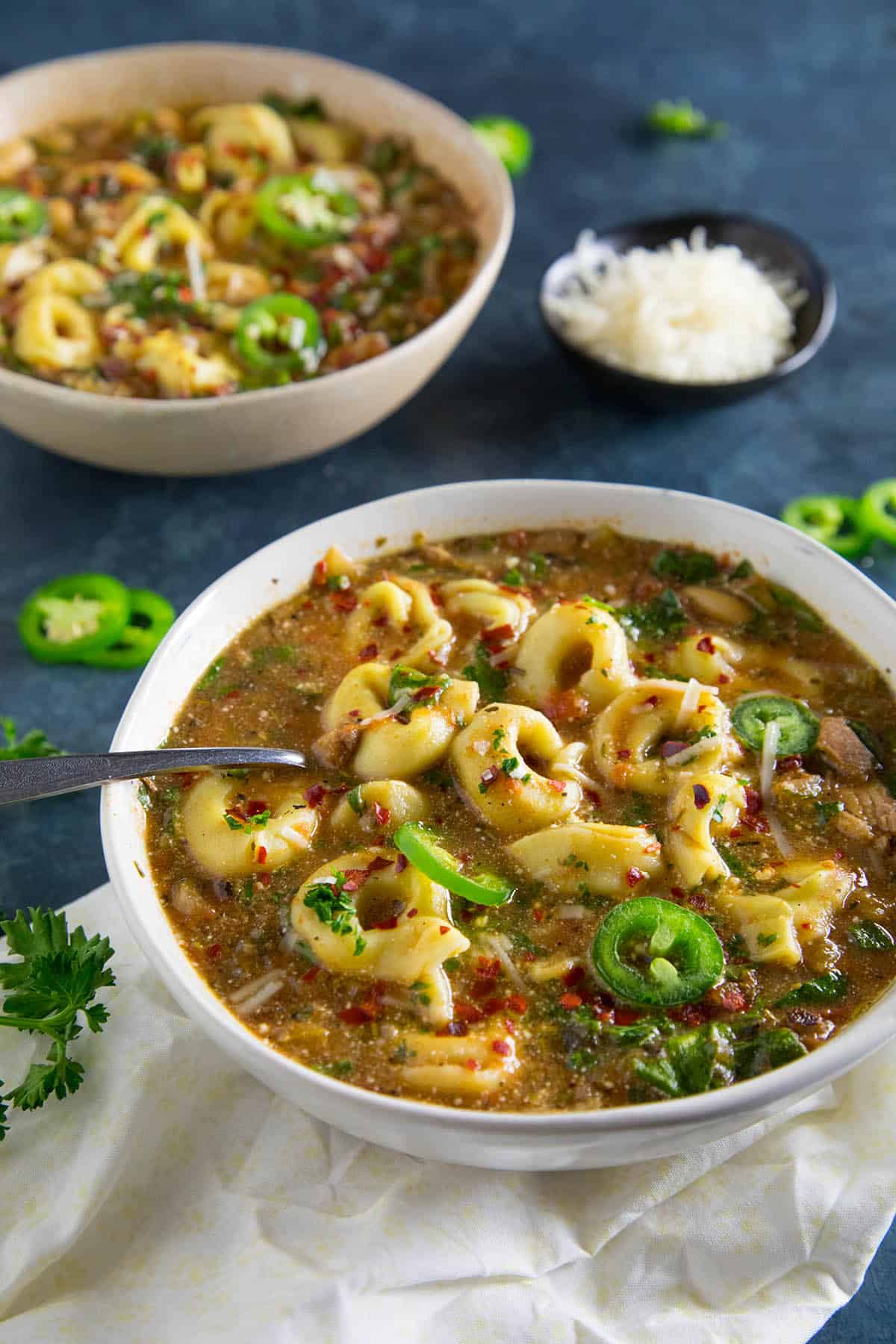 This tortellini soup recipe is loaded with flavor, made with fire roasted tomatoes, white beans, seared chicken thighs, cheese tortellini and a powerful blend of herbs and seasonings. Your taste buds will thank you for a bowl.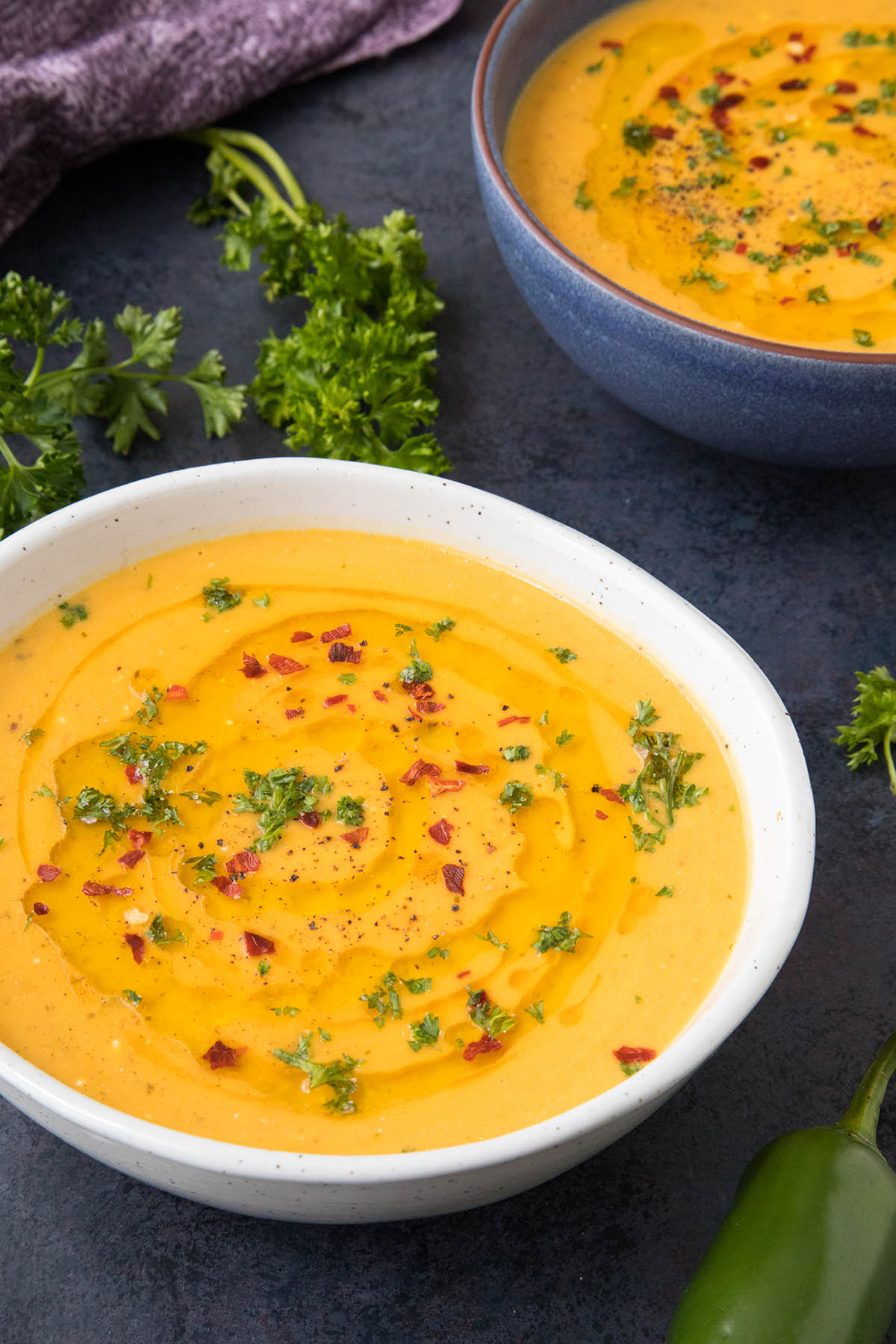 This sweet potato soup recipe has the perfect amount of spiciness with Cajun seasonings to complement the puree of sweet potato, tomato, other veggies, and creamy yogurt. It's a quick and easy meal on the table in no time.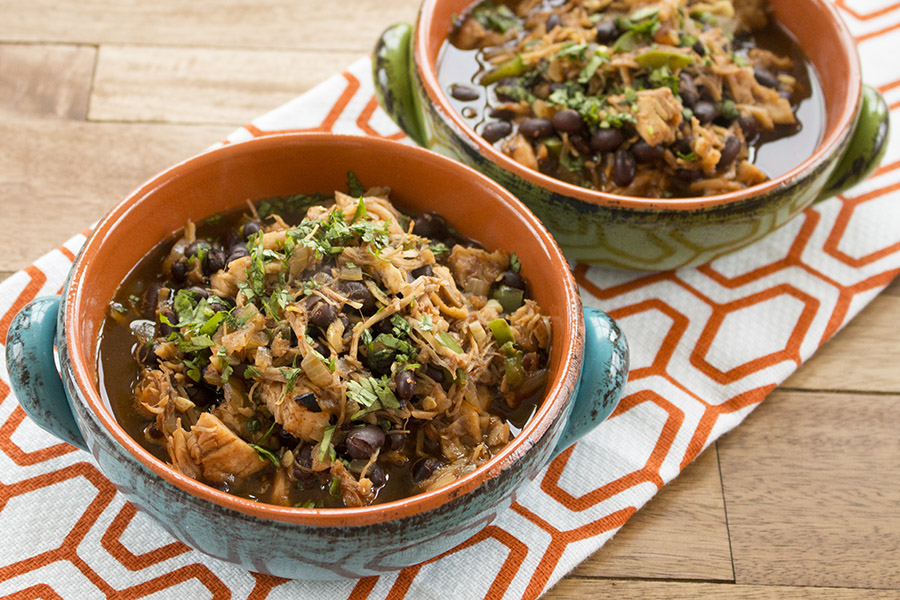 Let us present — da Da DAA! — Chicken and Black Bean Soup. We're both big black bean fans. They're so good for you and the flavor is unlike other beans. It is richer and earthier, and so nicely paired with chicken. I always enjoy cooking Mexican style. If you let this recipe simmer in the pot with all those seasonings and peppers and chicken stock, the flavors build and mingle and they're just so satisfying. I wish we had a fireplace some nights when it's freezing outside, just so we can enjoy meals like this, curled up on the couch in a blanket with soup and the sounds of the crackling fire.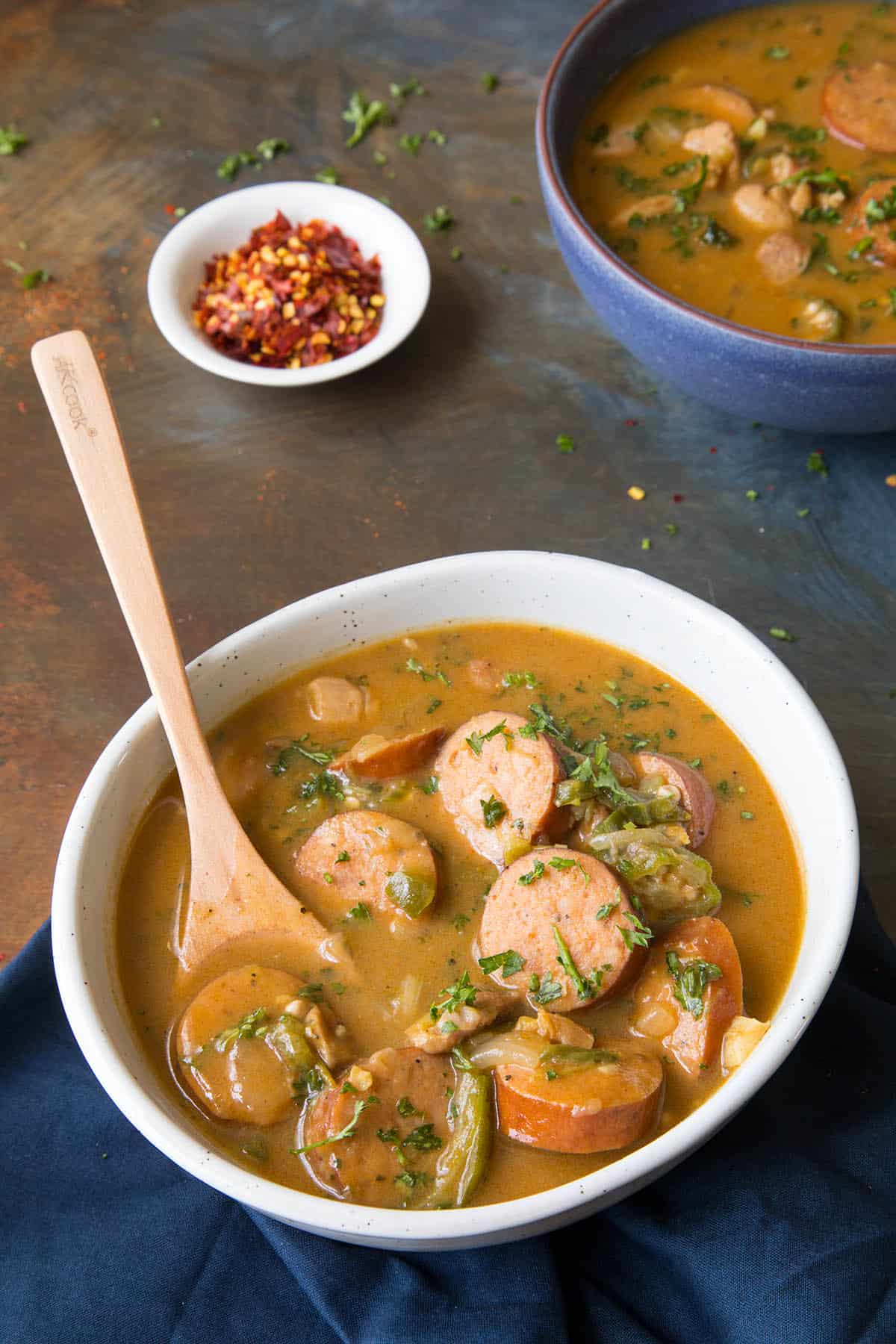 This down home Cajun chicken and sausage gumbo recipe is made with a rich and comforting dark roux, the Cajun holy trinity of vegetables, seared chicken, smoked andouille, and plenty of Cajun seasoning. This is one of my most favorite dishes in the whole world. I can never get enough gumbo.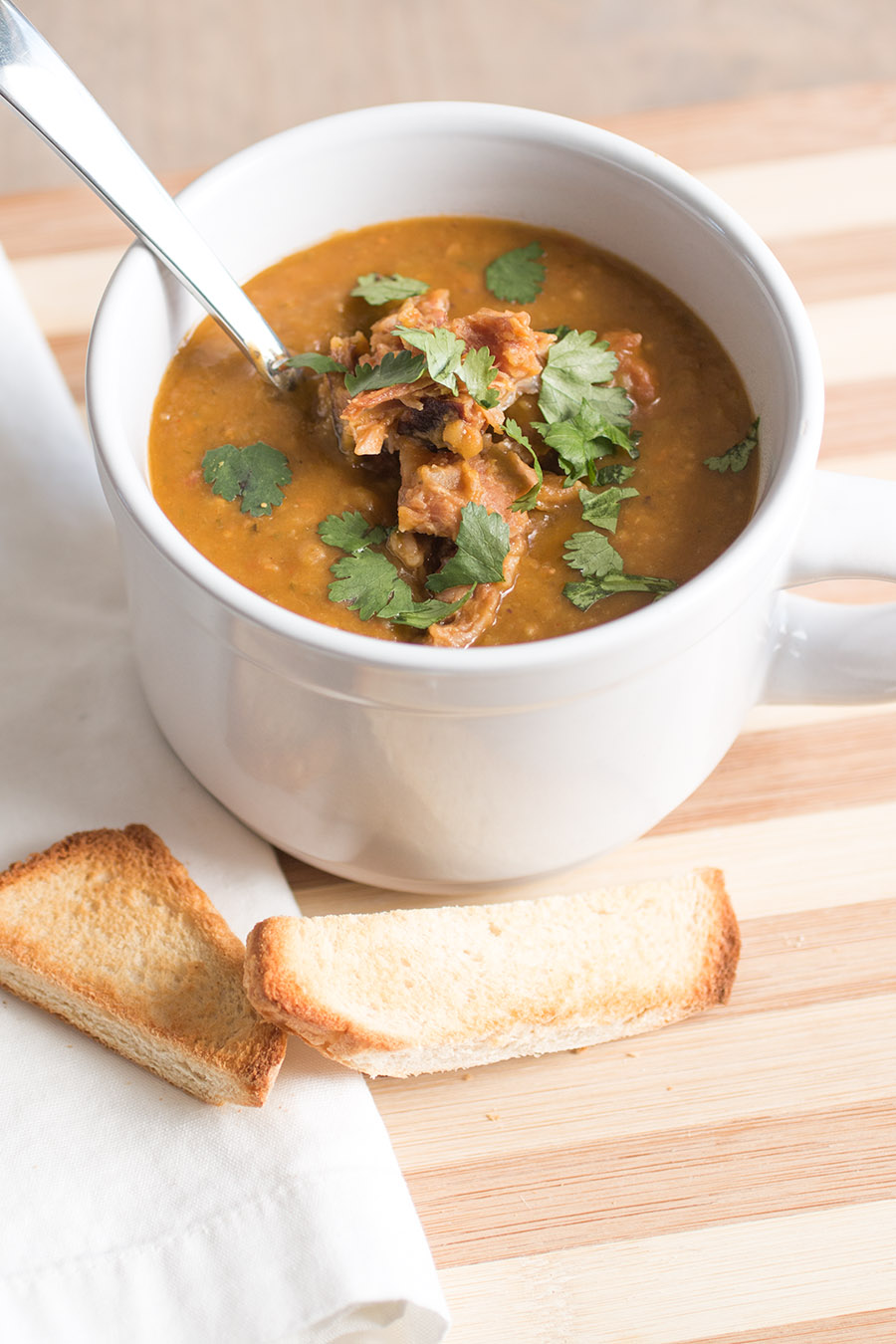 This is the tail end of our icy-cold season and we're now starting to think about our gardens, so it's time to get in a last blast of bone-warming comfort food in the form of split pea soup. We only make this a couple times a year, maybe three times. We can make a whole pot and it will last us throughout the week for a dinner and then the leftovers for quick lunches. It doesn't take much to fill you up.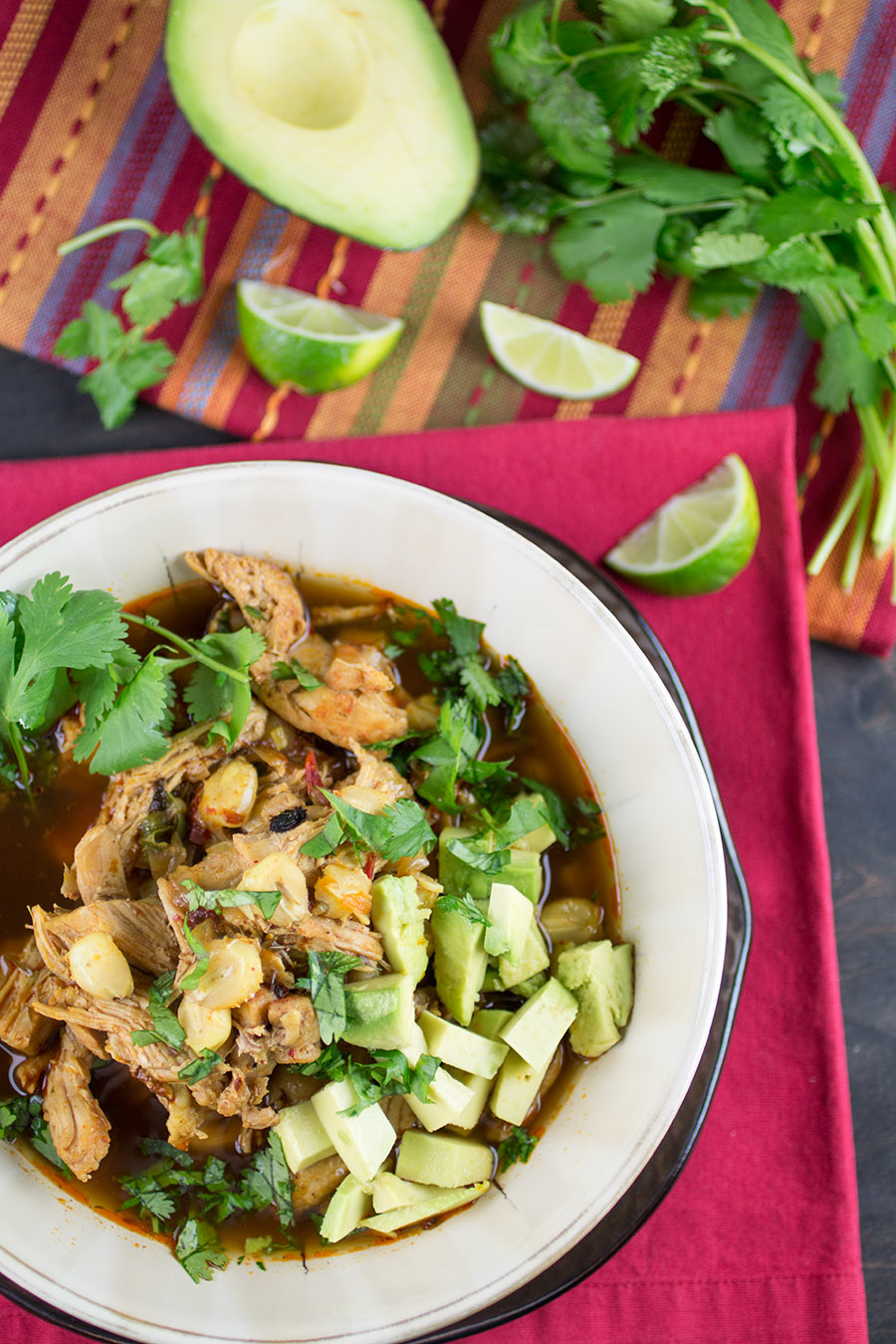 If you enjoy a good stew recipe, or a soup with lots of chunky chicken or pork, then Mexican Posole is something you'll want to try. It certainly is a classic dish, very traditional to Mexico, and it has a number of variations, ranging from chicken and pork and different types of meat, to a huge variety of preferred garnishes. I stick with what I typically have on hand – diced avocados, cilantro, some lime wedges – though others like to include lemon, cabbage, salsa, onion, radishes or other chili peppers. Roasted jalapenos or serranos would be awesome here.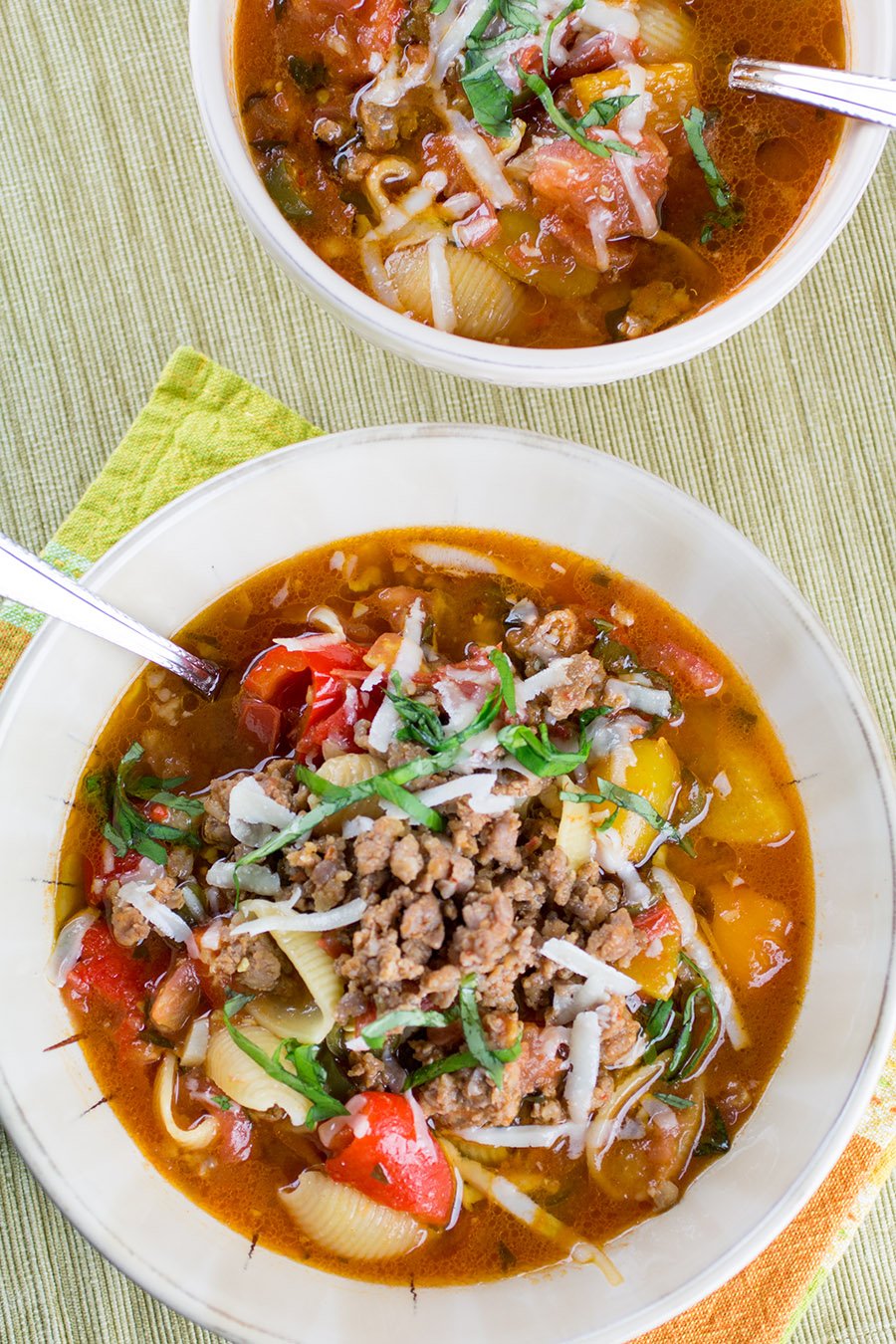 I'm starting up a whole new category on the Chili Pepper Madness web site. It's called Quick and Easy Recipes. As you already know, Patty and I work from home. We run a web site development business and I am a writer (just sold another screenplay, yo!), so on our crazy busy days, we need meals quickly. I KNOW we can run down the street for a sammich or down to our favorite Taqueria for a burrito, but hey, I'm obsessed with cooking! I'm a TOTAL chilehead with a hankering for spicy food! Besides, there is nothing like a home cooked meal, as I'm sure you would agree.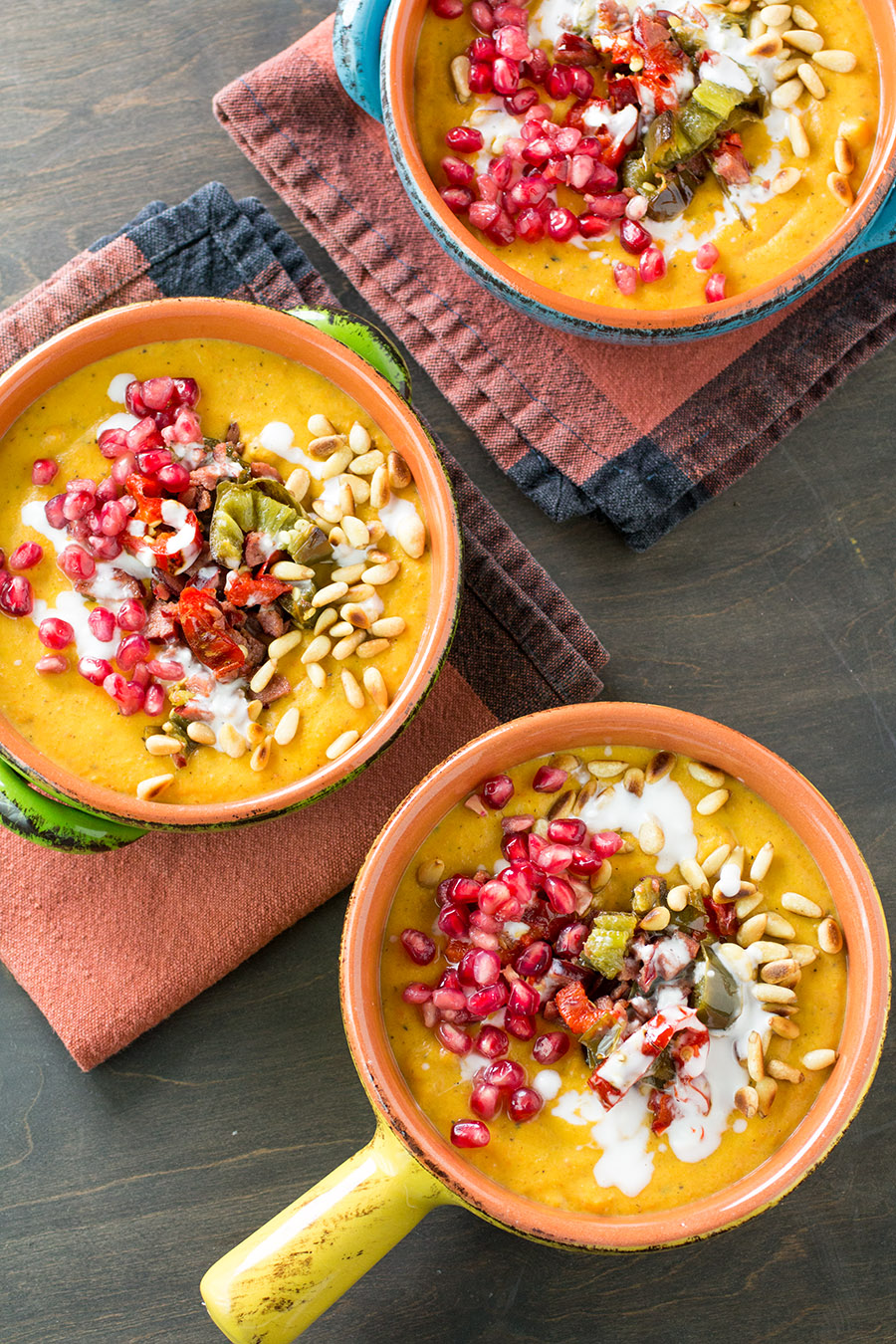 We got our first blast of winter here, folks. Even now as I gaze out the window, we're blanketed with a solid 8 inches of snow and the temps are below freezing at the moment. Can't say we're big fans of winter, but at least we have butternut squash soup to warm us up. Ahhh, butternut squash soup. It's one of those uber winter recipes. Something to stick to the bones. Of course we want to make ours a little bit spicy, but we also want it creamy this time. Super creamy. It's easy to achieve and it will knock your socks off. Seriously.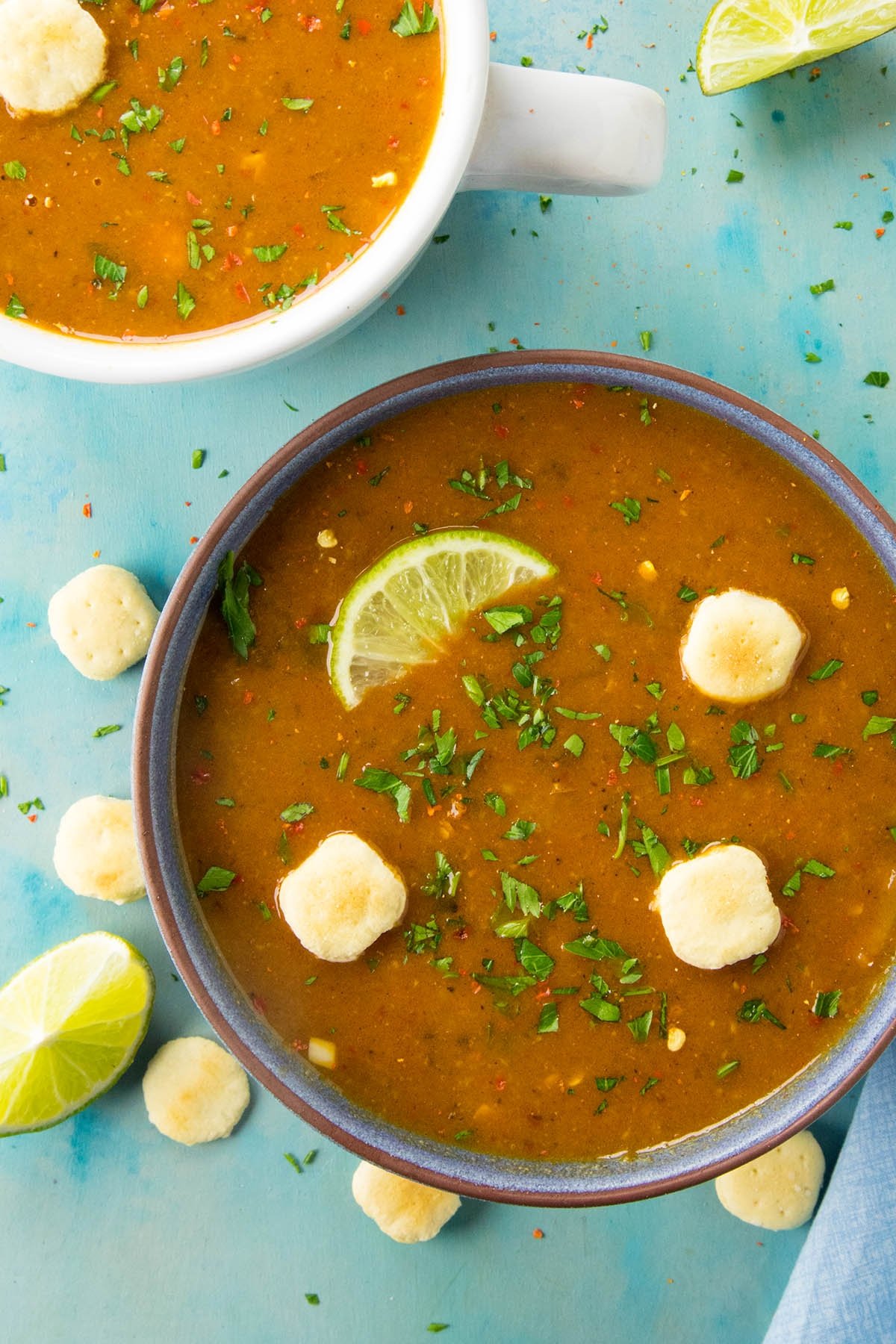 Get your homemade potato soup with this recipe, made with earthy guajillo peppers, loads of seasoning, melty cheese, fresh lime juice and more. You're gonna want a second bowl.
Patty's Perspective
Once it starts to get cold outside, I crave soups to keep me warm. Mike is VERY creative with his soups, where he can spend time and deliver elaborate flavors for dinner, or toss a few things together for a quick lunch and still generate bold flavors in no time. It's all about having the right ingredients in hand. Lucky we're stocked!
Enjoy the spicy soup recipes! Take care,
Mike and Patty, Chili Pepper Madness
If you enjoy any of these spicy soup recipes, I hope you'll leave a comment with some STARS for them. Also, please share them on social media. Don't forget to tag us at #ChiliPepperMadness. I'll be sure to share! Thanks! — Mike H.