A hearty Cajun gumbo recipe made with plenty of andouille sausage, bacon, peppers, a long stirred roux the color of copper, and the addition of a flavorful Winter ale to help warm the bones.
Is it cold where you are? It's COLD here. Brrr. The temperature is reading a high of "ZERO" today, my friends. ZERO! I just don't like it. When it gets this cold, it typically lasts for days, so when I see it in the forecast, I plan for meals like this one: CAJUN GUMBO.
Talk about a meal that will stick to your bones and warm you up.
Gumbo is one of my favorite foods on the face of this planet. It is TOPS for a reason. It is the Official State Food of Louisiana, basically a big mish-mash of different cuisines and cultural influences in a single pot.
And you know, you just can't stop eating it on a cold winter evening, so make yourself an extra large pot so can stuff yourself, then save the rest for the next lunch or to enjoy later on in the week.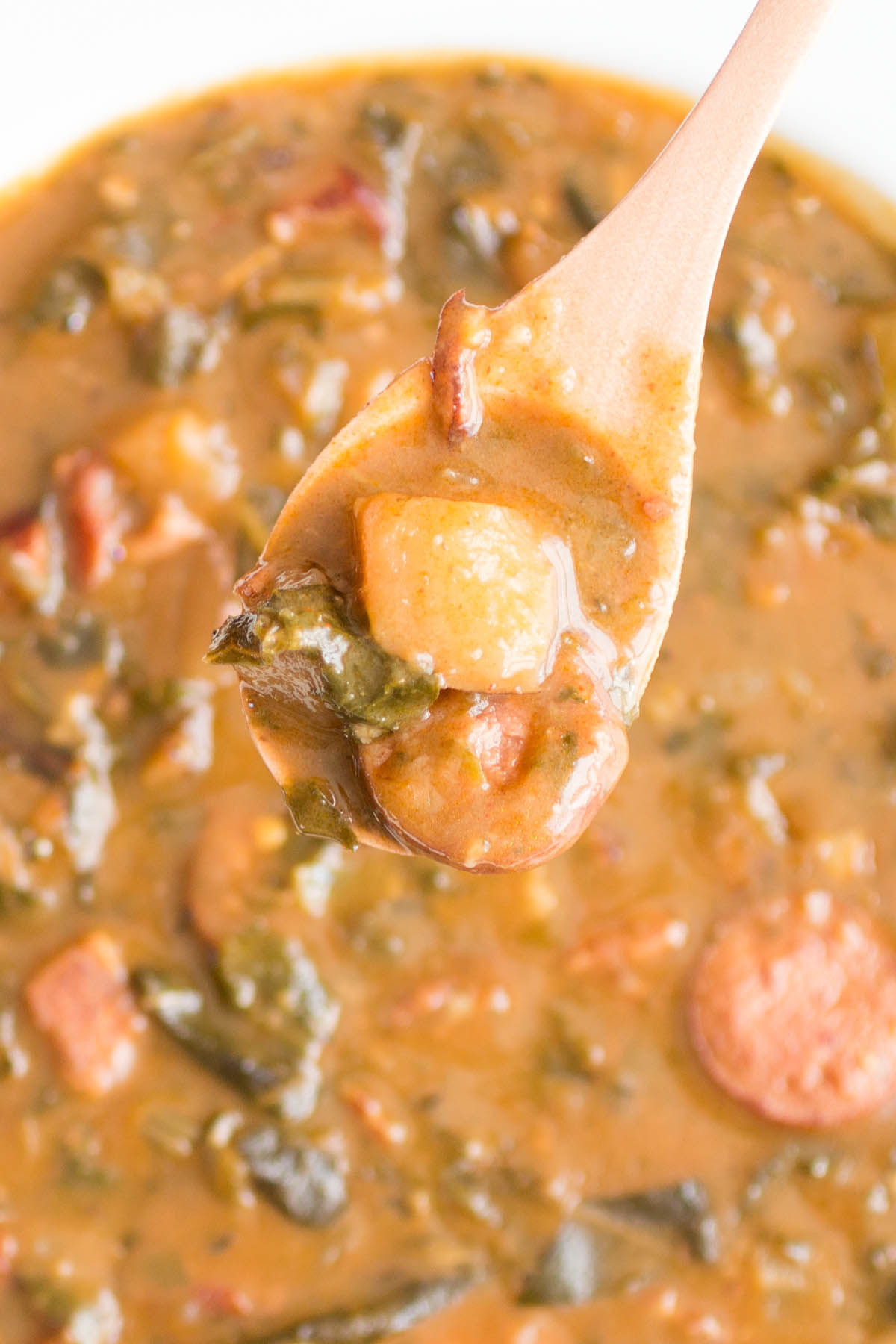 The Art of Making Gumbo
There are MANY ways to make a gumbo. You would think so, considering all of the different cultures going into it. Traditional gumbo is ALWAYS amazing, but chefs in and around New Orleans are getting creative with their takes on Cajun and Creole gumbo, and if they're having fun experimenting, why shouldn't we?
Check out my post about my New Orleans foodie experience. So awesome!
What we've done differently here from a traditional gumbo is to break from the traditional Cajun Holy Trinity and use jalapeno and poblano peppers in the place of green peppers.
You know me and my #JalapenoObsession. I really wanted a bit more heat, and the earthy flavor of poblanos is stellar.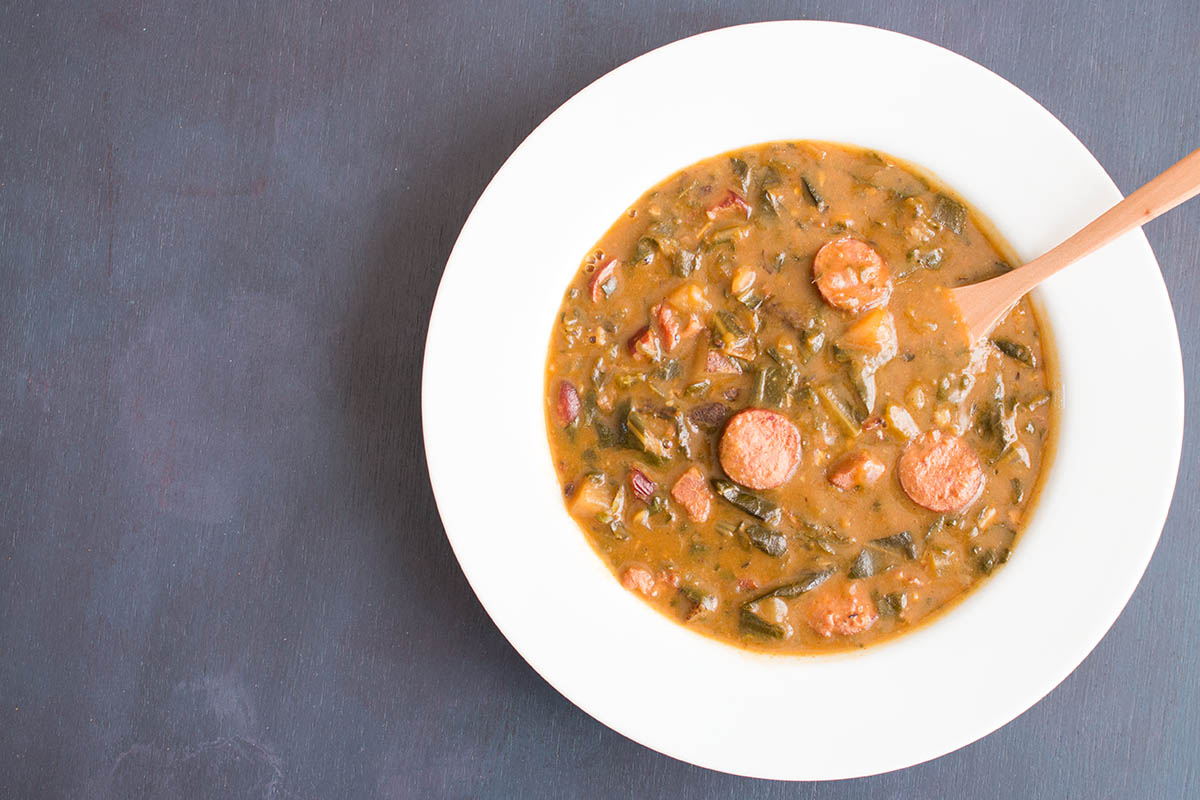 I've also included my own Cajun-style seasoning blend. We focused here on Andouille, rather than seafood, which you could TOTALLY add if you wanted to, but also added in bacon for the flavor of…um, BACON. Nothing wrong with bacon!
You normally won't see collard greens in a gumbo outside of a "green gumbo", or Gumbo Z'Herbes, but I've added some in here because I FREAKING LOVE greens of all types.
Heck, see my last recipe – Seared Sausages with Mustard Greens and Peppers. They work GREAT here to fill up the dish.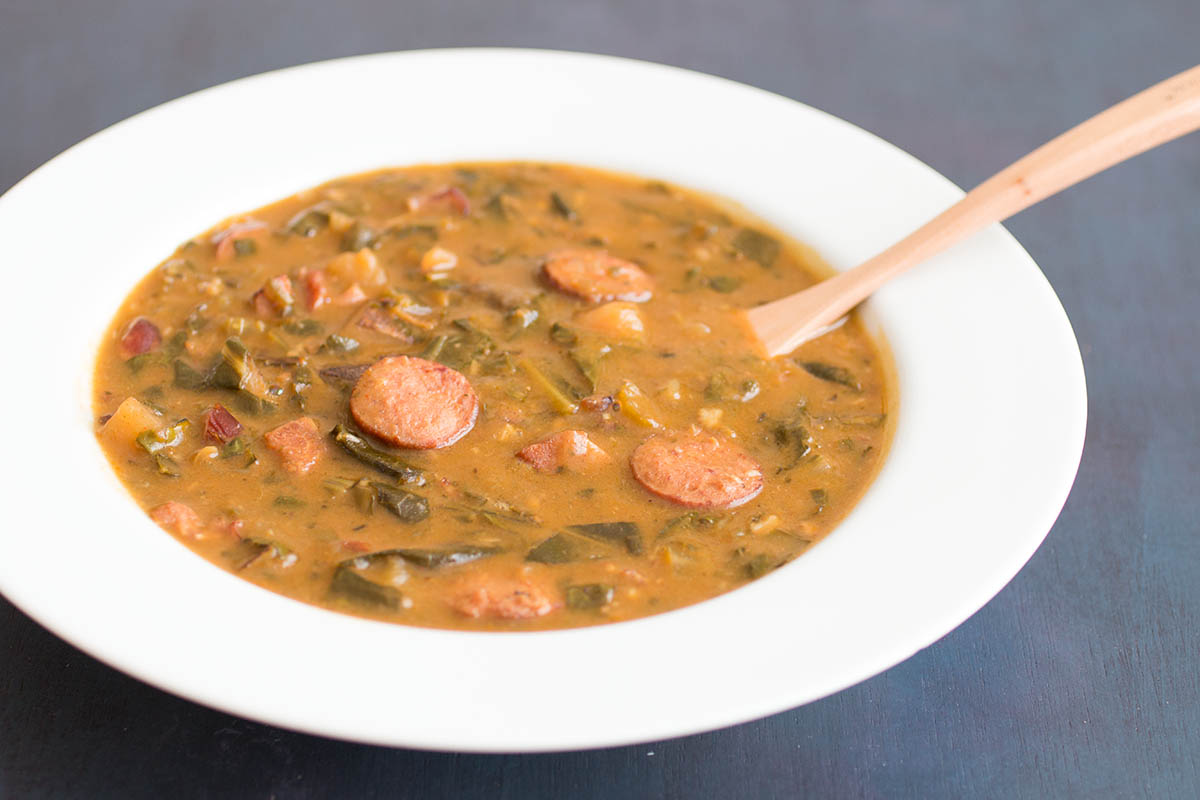 Lastly, I've incorporated a Winter Ale into the mix in lieu of using entirely chicken stock. A stock is more traditional, but the Winter Ale adds some additional seasonings that mellow out slightly but still layer into the final bowl.
A Note About This Particular Cajun Gumbo Recipe
I like to let mine simmer on low for several hours. It is going to take you time to make your roux, if you make it properly, and PLEASE do. If you don't spend the proper time making your roux, your gumbo won't be as good.
But once everything is ready in the pot, you can let it simmer a long time. Just be sure to keep it LOW and do not let the moisture disappear. The longer it cooks, the deeper the flavor develops. You will thank me for this.
Oh, gumbo. I DO LOVE you so.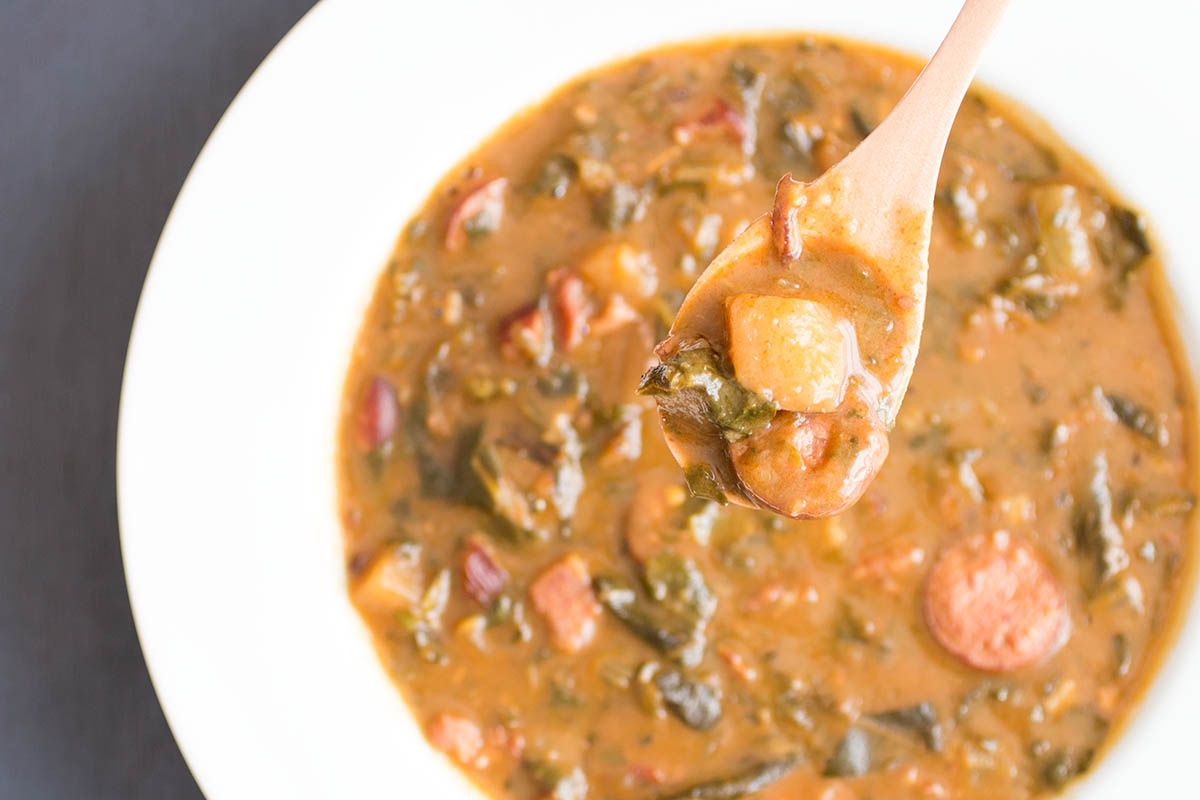 Frequently Asked Questions About Gumbo
I get a lot of questions about gumbo in general. Here is some information for your consideration.
What Is Gumbo? What Makes Gumbo a Gumbo?
Gumbo is a conglomeration of different cultures and cuisines. It is essentially a stew, and it the official state cuisine of Louisiana. It is made from stock that is thickened with a roux and sometimes includes okra and/or filé powder (dried and ground sassafras leaves) as additional thickeners.
Flat out, Gumbo is AWESOME. HUGE on flavor.
What Are the Ingredients in a Gumbo?
More traditional gumbos start with a roux – a mixture of fat and flour – then add the Cajun Holy Trinity of vegetables, which is bell peppers, onion and celery. Stock is added along with a variety of meats and seafood, such as smoked andouille sausage, chicken, gator, crawfish, shrimp and more.
It is highly seasoned with a blend of Cajun seasonings – see our Homemade Cajun Seasoning Blend Recipe – or Creole seasonings.
More traditional gumbos include okra as a thickener, and can also be thickened with filé powder which is dried and ground sassafras leaves.
From there, the recipe interpretation is open to the cook.
What is the Cajun Holy Trinity?
The French have the mirepoix – carrots, onion and celery – and French cuisine has heavily influenced Cajun cooking. When the French landed in Louisiana, they quickly found that carrots do not grow well in the Louisiana soil, so replaced them with bell peppers.
So, the Cajun Holy Trinity consists of bell peppers, onion and celery.
How to Make a Good Roux
Essentially, stir together the oil and flour in a large pot and bring up the heat. Keep it fairly low. Start stirring. The oil and flour will meld quickly and you'll have a sort of liquid slurry that comforms to the bottom of the pot. If you don't keep stirring, the roux will start to burn and you'll have to start over, so do not stop stirring.
Stirring is a must!
You can smell it when the roux burns. It's acrid, unpleasant, a bit like burnt popcorn. If that happens, forget it. Toss it and start over. It will ruin the flavor of the gumbo. So be careful, and don't bring up the heat too high. Keep it low and slow.
What you're looking for is the color of the roux. It starts out the color of flour, very light, batter-ish, but as it heats while you're stirring, it will begin to brown, going from a light brown to the color of peanut butter or copper, and eventually to a rich chocolate brown.
This can take anywhere from 20-45 minutes, depending on your desired color. Personally, I take 20-30 minutes for my roux.
You can stop when you achieve a copper or peanut butter color. The roux is great then, coaxed of outstanding flavor. You'll have a thicker gumbo with this color of roux. If you continue to a darker chocolate color, you'll have a thinner gumbo with a slightly deeper flavor, so feel free to experiment to discover which shade of roux produces the best gumbo for your taste buds.
Adjusting the Heat Factor
Cajun and Creole cuisine, particularly gumbo, aren't meant to be HOT. It is SPICY for sure, which means it includes a lot of spice and seasonings, but as a chilihead, I like to bring in a little bit of heat to please my own palate.
So, when working with the ingredients – bell peppers, onion, and celery are traditional with Cajun and Creole cooking – I like to include jalapeno peppers as well, or some other hotter peppers, depending on my mood. Here is a great example of a very hot and spicy gumbo that I love – Mike's Spicy Gumbo, made with ghost peppers.
Check Out My Other Gumbo Recipes
If you love gumbo, check out some of my other gumbo recipes.
If you enjoy this recipe, I hope you'll leave a comment with some STARS. Also, please share it on social media. Don't forget to tag us at #ChiliPepperMadness. I'll be sure to share! Thanks! — Mike H.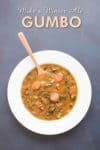 Mike's Winter Ale Gumbo – Recipe
A hearty Cajun gumbo recipe made with plenty of andouille sausage, bacon, peppers, a long stirred roux the color of copper, and the addition of a flavorful Winter ale to help warm the bones.
Keyword:
cajun, creole, dinner, gumbo
Ingredients
1

teaspoon

olive oil

½

cup

peanut oil

or vegetable oil

½

cup

flour

1

large poblano pepper

chopped

2

jalapeno peppers

chopped

1

large white onion

chopped

2

celery stalks

chopped

1

large potato

peeled and cubed

3

cloves

garlic

chopped

3

strips bacon

chopped

12

ounces

andouille and/or smoked ham

sliced into ¼ inch slices

1

tablespoon

dried thyme

1

tablespoon

dried oregano

1

tablespoon

dried basil

1

tablespoon

cayenne pepper

1

tablespoon

smoked paprika

1

tablespoon

chili powder

1

teaspoon

black pepper

1

bottle Winter Ale

- I used Goose Island Winter Ale

5

cups

chicken stock

Your favorite Louisiana style hot sauce

1

bunch collard greens

chopped

Cooked rice for serving

if desired
Instructions
Add ½ cup peanut oil to a large pot and heat to medium heat. Add flour and stir. Cook for 30 minutes, constantly stirring, until the roux browns to the color of peanut butter. Do not allow to burn.

Add peppers, onion, celery, potato, garlic and bacon. Stir and cook about 8 minutes.

Add andouille/smoked ham. Stir and cook for 1 minute.

Add herbs and seasonings, Winter Ale, chicken stock and a few dashes or more of hot sauce. Scrape up the brown bits from the bottom.

Add collard greens and bring to a quick boil. Reduce heat and cook at medium-low heat for 2-3 hour or more to thicken.

Remove from heat and swirl in a few dashes of hot sauce to your preference.

Serve with cooked rice and extra hot sauce.
Nutrition Facts
Mike's Winter Ale Gumbo – Recipe
Amount Per Serving
Calories 567
Calories from Fat 378
% Daily Value*
Fat 42g65%
Cholesterol 60mg20%
Sodium 906mg38%
Potassium 767mg22%
Carbohydrates 26g9%
Protein 20g40%
Vitamin A 1645IU33%
Vitamin C 30.1mg36%
Calcium 90mg9%
Iron 5.3mg29%
* Percent Daily Values are based on a 2000 calorie diet.