Super Creamy Butternut Squash Soup with Spicy Smoked Sausage
We got our first blast of winter here, folks. Even now as I gaze out the window, we're blanketed with a solid 8 inches of snow and the temps are below freezing at the moment. Can't say we're big fans of winter, but at least we have butternut squash soup to warm us up. Ahhh, butternut squash soup. It's one of those uber winter recipes. Something to stick to the bones. Of course we want to make ours a little bit spicy, but we also want it creamy this time. Super creamy. It's easy to achieve and it will knock your socks off. Seriously.
Speaking of easy, did you ever realize how EASY it actually is to make butternut squash soup? Half the work is tossing a bunch of ingredients into the oven for roasting. Seriously, here is my setup for the majority of the soup.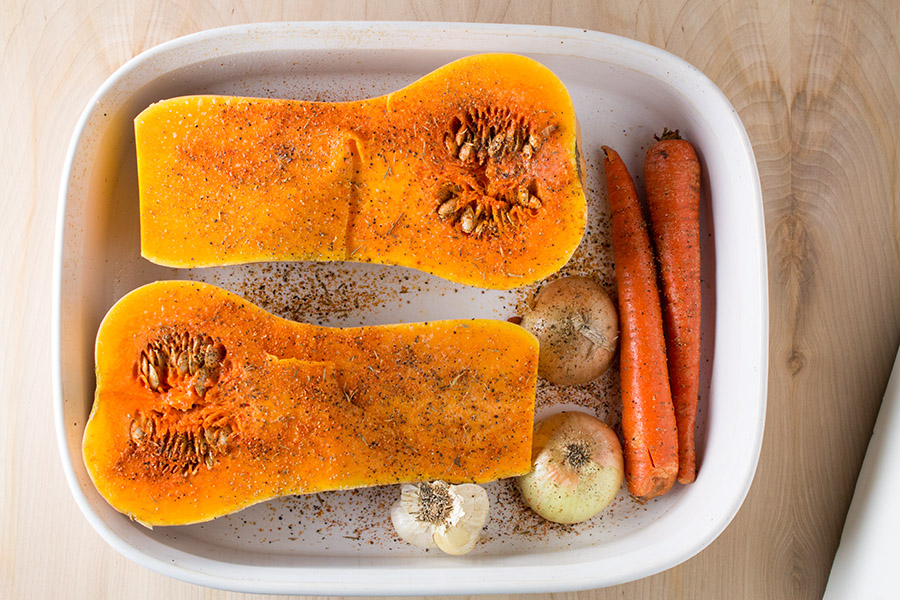 This is half the battle, my friends. You roast up these ingredients and puree it all in a big pot with some additional easy-to-use ingredients. How easy is that? The other part of the work is roasting some peppers and your garnishing/toppings. I go CRAZY with my toppings because I'm basically just crazy like that, but hey! If you want to get this done even EASIER, you can either skip the toppings or change them up a bit, but don't lose the peppers or the sausage. Seriously. The spicy sausage and jalapeno peppers are key. Speaking of…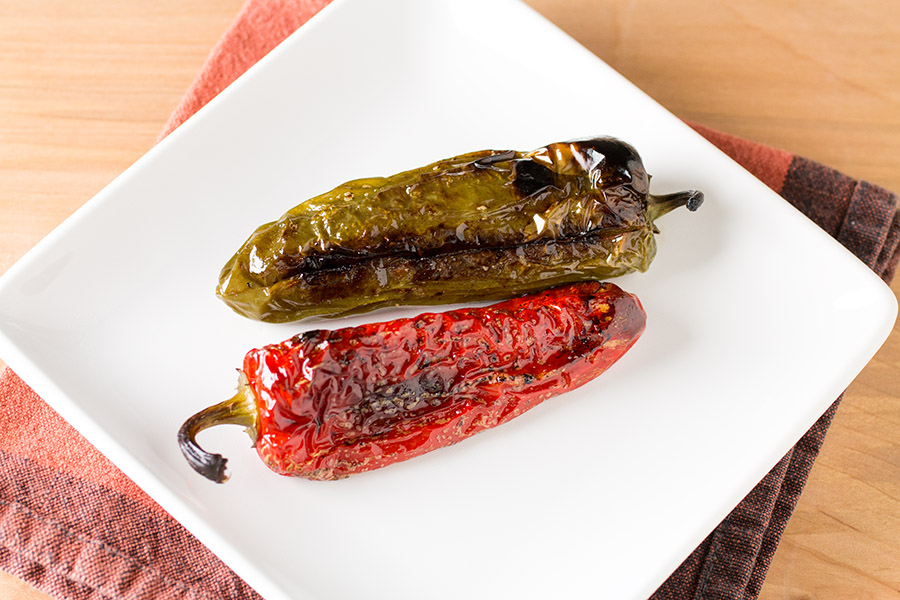 Just look at those babies. Roasted jalapeno peppers make EVERYTHING better. I tosssed these into the oven along with the other ingredients above about half way through the cooking time. You can peel them if you'd like, or just cut off the stems and slice them up. The skins aren't bad for you. They're nice and smoky. Some people dislike the texture, but the choice if yours.
Patty's Perspective: If you want some serious heat, cook the spicy smoked sausage in the soup for a while for the heat to blend. Although, for my heat level tollerance, I realized quickly that this sausage already had some truly serious heat with it just blended into the soup for a couple of minutes. Mike used scorpion sausage, though, so obviously alter your sausage choice depending on your heat preference.
Also, the pomegranate seeds have a slight cooling effect, so if your soup is a bit too spicy for your liking, try them with more pomegranate seeds. It is a welcome tampering of heat as well as a bright flavor that goes so nicely with the squash.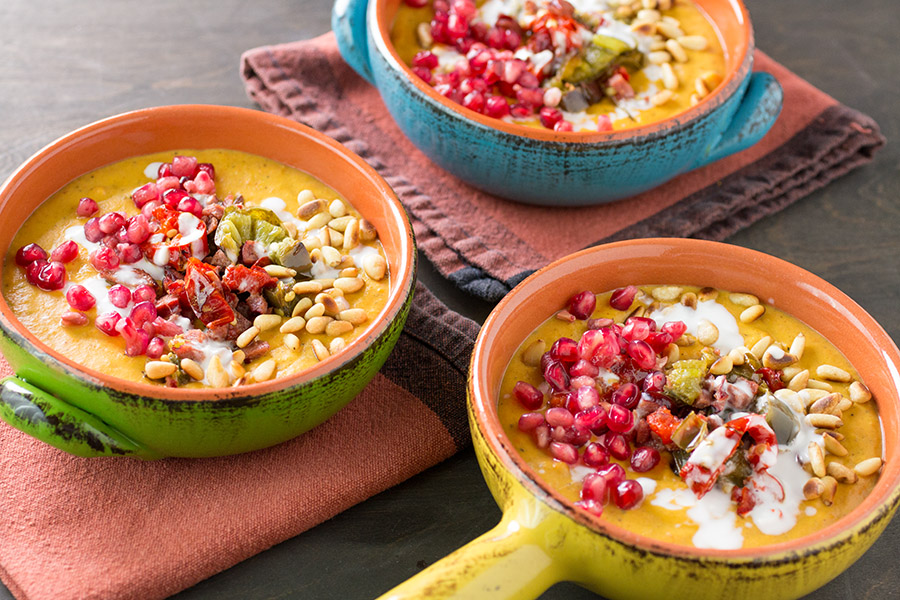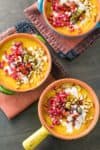 Super Creamy Butternut Squash Soup with Spicy Smoked Sausage
Course:
Main Course, Soup
Ingredients
1

butternut squash

1

large white onion

2

carrots

½

bulb garlic

2-3

roasted bell peppers

Olive oil as needed

4

tablespoons

Cajun seasonings – use your favorite brand!

1

cup

chicken stock

4-6

ounces

cream cheese

1 15-

ounce

can coconut milk

6

ounces

spicy smoked sausage

finely chopped - I used a scorpion blend, but any spicy smoked sausage will do

2

jalapeno peppers

roasted (I used a red and a green), chopped

½

cup

pine nuts

This is optional, but so good! You can sub in pistachios or cashews. Try different nuts!

Pomegranate seeds

optional, but so good!

Extra coconut milk for topping/garnish

Salt and pepper to taste
Instructions
Heat oven to 400 degrees.

Slice squash in half lengthwise and set into a large baking dish. Drizzle with oil and season with Cajun seasonings, salt and pepper.

Slice onion in half and set into baking dish along with garlic bulb and carrots.

Bake 45 minutes, or until the squash is nice and soft.

Cool and scoop out the squash. Place into a large pot. Add the cooked onion (peeled), garlic (peeled), and carrots (chop off the ends).

To the pot, add roasted bell peppers, cream cheese, coconut milk and the remainder of your Cajun seasonings. Heat to medium and simmer a few minutes.

Use a stick blender and blend until smooth. Or, use a food processor or blender, then back into the pot it goes. Season with salt and pepper. Let simmer to stay warm.

Heat a small pan to medium heat. Add pine nuts and dry roast a couple minutes, tossing here and there. Set aside.

In the same pan, add a splash of oil and add smoked sausage and chopped jalapeno peppers. Heat a couple minutes, tossing.

Serve butternut squash soup into 6 bowls. Garnish each with a large scoop of jalapeno and sausage in the center, then add pine nuts, pomegranate seeds (if using) and a bit more of the coconut milk. Make it look pretty, my friends! Your guests will love it!

Enjoy!
Nutrition Facts
Super Creamy Butternut Squash Soup with Spicy Smoked Sausage
Amount Per Serving
Calories 502
Calories from Fat 369
% Daily Value*
Total Fat 41g 63%
Cholesterol 42mg 14%
Sodium 561mg 23%
Potassium 1055mg 30%
Total Carbohydrates 30g 10%
Protein 11g 22%
* Percent Daily Values are based on a 2000 calorie diet.