Chicken Nachos Stuffed Poblano Peppers
Take all of your favorite chicken nachos ingredients, stuff them into roasted poblano peppers with loads of cheese, then bake them to gooey perfection. Here is the recipe.
I have a strong feeling that, since you're visiting Chili Pepper Madness, you LOVE a big bowl of nachos filled with gooey cheese, crunchy chips, seasoned shredded chicken and plenty of toppings.
AND! You also LOVE cheesy stuffed poblano peppers that have been roasted so they bring that deep earthy flavor that is like nothing else on this planet. Am I right?
NOW! Imagine you have to choose. You can pick only one. This is the stuff of horror. I told you I'm a horror writer, right? Here is your evidence.
I say — Banish this nightmare scenario! Now we can have BOTH of them, all wrapped up in a single recipe. Behold, my friends – Chicken Nachos Stuffed Poblano Peppers.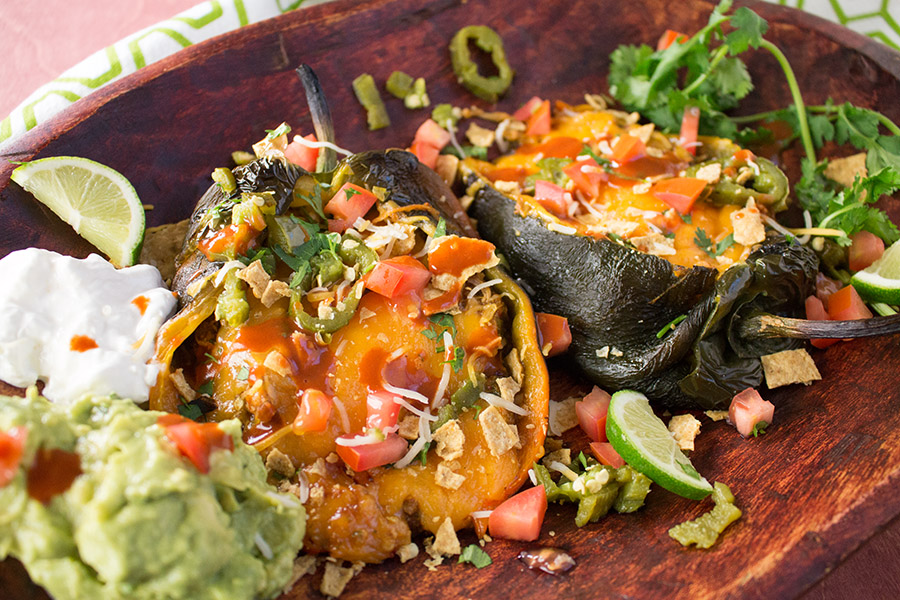 I love this recipe. It's really sort of decadent with all that gooey cheddar cheese dripping out of the pepper, the shredded chicken deep inside. I love pretty much ANY stuffed chili pepper.
OBVI. I wrote an entire cookbook on the subject. See: Jalapeno Poppers and Other Stuffed Chili Peppers – the cookbook. But mash them together with chicken nachos and forget about it. Drop the proverbial mic.
The chicken is seasoned with taco seasonings, of which you can use your favorite store bought brand or your own personal mix, seared, then simmered with more of the seasonings until so tender it shreds up with a fork. The chicken stays nice and juicy this way.
The poblano peppers are roasted first in the oven. There are multiple ways to roast chili peppers – see How to Roast Chili Peppers – but today I've used the broiler method.
Roasting the Poblano Peppers
Basically, set your oven to broil and place the peppers on a lightly oiled baking sheet. Set them into the center of the oven, not too close to the heat source, and roast them about 10 minutes, flipping them once half way through, until the skins are charred and start to bubble.
You might need a bit more or less time, so keep an eye on them. When you remove them from the oven, they will be a bit puffy but should deflate and look something like this…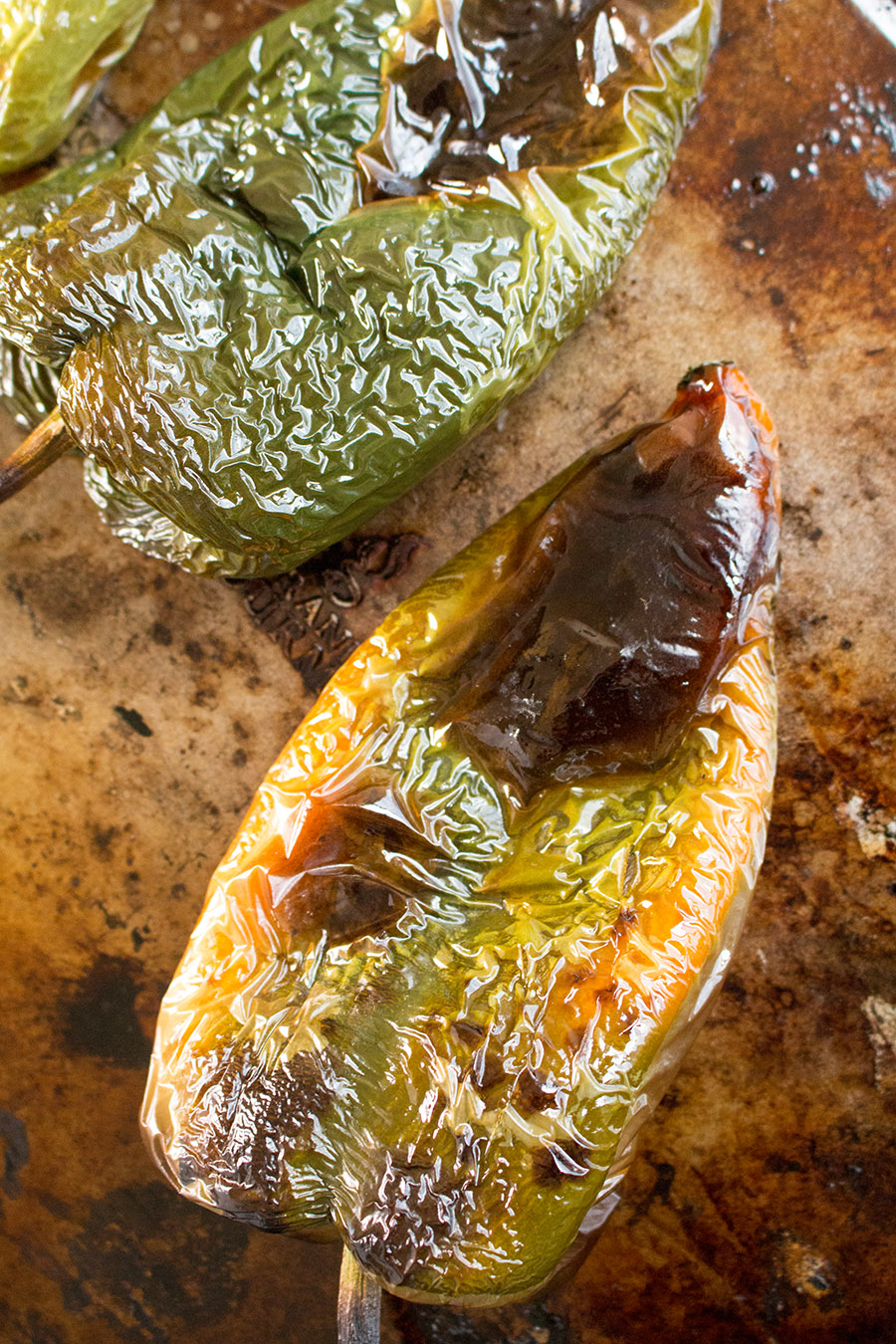 The tougher skins loosen up from the tender flesh, and after they've cooled enough, you can peel the skin right off. Throw away the skins and you're free to stuff the peppers with all manners of tasty awesomeness that you crave. Like Chicken Nachos. Oh baby.
And let's talk about the toppings. YES! When I make a big old nacho bowl, for me it's all about those fixings.
Go with your faves, but I included some extra roasted jalapeno pepper slices, homemade creamy guacamole, fresh lime juice for a bit of acid pop, a little extra shredded cheese, crema for cooling, chopped cilantro, juicy diced tomato, a few blasts of spicy hot sauce, and crunchy crumbled tortilla chips.
Don't forget the tortilla chips! I love the bit of crunch they provide, and they bring the whole "Chicken Nachos" theme together. Truly, when you're eating them, it will be difficult to know if you're chowing down on a stuffed pepper or a plate of nachos.
Enjoy!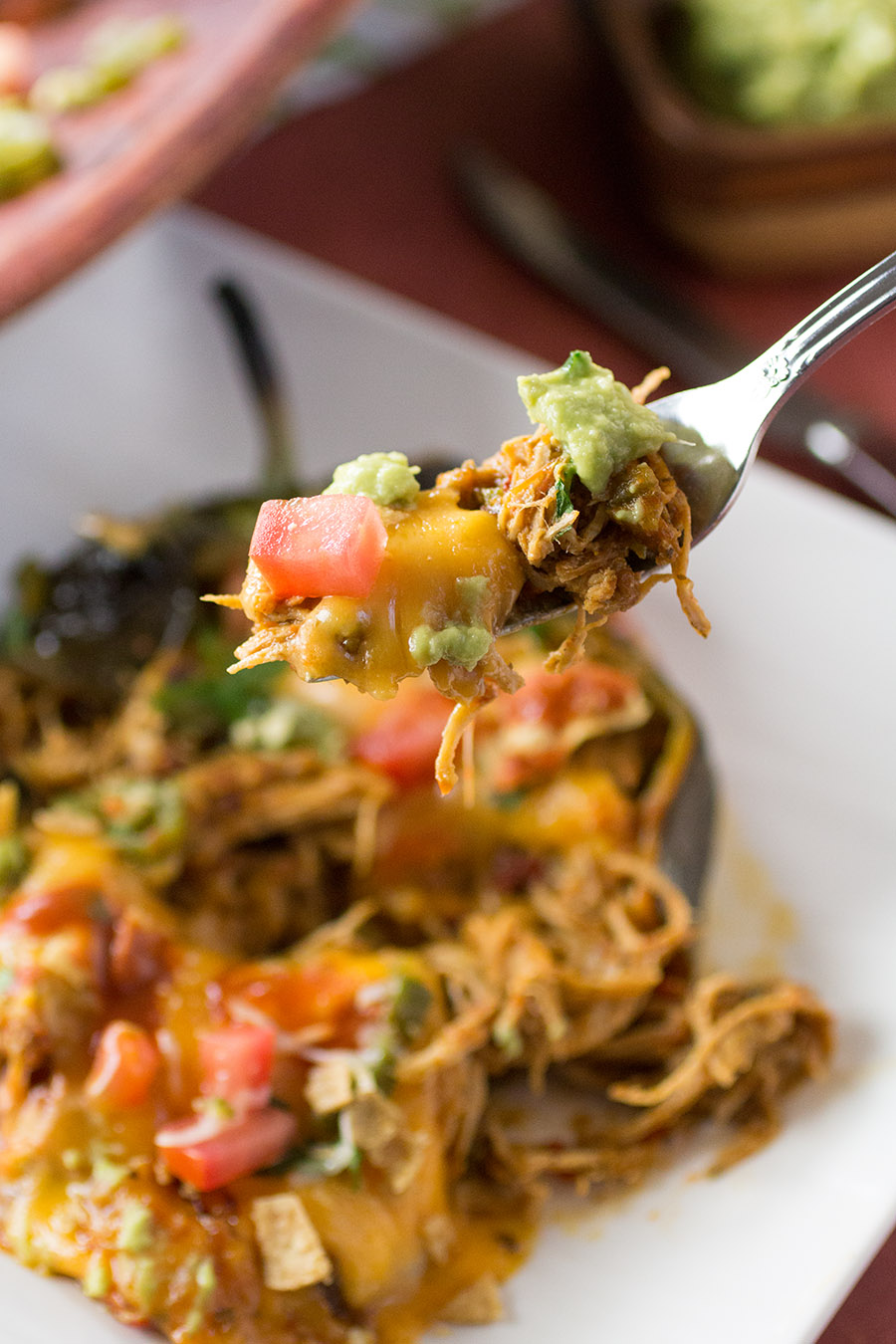 Check Out Some My Other Popular Stuffed Peppers Recipes
Got any questions? Ask away! I'm happy to help. If you enjoy this recipe, I hope you'll leave a comment with some STARS. Also, please share it on social media. Don't forget to tag us at #ChiliPepperMadness. I'll be sure to share! Thanks! — Mike H.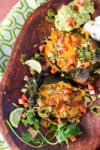 Chicken Nachos Stuffed Poblano Peppers - Recipe
Take all of your favorite chicken nachos ingredients, stuff them into roasted poblano peppers with loads of cheese, then bake them to gooey perfection. Here is the recipe.
Ingredients
FOR THE CHICKEN
1

medium chicken breast

¼

cup

taco seasonings

Salt and pepper to taste

½

small onion

chopped

1

jalapeno pepper

chopped

Olive oil
FOR THE STUFFED PEPPERS
2

large poblano peppers

2

jalapeno peppers

1

cup

shredded cheddar cheese
FOR THE FIXINGS
Fresh cut limes

Homemade Guacamole or diced avocado

Crema or sour cream

Chopped cilantro

Diced tomato

Crumbled tortilla chips

Your favorite hot sauce
Instructions
Heat a pan to medium heat and add olive oil.

Season chicken with a bit of the taco seasoning, salt and pepper and sear each side about a minute.

Add onion and jalapeno and cook another 4-5 minutes, stirring.

Add a half cup of water along with the remaining taco seasonings. Reduce heat and simmer about 20-30 minutes, or until the chicken is very tender.

Shred the chicken with a fork and set aside.

Set oven to broil.

Add poblano and 2 jalapeno peppers to a large baking sheet and broil about 10 minutes, flipping half way through, or until the skins are nicely charred. Remove from heat, cool, and peel off the skins.

Slice the poblanos down the middle on one side and scoop out the insides. Stuff them with the shredded chicken mixture, the fill remainder with cheese.

Set stuffed peppers onto the baking sheet and bake at 350 degrees for 10 minutes, or until the cheeses are nicely melted and gooey.

Slice or chop the roasted jalapeno peppers for toppings.

Remove stuffed poblanos from the oven and set them onto a serving plate.

Top with the sliced jalapeno peppers, freshly squeezed lime juice, guacamole, crema, cilantro, tomato, tortilla chips and hot sauce.

Enjoy!
Nutrition Facts
Chicken Nachos Stuffed Poblano Peppers - Recipe
Amount Per Serving
Calories 405
Calories from Fat 189
% Daily Value*
Fat 21g32%
Cholesterol 131mg44%
Sodium 840mg35%
Potassium 756mg22%
Carbohydrates 12g4%
Protein 39g78%
Vitamin A 1675IU34%
Vitamin C 126mg153%
Calcium 431mg43%
Iron 1.5mg8%
* Percent Daily Values are based on a 2000 calorie diet.