Chili Pepper Madness: Strictly Salsas!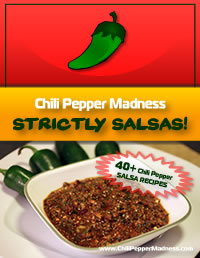 Immediate Digital Download - Secure - $4.99
NEW! Chili Pepper Madness: Strictly Salsas! is a salsa cookbook created with plenty of love, attention, creativity, and plenty of chili peppers. 40+ original chili pepper salsa recipes that you can make in your own kitchen. You'll love this collection if you're a lover of spicy salsas and are looking for fun, creative ways to bring some zing to your meals. We include general ideas for salsas, and include all step-by-step recipe instructions to help you make use of that bountiful chili pepper harvest.
This book is for you if:
You've been blessed with an overabundance of chili peppers this year and don't know what to do with them
You need great salsa recipes to help spice up your next meal or serve as appetizers
You want to learn a process of making salsas so you can invent your own new recipe ideas
You flat out love chili peppers and salsa!
You Can Buy It Today! $7.99 $4.99
Immediate Digital Download