Announcing – The Spicy Dehydrator Cookbook + a Dehydrator Giveaway
If you enjoy dehydrating foods, my new cookbook is a must-have for the creative kitchen, with recipes for jerky, homemade seasoning blends, leathers, infusions, spicy foods galore and so much more. Plus, we're giving away a dehydrator!
NOTE: The Giveaway Has Ended.
SUPER EXCITED, my friends, to finally officially announce the release of my brand new cookbook, "The Spicy Dehydrator Cookbook". It published on January 9th of this year, and the reviews are already coming in!
Here are some samples of what people are saying:
"This is the best cookbook I've ever found for my dehydrator. I absolutely love it! The Spiced Cauliflower Popcorn alone was worth the purchase and I can't wait to try the leathers (Mango Habanero)! It's well-written, the layout and the colors really pop and the recipes are all creative and different from what I've seen anywhere else. If you own a dehydrator and love spicy food, BUY THIS BOOK!"

"This book will make you want to run out and buy a dehydrator just so you can try out the recipes! Mike has done a phenomenal job with this cookbook. There are so many fantastic recipes I want to try and I love the range of recipe choices. The photos are gorgeous and the recipes are easy to understand. I'll be recommending this book to all of my friends."

"I have always loved growing peppers in my garden and preserving them for those long cold winter days. A friend turned me on to this book and all I have to say is that I have bought 3 more of them for gifts for my friends. Michael is top notch and this book is beyond amazing for all of your dehydrator needs. Highly recommended!!!"
I can hardly believe it's already here! Both Patty and I worked our tails off on this book and I have to say, the quality really shows. The publisher did such a phenomenal job with it, and I couldn't be more proud to send this out into the world. Learn More about The Spicy Dehydrator Cookbook here.
As a special THANK YOU to all involved, and because I'm so excited, I've partnered with Nesco for a special promotional giveaway! Yes! Nesco produces some of the best food dehydrators available on the market, and they've been terrific to work with. When I approached them to review my book, the president of Nesco said the following about it:
"The Spicy Dehydrator Cookbook offers a hot new way of turning the process of dehydration into an art. Mike's unique recipes will appeal to any spice or dehydrator enthusiast." — ―Rick Carey, president of the Nesco Brand
How cool is that? AND! They're helping me promote my book by offering one lucky winner their Gardenmaster Digital Pro Food Dehydrator. You can learn more about it here: http://www.nesco.com/products/FD-1040-Gardenmaster-Digital-Pro-Food-Dehydrator/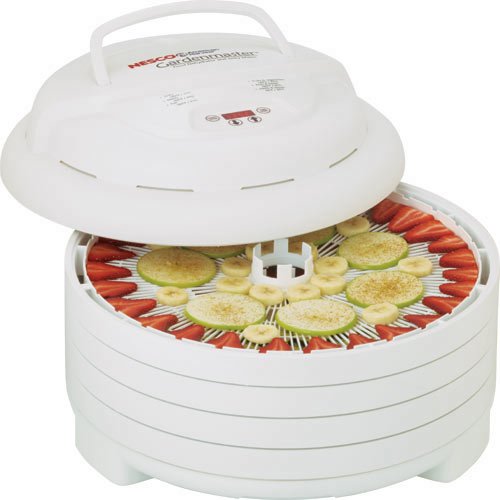 As you'll learn in my book, I started with, and still use, my Nesco dehydrator for all sorts of creative dehydrating, so I can't recommend it enough. That, and my book, will give you everything you need to get started. Well, you DO need to provide the food!
ONTO THE GIVEAWAY!
Here is how to enter the giveaway.
1.) Answer this Question in the Comments Below: What are you most excited to see in my new cookbook?
2.) For Bonus Entries: follow @chilipeppermadness on Instagram and/or Facebook and @Nesco on Facebook and tag your friends in the comments for additional entries and then come back here and leave a comment saying you did so.
NOTE: The comments on the post don't post immediately, but I will see them and make sure they are online by the next day!
This giveaway is open for one week and will close at the end of day on February 2nd. The winner will be announced shortly after.
Good luck, and again, thank you all for all of your support and listening to me talk about the book so much! I can't help myself! I do hope you like the new cookbook as much as I loved writing it.
PS: Don't forget to tag #chilipeppermadness on Instagram and/or Facebook and share your recipes on stories (tagging @chilipeppermadness and @Nesco) so I can see your creative creations!
Winners must be from US or Canada.
Best!!! – Mike H.
Here are the links for purchasing the cookbook!
NOTE: The Giveaway Has Ended.