Celebrate National Pepper Month
November is National Pepper Month and we couldn't be more excited at Chili Pepper Madness. Of course we celebrate chili peppers all year long – Hey, we're Chili Pepper Madness! But, November is extra meaningful because more and more people are talking about peppers and how to enjoy them.
People have been enjoying chili peppers a long time, going back nearly 10,000 years. They were domesticated and cultivated in Mexico and eventually spread around the world, becoming essential to many regional cuisines.
The key, aside from the wondrous variety available and intense flavor, is that spicy bite chili peppers offer. Chili peppers contain a host of chemicals called capsaicinoids, capsaicin in particular, that offer up the shocking but pleasurable burst of heat you feel when you bite into a chili pepper. From personal experience, I can tell you that spicy heat is quite addictive, and once you learn to enjoy it, it is something you seek out time and time again.
That heat ranges from pepper to pepper. Bell peppers contain no heat, while the jalapeno has an excellent little bite to it. With a pepper like the habanero, you're looking at some serious bites of heat, but it doesn't stop there.
The World of Superhot Chili Peppers
Superhot chili peppers have exploded onto the scene in recent years. Chili pepper growers are creating new strains of peppers all the time, pushing the boundaries of heat and they are getting hotter and hotter all the time. You've most likely heard of the "Ghost Pepper", the most famous of the superhots. With heat measuring over 3 times that of the habanero, the ghost pepper, or bhut jolokia, will truly tingle the tongue.
And then some.
But the heat STILL doesn't stop there.
Since then we've been introduced to a new variety of superhots that push the heat to further limits, including the Trinidad Scorpion Butch T, the Trinidad Moruga Scorpion, and the newly crowned hottest pepper in the world, the Carolina Reaper, that more than doubles the blazing heat of the ghost pepper. That's a lot of heat!
Chili Pepper Health Benefits and Other Uses
National Pepper Month is a time to remind us that chili peppers in all forms are good for you. There are numerous health benefits to each chili pepper. They are loaded with vitamin C, help protect your heart, combat inflammation, help you lose weight, work against migraines andsinus pain, and even help lower blood pressure. So go ahead, eat all the chili pepper you want!
Did you also know thatchili peppers can work for your own personal safety? Yes, in the form of pepper spray. I'm including some sponsored information on a superior pepper spray product from SABRE, a family owned and operated company with over 4 decades of experience in the personal safety industry. I have personal experience with pepper spray because Patty and I enjoy hiking. We've hiked in the Grand Canyon and all over the Blue Ridge Mountains and while we have yet to run into any mountain lions or bears, I like to keep some protective pepper spray with us, just in case. Safety is important! Here is a link to the bear spray product by SABER: https://www.sabrered.com/bear-spray
Pepper Spray and Women's Safety – Sponsored by SABRE
Kuros!™ Pepper Spray with Quick Release Key Ring
Help women around the world defend themselves by choosing this sleek Kuros!™ Key Case Pepper Spray with Quick Release Key Ring. Kuros!™ pepper spray not only provides one of SABRE Red's most practical on-the-go options, but also helps give women around the world a fighting chance™. – See more at: https://www.sabrered.com/pepper-spray/kuros%E2%84%A2-key-case-pepper-spray-quick-release-key-ring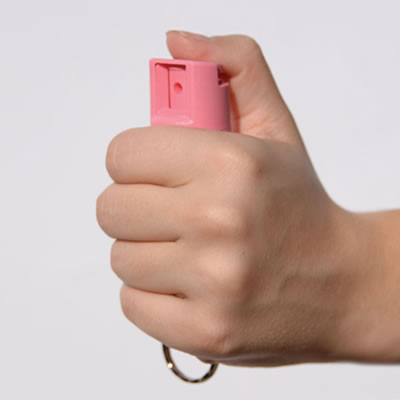 Cooking with Chili Peppers
I'll finish up here with the real reason we all love chili peppers – eating them! You know we cook with chili peppers of all types, from the mildest of the mild to the hottest of the superhots. Here are a few links to help you get started enjoying all those wonderful chili peppers.