This blistered shishito peppers recipe is the perfect snack with shishitos blistered and charred in a hot pan with just a bit of oil, then tossed with flaky sea salt and tart lime juice. Serve them up with a simple lime-cream sauce for dipping. The perfect appetizer or party starter.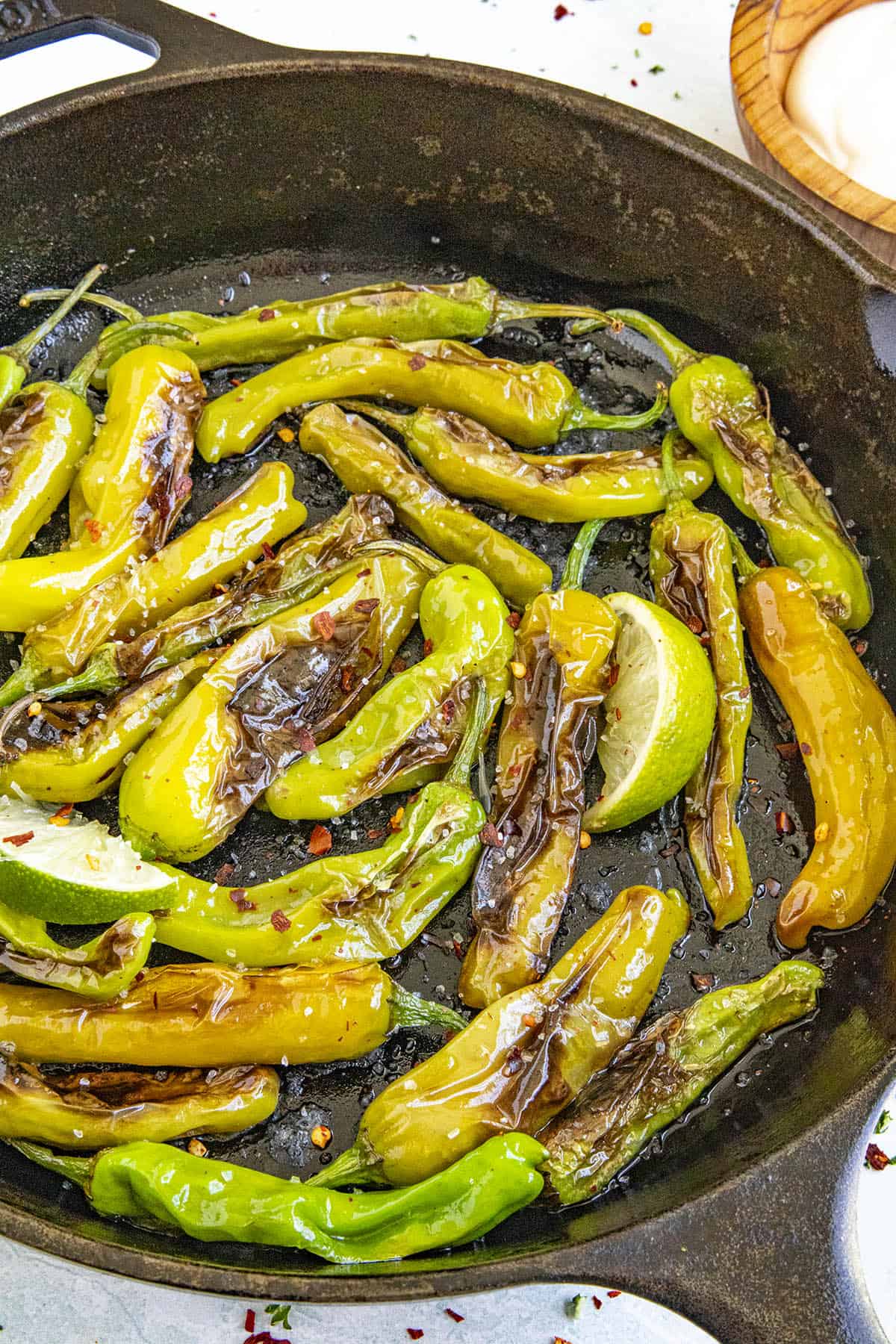 Blistered Shishito Peppers Recipe
Have you ever had blistered shishito peppers? The first time I tried them, they were on a restaurant menu as a special appetizer. We gave them a try and the waiter brought them out, still steaming from the searing hot pan.
They were dusted with a good amount of sea salt and a bit of cream of some sort, and I basically fell in love with them after the first bite.
SUPER DELICIOUS.
What I love about them is how incredibly easy they are to make. We just had a friendly pool party and I toted out my induction cook top and cooked them up pool side in a screaming hot cast iron pan.
If you're looking to serve up something fun and interesting at your next gathering, this is the recipe for you! I think you're going to love this one. Great appetizer or side dish.
Let's talk about how we make blistered shishito peppers, shall we?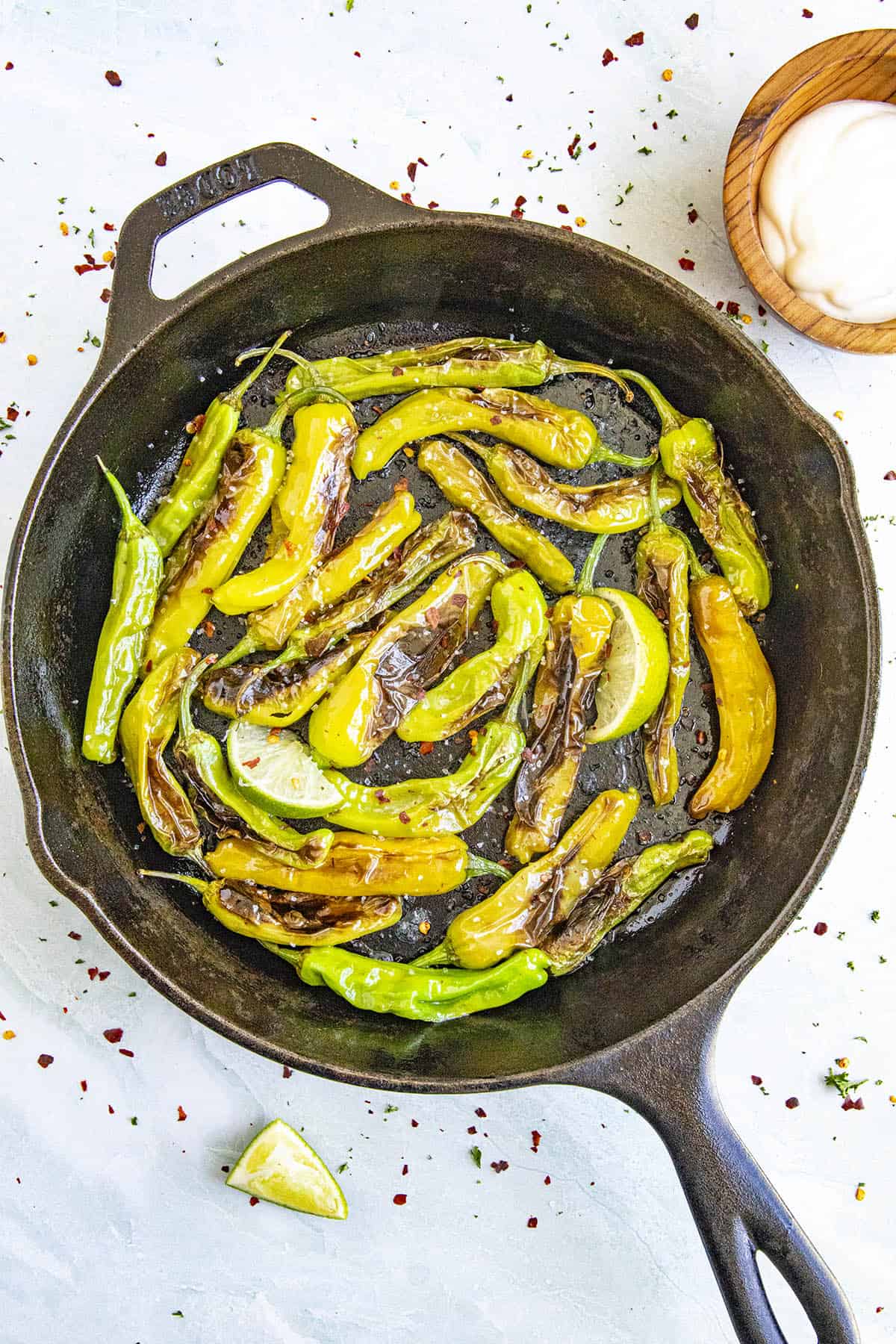 Blistered Shishito Peppers Ingredients
Shishito Peppers. Look for them at your local farmer's market.
Olive Oil.
Flaky Sea Salt.
Lime Juice.
FOR THE LIME-CREAM DIPPING SAUCE
Crema. Or use sour cream.
Lime Juice.
Sea Salt.
How to Make Blistered Shishito Peppers – The Recipe Method
Get the Pan Nice and Hot. First, heat a large cast iron skillet or heavy skillet to medium-high heat. You want it to be nice and HOT for this so the peppers blister nicely.
Add olive oil to the pan and swirl to coat the pan. You can also try this with sesame oil for an interesting twist.
Blister the Peppers. Next, add the peppers in a single layer and sear them about 5 minutes per side, until the skins char and blister up, turning occasionally as you cook the peppers.
Shishitos are thin skinned peppers, so will cook up quickly.
Salt and Lime. And Chili Flakes! Remove the peppers from the heat and toss with about a teaspoon of flaky sea salt and spicy chili flakes, if you'd like.
You can add more if you'd like. Add a squeeze of fresh lime juice over them and serve. You can also use fresh lemon juice.
Soy sauce is also a nice addition to some recipes.
I like to serve them out of the pan. I'll carry it around and let my guests pick out the peppers of their choice, along with a bit of the dipping sauce.
Or, set the pan down somewhere with pair of tongs and let them serve themselves.
To me, they're rather casual, even though I'm starting to see them appear in fancier restaurants.
For the Lime-Cream Dipping Sauce
Whisk together a quarter cup of Mexican crema (or sour cream) with a teaspoon of lime juice and a pinch of sea salt. Place it into a dipping cup.
Serve the up! They're super delicious. A great appetizer!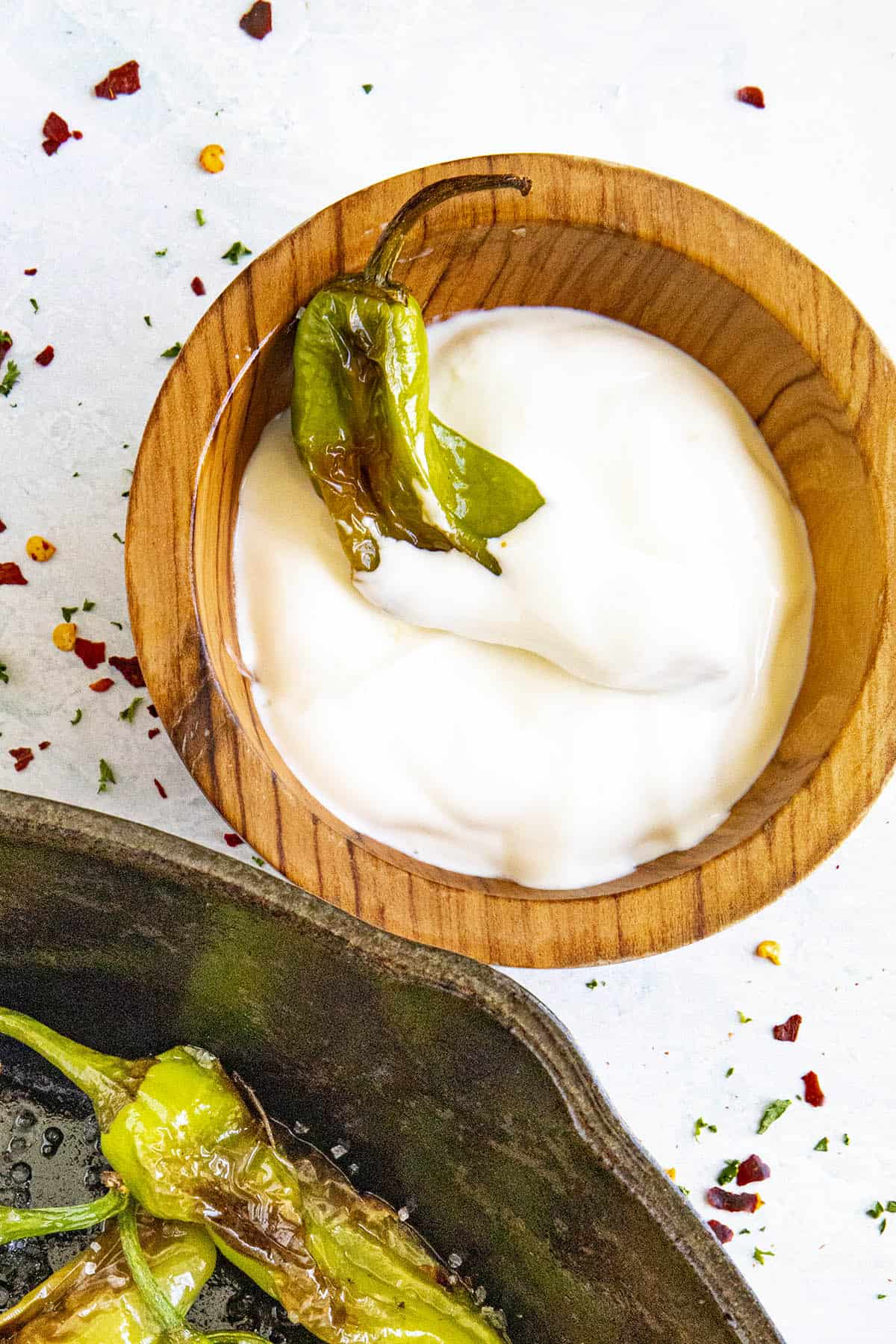 Shishito peppers aren't very hot. They measure in at only 50-200 Scoville Heat Units, most of them at the lower end. However, it is fun to eat them because about one in every 10 or so shishito peppers is somewhat hot and will hit that 200 mark, offering a little surprise to the diner.
So fun! 200 SHU still isn't very hot, but it's nice to get the tiny jolt when you find one.
I grew them in my garden this year and the plant is SUPER productive. I've been making recipes like this all summer with them. The peppers are often confused for pimento de padrón peppers, which look and taste quite similar.
Check this out. This is just from today.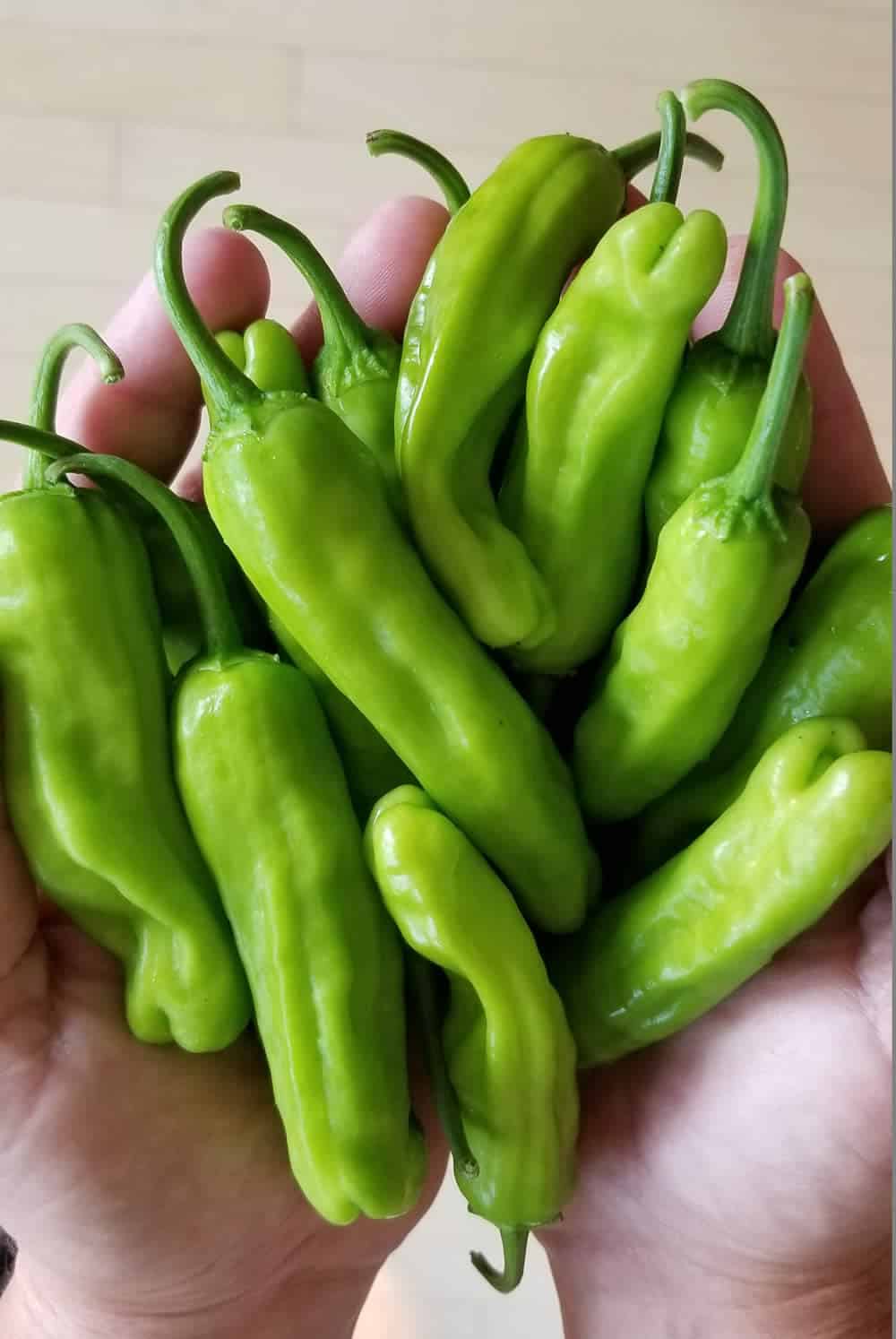 Interestingly, the name, "Shishito", derives from the Japanese words "shishi", which means "lion", and "togarashi", which translates to "chili pepper". Hence, in Japan, it is known as the "Lion Head pepper".
Shishitos are quite popular in Japan, where the food is not known for being spicy, though they are increasingly appearing on American menus.
The flavor of the shishito is interesting with a peppery finish, and a hint of sweetness, but it is that tiny jolt of heat that many people look for.
Recipe Tips & Notes
Use a Hot Pan. You really want to make sure the pan is good and hot to get a nice sear on your shishito peppers. If you cook them in a pan that is not hot enough, the peppers can get oily and won't char up. That charring brings a lot of flavor.
Salt and Citrus are Key. Adding just a touch of salt and a fresh squeeze of either lemon or lime juice in the end greatly accentuates the flavor of your blistered shishitos. Don't forget those steps.
Cream Sauce is So Good. I enjoy my blistered shishito peppers straight out of the pan with only salt and lime, but don't understand the addition of a simple cream sauce. Leave it up to your guests to choose whether or not they want to use it.
Where Can I Buy Shishito Peppers? You can sometimes buy bags of shishito peppers from grocery stores like Trader Joes and others. I find them occasionally. I love to grow them as well. Look for them in the fresh produce section, usually pre-packaged.
Storage & Leftovers
Store any leftover blistered shishito peppers in the refrigerator in a sealed container for up to 3 days. You can warm them in a hot pan to enjoy again, or chop them up and use them to add flavor to soups, stews, sauces, and more.
You can also freeze them in freezer containers for 3 months or longer.
Check Out Some of My Other Popular Appetizer Recipes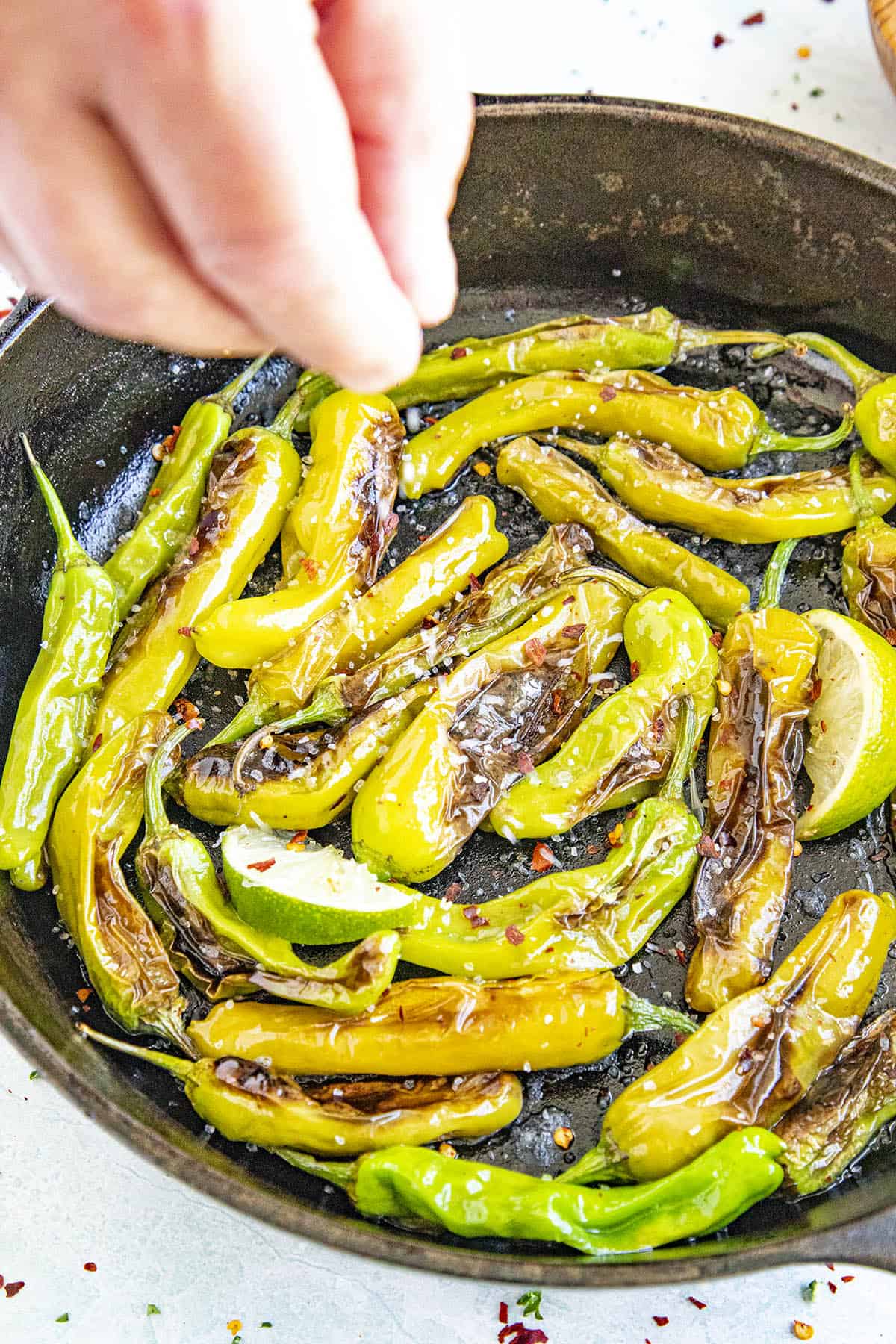 If you enjoy this recipe, I hope you'll leave a comment with some STARS. Also, please share it on social media. Don't forget to tag us at #ChiliPepperMadness. I'll be sure to share! Thanks! -- Mike H.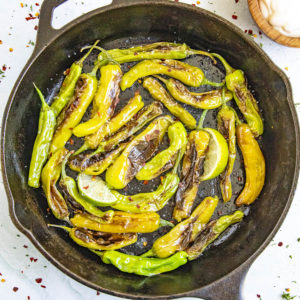 Print
Blistered Shishito Peppers Recipe
This blistered shishito peppers recipe is the perfect snack with shishitos blistered and charred with just a bit of oil, tossed with sea salt and lime.
Save Recipe
Saved!
Ingredients
12

shishito peppers

1

tablespoon

olive oil

1

teaspoon

flaky sea salt

1

small lime

for serving
OPTIONAL LIME-CREAM DIPPING SAUCE
¼

cup

crema or sour cream

1

teaspoon

lime juice

Pinch

of salt
Instructions
Heat a large cast iron pan to medium-high heat. Add the olive oil and swirl to coat the pan.

Add the shishito peppers and cook them about 5 minutes per side, until the skins char and blister up. Flip them occasionally.

Remove from heat and toss with about a teaspoon of flaky sea salt. You can add more if you'd like.

Squeeze fresh lime juice over them and serve.
FOR THE LIME-CREAM SAUCE
Whisk all of the ingredients together and place it into a dipping cup.
Video
Notes
Serves 2 Heat Factor: Low, but you may get a slightly spicy shishito every now and then. Heat them up with some spicy chili flakes.
Nutrition Information
Calories:
226
kcal
Carbohydrates:
27
g
Protein:
6
g
Fat:
12
g
Saturated Fat:
1
g
Cholesterol:
15
mg
Sodium:
1309
mg
Potassium:
869
mg
Fiber:
4
g
Sugar:
15
g
Vitamin A:
2705
IU
Vitamin C:
393.3
mg
Calcium:
85
mg
Iron:
2.8
mg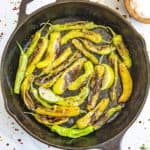 Did You Enjoy This Recipe?
I love hearing how you like it and how you made it your own. Leave a comment below and tag @ChiliPepperMadness on social media.
NOTE: This recipe was updated on 8/14/20 to include new information, photos and video. It was originally published on 9/17/18.