Hungarian Paprika is one of the most popular spices in the world, made from ground dried red peppers, known for its spicy heat as well as a fiery flavor and crimson color that makes any food that it is added to so much more appealing. Learn more about it.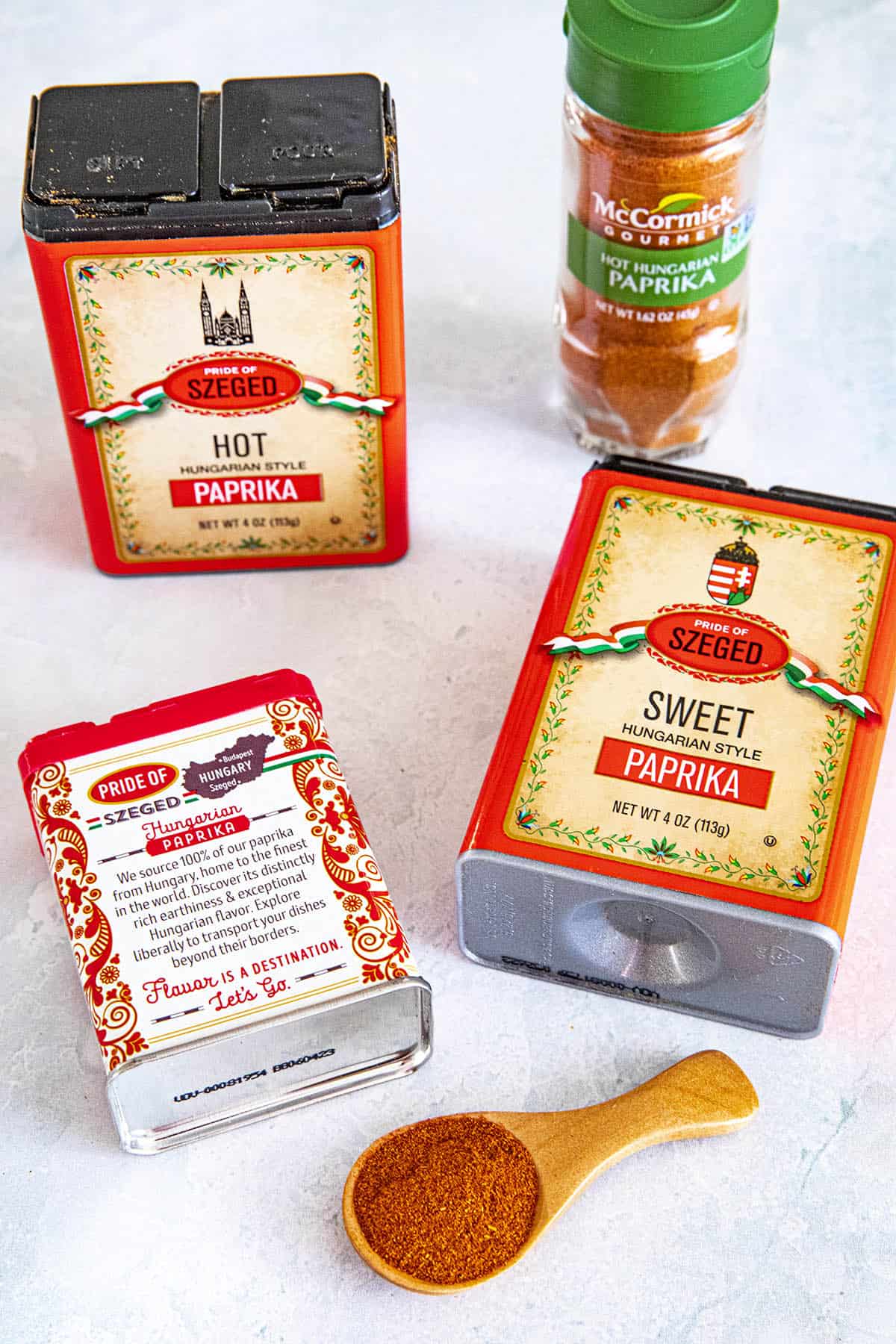 It is possible to define what the classic cuisine of a particular region tastes like in a few words. Reading words like 'herbs, cheese, and carbs' would immediately make you think about some classic Italian dishes. When you think of Indian food, your mind wanders over to the expansive world of spices.
But when it comes to defining Hungarian cuisine, you may find yourself at a loss for words. That is because it is a combination of a thousand different types of flavors. You will find traditional Hungarian dishes that are extremely simple and fresh, while others are laden with aromatics and spice for flavor and color.
Here, our focus is going to be on the latter kind of traditional Hungarian food.
What is Hungarian Paprika?
Hungarian Paprika originates from the region that is its namesake - Hungary. Paprika is one of the most popular spices across the world. It is known for its red hot, spicy heat level as well as a fiery flavor and red color that makes any food that it is added to so much more appealing.
However, many people do not know that there are many different types of paprika. In fact, you may have been using a different kind every time and never have been any wiser.
All the varieties of paprika pepper have a different heat level as well as flavor profile. One of the most rich and complex of the varieties belongs to the famed Hungarian Paprika. It is made with dried sweet peppers that are ground up and sifted to give a very fine, bright red or pale orange powder.
Is Hungarian Paprika Spicy?
The heat level of Hungarian Paprika depends on the kind you get. Certain types of Hungarian Paprika can go up to 10k SV on the Scoville scale but sweeter varieties are also available.
How to Use Hungarian Paprika?
The most classic use of Hungarian Paprika is in a very famous, traditional Hungarian dish which is goulash. Another popular use of Sweet Hungarian Paprika is in Chicken Paprikash. But the uses do not end there. You can add it to almost anything for a little bit of spice, a whole lot of flavor, and a burst of stunning color.
Sprinkle it over devilled eggs to add color and flavor, use it to season your chicken and veggies, or add it to your rice and curries for a gorgeous hue. It can also be added to salsas, sauces, soups, and stews for a beautiful, bright color like that of a paella.
Certain smokier kinds of Hungarian Paprika are preferred for dry rubs for delicious barbecues and meat dishes for adding a smoky flavor. It is also classically added to special Spanish sausages called chorizos.
Where to Buy Hungarian Paprika?
When you set out to search for Hungarian Paprika, you will discover an interesting tidbit - there are about eight to nine different kinds of Hungarian Paprika in and of itself. Each of these types has a different color, flavor profile, and heat level.
You will find everything from a mild, aromatic paprika that adds a unique, sweet flavor, to a deep, red hot one that will truly smoke your senses. These varieties are best appreciated in Hungary based stores or specialty stores that feature Hungarian spices and groceries.
You can also find Hungarian Paprika in online stores with ease. Most commonly, you will find something known as edesnemes which is a typically bright red form of Hungarian Paprika.
It has a very pungent peppery flavor that is mildly spicy and provides a very unique sweetness that tastes wonderful in most foods and dishes, especially if you are planning on indulging in some homemade Hungarian cuisine. This is also labelled as Sweet Hungarian Paprika in some locations and brands.
What is a Substitute for Hungarian Paprika?
If you are unable to find Hungarian Paprika in your local area or online, one of the best substitutes for Hungarian Paprika would be cayenne pepper. We would recommend using a lesser quantity of cayenne, however, as the former tends to be hotter than the latter.
Other substitutes include chili powder and red chili flakes. If you are trying to emulate the flavor of Sweet Hungarian Paprika, add a pinch of sugar to bring out the sweet flavor.
You might also try Piros Arany, which is a Hungarian chili paste, depending on your recipe.
What is the Difference Between Hungarian Paprika and Regular Paprika?
If you are just a casual chef, you may find yourself confused at the term 'Hungarian Paprika'. Is that just a fancy name for regular paprika? Has paprika always originated from Hungary? Or are you missing some information?
Here are the facts: regular paprika and Hungarian Paprika are not the same thing. The concept of paprika is a spice mixture that has some level of heat as it is made from dried and crushed up peppers. Depending on what kind of peppers are used in the process, the heat level and flavor profile of each kind of paprika varies.
While it may seem confusing at first, it is a blessing for chefs as it gives them a lot of room to experiment and diversify the taste of their dishes.
You have hot paprikas that are fiery and add amazing levels of heat. On the other hand, you also have sweet paprikas that are relatively mild and give a sweet and sour kind of flavor to the food.
Regular paprika is more of the latter kind. It tends to be mild in regards to the spiciness and has a relatively subtle flavor as well. It does, however, have a very bright and eye catching crimson color that is perfect for garnishing and adding color to any dish. Authentic Hungarian style Paprika, as we have already discussed, is deeper and more complex and tends to go all out in terms of spice in the more intense varieties.
Learn More About Paprika