Print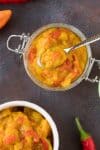 Spicy Mango Chutney - Recipe
A recipe for homemade mango chutney made with fresh chopped mangoes, sweet and spicy chili peppers and plenty of seasonings. It is sweet and savory and ready to add big flavor to your meals.
Heat a pot to medium heat and add the olive oil.

Add the onion, peppers and ginger and cook until they soften up, about 5 minutes.

Add the seasonings and cook another minute, stirring.

Add the mango, orange juice, apple cider vinegar, sugar and a pinch of salt. Reduce the heat and simmer the pot for 20 minutes, until the mango chutney is nicely softened and flavorful.

Enjoy!
Heat Factor: Medium, though you can easily adjust the heat with hotter or milder peppers, as well as chili flakes and powders.
Store in the fridge in airtight containers. Should last about a month.
Makes about 2 cups.
Nutrition Facts
Spicy Mango Chutney - Recipe
Amount Per Serving
Calories 24
% Daily Value*
Sodium 1mg 0%
Potassium 53mg 2%
Total Carbohydrates 3g 1%
* Percent Daily Values are based on a 2000 calorie diet.