Print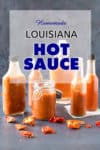 Homemade Louisiana Hot Sauce with Fresh Peppers – Recipe
Learn how to make classic Louisiana style hot sauce at home, with fresh chili peppers. It's so easy.
Roughly chop the chili peppers and add them to a pot with the salt and vinegar.

Bring to a quick boil, then reduce heat and simmer for 15 minutes.

Cool, then add to a food processor. Process until smooth.

Strain the solids out through a strainer and discard (or keep them for dehydrating – they make great seasonings).

Pour into bottles and use as desired.
Makes about 2 cups of sauce or so.
For storage: Vinegar affects acidity levels. Homemade sauces should be kept at 4.0 ph or below to keep longer term. If your hot sauce is not acidic enough, add more vinegar or citrus to bring the ph down. Keep in the fridge for freshness and longer keeping. You can also bottle your sauces with proper procedures.
Heat Level: Medium, though you can up the heat factor with hotter peppers.