Print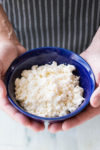 Queso Blanco – Recipe
A recipe for making queso blanco, or fresh "white cheese", at home with milk and a coagulating agent like vinegar, lemon or lime juice. Very easy and fresh! Essential for many recipes.
Total Time
1
hour
10
minutes
Heat the milk slowly in a large pot to 185-190 degrees F.

Turn off the heat and stir in your acid – vinegar, lemon juice or lime juice – a spoonful at a time, stirring, until curds form and separate from the yellowish whey. Let it sit for 10-20 minutes.

Set a colander lined with cheesecloth over a bowl and strain the curds from the whey. Discard the whey or keep it for other uses.

Add salt at this stage, if desired, and stir.

Stir the curds up a bit and let it drain for 10-20 minutes.

For firmer cheese, wrap up the ends of the cheesecloth and continue to drain an hour or so. For dense cheese, place a weight over the top of the wrapped cheese (or cheese that has been placed in a cheese mold) that will press it for several hours, until it is packed.
Queso blanco will keep for about a week in the refrigerator, though it is best when used immediately.
Nutrition Facts
Queso Blanco – Recipe
Amount Per Serving
Calories 77
Calories from Fat 36
% Daily Value*
Fat 4g6%
Cholesterol 12mg4%
Sodium 54mg2%
Potassium 166mg5%
Carbohydrates 6g2%
Protein 3g6%
Vitamin A 205IU4%
Calcium 143mg14%
* Percent Daily Values are based on a 2000 calorie diet.