Print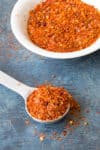 Homemade Roasted Red Jalapeno Powder - Recipe
Make your own spicy, smoky homemade roasted red jalapeno powder from the discarded skins of roasted jalapeno peppers. You can also make this from whole roasted or smoked peppers. It's such a great seasoning.
After you've roasted and remove the skins from your red jalapeno peppers, reserve the charred skins. Your amounts will obviously vary.

Spread the skins out over dehydrator sheets. Use extra trays if needed.

Dehydrate at 125 degrees F. for 8-10 hours, or until the skins are completely dried through. They should be very crumbly to the touch with no moisture anywhere.

Grind up the dried mixture with a mortar and pestle, or use a spice grinder.
Use as you would any seasoning blend. Makes about a quarter cup or so.
Calorie information calculated using 10 whole jalapeno peppers.
Nutrition Facts
Homemade Roasted Red Jalapeno Powder - Recipe
Amount Per Serving
Calories 5
% Daily Value*
Sodium 1mg 0%
Potassium 45mg 1%
Total Carbohydrates 1g 0%
* Percent Daily Values are based on a 2000 calorie diet.