Print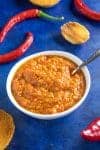 Ajvar – Recipe
Ajvar is a versatile Serbian roasted red pepper and eggplant sauce or spread. It is rich and flavorful and can be used in so many ways, as a condiment, sauce or relish. Here is the recipe.
Total Time
1
hour
10
minutes
Heat a grill to medium heat and lightly oil the grates. If using wood pellets for the smoky flavor, get those ready now. See the recipes NOTES on this.

Poke holes into the eggplant skin in several areas with a fork and set it on the grill along with the red peppers.

Grill the eggplant and peppers about 30 minutes, flipping occasionally, until the red pepper skins char and puff up and the eggplant softens all over.

Remove them from the heat. Cover them in a bowl with a towel to let them steam.

When cooled, peel away the pepper skins and toss them out. Scoop out the eggplant and discard the skin and stem.

Add the roasted peppers and eggplant to a food processor along with the rest of the ingredients. Process it all to your preference, either smoother or chunkier.

Pour the mixture into a large pan and simmer for 20-30 minutes to let the flavors develop even further.

Adjust for salt and pepper and serve!
Lasts about a week.
Makes about 2 cups.
NOTES: The wood smoke is completely optional, but it does add a nice smoky flavor. If smoking on the grill, set the pellets in your grill's smoker box and set it over flames so the wood chips will light for you. You can to get a good amount of smoke on the peppers and eggplant, if desired. As an alternative to the grill, use your oven and roast as above at 450 degrees F to achieve the same effect.
Nutrition Facts
Ajvar – Recipe
Amount Per Serving
Calories 96
Calories from Fat 63
% Daily Value*
Fat 7g11%
Sodium 8mg0%
Potassium 267mg8%
Carbohydrates 7g2%
Protein 1g2%
Vitamin A 1950IU39%
Vitamin C 78.5mg95%
Calcium 12mg1%
Iron 0.5mg3%
* Percent Daily Values are based on a 2000 calorie diet.