Welcome to Chili Pepper Madness, where spicy food is always on the menu. We are here to bring you easy-to-follow recipes you can make at home whenever you want, and as SPICY as you want, too.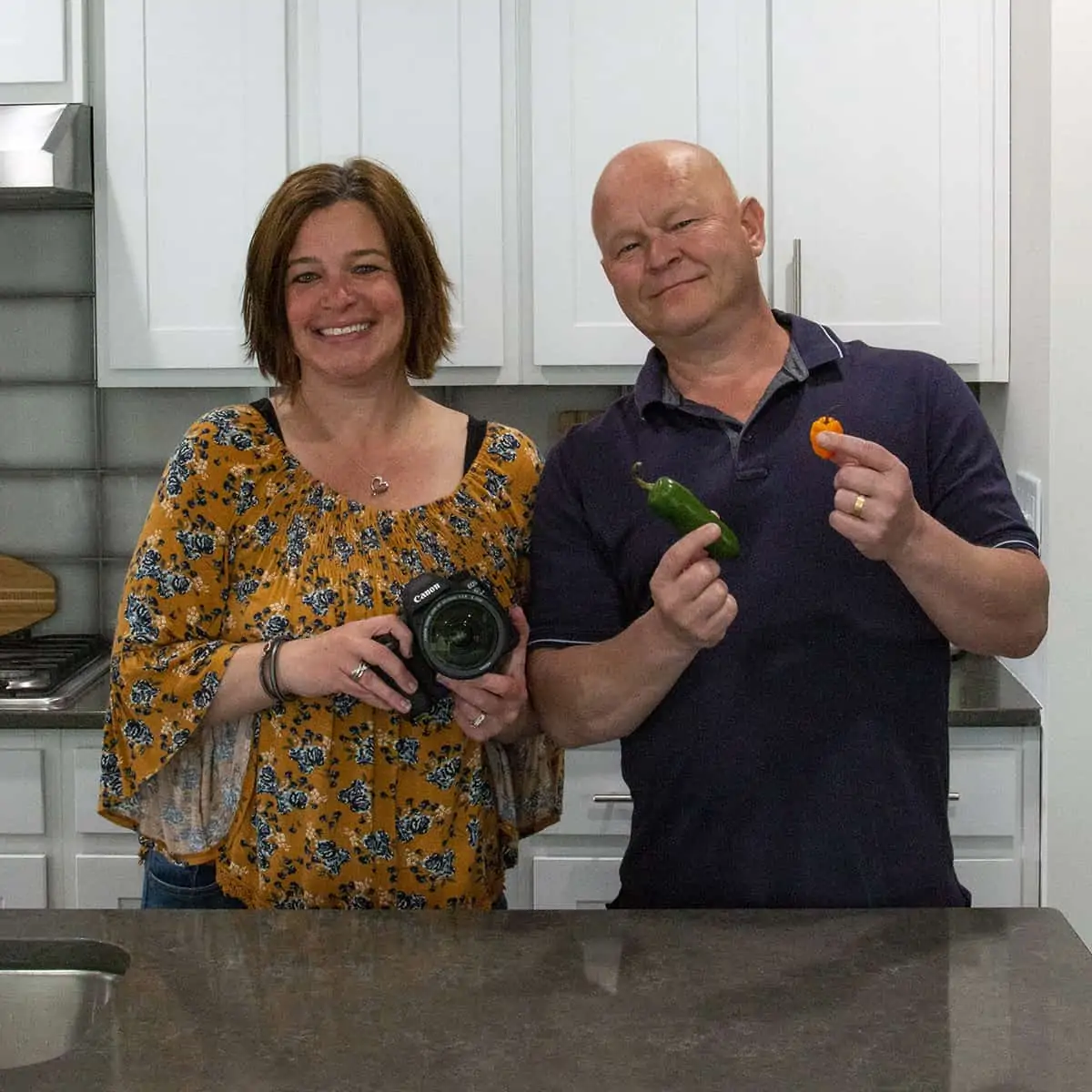 Gone are the days of bland and boring food.
I'm Mike, and I run Chili Pepper Madness with my wife, Patty.
I've been a chilihead for as long as I remember. My eyes lit up the first time I ate a spicy chili pepper as a child (in more ways than one!) and I've been hooked ever since. I started as a guy who douses everything in hot sauce (often still do), but over the years I've learned a lot about cooking and how to develop flavor with spices and ingredients in so many different ways.
And I want to share that experience with you.
I love to cook all sorts of simple, down home dishes you'd find in American kitchens, with a spicy twist, though I also deeply love international cuisine. I obsessively follow the peppers grown around the world, which leads me into new spicy cuisine like Thai, Sichuan, African, South American, Caribbean and so much more.
Spicy food is everywhere! I want to bring it all to you so we can all make it ourselves at home.
Patty and I lived in the Chicago, IL area the majority of our lives but now live in the Charlotte, NC area. Here we are able to actively explore our long lasting love for Southern food and BBQ more and more.
What You'll Find at Chili Pepper Madness
Lots of Easy Recipes. Some recipes take a while to make and require a certain number of steps, but that isn't my focus. You'll find many recipes you can make in 30 minutes or so and don't require a ton of ingredients.
Customizable Heat Levels. My recipes are spicy, sure, but I do my best to show you how to adjust them to your own preferred heat and spice level. We believe that flavor is the most important thing, not just heat.
Dishes from Around the World. Spicy food can be found all over the world, and I just love to learn about it. Thai cuisine has some of the hottest food in the world, as does Chinese cuisine, particularly from the Sichuan region. But I follow the spices and peppers all over, from Asia to South America and anywhere I can follow.
Classic American Dishes. America has so much to offer when it comes to food, especially spicy food with big flavor. You'll find Cajun cooking (a favorite!), dishes from the American south such as BBQ, low country cooking and more, regional favorites and anything I think you'll love.
Chili Peppers! I am so obsessed with chili peppers, hence the name of the site. I grow a big variety every year, from milder sweet peppers to the hottest of the superhots. And I cook with them all. You'll find a big list of chili pepper types, preserving information, growing information and more so you can seriously rock the garden and make your own unique recipes and spices from scratch.
Superhot Recipes. Yes, I have many recipes for those chiliheads at the top of the scale, including recipes with ghost peppers, scorpion peppers, the Carolina Reaper and more.
Hot Sauce Recipes. This is where I began! I love making my own hot sauce and can show you how to make many different types, including fermented and non-fermented.
I hope you'll explore the site and learn for yourself.
A Bit About Mike
I'm the Content Creator. I make all the recipes and write them up, as well as write all of the content here on the site. Everything comes from me. I style the dishes and take some of the photos, but that is primarily Patty's job, which leaves me more time to cook!
I'm a Cookbook Author. I am the author of "The Spicy Food Lovers' Cookbook", "The Spicy Dehydrator Cookbook", and others. By my books alone, you can tell that I am a spicy food aficionado.
I'm a Screenwriter. Yes, I am a produced screenwriter. Here is the IMDB link if you'd care to take a look: http://www.imdb.com/name/nm2478416/?ref_=fn_al_nm_1. My produced credits include the movies VICTIM, ARENA (starring Samuel L. Jackson and Kellan Lutz) and 12 FEET DEEP. I've been hired to write studio scripts and have optioned others as well. I'm still actively writing.
I'm a Fiction Writer. I love to write fiction, mostly darker stuff, horror, thrillers. I've published fiction novels and numerous short stories, and have even edited an anthology. Lots more info about my fiction works at my personal web site at http://www.michaelhultquist.com. I'm also an active member of the Horror Writers Association and get to vote for the Stoker awards.
I'm a Beer Lover. I love craft beer and actively explore local breweries. My favorites are IPAs, Pale Ales and Wheat Beers, though there are so many to enjoy.
A Bit About Patty
I'm the Photographer, Organizer and Anything Needed. I feel super lucky to be able to do this job full time and I love every minute of it. It's so great to wake up each morning excited about your job. I'm so passionate about food and love seeing all of you making the recipes and finding your own enjoyment in the dishes.
I Love Gardening. I love growing our own peppers, tomatoes and other yummy delights. Fresh herbs and produce make every dish taste so much better and I find so much joy in growing it ourselves.
I Love Spicy Food. Working on our Madness websites has been very rewarding for me. I'm a total converted chilihead now and crave the spice that Mike cooks all the time. There is rarely a dish served in our house without a chili pepper in it, or some sort of spicy flavor blast, and I love it.
I Love Traveling. I love planning trips and going on them. We moved to North Carolina not too long ago so we could be between the mountains and the beach. I love to relax on the beach with a book or go hiking in the mountains and now we can do this very easily. I also love foodie trips and traveling all over the world. I'm always looking to experience the food in various places. And I love to plan parties, with food always being the most important part.
Some Recent Favorite Recipes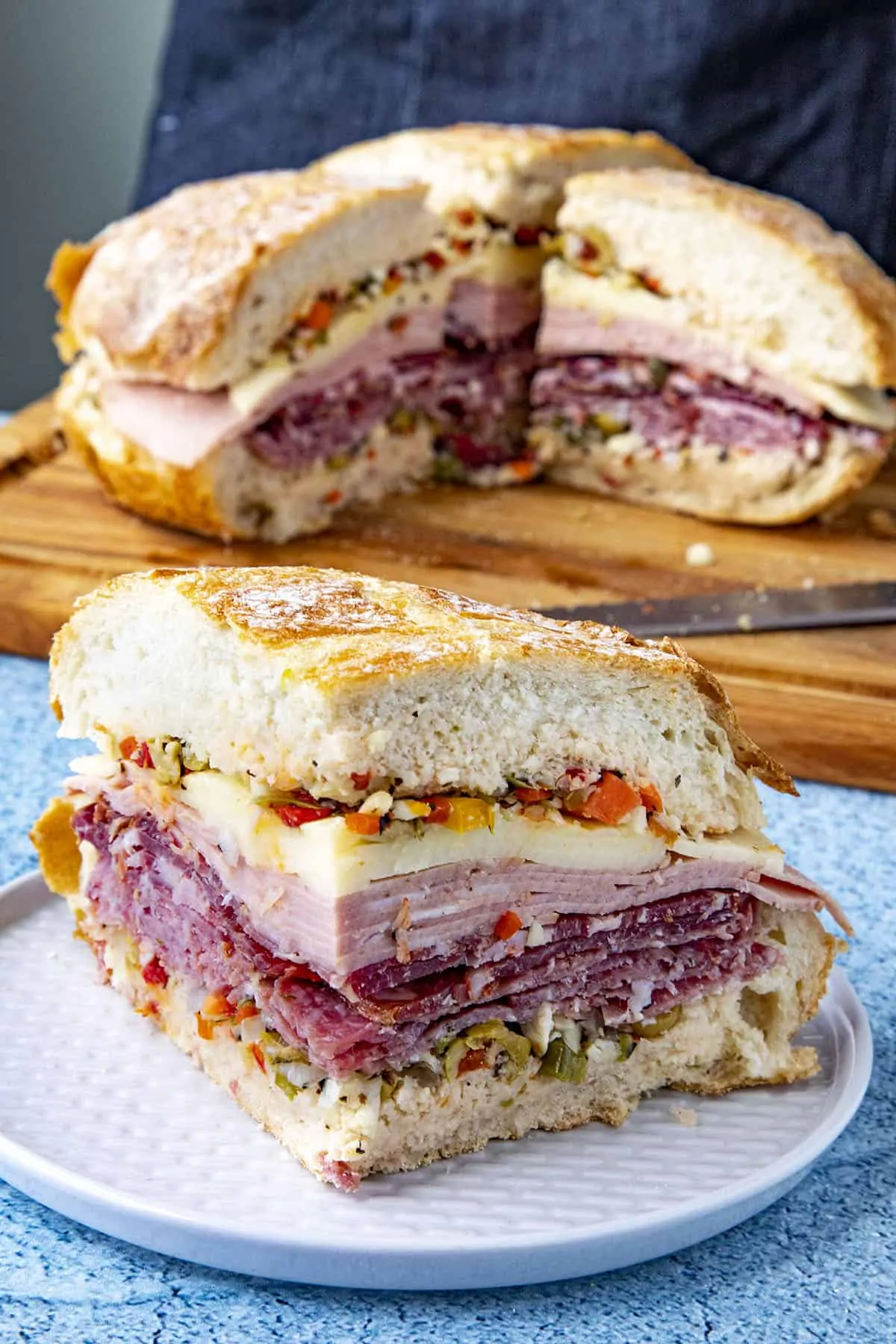 Visit Us on Social
We hope you'll visit and interact with us on social media, or even just drop an email. I do my best to get back to everyone and to be as helpful as I can, if I can!