This jerk chicken wings recipe is huge on flavor, with wings rubbed down with loads of jerk seasoning, then grilled until nice and crispy. Fire up that grill, my friends!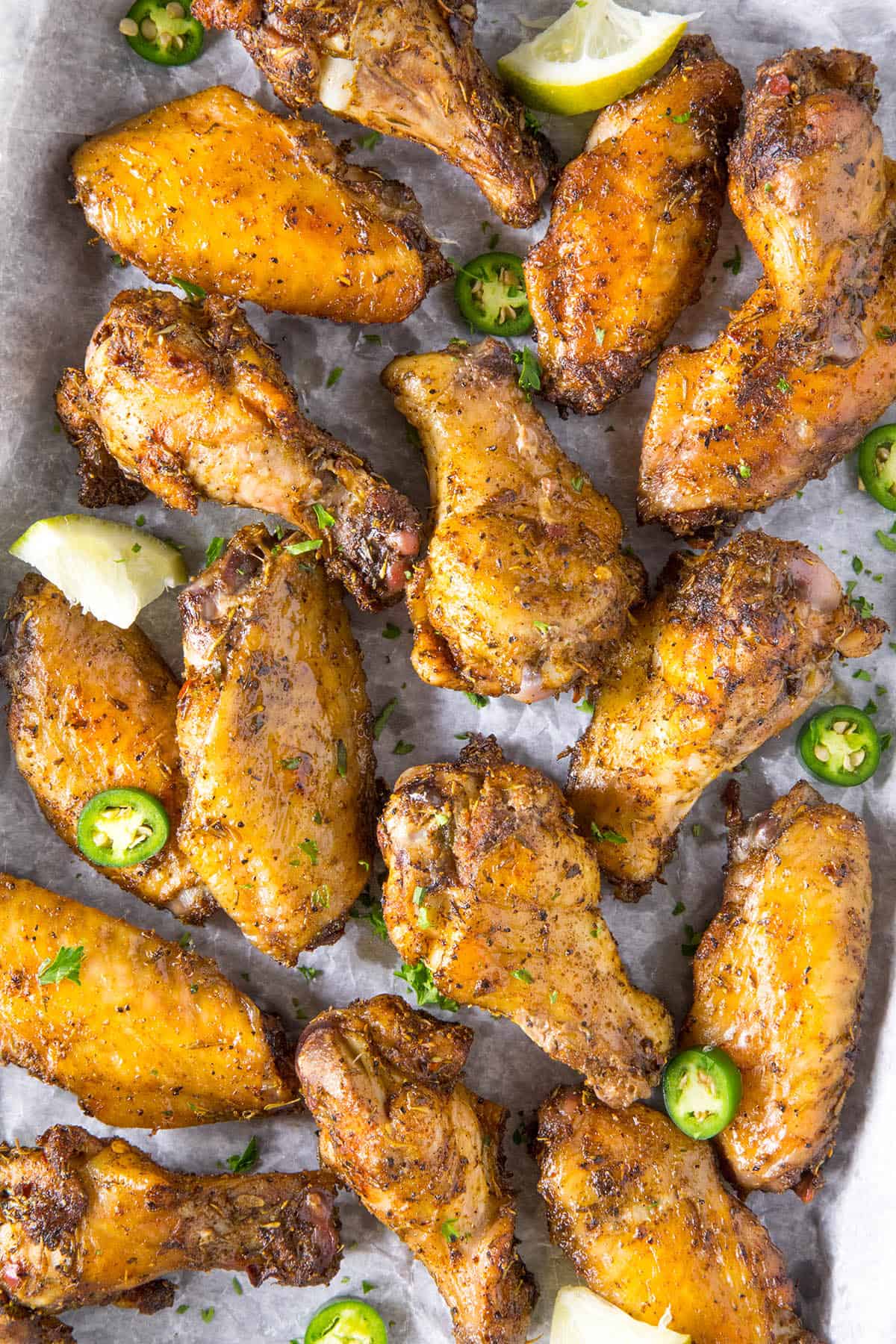 I couldn't help myself. I've been absolutely jonesing for chicken wings and I had to make some. No reason to run out to the local wing joint when you can make them at home. I'm making these with my freshly made Jamaican jerk seasoning rub.
So hard to resist!
We're going Caribbean with this recipe. It's a double whammy flavor blast, actually triple if you count the brine. I brined the chicken wings to make them extra moist on the inside. It isn't necessary, but I definitely recommend it if you have the time.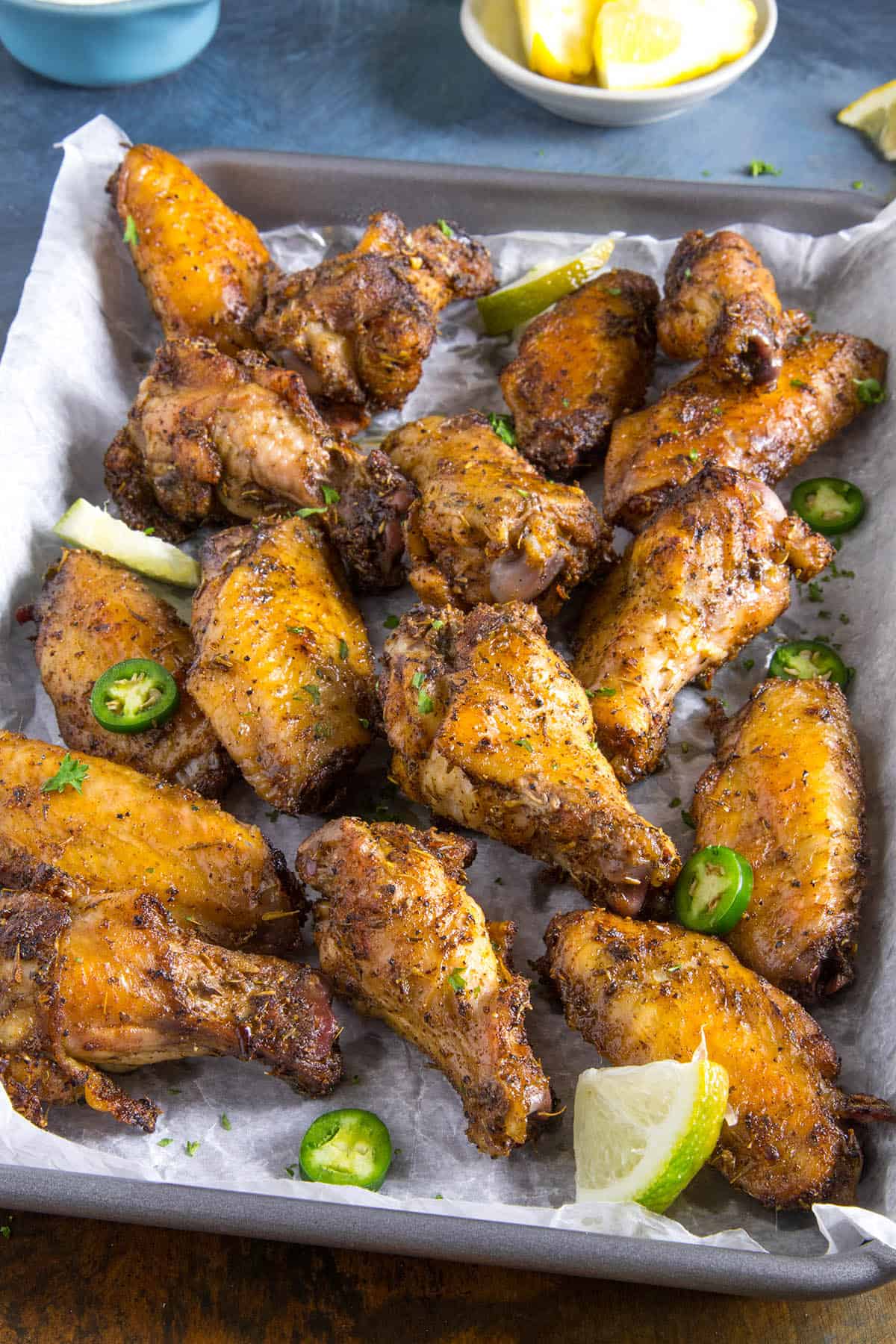 These jerk chicken wings are huge on flavor. They're wonderfully spicy, a big taste of the Caribbean, though they're not "hot". They're definitely warming. If you're looking to really up that heat factor, I'll discuss that in the seasoning section of the post.
Let's talk about how we make them, shall we?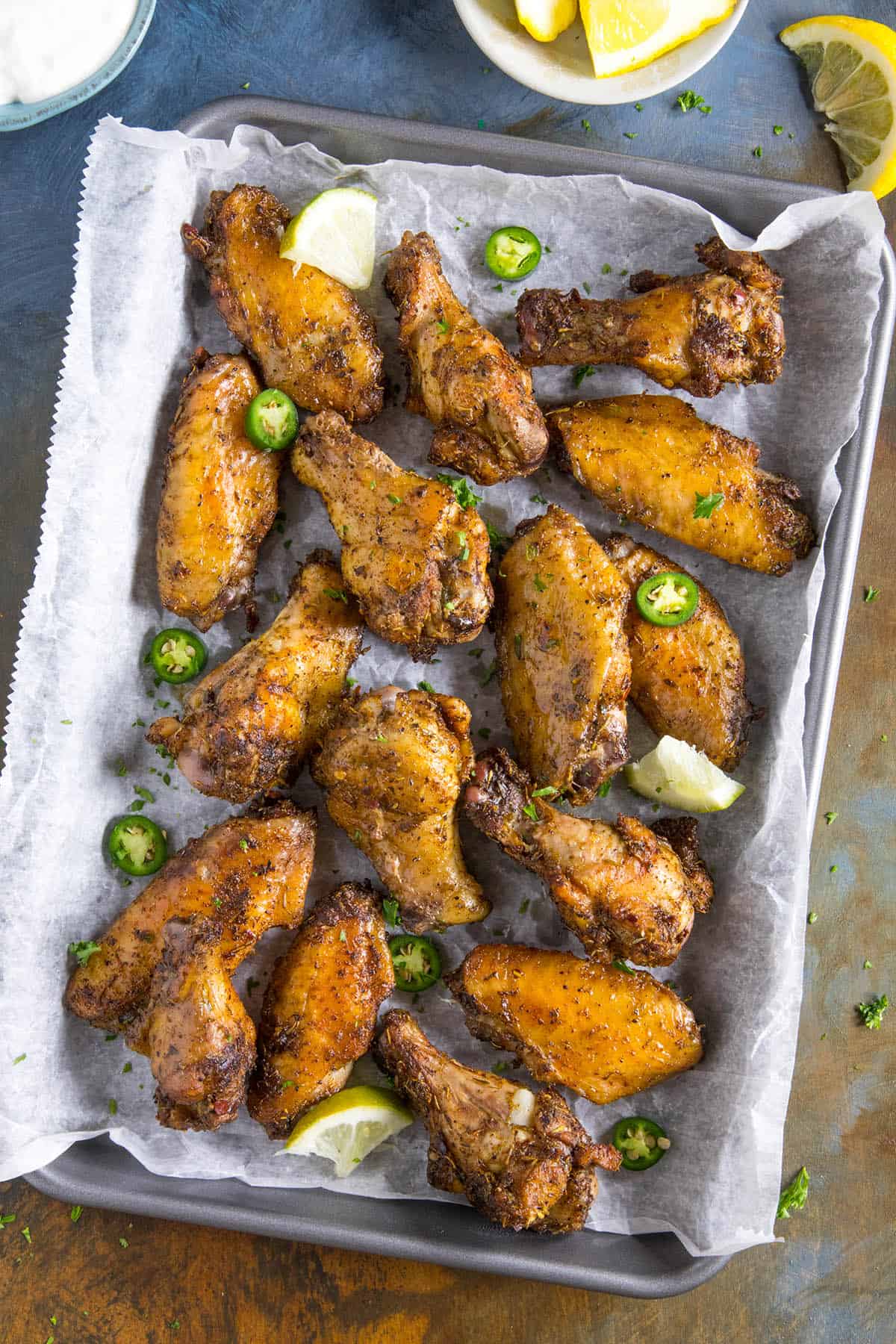 How to Make Grilled Jerk Chicken Wings - the Recipe Method
First, pat your chicken wings dry with paper towels and give them a good rub down with your Jamaican jerk seasoning. I made a fresh homemade blend,but feel free to use your favorite brand. More on the seasoning blend below.
Next, heat your grill to medium-high heat and lightly oil the grates. We're grilling the wings here instead of frying them. Nothing against fried. I just prefer them grilled or baked/broiled, depending on my mood.
Set the wings on the grill and grill them for 10 minutes per side, or until they are cooked through.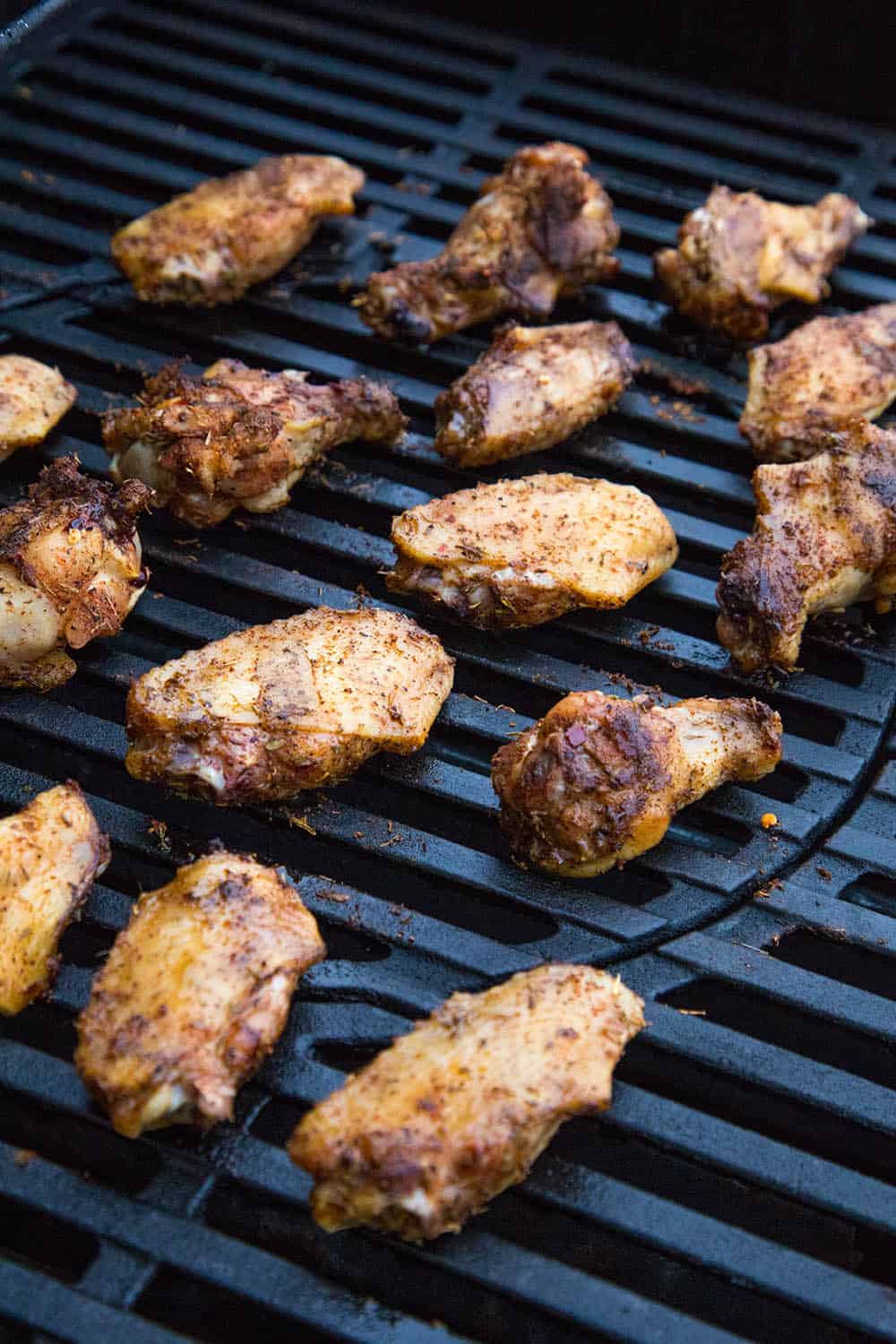 Look at all those spices. So amazing! Quite piquant.
You can serve them as is, or toss them with either your favorite sauce, or! Toss them with my homemade Jamaican Jerk sauce that is crazy delicious. Whammy! Flavor whammy.
Just look at them. Get yourself a nice char and go to town.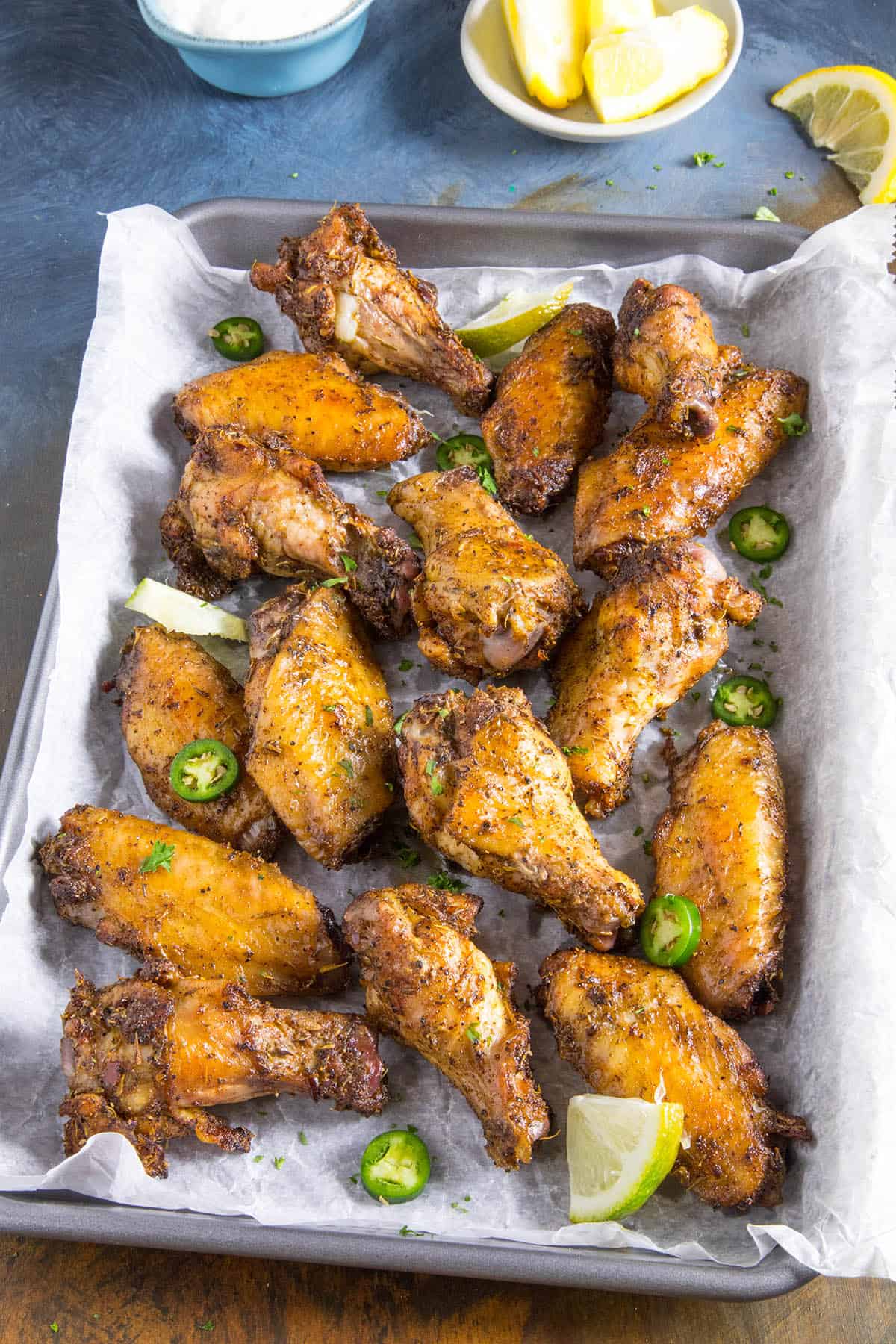 Poor Patty didn't get to have any of these wings. She was out again on another GNO - Girls Night Out! I'm sure she had fun, but not as fun as I had, enjoying these wings all to myself. Haha! Win!
About the Jamaican Jerk Seasonings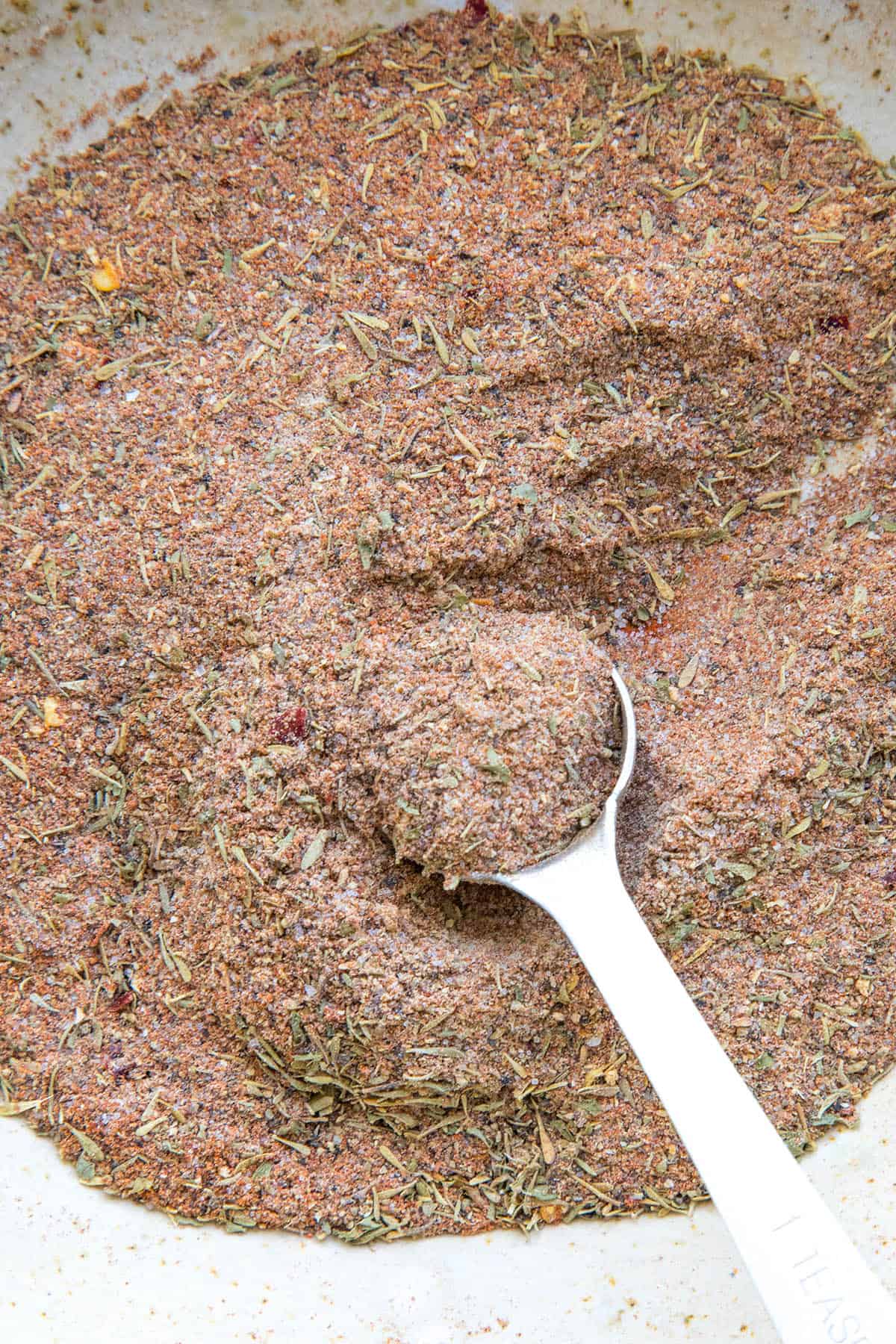 You can sometimes find a good jerk seasoning spice blend at your local grocer, but it's so much better when you make it at home. There are a lot of ingredients, but it is still worth making it for the overall fresh factor.
Plus, you can adjust it to your own personal preferences by adding more of what you like, such as cayenne powder for extra heat. Or, feel free to toss in a bit of spicy ghost pepper powder to really spice things up.
Here is my jerk seasoning recipe:
1 tablespoon onion powder
1 tablespoon garlic powder
2 teaspoons cayenne pepper
2 teaspoons salt
2 teaspoons ground black pepper
2 teaspoons ground thyme
2 teaspoons sugar (or use brown sugar)
1 teaspoon ground allspice
1 teaspoon dried parsley
1 teaspoon paprika
1/2 teaspoon hot pepper flakes
1/2 teaspoon ground cinnamon
1/2 teaspoon ground nutmeg
1/2 teaspoon ground clove
1/4 teaspoon ground cumin
Just mix all of the ingredients together in a bowl until they are nicely combines. Store the mix in a container and seal. Enjoy!
Check out my post about this Jamaican Jerk Seasoning Recipe, with recipe tips and a printable recipe.
About the Jamaican Jerk Sauce
If you'd like that extra flavor whammy, make this Jamaican jerk sauce and toss it with the finished wings.
It is made with fiery Scotch Bonnets peppers, aromatics and a number of seasonings that make it a must for spicy sauce lovers.
It's perfect for jerk chicken of any kind, especially jerk chicken wings. It's also great on seafood, so keep that in mind for multiple uses.
Check out my post for this Jamaican jerk sauce recipe, with notes and a printable recipe. You might also check out my Jamaican jerk marinade recipe.
That's it, my friends! I hope you enjoy your jerk chicken wings! Nice and spicy, just how we like it!
Check Out Some of My Other Popular Chicken Wing Recipes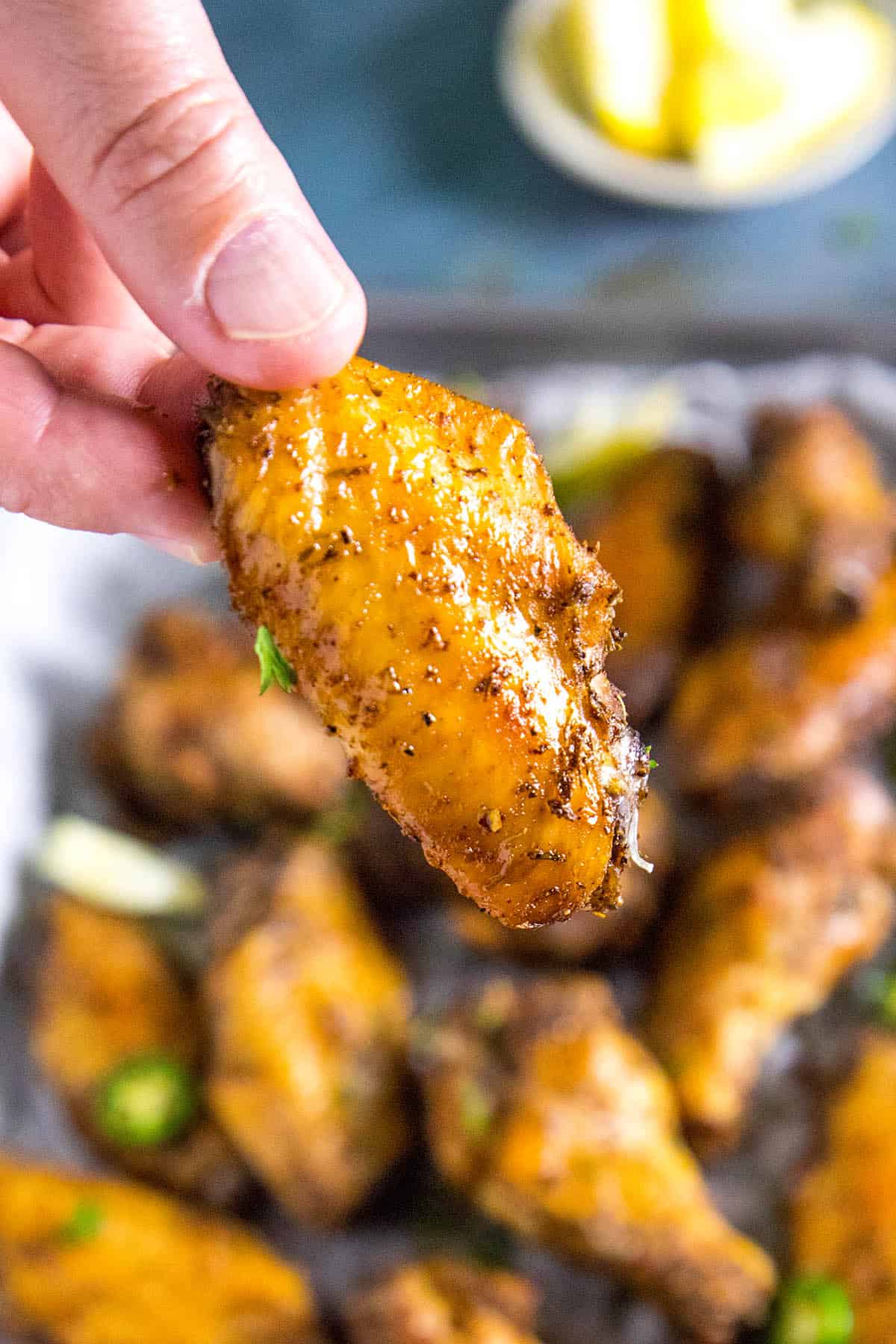 Got any questions? Ask away! I'm happy to help. If you enjoy this recipe, I hope you'll leave a comment with some STARS. Also, please share it on social media. Don't forget to tag us at #ChiliPepperMadness. I'll be sure to share! Thanks! -- Mike H.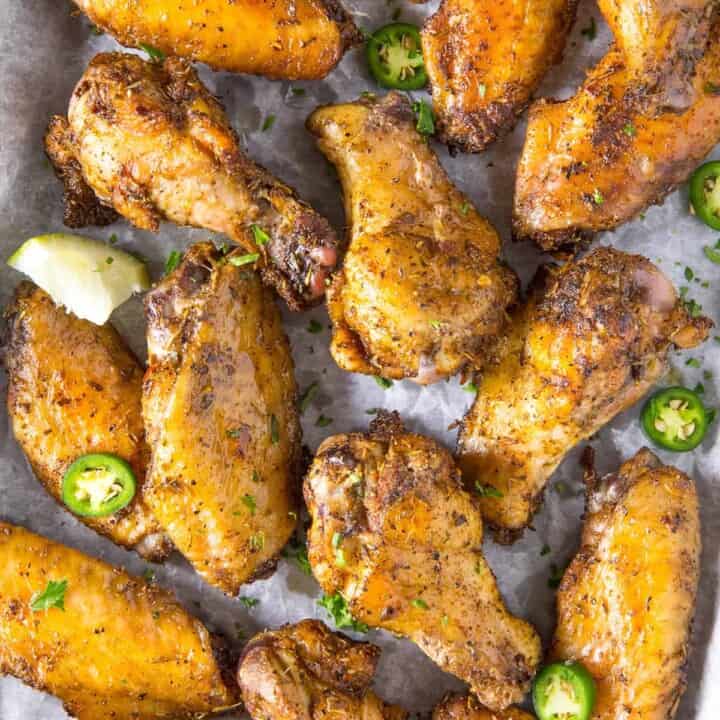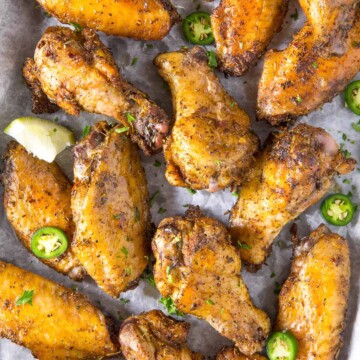 Print
Grilled Jerk Chicken Wings Recipe
This jerk chicken wings recipe is huge on flavor, with wings rubbed down with loads of jerk seasoning, then grilled until nice and crispy. Fire up that grill, my friends!
Save Recipe
Saved!
Ingredients
FOR THE JAMAICAN JERK SAUCE RECIPE
5-6

Scotch Bonnet chili peppers

chopped (habanero peppers are a good substitute)

1/2

cup

brown sugar

1/2

cup

white vinegar

1

teaspoon

dried thyme

1

teaspoon

cinnamon

1

teaspoon

nutmeg

2

tablespoons

soy sauce

1

tablespoon

fish sauce

2

teaspoons

minced garlic

1

teaspoon

ground allspice

Salt and pepper to taste
Instructions
Prepare your sauce first by combining all sauce ingredients in a food processor. Process until smooth. Refrigerate until ready to use.

Set the chicken wings into a large bowl. Add salt and cover with water. Cover and refrigerate about 3 hours to brine.

Remove and pat the wings dry.

Set them into a large bowl and rub the Jamaican Jerk rub into the skins. Get it in there!

Heat a grill to medium-heat and grill the wings for 20 minutes, turning once half way through. Keep an eye on them so the skins do not overcook.

Once cooked through, toss the wings with the Jamaican Jerk sauce and serve.
Nutrition Information
Calories:
424
kcal
Carbohydrates:
34
g
Protein:
25
g
Fat:
21
g
Saturated Fat:
5
g
Cholesterol:
94
mg
Sodium:
8063
mg
Potassium:
455
mg
Fiber:
3
g
Sugar:
28
g
Vitamin A:
2670
IU
Vitamin C:
19.3
mg
Calcium:
84
mg
Iron:
3.5
mg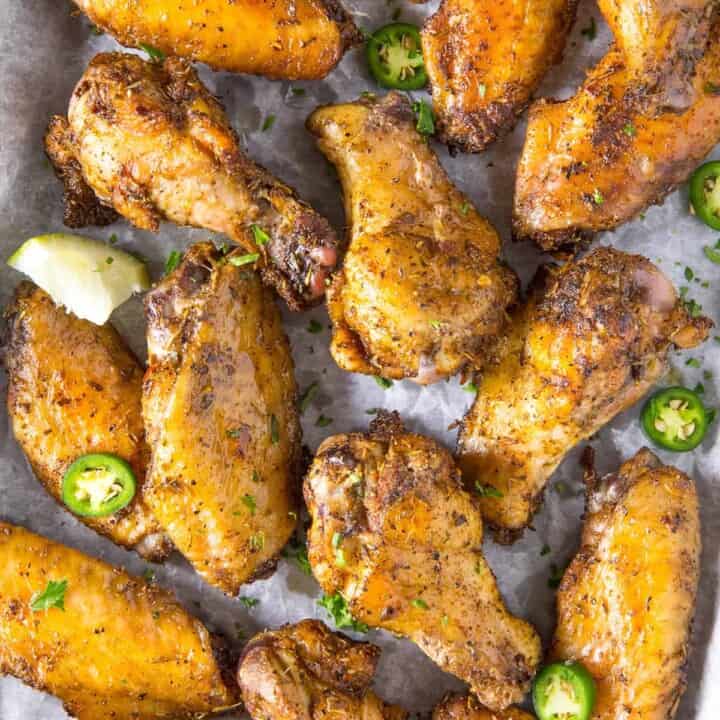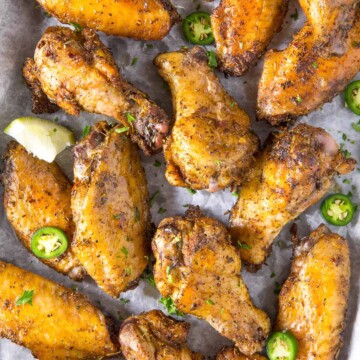 Did You Enjoy This Recipe?
I love hearing how you like it and how you made it your own. Leave a comment below and tag @ChiliPepperMadness on social media.
This recipe was updated on 4/30/19 to include new photos and information. It was originally published on 10/5/2015.