Updated May 12, 2022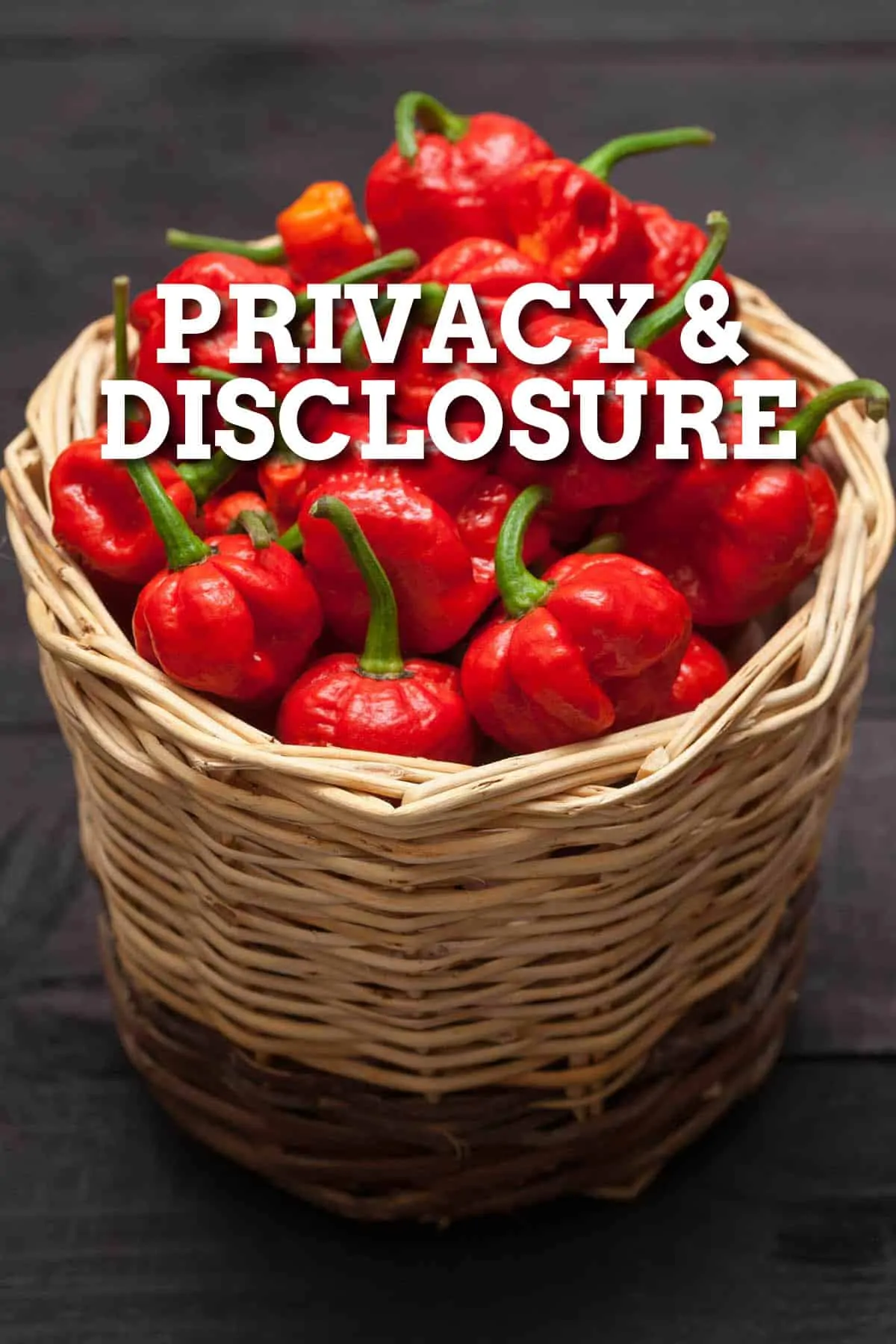 Chili Pepper Madness values and protects your privacy.
This policy explains when and why we collect information about you, how we use it, the conditions under which we may disclose it to others and how we keep it secure.
We may change this Policy from time to time so please check this page occasionally to ensure that you're happy with any changes. By using our website, you're agreeing to be bound by this Policy.
Any questions regarding this Policy and our privacy practices should be sent by email to mike@chilipeppermadness.com.
Who are We?
Chili Pepper Madness is a recipe site run by Mike Hultquist, your gourmet chilihead friend. We specialize in easy, approachable recipes with a spicy spin.
How we Collect Information About You
Information is collected via log files, cookies, leaving comments on the site, purchasing a product or subscribing to our newsletter.
What Information do we Collect About You
We collect information on your name, email address, website (if you leave this in a comment), IP address and the pages that you visited and when you visited them on the site.
All financial details are collected via PayPal which does not retain any financial information once the transaction has been processed.
How and Why we Track your Visit
Like most websites around the world we use Google Analytics (GA) to process information about the number of visitors on our site, and their behavior.
We use this information to record the number of people using Chili Pepper Madness and to better understand where you discover our site (from social media, google or another site) and how you use it as well as to see how people move throughout the site.
GA records your approximate location down to town level, the type device you are using e.g. Mobile or Table, Name of device e.g. iPad or Samsung Galazy etc..., operating system e.g. Windows 10 or iOS and browser e.g. Firefox or Chrome. None of this data can be used to identify you.
Google does record your IP address, however, we don't have access to this information and it modifies it so that you can not be identified specifically just the area that you are in.
Google Analytics Demographics
We are committed to ensuring that our website contains content that is valuable and useful to our readers.
To help us with this we have implemented the Google analytics demographics and interest reporting features on our website.
These tools allow us to review anonymous data regarding the gender, age and interests of website visitors and adapt our website content to better reflect their needs.
Although this information is collected through your Google ad settings, it is not provided to us in a personally-identifiable format. This means we cannot identify what information is about you, and we will not try to figure it out.
You can opt-out of Google Analytics for Display Advertising and customise Google Display Network ads using the Google Ad settings or through the Google Analytics opt-out browser add-on.
To do this Google Analytics uses a "cookie" on your machine read more about Cookies below.
Leaving a Comment on our Site
We at Chili Pepper Madness, we love it when you comment on our recipes and work.
To leave a comment you may leave it anonymously or leave a name, email address, website and comment.
We only use this information to identify you as the comment maker and do not pass this on to any third party.
Your email address will never be shown in the comment section of the site.
Your details will remain in the database unless we remove it or the article is removed from the site.
You may request that we delete the comment and remove you details at any time. Please email us at mike@chilipeppermadness.com to ask for this to be done.
If you are under 16 you must obtain your parents permission before leaving a comment.
IMPORTANT: In your comment you should avoid leaving information of a personal nature and it is recommended that you do this on any website you comment on.
Subscriber Newsletter
If you choose to join one of our regular newsletters via a sign up form on Chili Pepper Madness then your email address is required so that you can be sent the emails. We also ask for your First Name although this isn't required so that we may address you personal in our weekly email.
Your data is collected and then passed to our Email Service Provider, Mailchimp.
You may unsubscribe at any time from our newsletters using the unsubscribe link at the bottom of the email or you can email us at mike@chilipeppermadness.com and ask that you be removed. Please make sure that you are using the same email address as you receive the emails from to do this.
Within the Email Service Provider we use tags to track the pages that you visit and actions that you take within the emails so that we can provide a more personalized email service to you.
We send emails 1 - 3 times a week and with our tracking try and make these as relevant to you as possible. From time to time we may include promotions for products.
If you have subscribed and received one of our free products your email with the link is sent via Postmark a Third Party Application, your email address, name and the details of the email are retained for 45 days and then your information is deleted automatically.
Details that we hold including your name, email address and where you have visited will never be passed onto a Third Party.
When you purchase from Chili Pepper Madness
If you have made a purchase from our ebook store then the information you provide is stored by our store database.
All payments are made via PayPal which does not retain any financial information once the transaction has been processed.
The data held includes your name, email address, IP address and PayPal email. We can delete this information upon request but for financial and legal reasons copies of the invoices are retained.
Products sold via affiliates each collect and retain their own data we do not have access to your name or email address as part of this.
Please see their privacy and data protection policies for more information on how they collect and process your personal data.
Mediavine Programmatic Advertising (Ver 1.1)
The Website works with Mediavine to manage third-party interest-based advertising appearing on the Website. Mediavine serves content and advertisements when you visit the Website, which may use first and third-party cookies. A cookie is a small text file which is sent to your computer or mobile device (referred to in this policy as a "device") by the web server so that a website can remember some information about your browsing activity on the Website.
First party cookies are created by the website that you are visiting. A third-party cookie is frequently used in behavioral advertising and analytics and is created by a domain other than the website you are visiting. Third-party cookies, tags, pixels, beacons and other similar technologies (collectively, "Tags") may be placed on the Website to monitor interaction with advertising content and to target and optimize advertising. Each internet browser has functionality so that you can block both first and third-party cookies and clear your browser's cache. The "help" feature of the menu bar on most browsers will tell you how to stop accepting new cookies, how to receive notification of new cookies, how to disable existing cookies and how to clear your browser's cache. For more information about cookies and how to disable them, you can consult the information at All About Cookies.
Without cookies you may not be able to take full advantage of the Website content and features. Please note that rejecting cookies does not mean that you will no longer see ads when you visit our Site. In the event you opt-out, you will still see non-personalized advertisements on the Website.
The Website collects the following data using a cookie when serving personalized ads:
IP Address
Operating System type
Operating System version
Device Type
Language of the website
Web browser type
Email (in hashed form)
Mediavine Partners (companies listed below with whom Mediavine shares data) may also use this data to link to other end user information the partner has independently collected to deliver targeted advertisements. Mediavine Partners may also separately collect data about end users from other sources, such as advertising IDs or pixels, and link that data to data collected from Mediavine publishers in order to provide interest-based advertising across your online experience, including devices, browsers and apps. This data includes usage data, cookie information, device information, information about interactions between users and advertisements and websites, geolocation data, traffic data, and information about a visitor's referral source to a particular website. Mediavine Partners may also create unique IDs to create audience segments, which are used to provide targeted advertising.
If you would like more information about this practice and to know your choices to opt-in or opt-out of this data collection, please visit National Advertising Initiative opt out page. You may also visit Digital Advertising Alliance website and Network Advertising Initiative website to learn more information about interest-based advertising. You may download the AppChoices app at Digital Advertising Alliance's AppChoices app to opt out in connection with mobile apps, or use the platform controls on your mobile device to opt out.
For specific information about Mediavine Partners, the data each collects and their data collection and privacy policies, please visit Mediavine Partners.
Cookies
"Cookies" are little pieces of code that we use to track your use of our site and provide the best possible experience for you.
Specifically we use them for
Our commenting system so that you don't have to always enter you details
Collect data as part of Google Analytics so that we can see who has visited our website
You can chose to disable or selectively turn off our cookies or third-party cookies in your browser settings, or by managing preferences in your browser.
However, this can affect how you are able to interact with our site as well as other websites. This could include the inability to login to services or programs, such as logging into forums or accounts.
Google, as a third party vendor, uses cookies to serve ads on www.chilipeppermadness.com.
Google's use of the DART cookie enables it to serve ads to users based on their visit to www.chilipeppermadness.com and other sites on the Internet.
You may opt out of the use of the DART cookie by visiting the Google ad and content network privacy policy at the following URL – https://policies.google.com/technologies/ads
Log Files
Like many other Web sites, Chili Pepper Madness makes use of log files. These files merely logs visitors to the site – usually a standard procedure for hosting companies and a part of hosting services's analytics. The information inside the log files includes internet protocol (IP) addresses, browser type, Internet Service Provider (ISP), date/time stamp, referring/exit pages, and possibly the number of clicks. This information is used to analyze trends, administer the site, track user's movement around the site, and gather demographic information. IP addresses, and other such information are not linked to any information that is personally identifiable.
Our Use of Cookies
A cookie is a file containing an identifier (a string of letters and numbers) that is sent by a web server to a web browser and is stored by the browser. The identifier is then sent back to the server each time the browser requests a page from the server. Cookies may be either "persistent" cookies or "session" cookies: a persistent cookie will be stored by a web browser and will remain valid until its set expiry date, unless deleted by the user before the expiry date; a session cookie, on the other hand, will expire at the end of the user session, when the web browser is closed. Cookies do not typically contain any information that personally identifies a user, but personal information that we store about you may be linked to the information stored in and obtained from cookies.
We use cookies for the following purposes:
(a) [authentication – we use cookies to identify you when you visit our website and as you navigate our website];
(b) [status – we use cookies [to help us to determine if you are logged into our website];
(c) [personalization – we use cookies [to store information about your preferences and to personalize the website for you];
(d) [security – we use cookies [as an element of the security measures used to protect user accounts, including preventing fraudulent use of login credentials, and to protect our website and services generally];
(e) [advertising – we use cookies [to help us to display advertisements that will be relevant to you]; and
(f) [analysis – we use cookies [to help us to analyze the use and performance of our website and services];
We use Google Analytics to analyze the use of our website.
Google Analytics gathers information about website use by means of cookies. The information gathered relating to our website is used to create reports about the use of our website. Google's privacy policy is available at: https://www.google.com/policies/privacy/
Most browsers allow you to refuse to accept cookies and to delete cookies. The methods for doing so vary from browser to browser, and from version to version. You can however obtain up-to-date information about blocking and deleting cookies via these links:
(a) https://support.google.com/chrome/answer/95647?hl=en(Chrome);
(b) https://support.mozilla.org/en-US/kb/enhanced-tracking-protection-firefox-desktop (Firefox);
(c) http://www.opera.com/help/tutorials/security/cookies/(Opera);
(d) https://support.microsoft.com/en-gb/help/17442/windows-internet-explorer-delete-manage-cookies (Internet Explorer);
(e) https://support.apple.com/kb/PH21411 (Safari); and
(f) https://privacy.microsoft.com/en-us/windows-10-microsoft-edge-and-privacy (Edge).
Please note that blocking cookies may have a negative impact on the functions of many websites, including our Site. Some features of the Site may cease to be available to you.
Email Addresses
We may collect your email address, but only if you voluntarily provide it to us. This may occur, for example, if you sign up to receive an email newsletter, or enter a promotion. We will use your email address for the purposes for which you provided it to us, and also from time to time to send you emails regarding the Site or other products or services that we believe may be of interest to you. You may opt out of such email communications at any time by clicking the "unsubscribe" button in the email.]
We will not share your email address with any third parties.
[Option 1] [If you are a resident of a country in the European Economic Area (EEA), we do not wish to receive your email address, and will delete it you have provided it inadvertently.][Option 2] [If you are a resident of a country in the European Economic Area (EEA), please refer to the section below entitled "Additional Rights of EEA Residents."]
Registration or Account Data
We may collect other information from you when you register with our Site in order to use various features. Such information could include your name, birthday, postal code, screen name, and password (if applicable). As you use the Site, we could collect other data that you provide voluntarily (such as comments that you post).
We may also collect information about you through other methods, including research surveys, social media platforms, verification services, data services, as well as public sources. We may combine this data with your registration data in order to maintain a more thorough profile.
We may use third parties to provide the functionality to allow you to register for the Site, in which case the third party will also have access to your information. Otherwise, we will not provide any personally-identifying information about you to third parties, except if required by law.
We may use your personally-identifying information for a variety of our internal business purposes, such as creating a better user experience for the Site, diagnosing and troubleshooting malfunctions on the Site, better understanding how the Site is used, and making personalized recommendations to you.
If you are a resident of a country in the European Economic Area (EEA), please refer to the section below entitled "Additional Rights of EEA Residents."
Transactional Data
[We may process information relating to transactions, including purchases of goods and services, that you enter into with us and/or through our Site] ("Transactional Data"). The Transactional Data may include your contact details, your card details and the transaction details. The transaction data may be processed for the purpose of supplying the purchased goods and services and keeping proper records of those transactions. [Payment processing on our Site is handled by our payment services providers, [identify PSPs]. We will share transaction data with our payment services providers only to the extent necessary for the purposes of processing your payments, refunding such payments and dealing with complaints and queries relating to such payments and refunds. You can find information about the payment services providers' privacy policies and practices at [URLs]]
Additional Rights of EEA (European Economic Area) Residents
If you are a resident of a country in the EEA, you have the rights, among others, to:
(i) access your personal data
(ii) ensure the accuracy of your personal data
(iii) the right to have us delete your personal data
(iv) the right to restrict further processing of your personal data, and
(v) the right to complain to a supervisory authority in your country of residence in the event that data is misused
If you believe that our processing of your personal information infringes data protection laws, you have a legal right to lodge a complaint with a supervisory authority responsible for data protection. You may do so in the EU member state of your residence, your place of work or the place of the alleged infringement.
You may exercise any of your rights in relation to your personal data by written notice to us addressed to the following: email mike@chilipeppermadness.com for more information on this.
Sale of Business or Assets
In the event that the Site or substantially all of its assets is sold or disposed of as a going concern, whether by merger, sale of assets or otherwise, or in the event of an insolvency, bankruptcy or receivership, the information we have collected about you may be one of the assets sold or merged in connection with that transaction.
Children's Information
We believe it is important to provide added protection for children online. We encourage parents and guardians to spend time online with their children to observe, participate in and/or monitor and guide their online activity.
This Site does not knowingly collect any personally identifiable information from children under the age of 13. If a parent or guardian believes that this Site has in its database the personally-identifiable information of a child under the age of 13, please contact us immediately (using the contact in the first paragraph) and we will use our best efforts to promptly remove such information from our records.
Affiliate Program Participation
This site may engage in affiliate marketing, which is done by embedding tracking links into the site. If you click on a link for an affiliate partnership, a cookie will be placed on your browser to track any sales for purposes of commissions.
Chili Pepper Madness is a participant in the Amazon Services LLC Associates Program, an affiliate advertising program designed to provide a means for sites to earn advertising fees by advertising and links to Amazon.com. As an Amazon Associate, the site earns from qualifying purchases. As part of this Amazon Associates program, the site will post customized links, provided by Amazon, to track the referrals to their website. This program utilizes cookies to track visits for the purposes of assigning commission on these sales.
If you are Under 16
Please obtain your parents permission before entering any personal information on Chili Pepper Madness. We are concerned with your privacy as much as an adults.
When we may Transfer your Personal Data
We will not transfer your personal data unless we are under legal obligation to do so.
If you wish to be Removed from our Data
At any point you may ask that we remove your information from our systems. Please contact mike@chilipeppermadness.com with your requirements and we will do so within a month.
The same applies for what information we hold about you and can be identified as being about you.