This crispy baked garlic parmesan wings recipe is tossed with a homemade garlic-parmesan sauce that you can make in minutes. It's always time for chicken wings.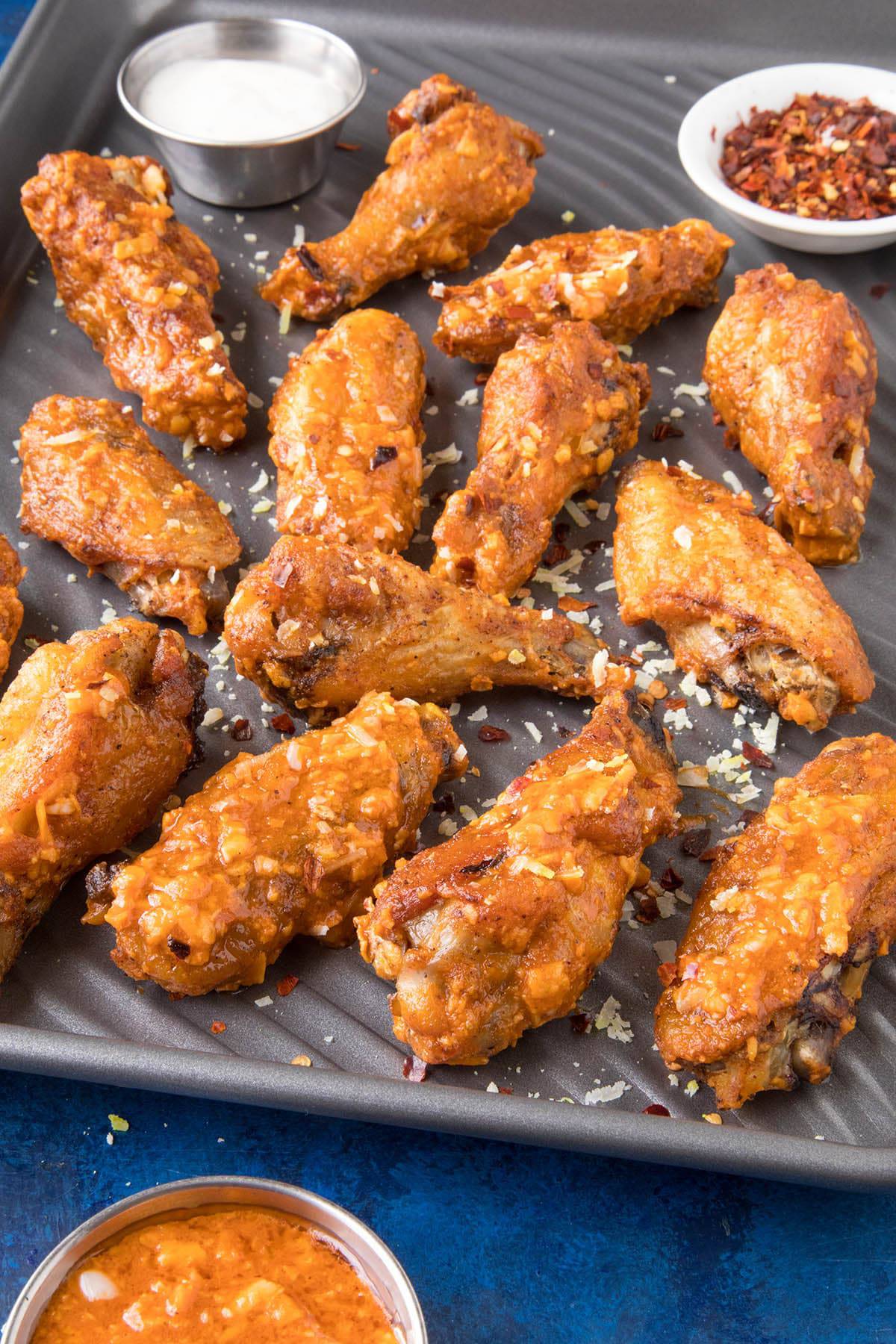 It's chicken wing night in the Chili Pepper Madness kitchen, my friends! Are you with me? If you're a chicken wing lover like I am, these amazing wings will surely satisfy.
We're talking Garlic-Parmesan Chicken Wings, and I know you're going to love them.
I am such a chicken wing junkie. I LOVE heading out to one of several wing joints in my area, mixing and matching different sauces, going crazy hot one day, sticky and sweet the next. So many wonderful choices.
Sometimes, though, you just can't beat a batch of chicken wings made at home. Plus, we can bake them and still have them nice and crispy!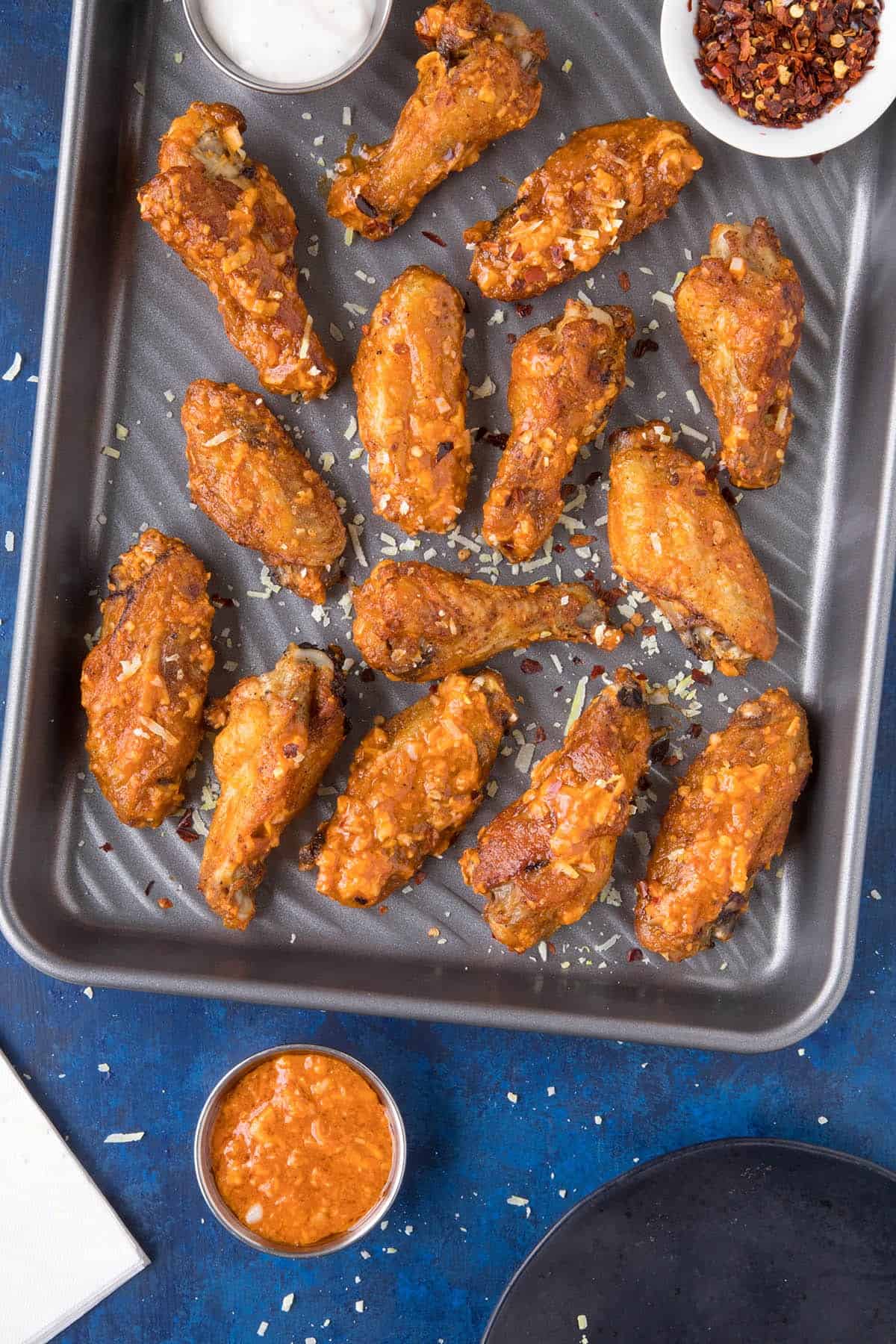 I've made chicken wings many, many different ways and this is one of the simplest ways to prepare them. I've opted to bake them, which is what I usually like to do at home, rather than frying, which can be quite messy with wings.
If you have a fryer or air fryer, go for it, but baked wings are fall-off-the-bone.
Let's talk about how to make the best Garlic-Parmesan Wings, shall we?
Garlic-Parmesan Wings Ingredients
Chicken Wings. This recipe calls for 2 pounds.
Baking Powder. This helps with the crispiness.
Seasonings. I use garlic powder, chili powder, dried basil and salt and pepper. Add red pepper flakes for extra spicy.
For the Garlic-Parmesan Wing Sauce. You'll need butter, minced garlic, your favorite Louisiana style hot sauce and shredded or grated Parmesan cheese.
How to Make Garlic-Parmesan Wings - the Recipe Method
Prep the Wings. Trim the wing tips from the wings and separate them. Rub them down with baking powder, garlic, chili powder, dried basil and salt and pepper. The baking powder helps draw the moisture out, allowing the skin to crisp up nicely.
Bake the Chicken Wings. Bake the wings in a preheated oven for 30 minutes at 250 degrees on a lightly oiled or coated baking sheet, then crank up the heat to 425 degrees and bake another 30 minutes, or until the wings are cooked through. You can set them onto a wire rack to cool slightly if you wish.
Make the Garlic-Parmesan Wing Sauce. While the wings are baking, whip up your sauce. It only takes a few minutes, so get it going close to the end of the wings cooking time.
Here are your sauce ingredients.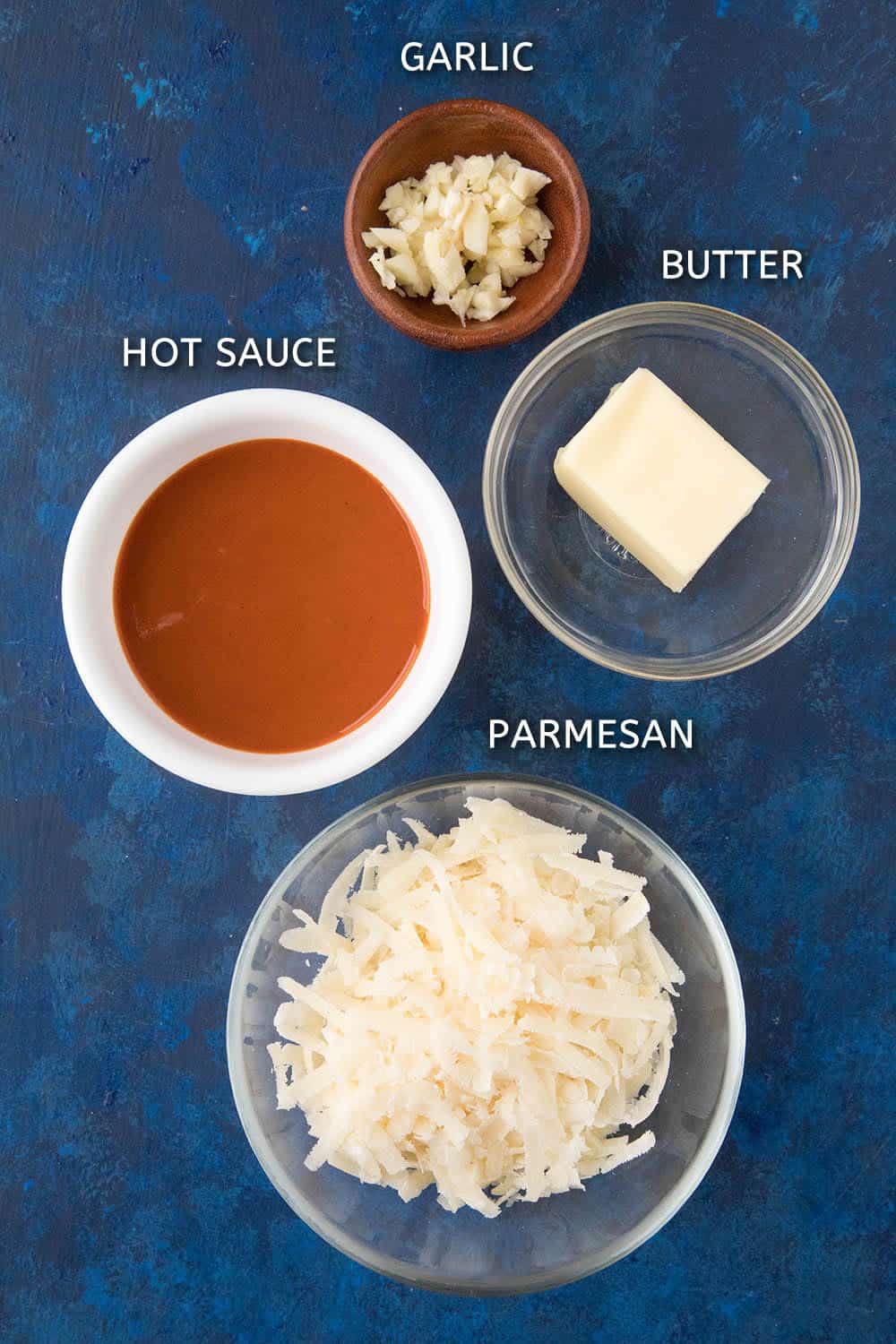 Melt butter in a pan and add the garlic.
Cook a minute, until fragrant. The smell of garlic cooking slowly in butter will drive you wild.
Add in the hot sauce and heat through, then swirl in the Parmesan cheese and remove from heat.

If you add too much Parmesan it may get a slight bit gloopy, but the flavor is still there, and that gloopiness will disappear when you toss it with the wings in a large bowl.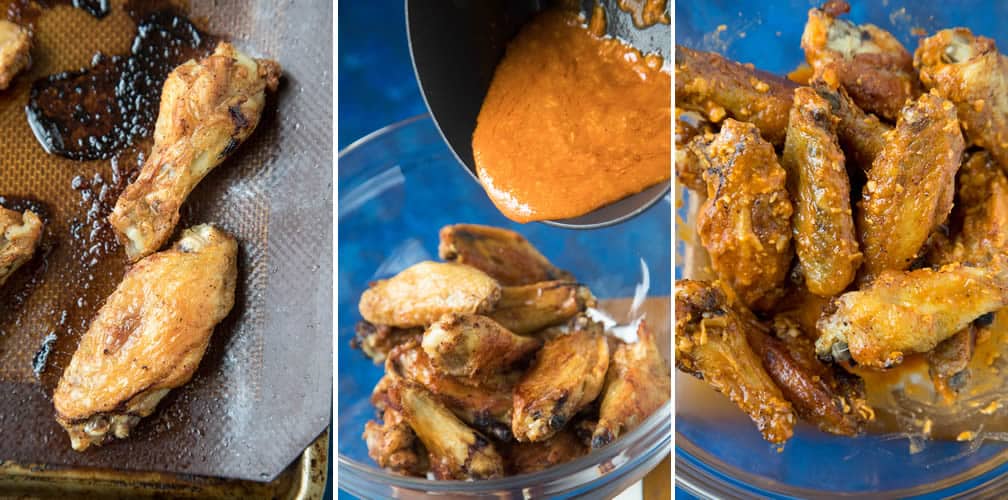 More Parmesan Cheese. Sprinkle with a bit more Parmesan cheese and there you go. It's a simple and classic chicken wings recipe, a reliable old standby, but there is a reason it is a go-to for so many.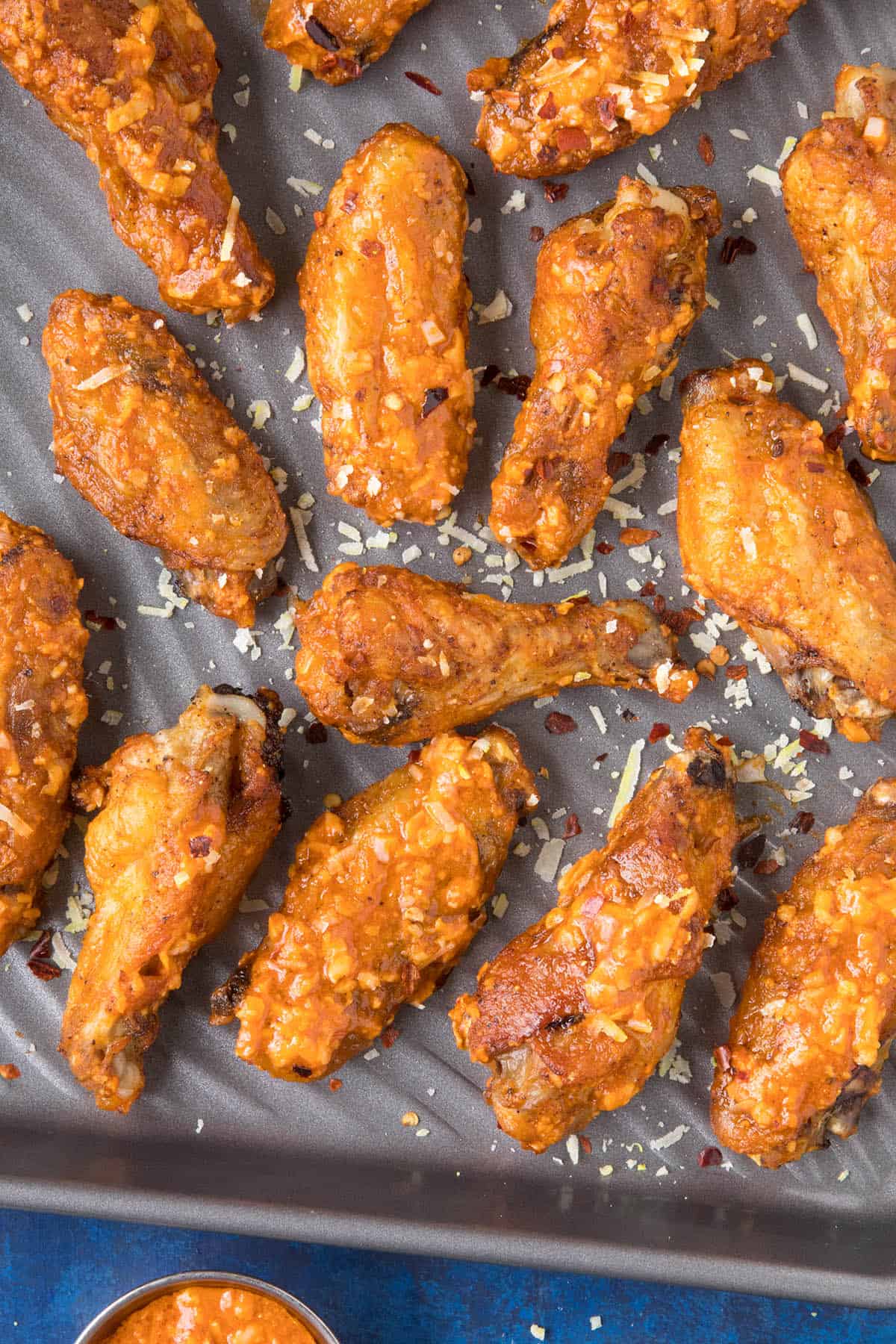 The resulting chicken wings are tasty as heck! Every bit delivers a combination of mellowed garlic, sharp cheese and a saucy tang. Can't get enough. Baked garlic parmesan chicken wings in the house!
Maybe you should make a double batch. These are perfect for game day.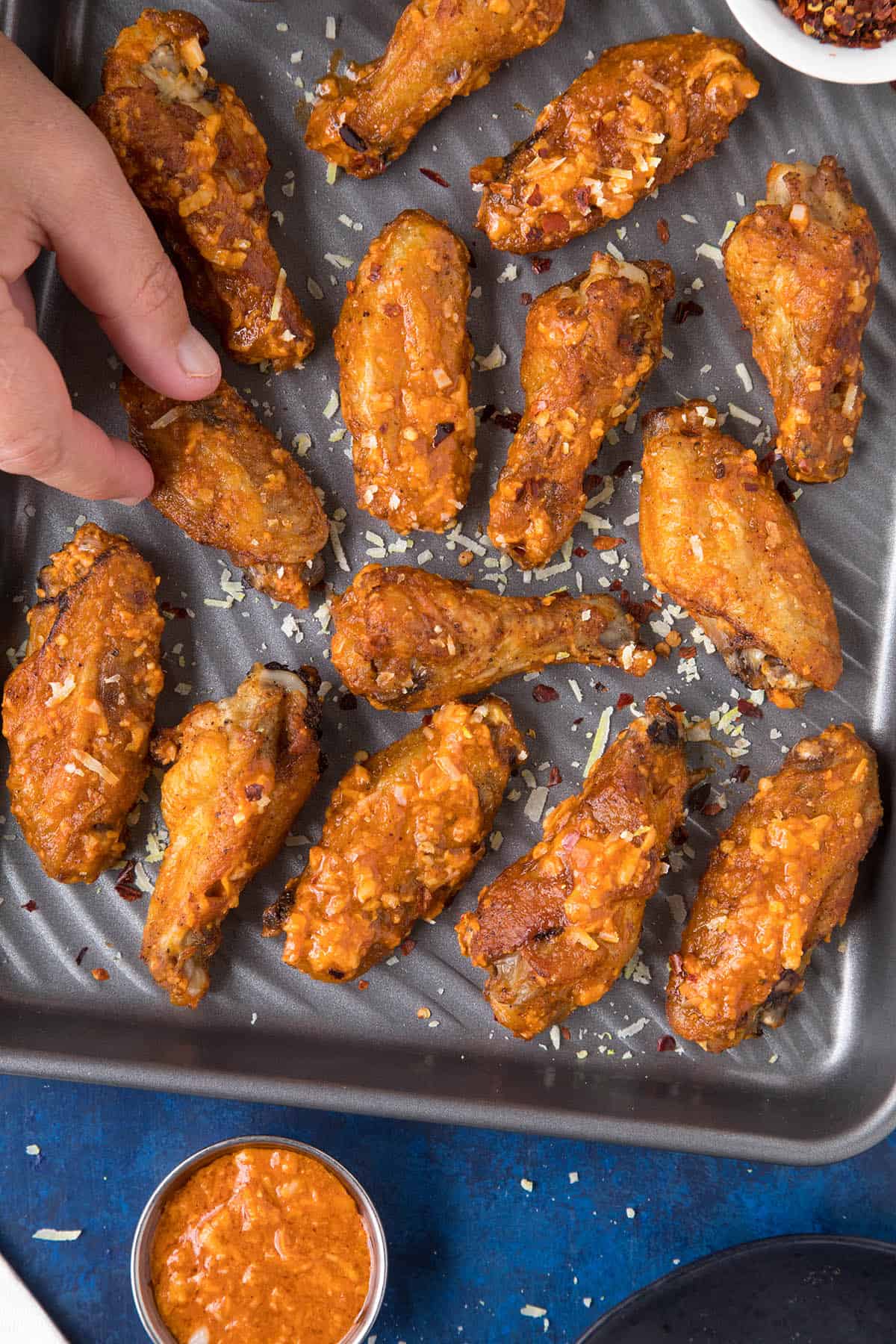 The Key to Making Crispy Oven Baked Chicken Wings
There are 3 important factors in achieving crispy chicken wings when baked in the oven. They are:
Drying the Chicken Wings. Pat them very dry with a paper towel to remove as much moisture as possible. You can also set them in the fridge after this step and leave them overnight to dry out even further.
Baking Powder and Salt. Baking powder and salt help to draw the extra moisture out of the skin where it can evaporate. Moisture is the key reason why oven baked chicken wings don't crisp up as desired.
The Baking Process. Bake the wings first at 250 degrees F (120 degrees C) for 30 minutes, then turn up the heat and bake another 30 minutes (or until they are cooked through and nice and crispy) at 425 degrees F (220 degrees C).
If you're looking for even MORE crispiness, turn on the broiler at the very end of the cooking time for a couple minutes. Just be careful to not burn them.
You can see the crispiness when you take them out of the oven. You can feel the crispy dryness on the skin. It is awesome! See my post on Oh So Crispy Baked Chicken Wings - Step by Step for more information on the method.
Patty's Perspective
Why ever go out for wings when you can have these beautiful, baked wings to your exact tastes? Bring on the Parm! I always want more Parm.
Check Out Some of My Other Popular Chicken Wing Recipes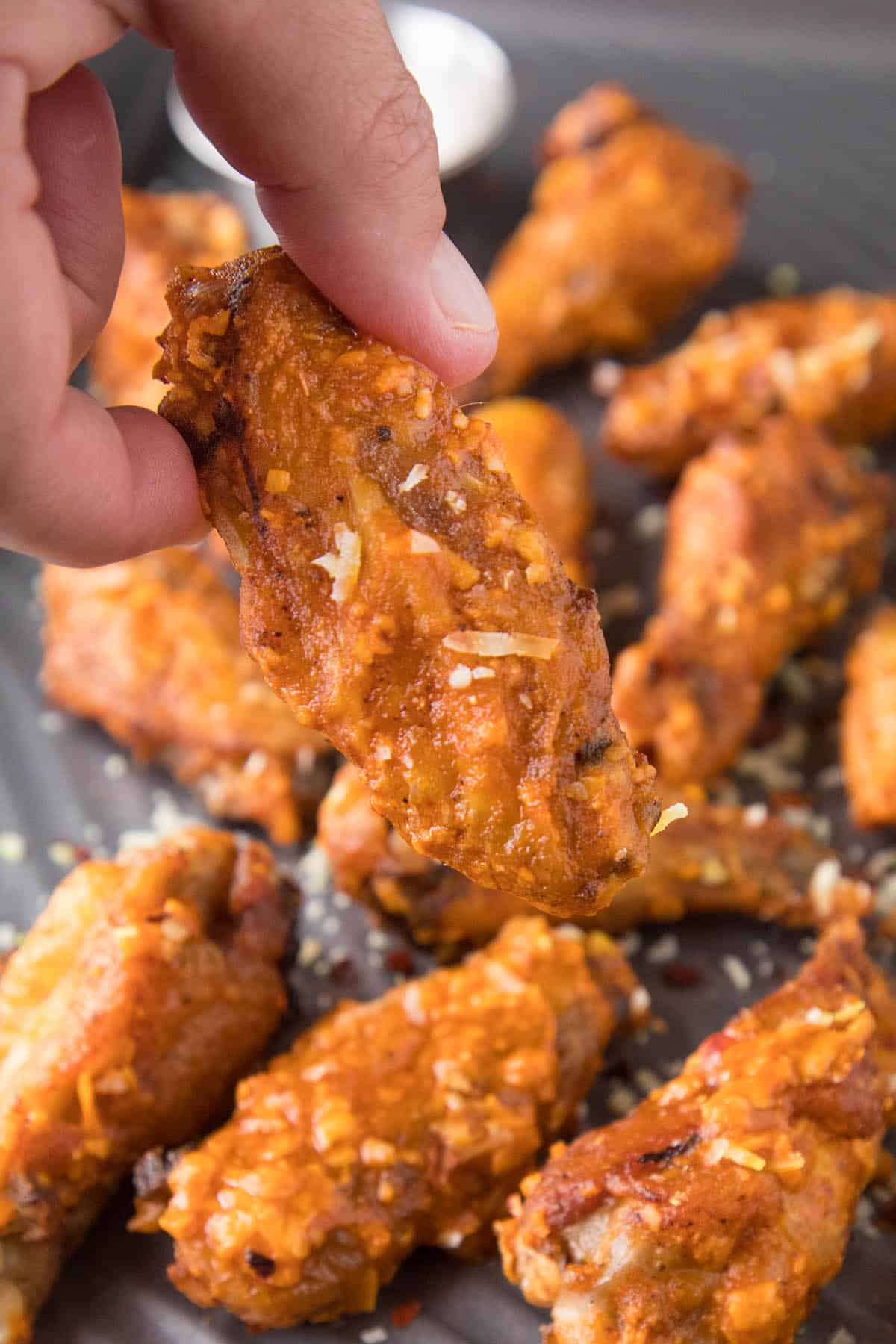 Got any questions? Ask away! I'm happy to help. If you enjoy this recipe, I hope you'll leave a comment with some STARS. Also, please share it on social media. Don't forget to tag us at #ChiliPepperMadness. I'll be sure to share! Thanks! -- Mike H.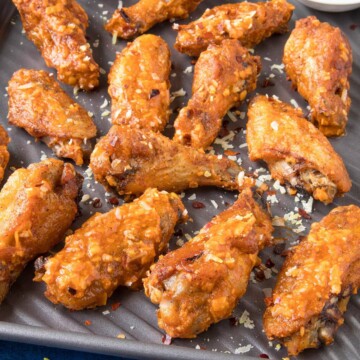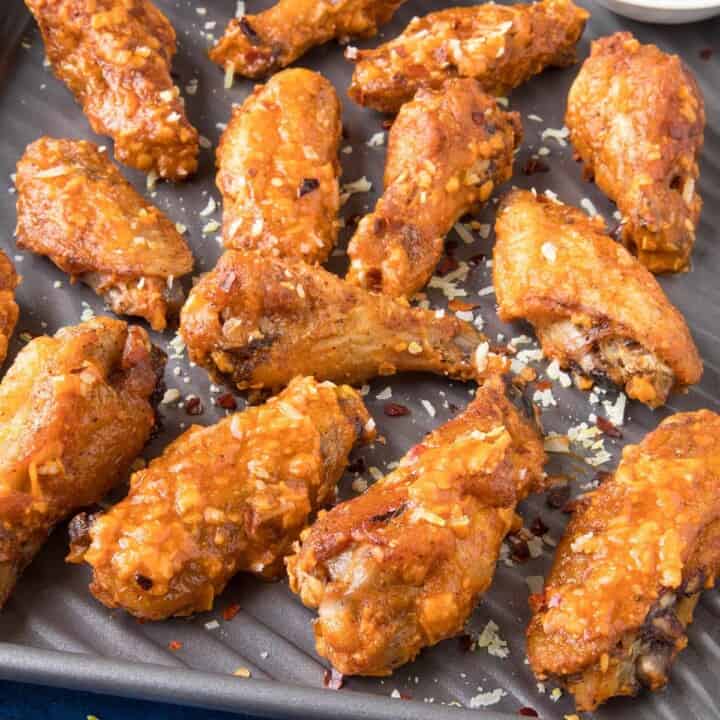 Print
Baked Garlic-Parmesan Wings Recipe
This crispy baked garlic parmesan wings recipe is tossed with a homemade garlic-parmesan sauce that you can make in minutes. So easy to make!
Save Recipe
Saved!
Ingredients
2

pounds

chicken wings

separated and wing tips removed

1

tablespoon

baking powder

1

tablespoon

garlic powder

2

tablespoons

chili powder

1

teaspoon

dried basil

Salt and pepper to taste

3

tablespoons

butter

2

cloves

garlic

minced

½

cup

Louisiana style hot sauce

½

cup

shredded Parmesan cheese
Instructions
Pat the wings as dry as you can get them. This will help with the crispiness.

Set the wings into a large bowl and season with baking powder, garlic powder, chili powder, basil, and salt and pepper. Toss to get them nice and coated. The baking powder helps with the crispiness.

Heat oven to 250 degrees. Set the wings onto a lightly oiled baking sheet and bake for 30 minutes.

Increase oven heat to 425 degrees and bake another 30 minutes, or until the wings are cooked through and the skins are nice and crispy.

For the sauce, add the butter to a small pan and heat to low. Melt the butter and aadd garlic. Cook a minute or so, then add hot sauce and Parmesan cheese. Swirl and heat to combine.

Remove from heat and toss with the wings.
Video
Notes
Heat Factor: Mild.
If you're looking for HEAT, add in extra hot sauce, or sub in a hot sauce to your liking. A good spicy chili powder blend or chili flakes are also very welcome here.
Nutrition Information
Calories:
427
kcal
Carbohydrates:
6
g
Protein:
28
g
Fat:
32
g
Saturated Fat:
13
g
Cholesterol:
127
mg
Sodium:
1218
mg
Potassium:
654
mg
Fiber:
1
g
Vitamin A:
1785
IU
Vitamin C:
23.8
mg
Calcium:
307
mg
Iron:
2.7
mg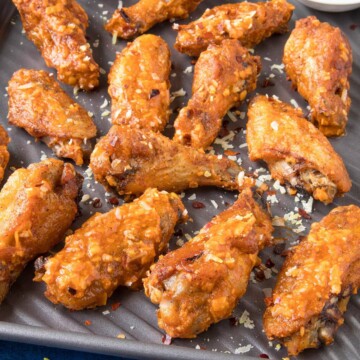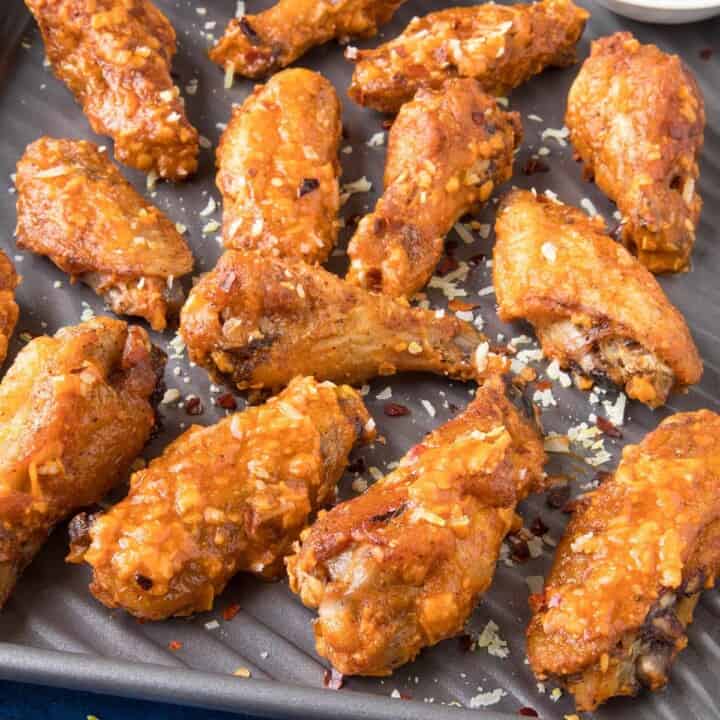 Did You Enjoy This Recipe?
I love hearing how you like it and how you made it your own. Leave a comment below and tag @ChiliPepperMadness on social media.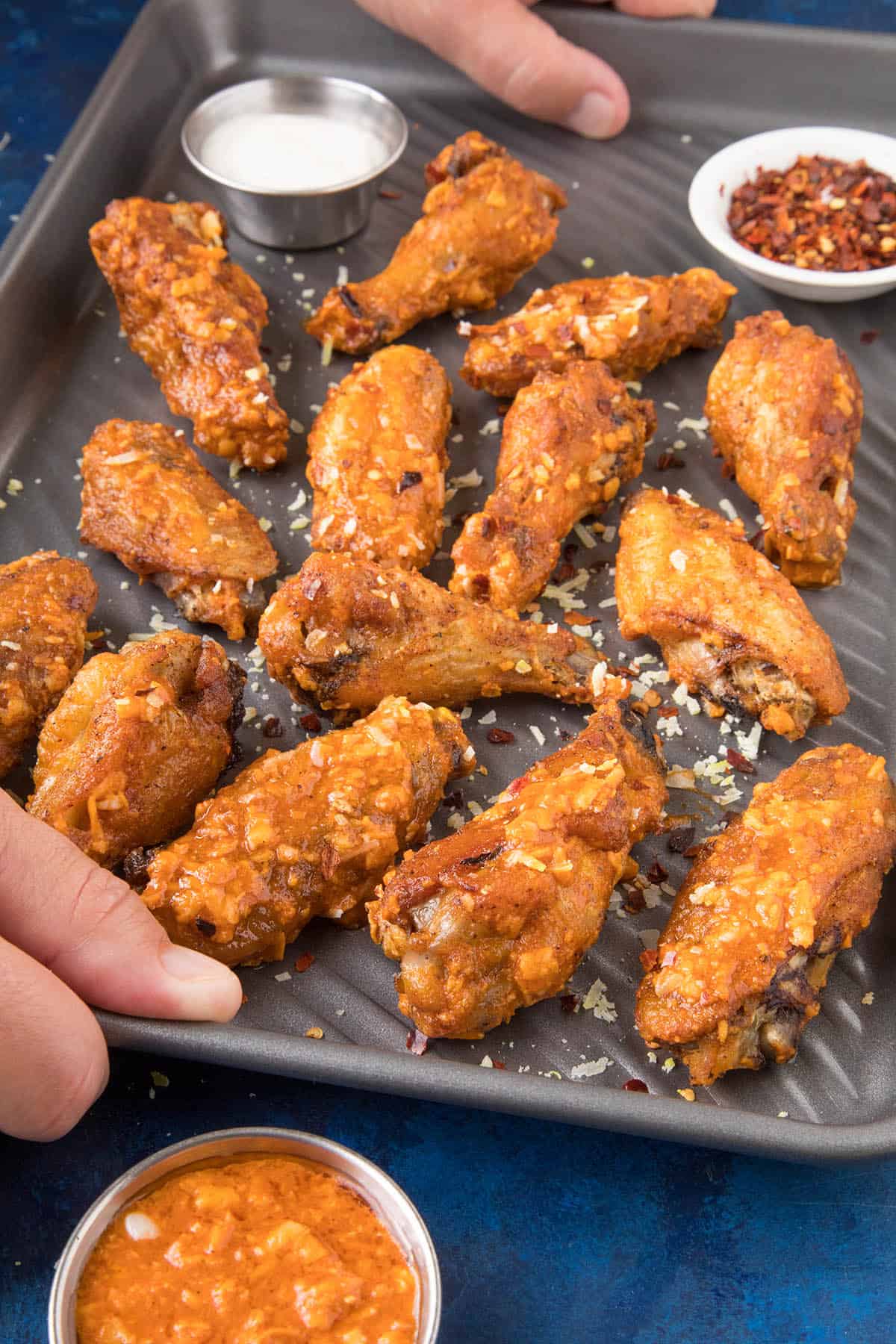 This recipe was updated on 12/4/20 to include new video, photos and information. The original recipe was posted on 11/11/16.