Put that dehydrator to good use! Let's spice things up!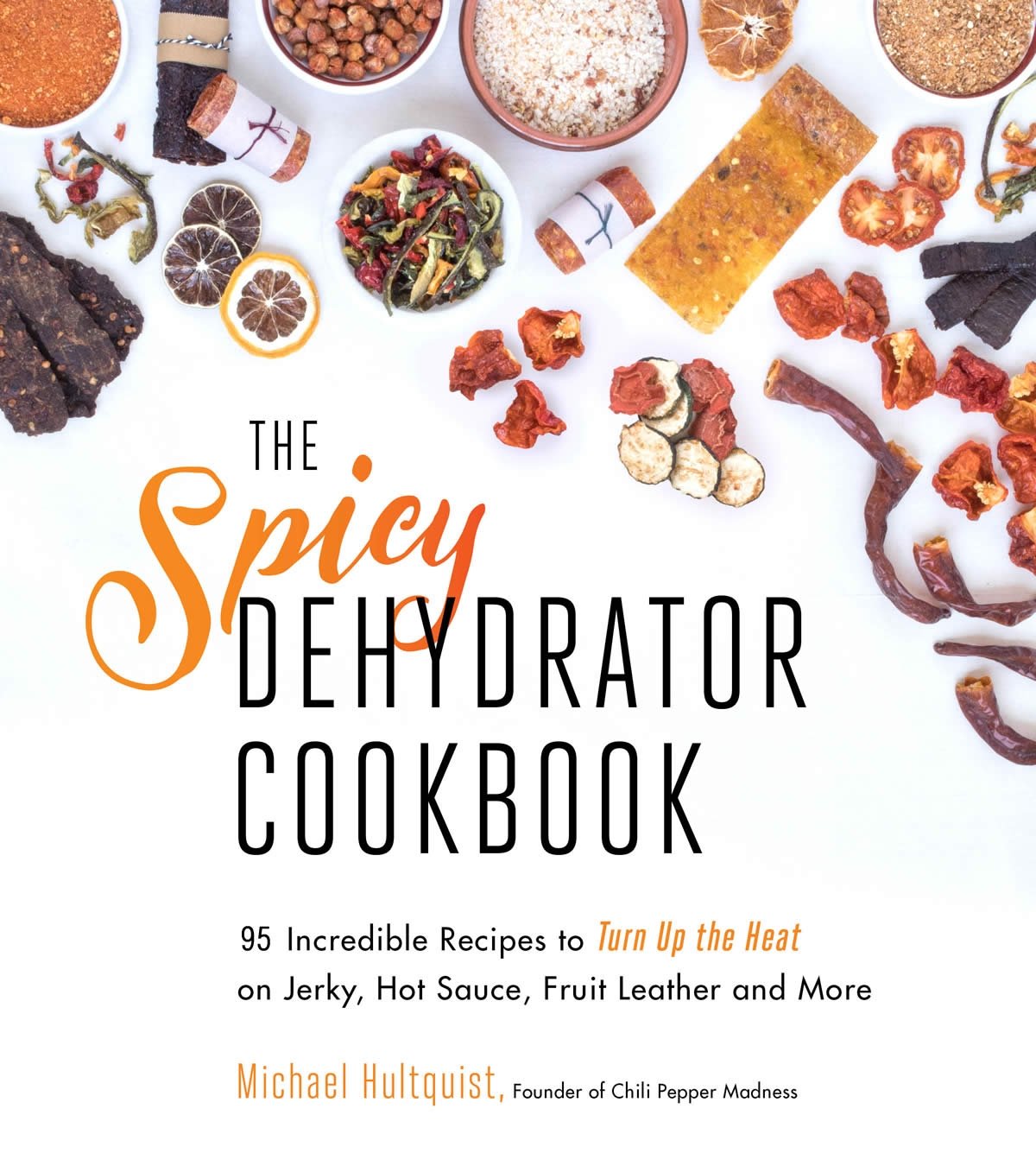 The perfect book for hot sauce enthusiasts, Michael Hultquist will share how to make your own spice blends from dehydrated chilies, as well as how to make hot sauce leathers and extra flavorful jerky. He will also teach you fresh, new ways to utilize a dehydrator--for delicious soups, hot sauces and meals in a jar.
From Garlic-Habanero Hot Sauce to Easy Ghost Pepper Hot Sauce, there is something for every palette, whether you're in the mood for a mild aromatic flavor or a sauce so hot you'll have to keep a glass of milk nearby. Other recipes include Chipotle-Bourbon Beef Jerky, Scorpion Chili Leather, Creamy Roasted Red Pepper Soup and Caribbean Mango Hot Sauce.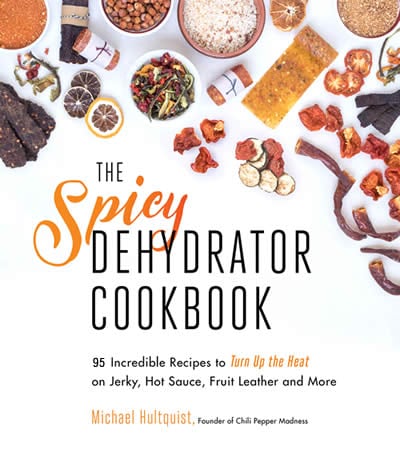 See what others have to say about my book, "The Spicy Dehydrator Cookbook".
Mike Hultquist's new book about spicy dehydrating is my kind of book. To the point. Simple. Helpful. And beautiful. How can you not make something as easy and pretty as spicy fruit leathers? As a chilehead, I give this book three thumbs up!
-- Dave DeWitt, coauthor of The Complete Chile Pepper Book
Loaded with practical ideas, recipes and useful tips. An invaluable resource for anybody interested in getting the most from their dehydrator. Mr. Hultquist has graced countless many with wonderfully creative recipes and food related blogs for several years now. This addition to his body of work will leave your taste buds in an excited state of post culinary bliss!
-- Thomas Toth, Founder & Chief Sauceologist, Voodoo Chile Sauces & Salsas.
Michael has once again shown his command of all things chile peppers and spice with The Spicy Dehydrator Cookbook. His inventiveness and versatility shine through on every page. I've been using dehydrators for years to dry out chiles and other fruits and veggies, and what Michael has done here is brilliant. You know you have a great cookbook in your hands when upon first thumbing through it, you immediately want to drop everything you're doing and dash into the kitchen to try out many of the recipes, and that is certainly what Michael did with me with this book. Fantastic job!
-- Scott Roberts, Spicy Food Blogger
This new book by Mike Hultquist is another do it yourself culinary treasure. Mike tempted me with hot sauce but set the hook with the Homemade Soup and Stews section. Unbelievable range with cuisines from around the globe. Great job Mike! Now that dehydrator will work year-round instead of just chile harvest!
-- John Hard, Founder of CaJohn's Fiery Foods and Hot Sauce Hall of Famer
This Spicy Dehydrator Cookbook by Mike Hultquist is simply amazing! It's so informative, but in a helpful, easy to understand way. If you've been curious about dehydrating, this is THE book you need. Who could resist making your own jerky? And not just any jerky, the spicy coffee bourbon bacon jerky is calling my name! Buy this book, and prepare to be amazed!
-- Amanda Batcher, Founder of The Chunky Chef
I know Mike to be an expert when it comes to chili peppers and now he's surprised me with his knowledge for dehydrating. This is the BEST dehydrator book you can buy and the ONLY book you'll ever need. This book has lots of useful techniques and all the recipes you'll ever need for dehydrating.
-- Joanna Cismaru, creator of Jo Cooks and author of 30-Minute One-Pot Meals
Michael is a master of transforming simple and often homegrown ingredients, enhancing their flavor potential and applications using the timeless food preservation technique of dehydrating. He knows how to coax the flavor and heat out of chilies, creating various recipes for capsaicin fanatics! This book not only teaches you how to make healthy and enticing recipes, but gives you tips for transforming food scraps into to edible creations so nothing is wasted, only savored. This collection of innovative sweet and savory snacks, meals and drinks is designed to keep your taste buds guessing!
-- Jessica Gavin, Culinary Scientist
"This is absolutely the greatest dehydrator book that I have. LOVE IT. Now it's time to grow more pepper plants!"
-- Steve Seabury, author of "Mosh Potatoes" and Founder of "High River Sauces"
Some people just eat and this book is not for them— and then there are very special people who enjoy the exhilaration of explorative cooking using the magical properties of robust flavors—they will enjoy The Spicy Dehydrator Cookbook. One of the most amazing taste sensations that will thrill your taste buds is a reduction of flavor to its truest essence. Jumpstart your flavor experience by devouring this one of a kind cookbook. It's just not a cookbook on how to make the best jerky in the world, but it's a thorough explanation of how reductions through dehydration can stimulate flavors to their greatest potential. As an award winning barbecue pitmaster and restaurant owner, I found this book amazingly tasty and nowit will be front and center in my kitchen. Buy it. Devour it. It will flavor spank your taste buds awake!
-- "Famous Dave" Anderson, America's Rib King and Founder of Famous Dave's of America, Inc. and Jimmie's Old Southern BBQ Smokehouse
The Spicy Dehydrator Cookbook offers a hot new way of turning the process of dehydration into an art. In this book, Hultquist offers tips for getting max flavor from the foods you dehydrate. His unique recipes appeal to any spice or dehydrator enthusiast"
-- Rick Carey, President of the Nesco Brand
"Who knew you could do so many things with a dehydrator! Michael Hultquist, from the popular food blog Chili Pepper Madness, has elevated the concept of classic dehydrator recipes to knew levels of culinary enlightenment. From artful seasonings and sauces, to sensational snacks and meals, The Spicy Dehydrator Cookbook moves the food dehydrator from the back of the pantry to the center of the kitchen."
-- Sommer Collier, Creator of A SPICY PERSPECTIVE
I was never inspired by my dehydrator because all it ever produced was boring beef jerky. With Michael's new book in hand I'm now making my own chili powders, fruit leathers and some truly inspired beef jerky! This is a game changer.
-- Ray Lampe, Dr. BBQ, Member of the BBQ Hall of Fame
"Mike combines a lifetime of culinary knowledge with visually stunning images. I could almost smell the spices on the pages themselves. This is a masterpiece that should be in every chilihead's kitchen"
-- Sir McMillen, Publisher - Chile Pepper magazine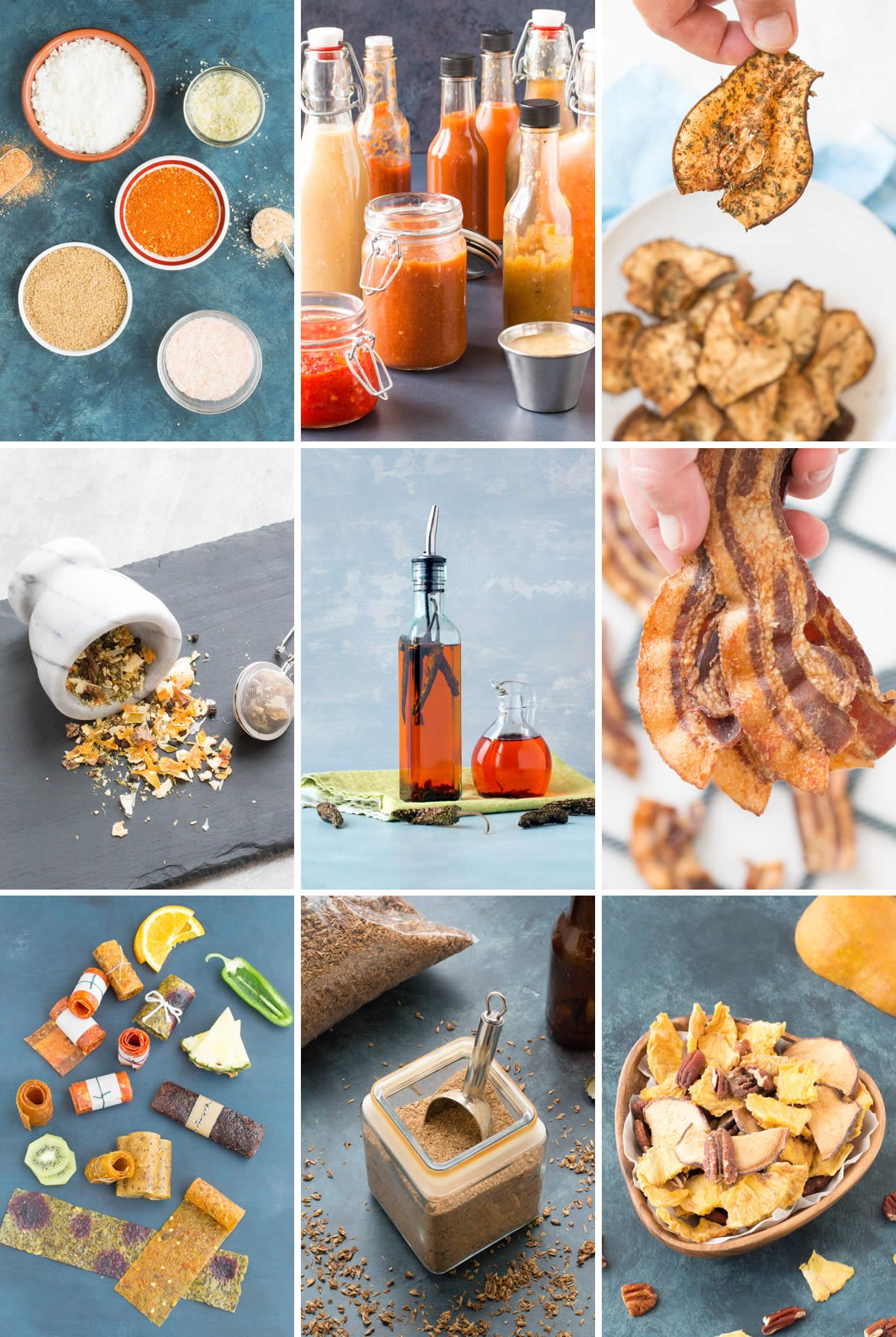 Try Some of My Dehydrator Recipes