Make your own tropical fruit leather/fruit roll ups at home with this recipe, with star fruit, kiwi and mango. Get your dehydrator ready!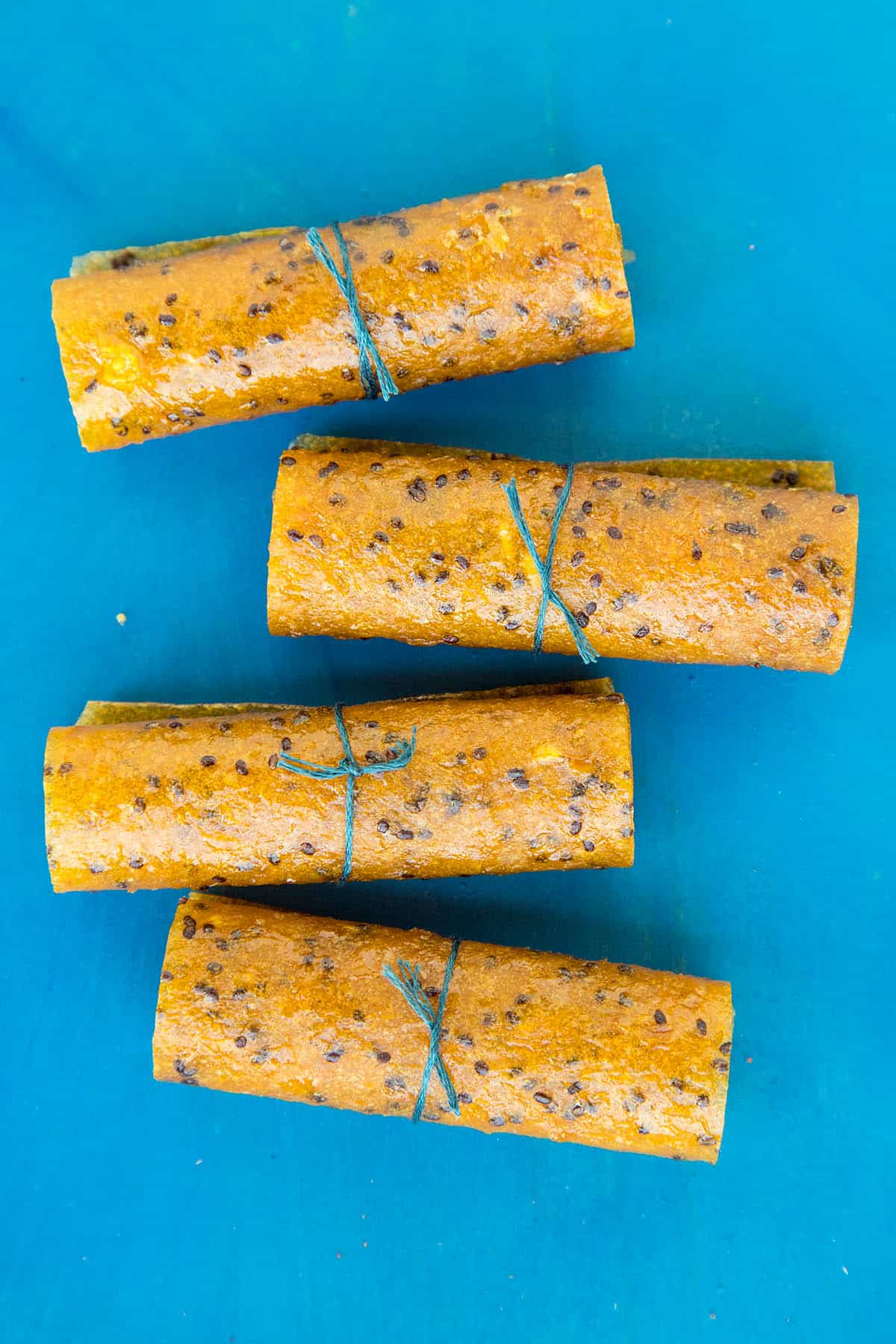 Tropical Fruit Leather Recipe (Fruit Roll Ups)
Get yourself a tropical mix of fruit together to make a homemade sweet snack. This combination brings me back to the beach. I've been making more and more of these lately.
We're talking Tropical Fruit Leather, my friends. This just might be your new favorite sweet snack!
I've always loved sweets, but I'm more of the candy type rather than your typical desserts. I enjoy a handful of lemonheads over chocolate usually, which is why I'm drawn more to fruits when I want to snack on something.
Tropical fruit makes for some GREAT fruit leathers, aka Fruit Roll Ups. I'm sure you enjoyed them as a kid, those slightly sticky, sweet, chewy sheets of gooey fruit candy.
This recipe is exactly that, though since we're making them at home, we're controlling everything we're putting into them.
Good thing, right?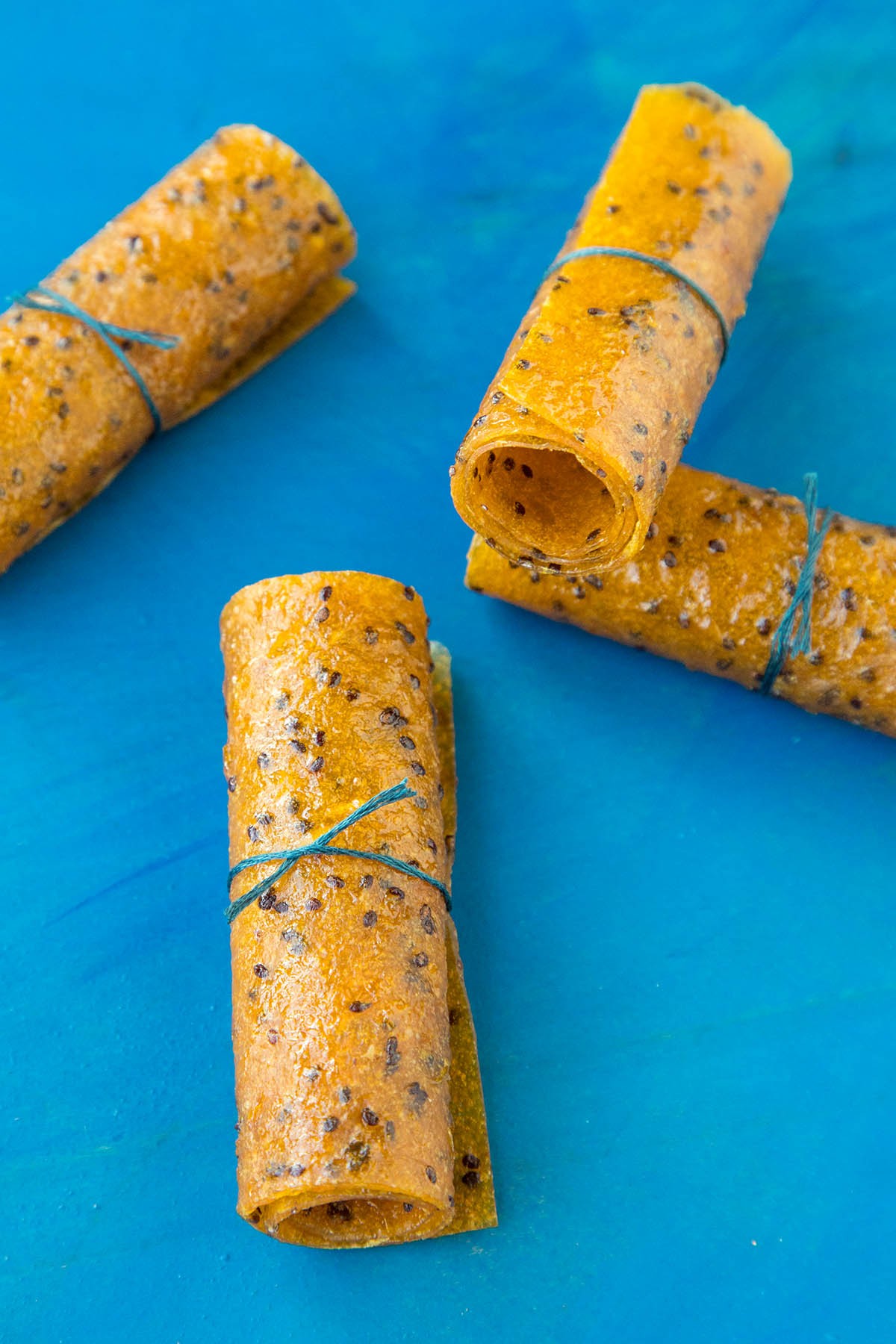 Who needs all that added sugar and all those extra chemicals. We're making a much healthier homemade fruit leather version of that favorite chilhood fruit leather / fruit roll up snack, and truly, these are better than those anyway!
So... it's time to bust out that dehydrator!
So, you really don't need many ingredients to make a fruit leather. In this case, all you need is some tropical fruit, honey, lemon juice and a bit of water.
Easy!
The process for making your own Tropical Fruit Leather is easy enough.
Fruit Leather Ingredients
Fruit. I'm using star fruit, kiwi fruit and mango to make tropical fruit leather, though you can use any fruit. Use your favorite fruit. Fresh fruit is best.
Honey. For sweetness.
Lemon Juice. Other citrus is good, too.
Water. As needed.
How to Make Fruit Leather - The Recipe Method
Simmer. Start by simmering all of the ingredients in a pot until the peppers soften and the fruits start to break down and release their juices.
Process the Cooked Fruit. Process them in a blender or food processor once it has cooled to room temperature to form a thin jam-like consistency.
Spread and Dehydrate. Spread the fruit mixture out over dehydrator sheets or leather trays, which should come with your dehydrator (if not, you can purchase them). A baking sheet can work as well with wax paper or a strip of parchment paper.
Finally, dehydrate the leathers for 6-8 hours, or until the leather has set and you can lift it off the trays easily enough. There should be no moisture left in the center and it should be no longer tacky, so be sure to check that. You may need a knife to separate the leather from the tray if it sticks a bit too much, but I usually do not have a problem.
Give it a try and let me know how you like your tropical fruit leather!
Recipe Tips & Notes
Fruit Options. You can make fruit leather with just about any fruit, or combination of fruits. I enjoy mixing it up, a bit of trial and error to see which flavors are my favorites. Try it with apples, pears, pineapple, strawberry, blueberry, so many options.
Drying Times. Your drying times may vary, depending on your dehydrator and other external variables, like temperature.
Drying Temperatures. Check the drying temperature recommendations for your dehydrator model in the manual that came with it. Some recommend drying at a temperature of 170 degrees F, though 130 degrees F is sufficient for most models.
Go Get a Dehydrator!
If you do not yet own a dehydrator, I urge you to order one up. I LOVE my dehydrators (yes, I own two) and use them all the time. They're essential for making dry fruit, fruit leathers, jerky, spice blends, preserving in general and more. Here are links to the two that I personally own (Affiliate Links, my friends! FYI):
The Nesco is a smaller dehydrator that is perfect for general home use: Nesco FD-75A Snackmaster Pro Food Dehydrator, White
The Excalibur is a larger 9-tray dehydrator that is ideal for larger batches: Excalibur 3926TB Food Dehydrator, Black
I use and highly recommend both of these.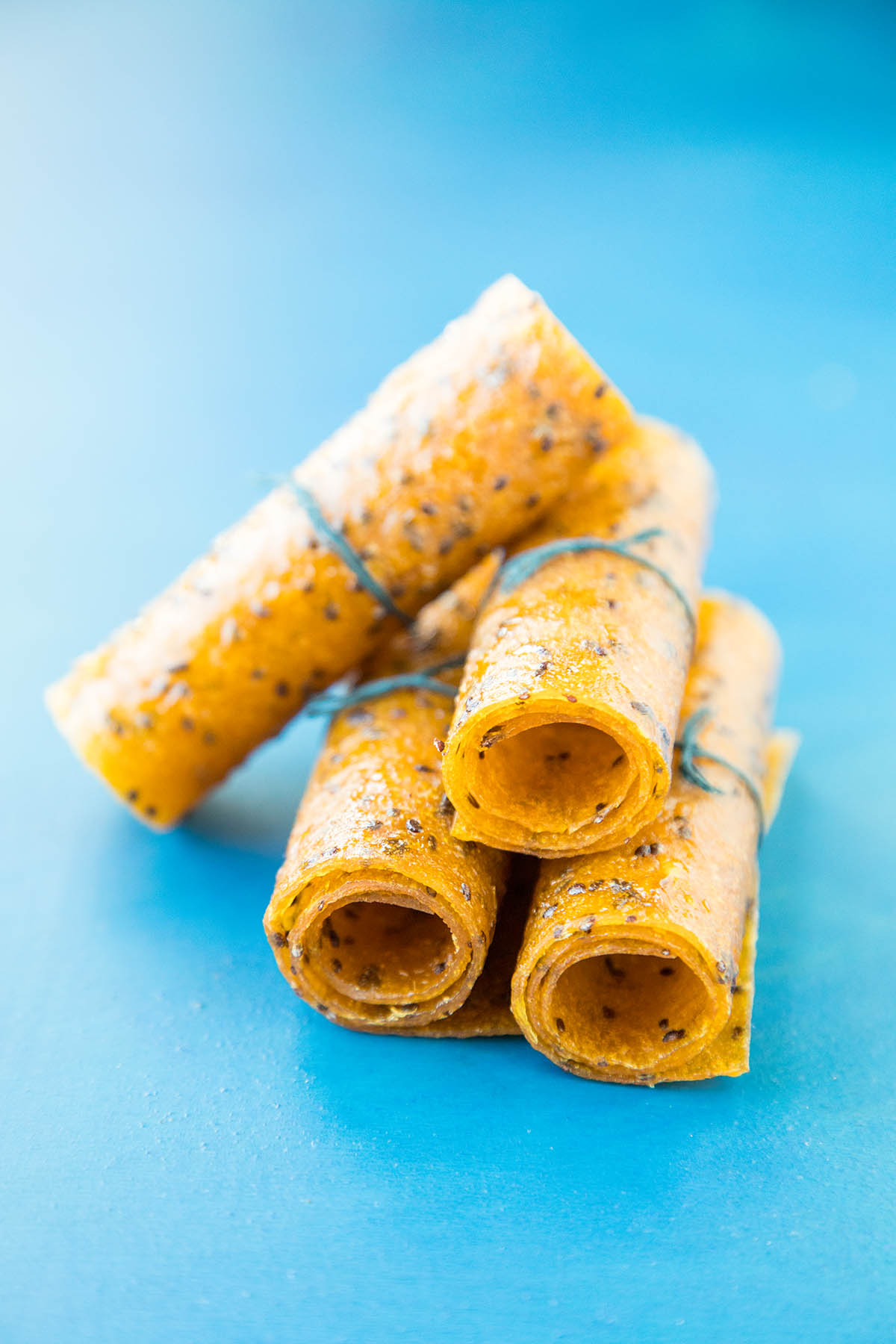 Storage & Leftovers
Storing your Tropical Fruit Leather in an airtight container in a dry, cool place may allow to keep it for up to 2-3 months. YEAH!
Check Out Some My Other Popular Dehydrator Recipes
Got any questions? Ask away! I'm happy to help. If you enjoy this recipe, I hope you'll leave a comment with some STARS. Also, please share it on social media. Don't forget to tag us at #ChiliPepperMadness. I'll be sure to share! Thanks! — Mike H.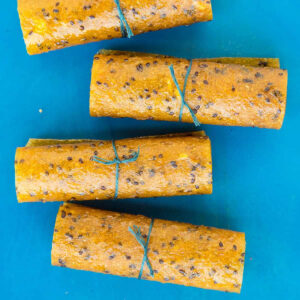 Print
Tropical Fruit Leather Recipe (Fruit Roll Ups)
Make your own tropical fruit leather/fruit roll ups at home with this recipe, with star fruit, kiwi and mango. Get your dehydrator ready!
Save Recipe
Saved!
Ingredients
1

cup

chopped star fruit

1

cup

chopped kiwi fruit

1

cup

chopped mango

3

tablespoons

honey

1

tablespoon

lemon juice

2

tablespoons

water
Instructions
Add all of the ingredients to a pot and bring to a simmer. Cook for about 10 minutes, or until the fruit starts to soften and break down. Cool the fruit mixture a bit, then add it to a food processor and process it until nice and smooth. Spread it over a dehydrator leather tray or drying sheet to ¼ inch thickness. I use a spoon to spread it out as evenly as possible, one cup per sheet. This will help it dehydrate more evenly.

Dehydrate at 130°F for 6-8 hours, or until the leather peels away from the tray easily. You might need to use a knife to get along the edges, as it will be tacky, but it should not stick too much.

Flip the fruit leather and continue dehydrating another 2 hours, or until it is completely dry and there aren't any moist spots left.

Cool it down a bit, then roll it up. You can enjoy your fruit leather now, or wrap in plastic wrap and store in a cool, dry place. Keeps for 6 months or longer.
Notes
Makes 3 large leathers that you can slice and divide as desired.
Nutrition Information
Calories:
29
kcal
Carbohydrates:
7
g
Potassium:
67
mg
Sugar:
6
g
Vitamin A:
135
IU
Vitamin C:
18.4
mg
Calcium:
5
mg
Iron:
0.1
mg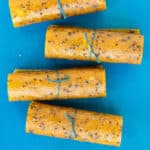 Did You Enjoy This Recipe?
I love hearing how you like it and how you made it your own. Leave a comment below and tag @ChiliPepperMadness on social media.