Get a blast of Caribbean flavor with this Jamaican jerk marinade recipe made with fiery scotch bonnet peppers and a blend of piquant seasonings.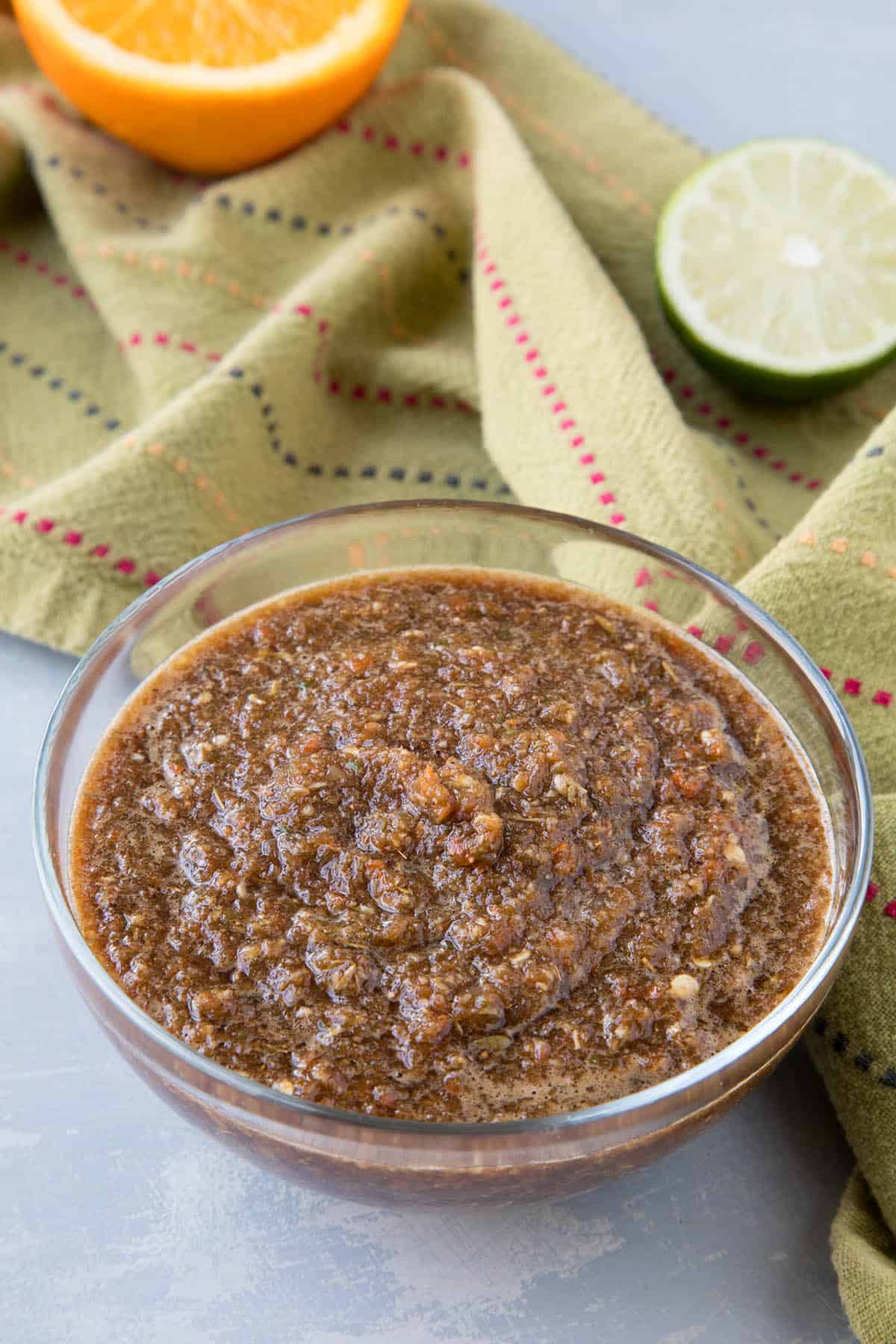 When it comes to flavors of the Caribbean, Jamaica brings it. Jamaican cuisine is filled with so many wonderful and piquant spices that combine to make big and bold dishes.
And the chili peppers! Jamaicans love their scotch bonnet peppers, which offer a spicy heat on the same level as the habanero pepper. It's definitely a cuisine to satisfy the cravings of my spicy food loving friends. Which is a big reason I love it so much.
Spicy and big on flavor.
This particular recipe encapsulates everything that Caribbean flavor is about. We're talking Jerk Marinade, my friends, and it's absolutely in your spicy food loving wheelhouse. It's super easy to make. I love easy.
Let's discuss!
The Benefits of a Good Marinade
Marinating is all about building flavor. A good marinade, such as this popular Jamaica jerk marinade, will add flavor above and beyond the food you are marinating. It also helps to add moisture as well as tenderize tough cuts of meat.
Popular foods for marinades include thin cuts of steak, pork, chicken, and many seafood items. You don't need to limit yourself to marinating only meats, however. Vegetables can also benefit from a flavorful marinade.
Plus, many marinades can be turned into a sauce to finish your meal, though it is important that you do not try to make a sauce out of USED marinade. To make a sauce, take half of your unused remaining marinade and heat it in a pan. Bring it to a quick boil, then simmer it until it reduces to your preferred thickness.
Once your meal is done, use this sauce as an additional flavor enhancer.
You'll see that this jerk marinade is, in fact, very similar to this Jamaican Jerk Sauce Recipe.
What Ingredients Are in Jerk Marinade?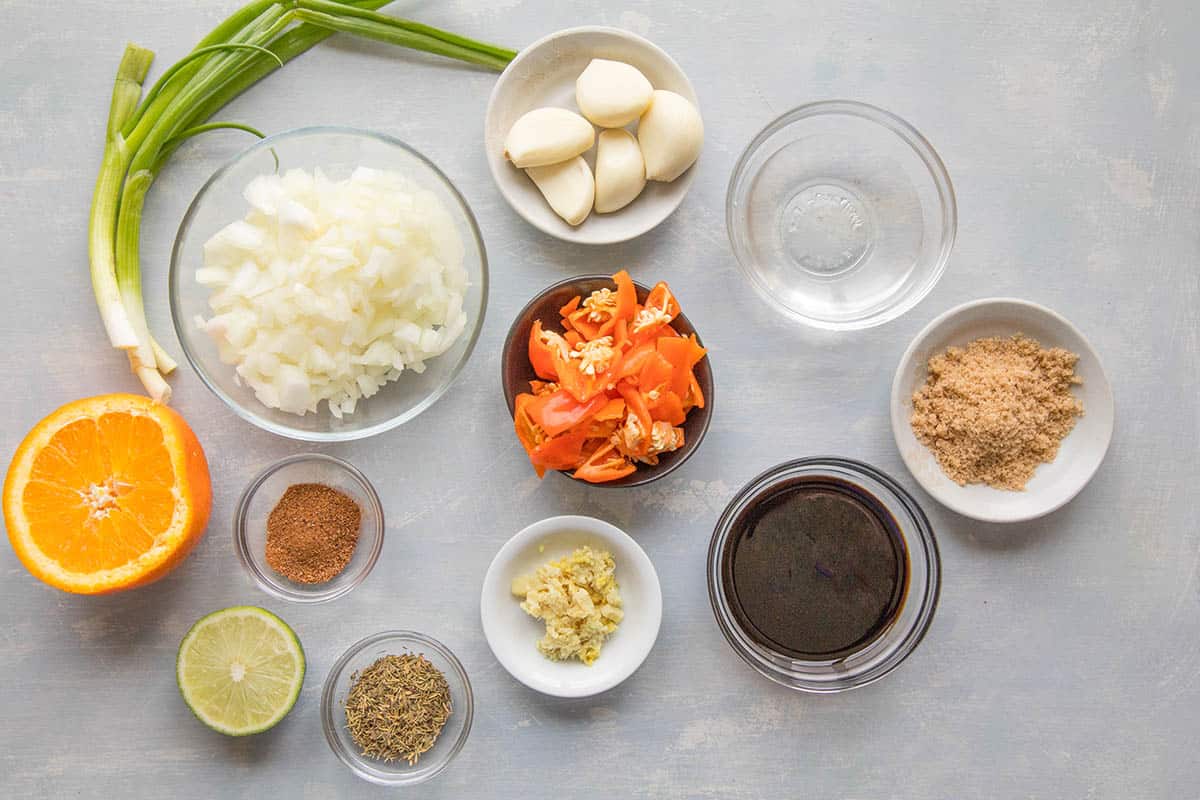 Scotch Bonnet peppers
Red onion
Garlic
Scallions
Soy sauce
Vinegar
Olive oil
Orange juice
Lime juice
Ginger
Brown sugar
Nutmeg
Allspice
Cinnamon
Thyme
Salt and pepper
There are other possible ingredients and variations, of course, depending on the cook. These are my preferred ingredients.
How to Make Jerk Marinade
Add all of the ingredients to a food processor or blender.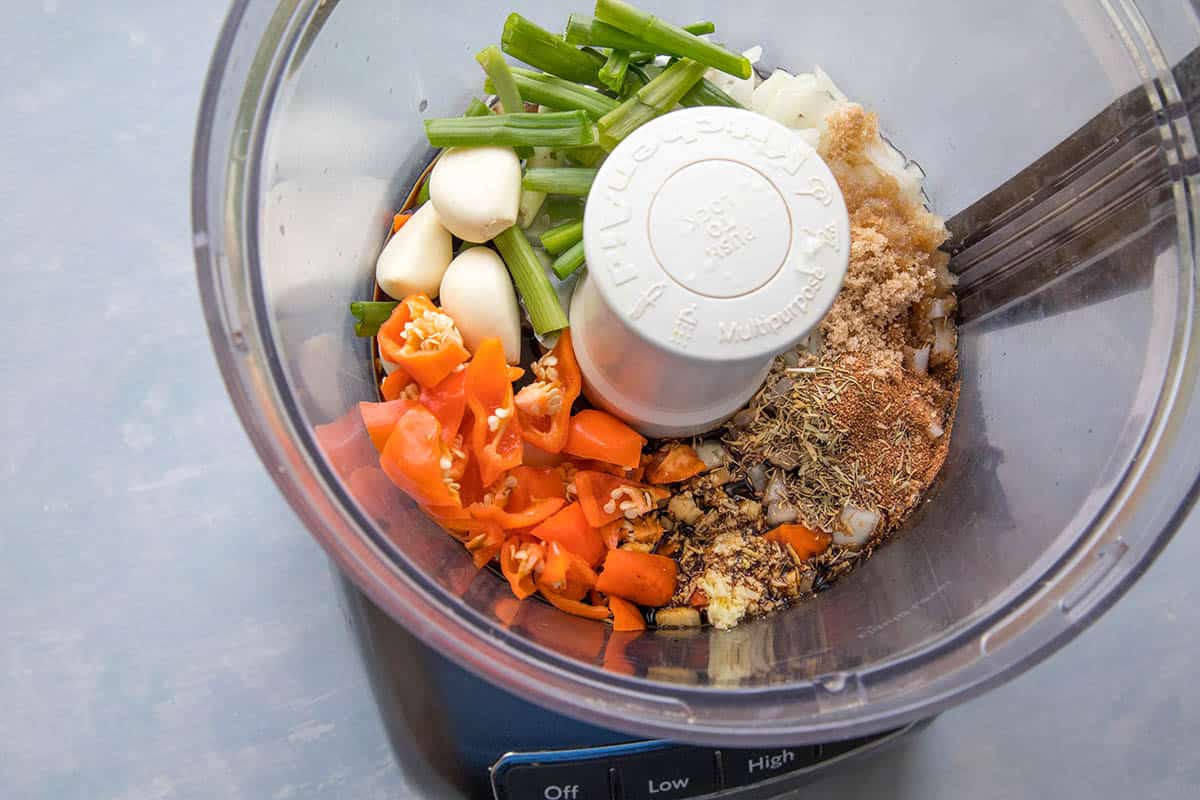 Process until smooth.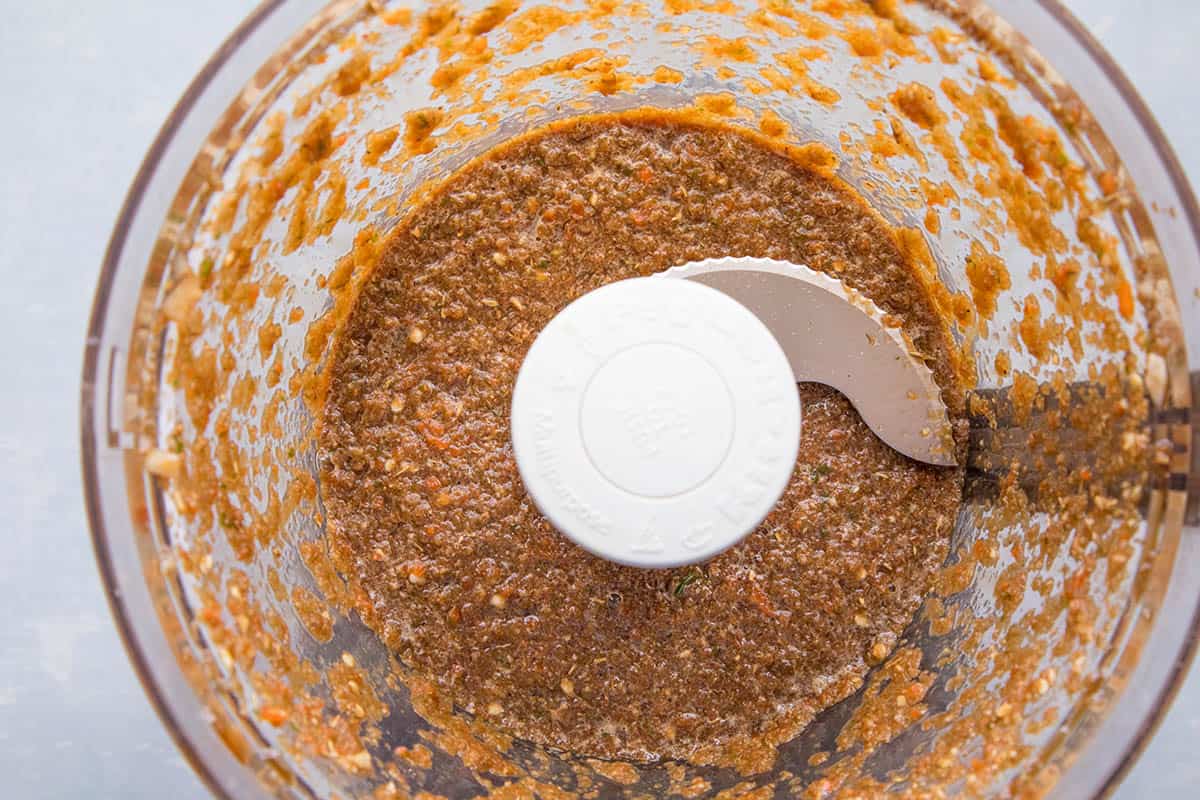 Use immediately to marinate your chicken, pork, seafood or vegetables.
Jerk seasoning is essential to making a great Jamaican jerk chicken, so be sure to keep this recipe in your back pocket, my friends.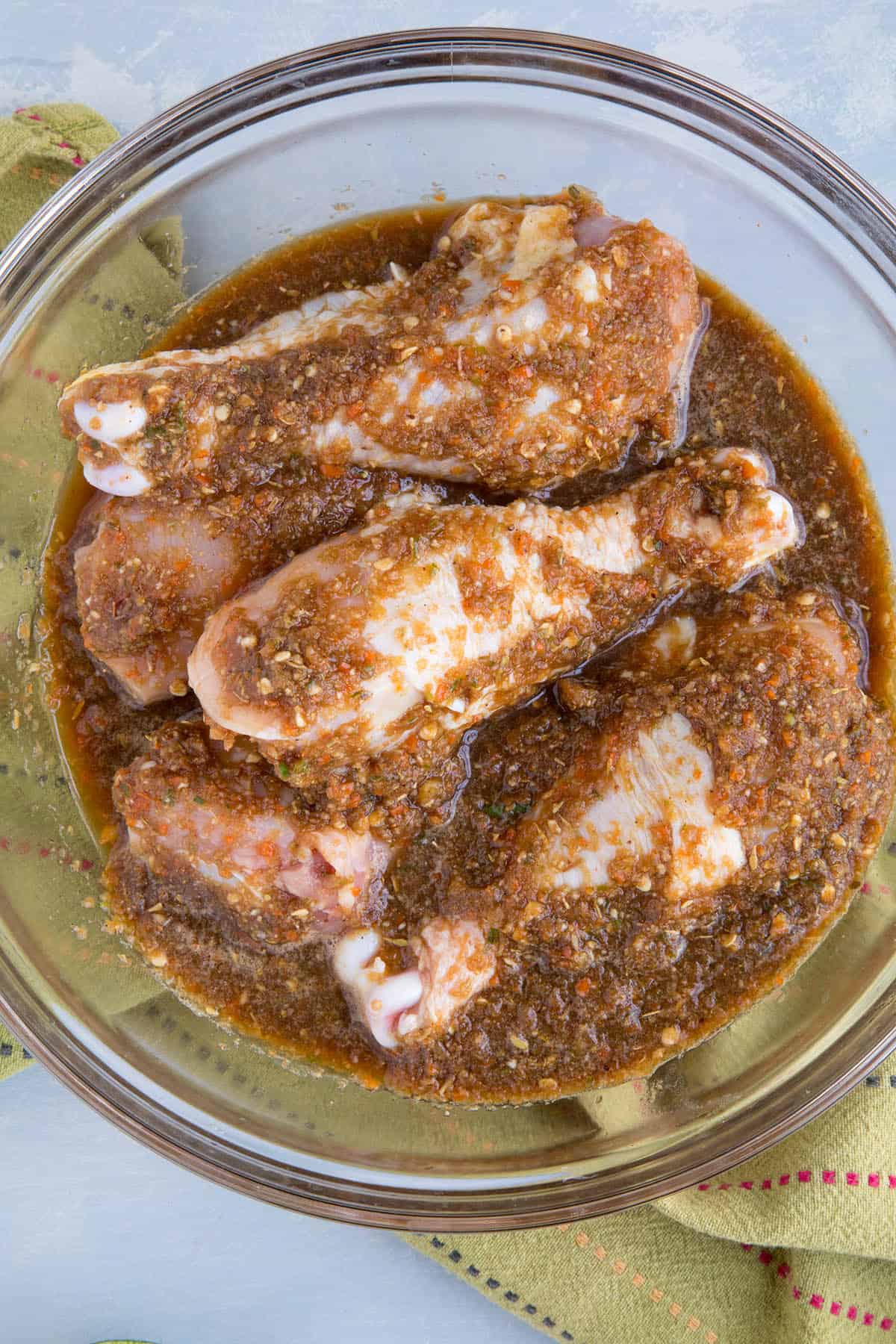 How to Use Jerk Marinade
To use the marinade, simply toss your meat or vegetables with the jerk marinade to cover as much of it as possible. It is best to coat the food completely. Cover and refrigerate to let the flavors permeate.
Marinating time will vary based on what you are marinating. Light seafood such as flaky white fish or shrimp, and most vegetables, will only need 1 hour or less to benefit from the marinade flavor. Tougher cuts of meat will need several hours and can even be left overnight to optimize flavor.
Making Jerk Chicken
Use this marinade to make the popular jerk chicken by rubbing down and submerging the chicken in your jerk marinade. Get as much of the chicken covered as possible. Keep it in a large bowl or a plastic bag.
Cover and refrigerate the chicken for at least 4 hours, though overnight is best for maximum flavor. You can use any type of chicken for this, either bone-in or boneless chicken.
When you're ready to cook, remove the chicken and discard the marinade. Then, cook the chicken through either on the grill or in the oven per your recipe.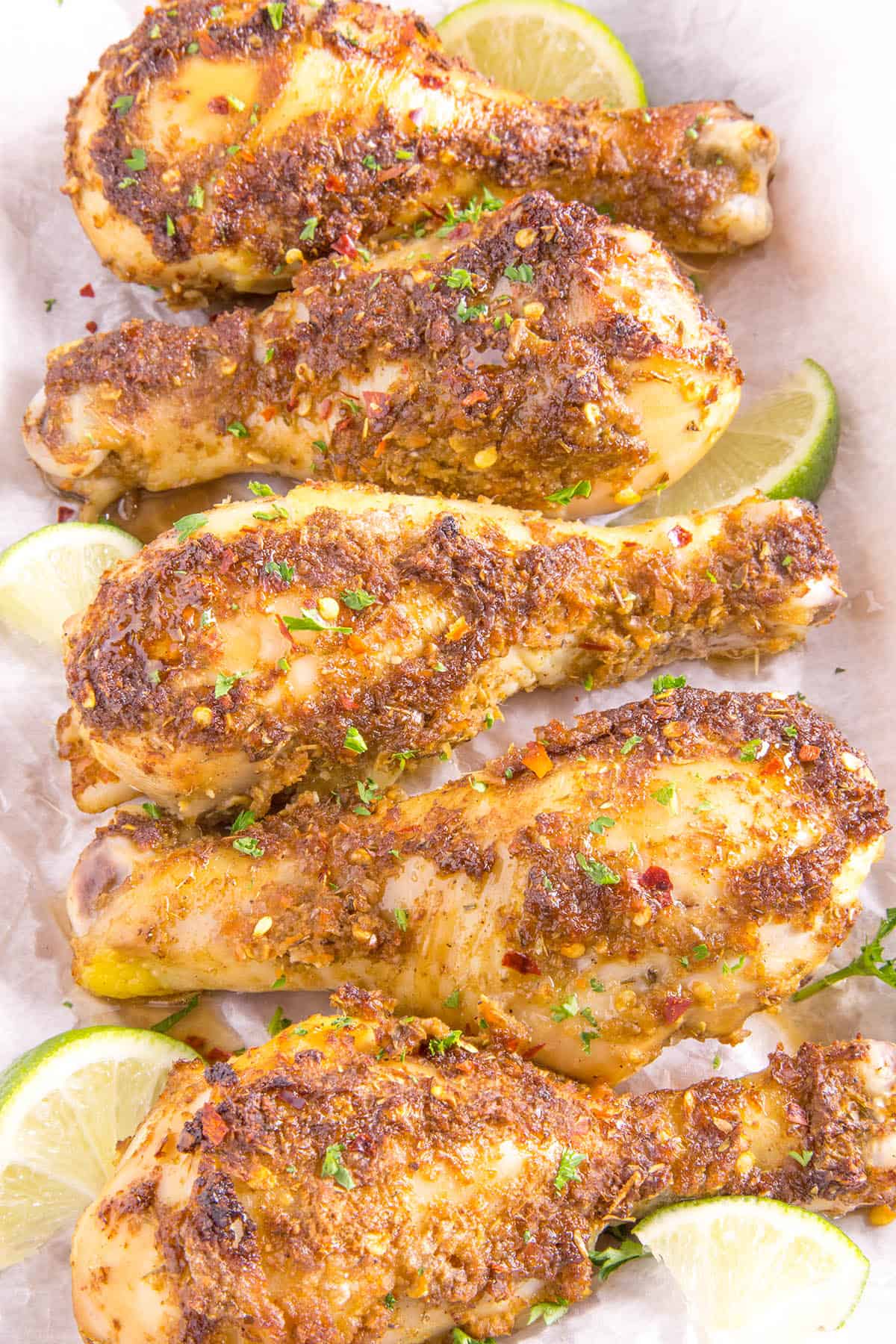 Try this Jamaican Jerk Chicken Recipe.
WHY IS IT CALLED "JERK"?
Jerk refers to the style of original Jamaican cooking. It is the process of poking holes into meat so it can be permeated with more flavor. This is called "jerking".
"Jerk" became associated with the particular spice rub used to spice up those meats, and the name stands today. Jerk can refer to jerk spice blends, jerk marinade, and the cooking technique in general.
Recipe Tips
If you are unable to find scotch bonnet peppers, use habanero peppers instead.
If you prefer a milder jerk marinade, dial back on the scotch bonnet peppers, or core them out and remove the innards.
Wear gloves when handling hot chili peppers to avoid the dreaded chili pepper skin burn from the oils. If you do experience burning skin, see How to Stop the Chili Pepper Burn.
Try Some of These Other Marinades
Try Some of My Other Jamaican Recipes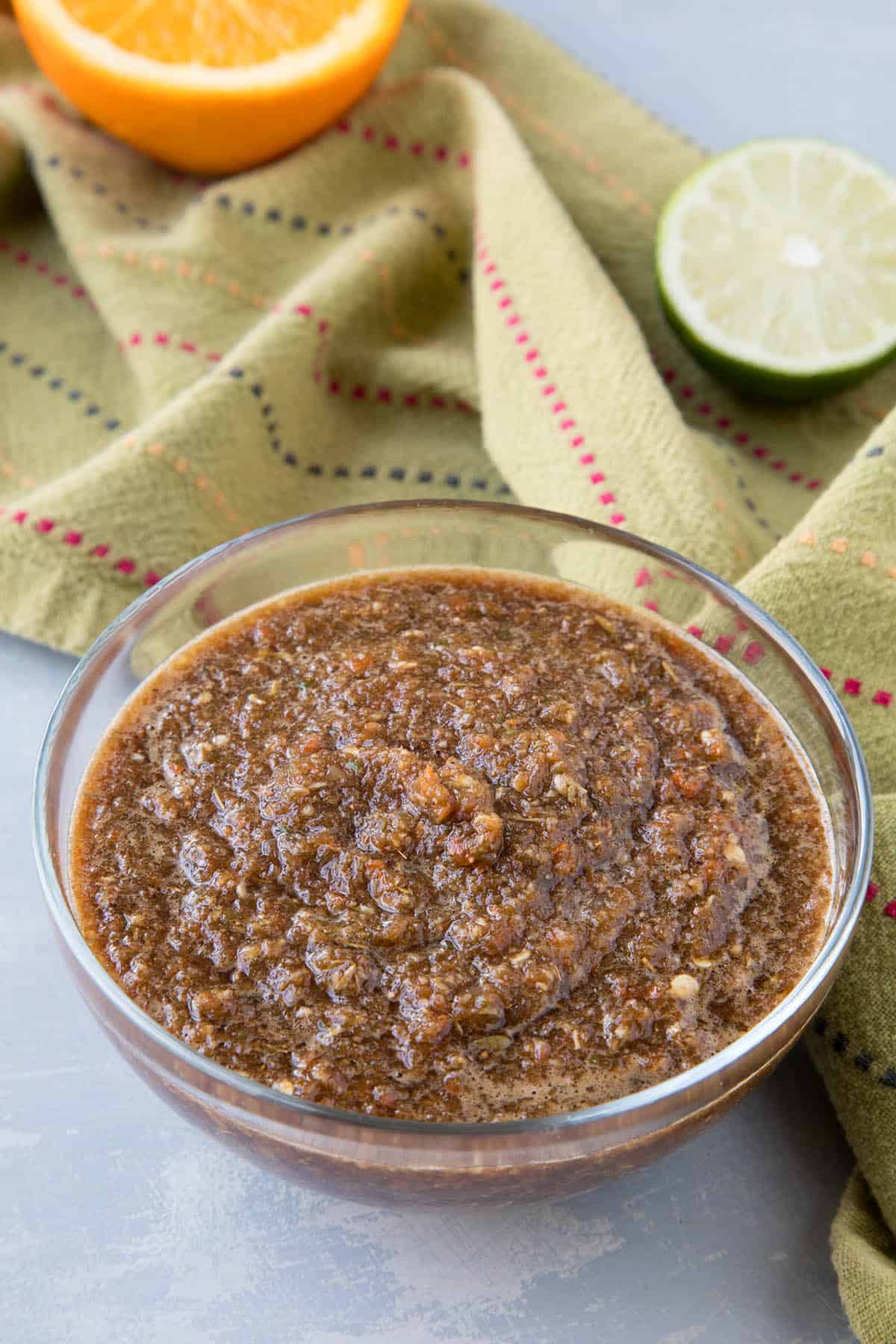 If you enjoy this recipe, I hope you'll leave a comment with some STARS. Also, please share it on social media. Don't
forget to tag us at #ChiliPepperMadness. I'll be sure to share! Thanks! -- Mike H.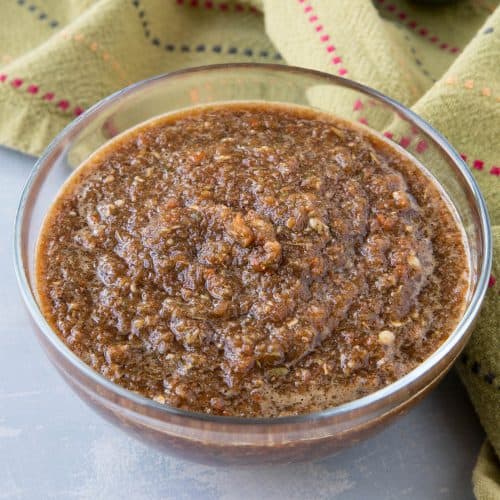 Print
Jamaican Jerk Marinade Recipe
Get a blast of Caribbean flavor with this Jamaican jerk marinade recipe made with fiery scotch bonnet peppers and a blend of piquant seasonings.
Save Recipe
Saved!
Ingredients
4-6

Scotch Bonnet peppers

chopped

1

small red onion

chopped

4-6

garlic cloves

chopped

4

stalks scallions

end trimmed

1/4

cup

soy sauce

1/4

cup

vinegar

(use white vinegar or apple cider vinegar to your preference)

2

tablespoons

olive oil

Juice from 1 large orange

about ¾ cup (orange juice)

Juice from half a lime

lime juice

1

tablespoon

freshly grated ginger

2

tablespoons

brown sugar

1

teaspoon

nutmeg

1

teaspoon

allspice

1

teaspoon

cinnamon

1

teaspoon

dried thyme

or use fresh if available

Salt and pepper to taste

I usually use 1 teaspoon salt and 1 tablespoon black pepper
Instructions
Add all of the ingredients to a food processor. Process until smooth.

Use immediately to marinate your chicken, pork, seafood or vegetables.
Notes
Heat Level: Medium-Hot. You will get a good level of heat from Scotch Bonnets, which are very comparable to habanero peppers in both heat and flavor. You can bring up the heat by incorporating more Scotch Bonnet peppers, or by using hotter peppers or chili flakes. Bring down the heat level by reducing the Scotch Bonnets, or by replacing them with milder peppers.
Nutrition Information
Calories:
63
kcal
Carbohydrates:
6
g
Protein:
1
g
Fat:
3
g
Sodium:
408
mg
Potassium:
74
mg
Sugar:
4
g
Vitamin A:
105
IU
Vitamin C:
9.8
mg
Calcium:
21
mg
Iron:
0.5
mg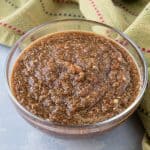 Did You Enjoy This Recipe?
I love hearing how you like it and how you made it your own. Leave a comment below and tag @ChiliPepperMadness on social media.