Spicy BBQ Chicken Marinade always creates the most tender, juicy, and flavorful chicken! You can easily adjust the spice level to best fit your needs. It's really a great recipe for anyone to use, whether you're a spice lover or not.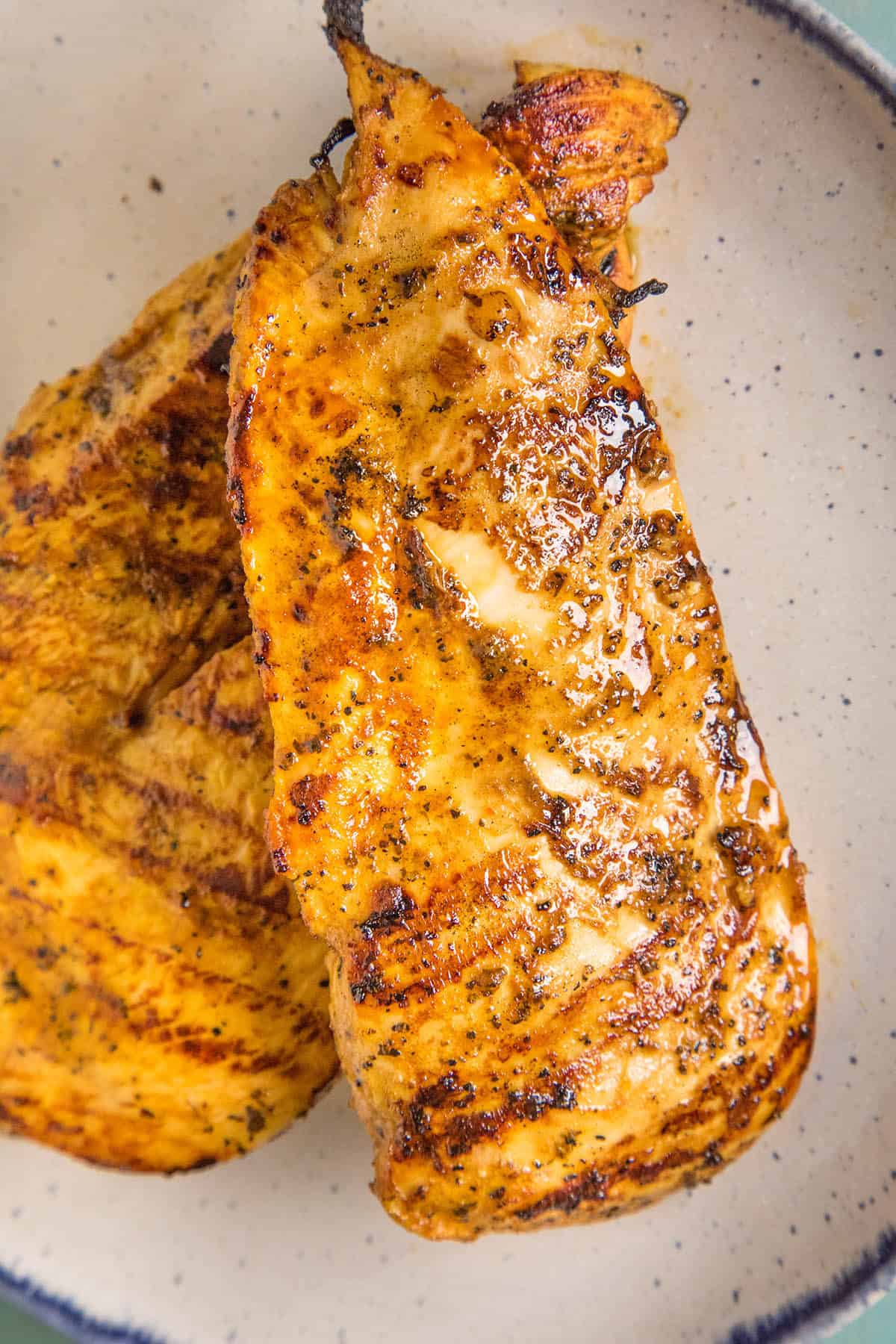 Spicy BBQ Chicken Marinade Recipe
Marinating your chicken before grilling it up is a smart way to ensure a juicy, tender and flavorful meal. There are many options for marinating, but I have a great spicy bbq chicken marinade that will REALLY spice it up for you.
This is my favorite way to marinate chicken and it has never failed me.
The best part? It's nice and spicy while still featuring delicious BBQ flavor! Keep in mind that when I say something is spicy, I really mean it. However, you don't have to go as crazy as I do with the hot stuff.
This chicken marinade is super adaptable, and you're free to adjust it to a heat and spice level that you personally prefer.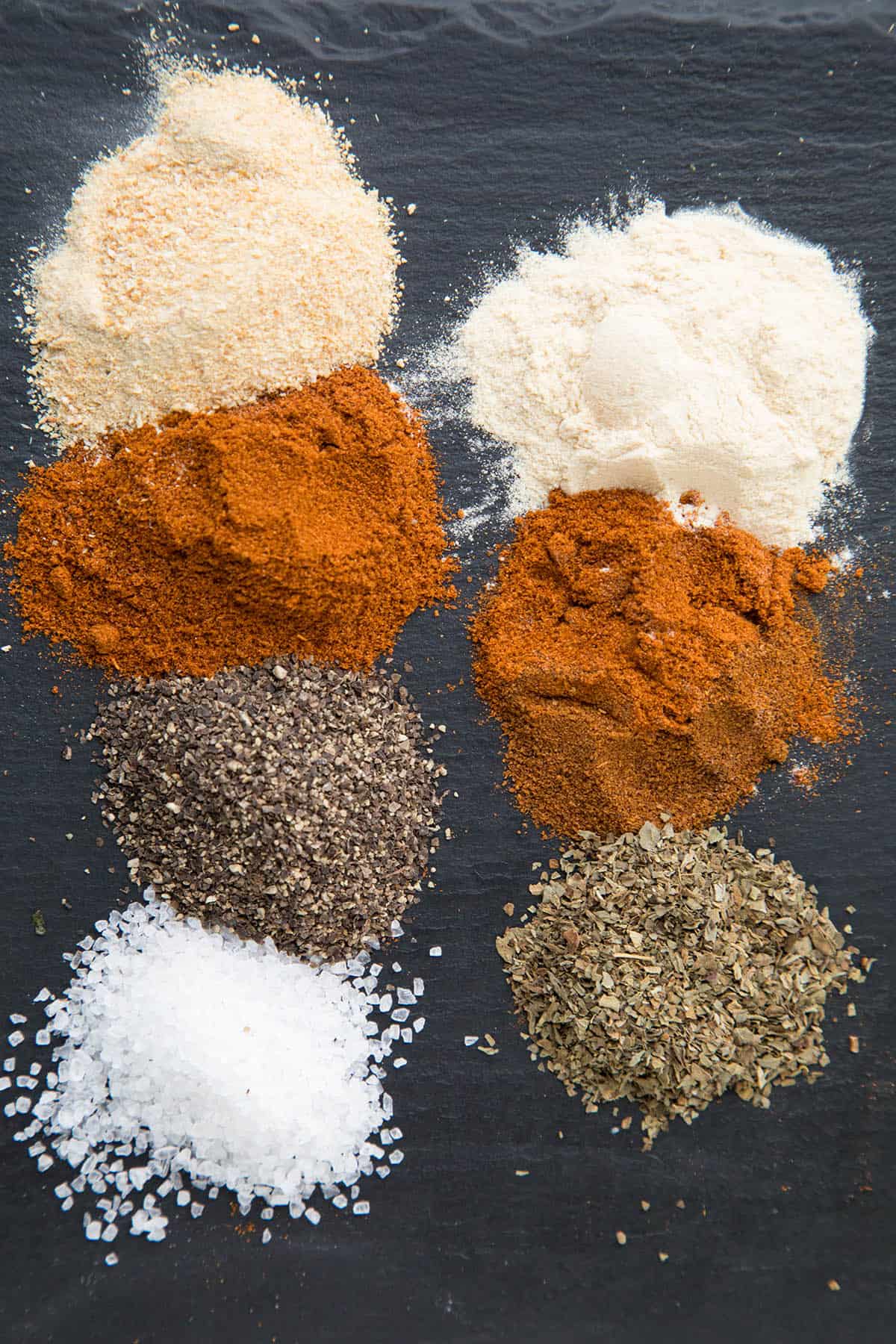 Ingredients in Spicy BBQ Chicken Marinade
Olive oil
Malt vinegar
Worcestershire sauce
Habanero hot sauce
Dried basil
Ghost pepper powder
Smoked paprika
Onion powder
Garlic powder
Salt
Black pepper
Chicken
Can I adjust the spice level?
Yes! Here are just a few things to keep in mind when dealing with spiciness:
If ghost peppers are too hot for you, you can omit it. Try using cayenne powder as an alternative. You'll get some good heat with cayenne chili powder, but it won't be quite so spicy-crazy. If you're looking for a very low heat version, go with extra paprika.
However! If you'd like to go even HOTTER, either include more of the ghost pepper powder, or go with a superhot chili powder. I LOVE my batch of homemade 7-Pot Chili Powder. I use my dehydrator to dry chilies from my garden and grind into my own powders for these sorts of recipes.
See - How to Dehydrate Chili Peppers and Make Homemade Chili Powders and Spice Blends.
For the habanero hot sauce, I used this one: Homemade Cilantro-Habanero Hot Sauce Recipe. There are MANY habanero hot sauces on the market today, so use your favorite, as long as it has a bit of a kick to it that you enjoy. Go for it!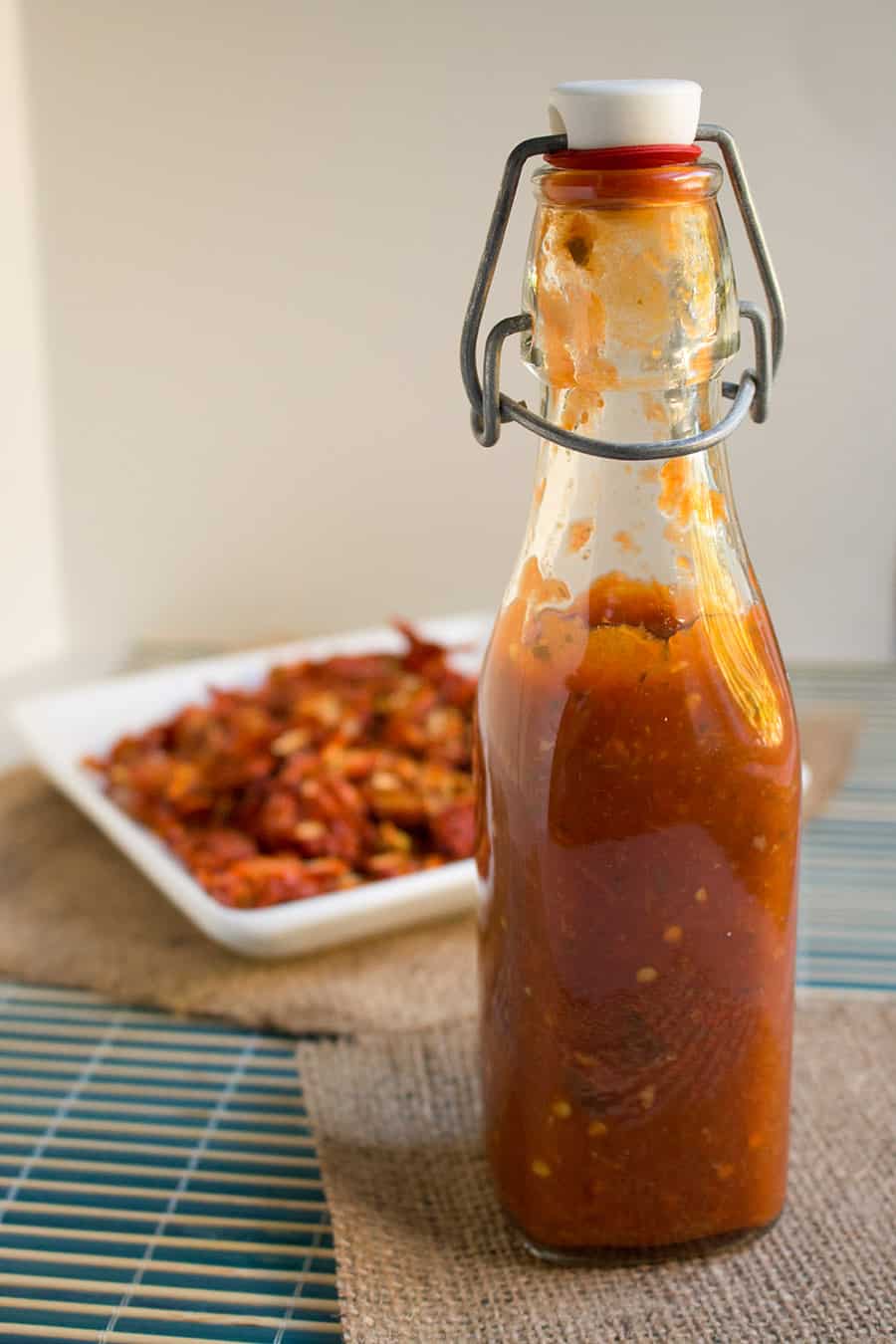 How to Make Spicy BBQ Chicken Marinade
Whisk the Ingredients. Here comes the hard part, my friends. Add everything to a medium bowl and whisk! Easy, right? Look at all those spices. This is going to make some awesome chicken right here, let me tell you.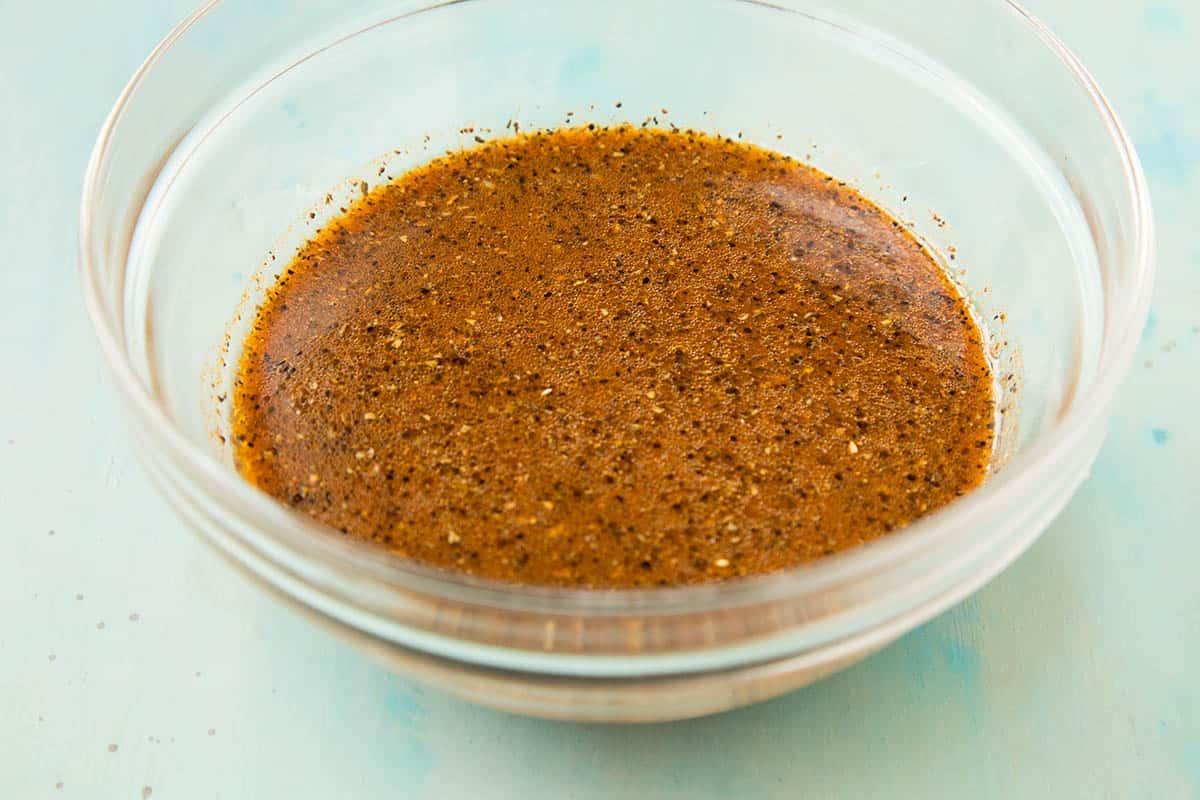 Marinate the Chicken. When the marinade is ready, just add your raw chicken to the marinade and cover it. A plastic bag also works well.
Cover and Refrigerate. Cover it and refrigerate it for a good 8 hours.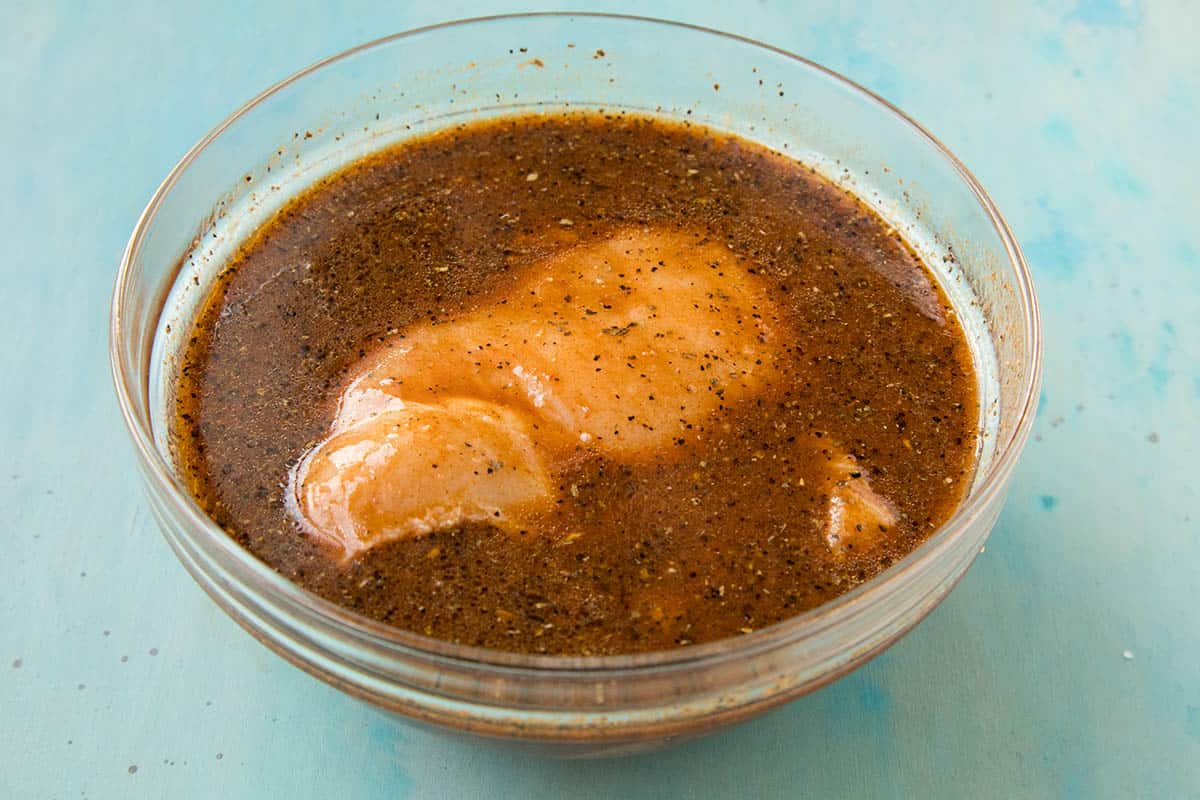 Recipe Tips & Notes
Use any cut of chicken. You can use this marinade for any cut of chicken, with or without the bone. I tend to use this for chicken breasts, though it's great for chicken thighs, legs and wings, bone-in or boneless chicken. I love it with boneless skinless chicken breasts.
Adjust the ingredients. You can easily adjust the amounts of liquids and spices used to achieve your own desired heat level and consistency. I tend to like a bit more oil, as I find that translates to juicier chicken when cooking.
Add other ingredients. You can squeeze in a bit of lemon juice or lime juice if you'd like a pop of citrus. Some other flavorful additions include brown sugar (for a touch of sweetness), soy sauce, and/or balsamic vinegar.
Storage
I recommend using this marinade as soon as possible! Once it's all mixed up, it's ready to go. With that in mind, your chicken should marinate for at least 8 hours, making is great for preparing ahead of time.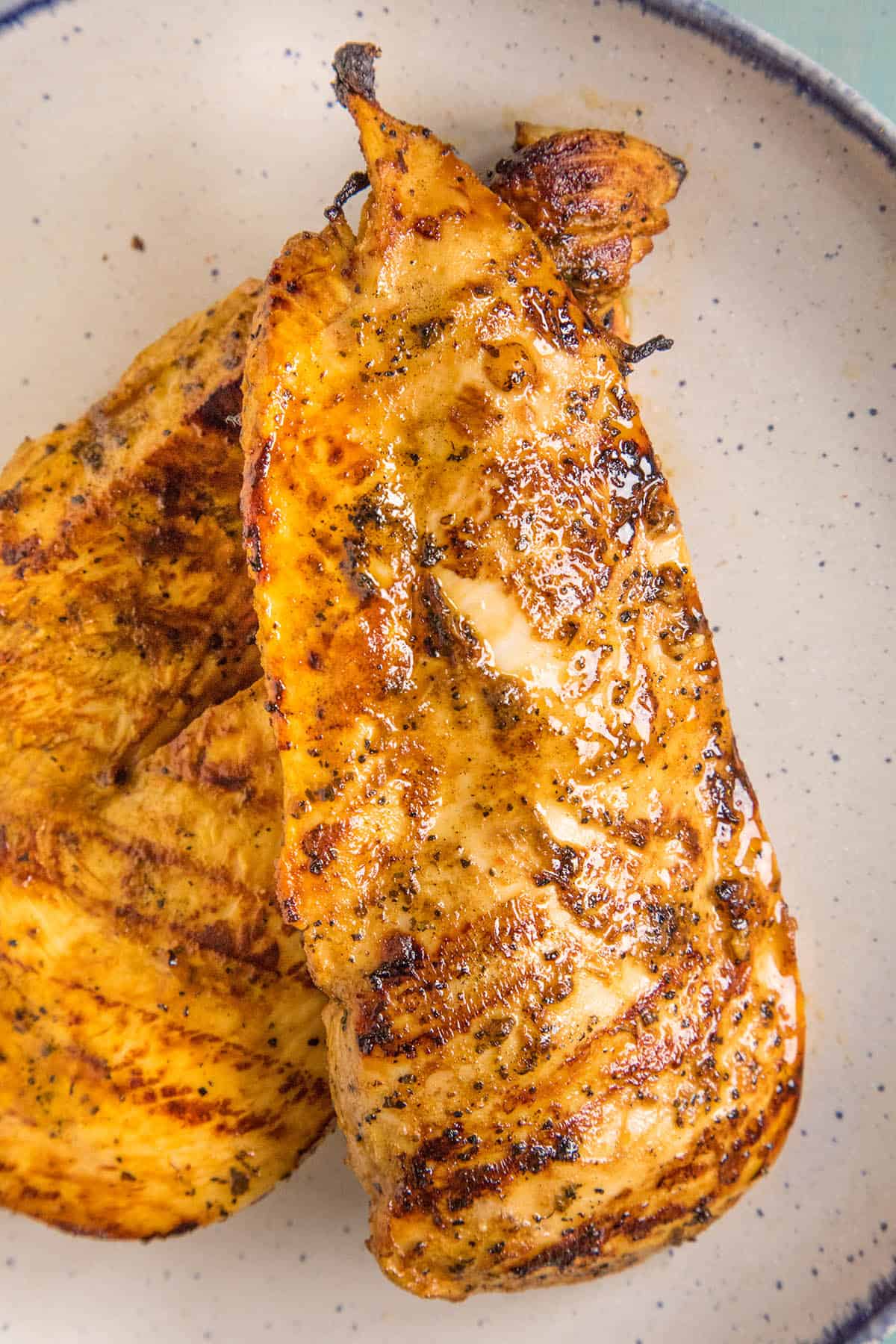 Try Some of My Other Popular Marinade Recipes
If you enjoy this recipe, I hope you'll leave a comment with some STARS. Also, please share it on social media. Don't forget to tag us at #ChiliPepperMadness. I'll be sure to share! Thanks! -- Mike H.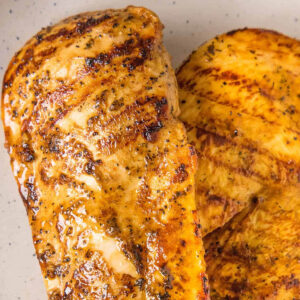 Print
Spicy BBQ Chicken Marinade Recipe
This spicy bbq chicken marinade recipe will give you the most tender and juicy chicken on the grill, and you can make it as spicy as you want it. Let the author of "The Spicy Food Lovers' Cookbook" show you how to spice it up!
Save Recipe
Saved!
Ingredients
½

cup

extra virgin olive oil

¼

cup

malt vinegar

3

tablespoons

Worcestershire sauce

2

tablespoons

habanero hot sauce

1

tablespoon

dried basil

1

tablespoon

ghost pepper powder

SEE NOTES

1

tablespoon

smoked paprika

1

tablespoon

onion powder

1

tablespoon

garlic powder

1

teaspoon

salt

1

teaspoon

black pepper

3

pounds

chicken

approximately
Instructions
Whisk all of the ingredients together until well combined.

Marinate your chicken in a baggie or large bowl, sealed, at least 8 hours in the refrigerator, or overnight for even more flavor.

Cook your chicken however you'd like. Discard the marinade before using. Be sure to cook the chicken until it reaches an internal temperature of 165 degrees F when measured with a meat thermometer.
Notes
Cooking the Chicken. Discard the chicken marinade before cooking. You can cook your chicken any way you'd like - grill, saute, fry, oven bake, broil. However you cook it, be sure to cook the chicken until it reaches an internal temperature of 165 degrees F when measured with a meat thermometer.
Heat Factor. Use 7-Pot or Reaper powder for even MORE heat! If you'd like a milder version, use cayenne powder, or for a low heat version, use paprika.
Nutritional Information calculated without the chicken.
Nutrition Information
Calories:
92
kcal
Carbohydrates:
2
g
Fat:
9
g
Saturated Fat:
1
g
Sodium:
305
mg
Potassium:
85
mg
Vitamin A:
485
IU
Vitamin C:
2.3
mg
Calcium:
18
mg
Iron:
0.9
mg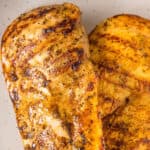 Did You Enjoy This Recipe?
I love hearing how you like it and how you made it your own. Leave a comment below and tag @ChiliPepperMadness on social media.