A homemade hot sauce recipe made with fiery chili peppers, fresh peaches and jerk seasonings for a bit of island flare in a bottle. Perfect for chicken or shrimp.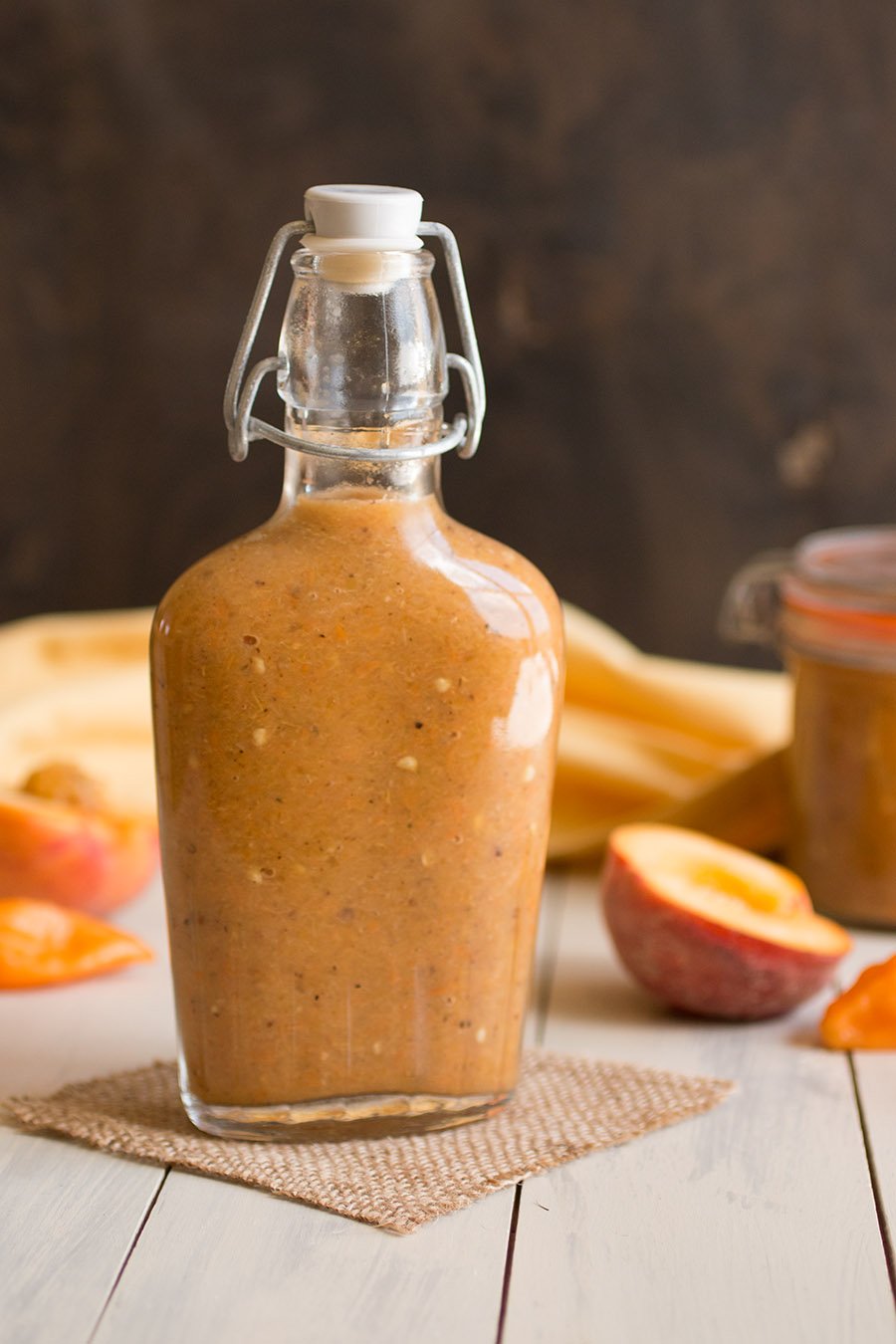 Caribbean Jerk Peach Hot Sauce Recipe
We're making plenty of hot sauce in the Madness kitchen lately. The garden is producing like CRAZY and I'm also preserving in many different ways. I dehydrated a huge batch of superhots this weekend and ground them into a powder for use with rubs and seasoning blends.
I pickled a batch as well, which will keep in the fridge so I can toss a few pickled pepper slices onto my sandwiches for lunch.
I love having so many chili peppers around! Hot sauces are another great way to use up a number of your peppers so you can still enjoy them throughout the year.
The Carbanero Chili Pepper Factor
This particular sauce was inspired by a chili pepper I hadn't tried before. It is called the "Carbanero". I had heard of it in some of the online forums I frequent, though never actually tasted it.
I contacted Tony Sherwood, the man who created the cross, and asked him about the peppers.
He said he created the cross back in 2012. "It's a cross between my Sherwood's Carbon Bhut-7-Pot X and Orange Habanero.
The carbon-Bhut-7-Pot is my first cross it's a cross between the Bhut Jolokia Indian Carbon X Yellow 7-Pot."
Color me intrigued!
He said it wasn't completely stable yet, but I expect it will be over the next several generations. I acquired a small batch of the peppers and knew I had to make a hot sauce with them immediately.
I mean, just look at them.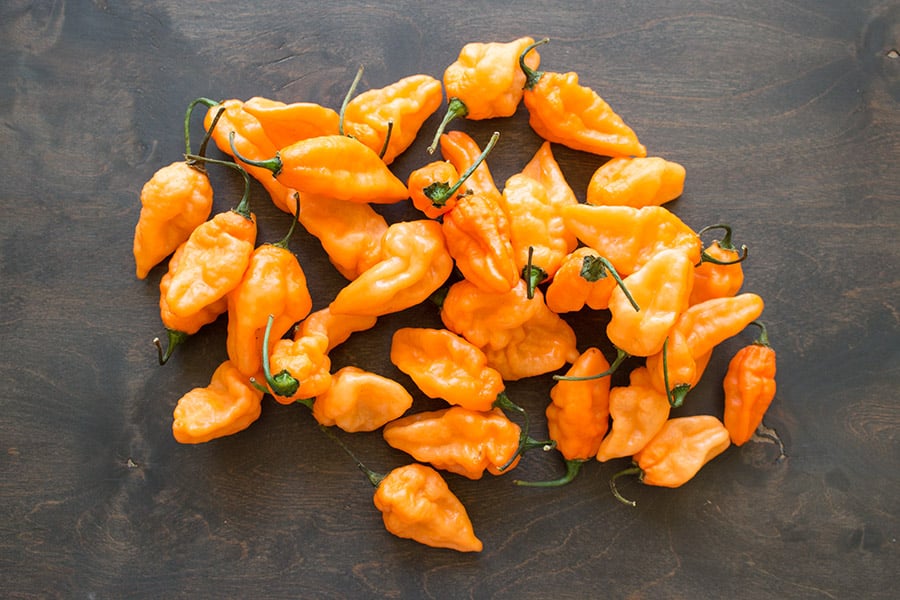 I can see why these peppers are proving so popular. First off, they're gorgeous. Look at how bright and colorful they are.
They look like slightly elongated habaneros with the bumpy skin that more characteristic of the superhots, about the same size as a typical habanero pod.
The flavor is definingly sweet and fruity with a pronounced heat that, to me, is closer to habanero heat than to the bhut jolokia.
Considering the flavor and color, I decided to go the Caribbean route.
JERK HOT SAUCE! And peaches. These babies are perfect with peaches.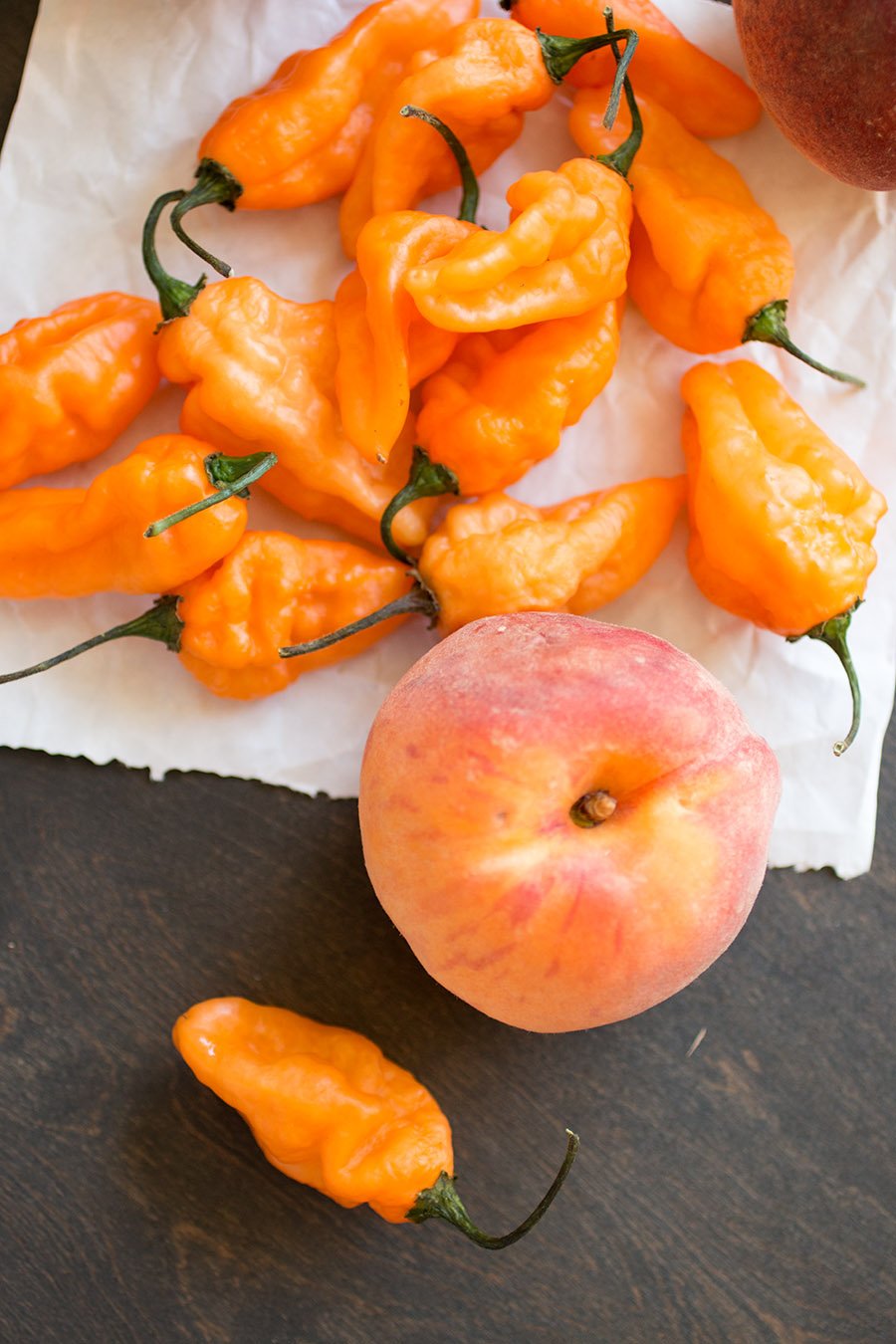 Don't they look pretty together? All these gorgeous ingredients.
I mixed in some onion with the Carbanero peppers and peaches, along with apple cider vinegar, brown sugar and a jerk seasoning blend. You can use store bought seasonings, or make your own with this Homemade Jamaican Jerk Seasonings Recipe.
The resulting sauce is both sweet and savory, leaning toward a fruity-savory combination that is PERFECT for chicken or shrimp.
We used some recently on shrimp tacos and YES! Flavor heaven.
If you're interested in growing your own Carbanero peppers, seeds are available online.
I expect this pepper to grow in popularity. Super tasty!
I hope to grow them myself in the future. If you are unable to acquire Carbanero peppers, you can sub in Scotch Bonnets or habanero peppers.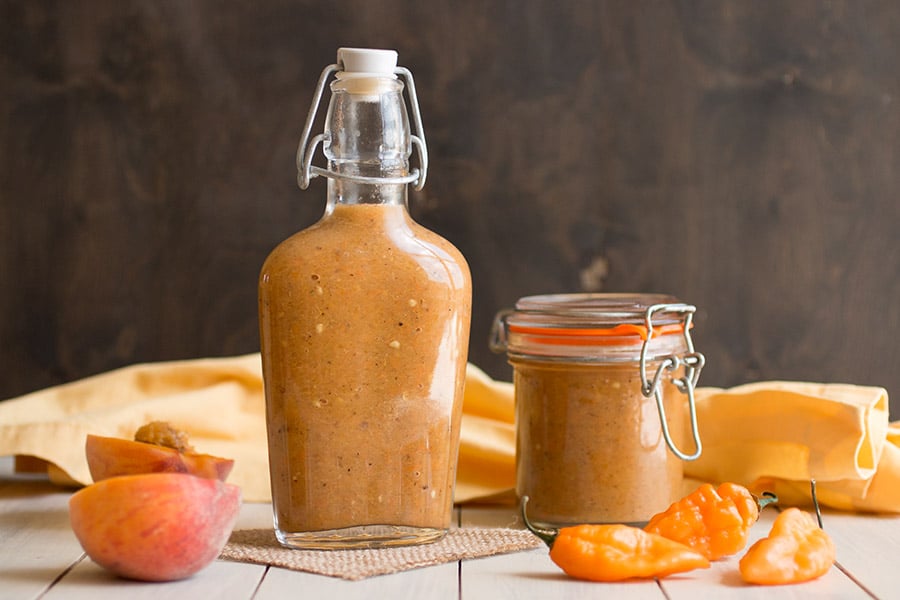 Here are some answers based on the many comments I get on other sauces. Here goes:
How long will this hot sauce keep?
It should keep a few months easily in the fridge, or even longer. It's all about the acidity.
To be technical, target level ph for shelf stable foods is below 4.6 ph, but should probably be lower for home cooks, around 4.0 or so, to account for errors. I have not measured the ph of this sauce, but I won't have it around very long anyway. If you're concerned, add more vinegar to lower the ph.
Where'd you get that hot sauce bottle?
I find them locally sometimes, but I also order through Amazon. Here is a link to some bottles I like (affiliate link, my friends!): Swing Top Glass Bottles, 8.5 Ounce - Set of 4
. If you like the smaller bottles that most hot sauce makers use, here's another link: Hot Sauce Bottles, 5 Oz - 24 Pack
.
Can I process this hot sauce for longer storage?
Absolutely. Just be sure to use proper canning/jarring safety procedures.
What should I do with hot sauce?
Aside from drizzling it over anything you please, here's a post I did about How to Cook with Hot Sauce. As if you need even MORE reasons to eat hot sauce. I hope you find it helpful!
Got any questions? Ask away! I'm happy to help. If you enjoy this recipe, I hope you'll leave a comment with some STARS. Also, please share it on social media. Don't forget to tag us at #ChiliPepperMadness. I'll be sure to share! Thanks! -- Mike H.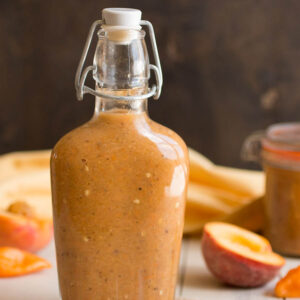 Print
Caribbean Jerk Peach Hot Sauce Recipe
A homemade hot sauce recipe made with fiery chili peppers, fresh peaches and jerk seasonings for a bit of island flare in a bottle. Perfect for chicken or shrimp.
Save Recipe
Saved!
Ingredients
2

tablespoons

olive oil

8

ounces

Carbonero Peppers

chopped – You can sub in Scotch Bonnets or Habanero Peppers

1

medium onion

chopped

2

peaches

peeled, pitted and chopped

1

cup

apple cider vinegar

½

cup

water or more to your desired consistency

1

tablespoon

jerk seasoning blend

1

tablespoon

brown sugar
Instructions
Heat a pot to medium heat. Add olive oil and heat through.

Add peppers and onion and stir. Cook down about 6-7 minutes, until softened.

Add peaches and cook another 2-3 minutes to soften.

Add vinegar, water, jerk seasoning and brown sugar. Stir.

Reduce heat and simmer about 10 minutes to allow flavors to develop.

Cool and pour into bottles.
Notes
NOTE: You can strain your sauce a bit if you'd like for a thinner consistency.
Heat Factor: Hot.
Nutrition Information
Calories:
30
kcal
Carbohydrates:
3
g
Fat:
1
g
Sodium:
8
mg
Potassium:
89
mg
Sugar:
2
g
Vitamin A:
275
IU
Vitamin C:
17.7
mg
Calcium:
6
mg
Iron:
0.3
mg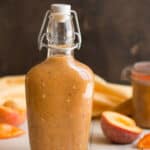 Did You Enjoy This Recipe?
I love hearing how you like it and how you made it your own. Leave a comment below and tag @ChiliPepperMadness on social media.