Homemade hot sauce! We're going Caribbean with this recipe, bringing in flaming habanero peppers, velvety mango, vinegar, honey, allspice and more. Drizzle it over chicken, shrimp or fish. Love it. It's a way of life.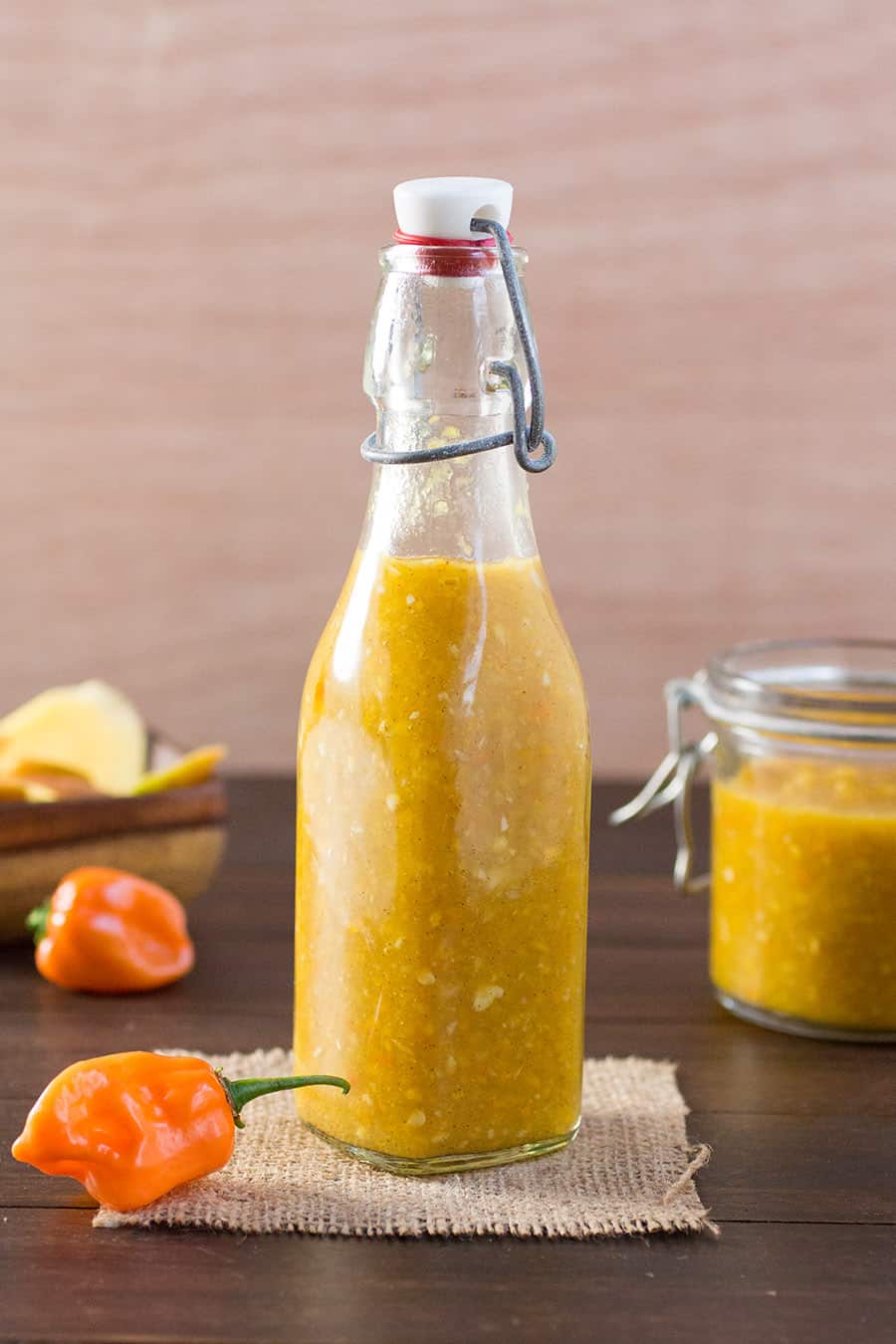 Caribbean-Style Mango-Habanero Hot Sauce Recipe
Not gonna lie. I'm kind of hooked on this sauce. I JUST made it and it's half gone already. Dang.
Guess I'll have to run out and buy another mango. No worries about the habanero peppers, though, because our habanero plants are producing like crazy now!
BIG WIN! Throwing my hands in the air and dancing sort of win. Bragging about my garden again, my friends, so please excuse me. I can't help it. I get so happy this time of year with all the fresh produce, particularly chili peppers, popping out of the garden.
Preserving will very soon be upon us, but for now, I am having ZERO problem keeping up with the pace of the garden. Mostly because of recipes like this. Caribbean-Style Mango-Habanero Hot Sauce.
It is quite delicious and you'll need to make a couple extra batches, methinks.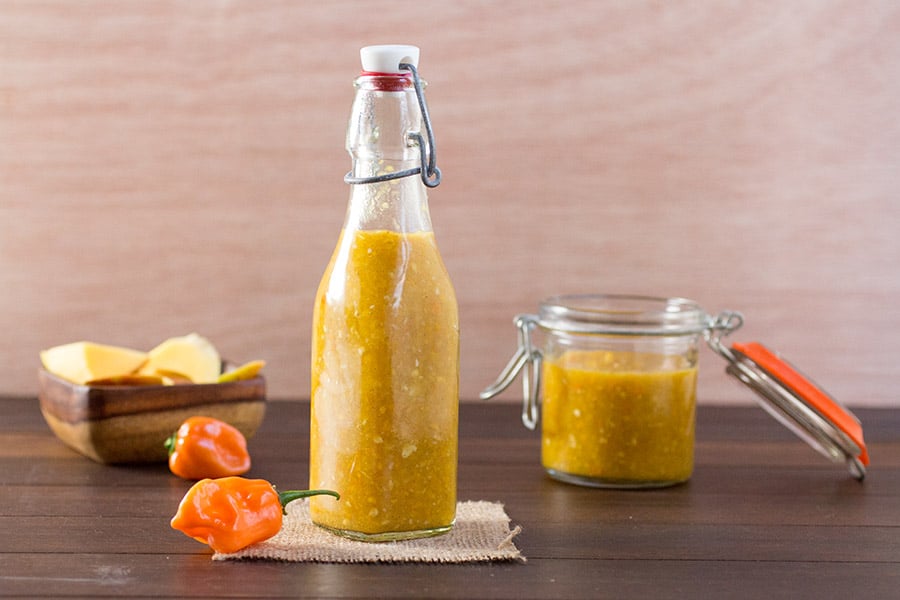 I mean, just look at it. Gorgeous, right? Absorb the vibrant color, the brightness of the orangey-yellow sauce in the bottle and the extras in the jar. Calling out to you. Begging to be eaten.
Do you hear it?
Hot sauce talks to me more than fresh produce. All those voices collected into a single bottle, singing together. Hot sauces are an ideal way to use up your garden ingredients.
So many possible iterations to play with. This particular recipe uses habanero peppers and mango as the primary ingredients. Unfortunately, we are unable to grow mangoes around here, but if we could, I totally would.
Round out the body and flavor of the hot sauce with garlic and onion, then flavor it up with a medly of seasonings, including allspice, ginger, cumin and sweet honey. And tangy apple cider vinegar, of course.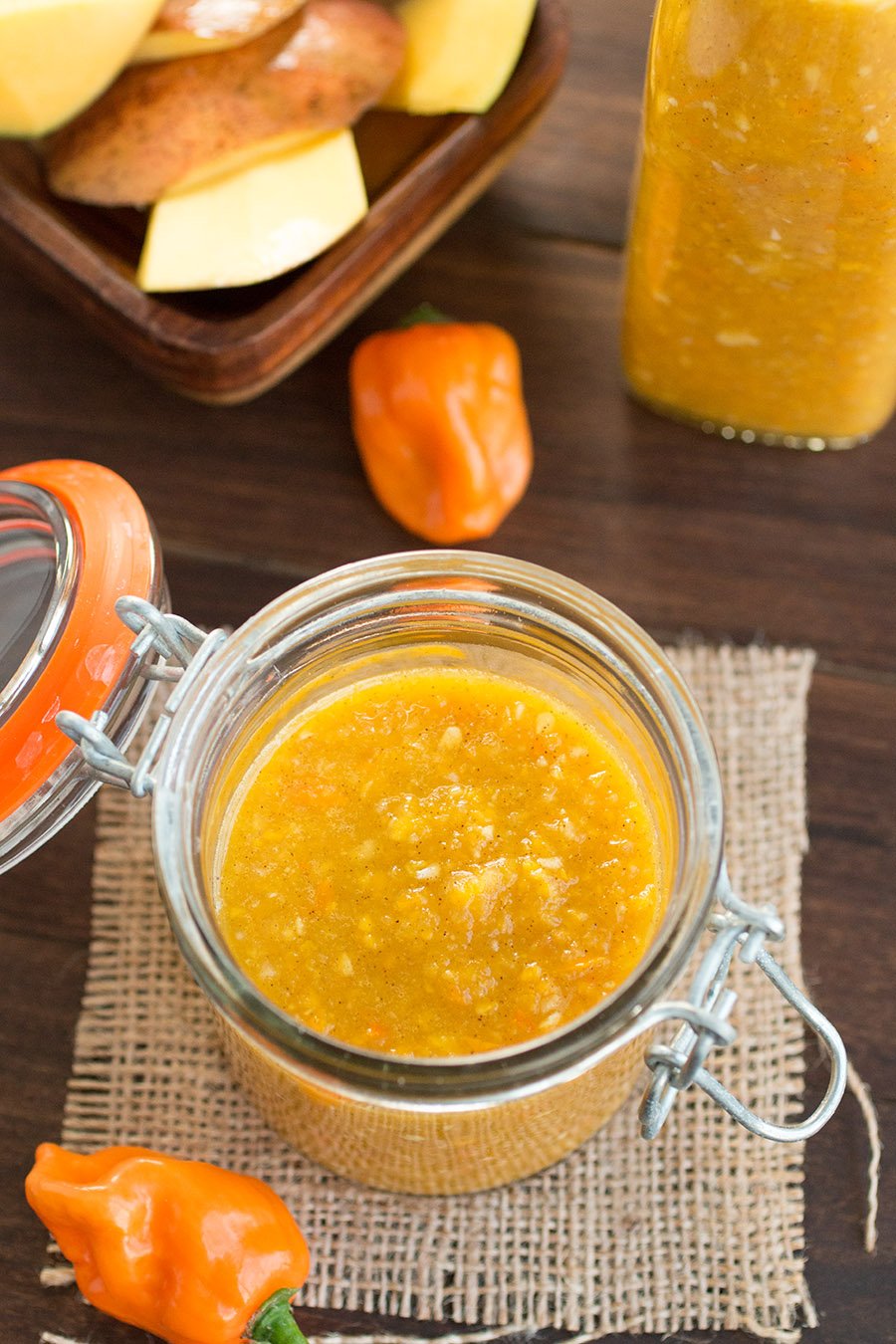 It's slightly thick, but you can thin it out by either incorporating more vinegar or adding a bit of water to the mix.
Or, strain it and discard some of the solids. You can serve this on pretty much anything, but for me it's ideal over pork, chicken or seafood, particularly shrimp or white fish.
Or PORK! Just the other day I whipped up some quick pulled pork tacos for lunch with diced tomatoes and used this hot sauce to smother them. We didn't need anything else.
The pork was great, but the hot sauce became the star. I love the mixture of ingredients. Cooks up super quick!
We have a video of the recipe below so you can see how it is made. Time to get cooking! Bring on the hot sauce!
Patty's Perspective
THIS is the BOMB. It's so versatile. It's definitely a hot sauce, but I think you can serve this as a salsa if you wanted. I would eat it on anything and would use it all the time if Mike wasn't cooking up all sorts of great stuff so often. I'll have to ask him to make more.
Check out my other Hot Sauce Recipes, too.
Frequently Asked Hot Sauce Questions
Here are answers to some of the most common questions I get on other sauces:
How long will this sauce keep?
It should keep a few months easily in the fridge, or even longer. It's all about the acidity.
To be technical, target level ph for shelf stable foods is below 4.6 ph, but should probably be lower for home cooks, around 4.0 or so, to account for errors. If you're concerned, add more vinegar to lower the ph. Sauces made with fermented chili peppers will last even longer.
The best ph meters that I recommend are from Thermoworks. Get yourself a ph meter from Thermoworks today. I am a happy affiliate.
Where'd you get that sauce bottle?
I find them locally sometimes, but I also order through Amazon. Here is a link to some bottles I like (affiliate link, my friends!): Swing Top Glass Bottles, 8.5 Ounce - Set of 4
. If you like the smaller bottles that most hot sauce makers use, here's another link: Hot Sauce Bottles, 5 Oz - 24 Pack
.
Can I process this hot sauce for longer storage?
Absolutely. Just be sure to use proper canning/jarring safety procedures.
What should I do with hot sauce?
Aside from drizzling it over anything you please, here's a post I did about How to Cook with Hot Sauce. As if you need even MORE reasons to eat hot sauce. I hope you find it helpful!
If you try this recipe, please let us know! Leave a comment, rate it and tag a photo #ChiliPepperMadness on Instagram so we can take a look. I always love to see all of your spicy inspirations. Thanks! -- Mike H.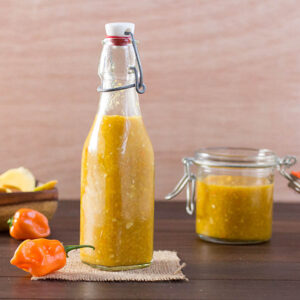 Print
Caribbean-Style Mango-Habanero Hot Sauce Recipe
Homemade hot sauce! We're going Caribbean with this hot sauce recipe with fiery habanero peppers, mango, vinegar, honey, allspice and more, perfect for chicken, shrimp or fish. Love it. It's a way of life.
Save Recipe
Saved!
Ingredients
5

habanero peppers

chopped

1

mango

peeled and chopped

1

small

white onion

chopped (about 3/4 cup)

4

cloves

garlic

chopped

½

cup

apple cider vinegar

¼

cup

water

2

tablespoons

honey

¼

teaspoon

cumin

½

teaspoon

allspice

1

teaspoon

ginger powder

1

teaspoon

salt
Instructions
Add all ingredients to a food processor. Process until smooth.

Add to a large pan and bring to a boil. Reduce heat and simmer for 10 minutes.

Cool then transfer to serving bottles.
Video
Notes
Makes about 2 cups.
Heat Factor: Hot. Scotch Bonnets have a good level of heat.
Nutrition Information
Calories:
11
kcal
Carbohydrates:
2
g
Sodium:
78
mg
Potassium:
24
mg
Sugar:
2
g
Vitamin A:
75
IU
Vitamin C:
4.8
mg
Calcium:
2
mg
Iron:
0.1
mg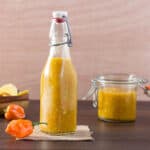 Did You Enjoy This Recipe?
I love hearing how you like it and how you made it your own. Leave a comment below and tag @ChiliPepperMadness on social media.