A recipe for Ti-Malice, a popular Caribbean hot sauce originating from Haiti, typically made with Scotch Bonnet chili peppers. It has an interesting origin story in Haitian folklore and has many variations. This is one of our favorite ways to make it.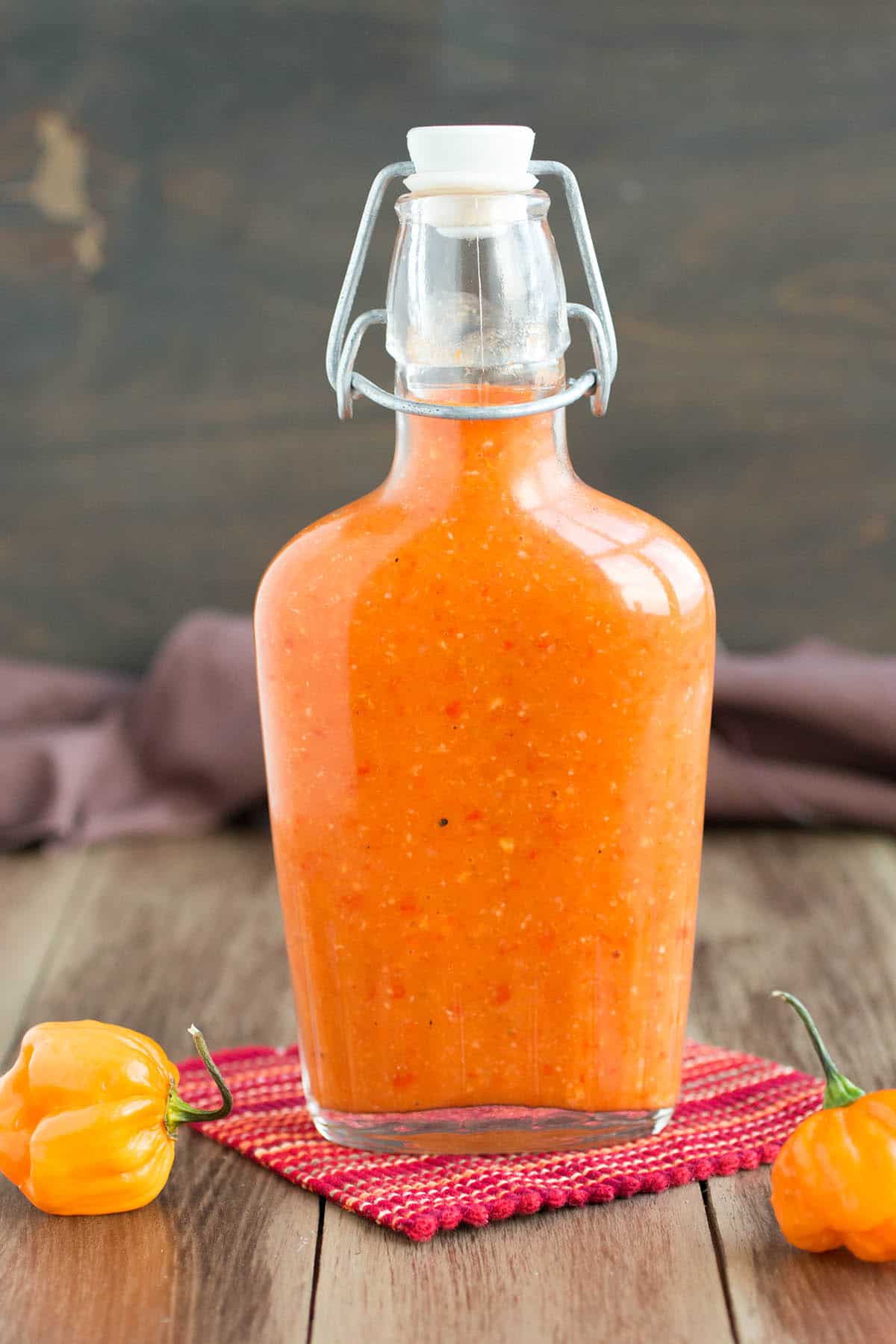 It's time for more hot sauce, my friends! We keep running out of hot sauce in the fridge, so I need to constantly replenish the stock. You know how we are with our hot sauce recipes. Can't help myself! Today we're going Caribbean style, Haitian in particular, because I acquired some amazing Scotch Bonnet peppers.
These are Scotch Bonnet Freeport Orange peppers. They are very fruity chiles with a habanero level heat, so use accordingly.
They will surely bring you a beautiful spice level!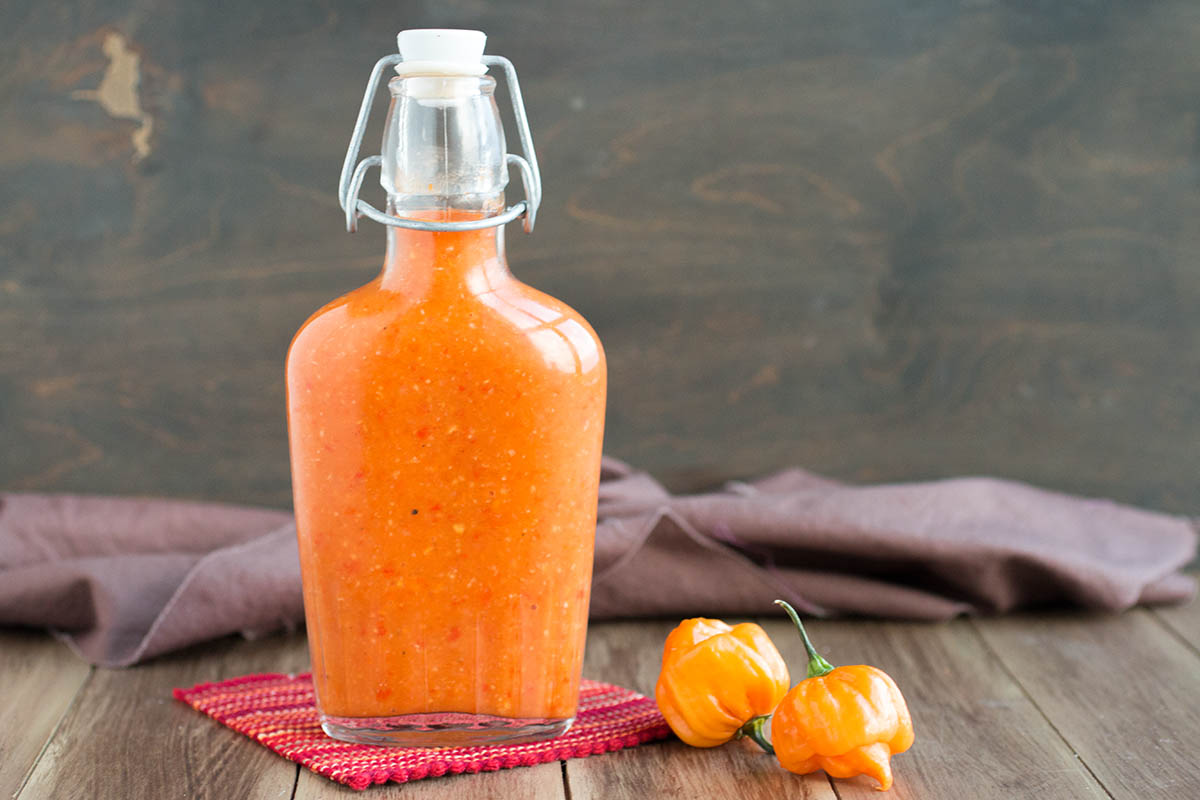 While the taste is excellent, what I love most about this hot sauce is the story behind it. Haiti is rich in folklore, particularly with two famous characters who are the antithesis of one another - Ti-Malice and Bouki.
The Folkore Behind Ti-Malice Hot Sauce - The Real Story
According to the story, Ti-Malice and Bouki are two great friends that are constantly at odds.
Ti-Malice is a witty trickster character, while his nemesis, Bouki, is hardworking but somewhat greedy. Ti-Malice would prepare himself meat for his lunch each day, and each day Bouki would "just so happen" to appear at Ti-Malice's home around that time, obligating Ti-Malice to share his meal.
One day, in order to outsmart Bouki and deter him from wanting his food, Ti-Malice prepares a very hot sauce and pours it over the meat. It backfired, however, as Bouki LOVED the hot sauce so much and even bragged all over town about the oustanding hot sauce Ti-Malice made just for him.
Hence, the name of the sauce "Ti-Malice", which is still popular today.
Ti-Malice Varieties - A Hot Sauce You Can Adjust to Your Own Tastes
There are many variations of this recipe, as you can imagine. Each household makes their own version. The ingredients I've used in our sauce are typical, but other variations include the addition of herbs like thyme or parsley, cloves, chicken broth, tomatoes, and other chili peppers like habaneros.
Some variations replace the hotter peppers, like habanero and Scotch Bonnet, with milder peppers to reduce the heat. You can easily do this yourself if you'd like to tame the flame.
Also, many variations do not process their sauce, but rather serve it in a bowl with a chunky consistency. I prefer it processed so it will serve more as a hot sauce that I can pour. The choice is yours! I hope you enjoy the recipe. Serve it over meats, such as chicken or fish.
Check out my other Hot Sauce Recipes, too.
Frequently Asked Hot Sauce Questions
Here are answers to some of the most common questions I get on other sauces:
How long will this sauce keep?
It should keep a few months easily in the fridge, or even longer. It's all about the acidity. To be technical, target level ph for shelf stable foods is below 4.6 ph, but should probably be lower for home cooks, around 4.0 or so, to account for errors. If you're concerned, add more vinegar to lower the ph. Sauces made with fermented chili peppers will last even longer.
The best ph meters that I recommend are from Thermoworks. Get yourself a ph meter from Thermoworks today. I am a happy affiliate.
Where'd you get that sauce bottle?
I find them locally sometimes, but I also order through Amazon. Here is a link to some bottles I like (affiliate link, my friends!): Swing Top Glass Bottles, 8.5 Ounce - Set of 4
. If you like the smaller bottles that most hot sauce makers use, here's another link: Hot Sauce Bottles, 5 Oz - 24 Pack
.
Can I process this hot sauce for longer storage?
Absolutely. Just be sure to use proper canning/jarring safety procedures.
What should I do with hot sauce?
Aside from drizzling it over anything you please, here's a post I did about How to Cook with Hot Sauce. As if you need even MORE reasons to eat hot sauce. I hope you find it helpful!
Check out These Related Recipes:
Check out more Hot Sauce Recipes or learn more about How to Make Hot Sauce.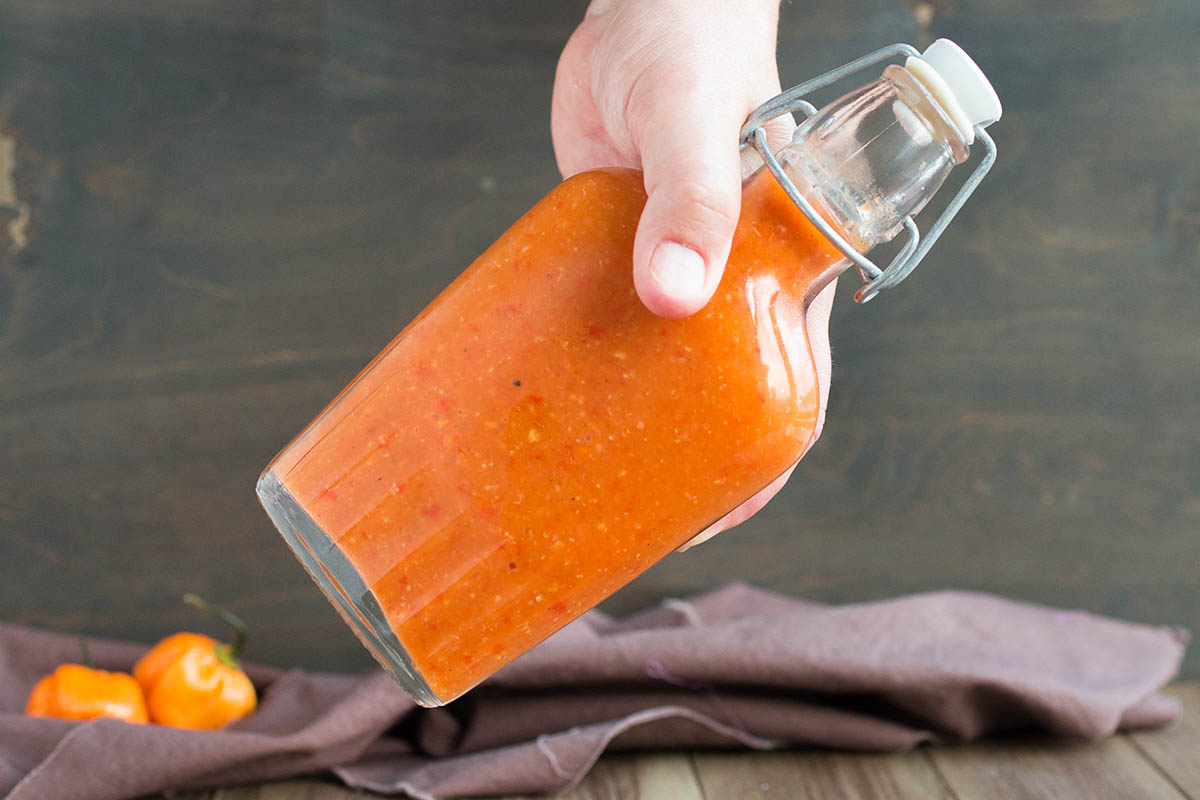 If you try this recipe, please let us know! Leave a comment, rate it and tag a photo #ChiliPepperMadness on Instagram so we can take a look. I always love to see all of your spicy inspirations. Thanks! -- Mike H.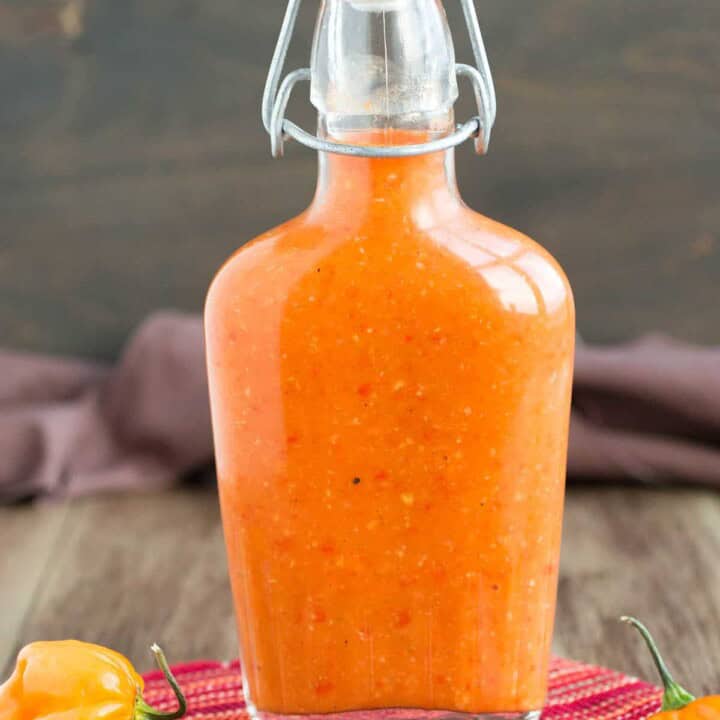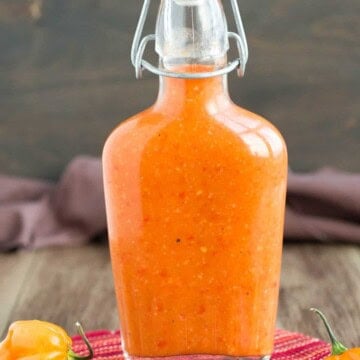 Print
Ti-Malice - Haitian Creole Hot Sauce - Recipe
A recipe for Ti-Malice, a popular Caribbean hot sauce originating from Haiti, typically made with Scotch Bonnet chili peppers. It has an interesting origin story in Haitian folklore and has many variations. This is one of our favorite ways to make it.
Save Recipe
Saved!
Ingredients
1

tsp

olive oil

1

small onion

chopped

2

Scotch Bonnet peppers

or 2 habanero peppers, chopped

½

small red bell pepper or sweet pepper

chopped

3

garlic clove

chopped

2

tablespoon

tomato paste

Salt and pepper to taste

2

tablespoons

apple cider vinegar

Juice from half a lemon

1

cups

water

or more as desired
Instructions
Heat a saucepan to medium heat and add oil. Add onion and peppers and cook about 5 minutes.

Add garlic and cook another minute.

Add remaining ingredients and bring to a quick boil. Reduce heat and simmer about 20 minutes.

Cool then transfer to a food processor or blender. Process until smooth.

Adjust for salt and pepper. Transfer to bottles for keeping. Enjoy!
Video
Notes
Heat Factor: Hot. You'll get some good spice with this one!
Nutrition Information
Serving:
1
teaspoon
Calories:
4
kcal
Sodium:
8
mg
Potassium:
22
mg
Vitamin A:
80
IU
Vitamin C:
3.8
mg
Calcium:
2
mg
Iron:
0.1
mg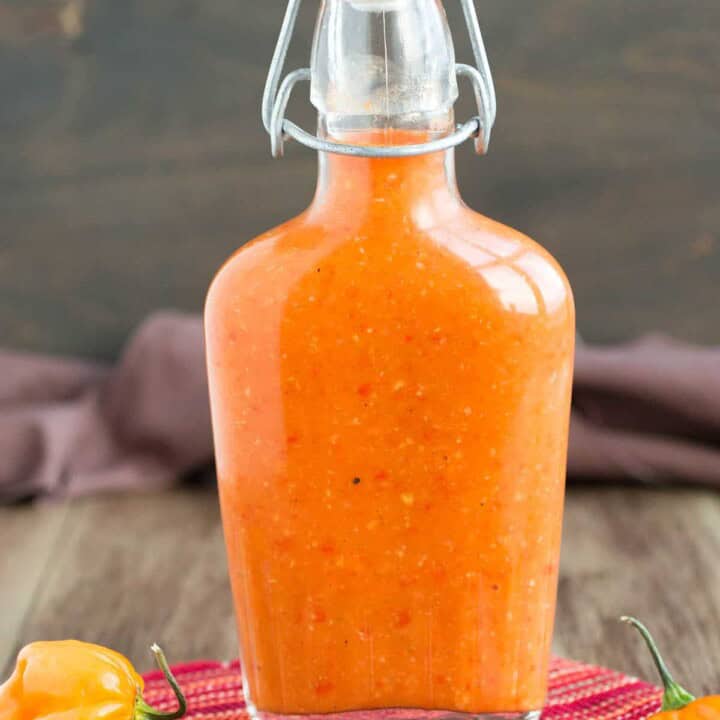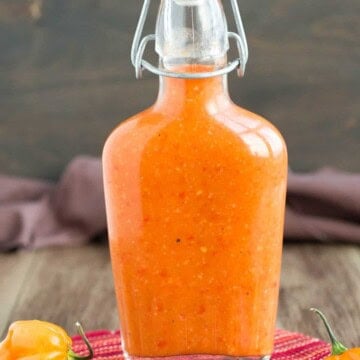 Did You Enjoy This Recipe?
I love hearing how you like it and how you made it your own. Leave a comment below and tag @ChiliPepperMadness on social media.